Fitspo (short for fitness inspiration):
Images of active, strong, and fit women that promote proper exercise and diet
Through the various fitness stories I have written for Yahoo!, Fitness Sutra and FHM, I've met incredibly inspiring women who are legit #fitspo. As we come to the end of the year, I just wanted to share and spread some of this inspiration to gear us up right for the New Year.
Here are my top 15 #fitspo stories of this year:
These amazing ladies have gone through significant events or life-changing experiences this year, and I'm really happy for the opportunity to share their stories through my work. Go on, read on and be inspired!
1) Jessica Sinclair
Jessica Sinclair – daughter of former Singapore bodybuilder Jojo Sinclair – overcame troubling scoliosis with yoga, avoiding the need for surgery. Her scoliosis never bothered her until last year when it hit a breaking point and experienced excruciating pain which affected her daily life greatly. Turning to yoga, she left her real estate job, quit combat sports and took up a 500-hour yoga instructor course.
During the process, she realised yoga helped to heal her and it also changed her outlook on life. Inspired, she set up a school, IHA Yoga, to help others improve physically and also overcome their mental barriers. Being the bubbly and outgoing girl she is, it wasn't easy for Jessica to slow down. From being unable to touch her toes, she can now contort herself into all these awesome poses. Follow her on Instagram at @jessica.r.sinclair.
2) Ili Lim
Singaporean flowboarder Ili Lim was recovering from surgery for her torn ACL and MCL injuries and had no intention of competing at the World Flowboarding Championships in Abu Dhabi in November. However, she took part in the qualifiers for fun and surprised herself when she emerged as the top female, earning the sole woman's spot to represent Singapore.
She made the decision to compete one month before the championships when her grandmother fell into a coma and she immediately withdrew her participation. A week before the championships, her grandmother unfortunately passed away and although she had no mood to compete, her family encouraged her to and she relented.
Going in with no expectations at all, it was her third time competing in the world championships and she unexpectedly topped both the Strapless and Strapped categories of the Women's FlowBarrel. Much respect for this girl I have here. Follow her on Instagram at @ili.lim.
3) Jayve Goh
Singaporean charity athletes Jayve Goh and her boyfriend Jonathan Ang compete to raise funds for a good cause.  At every event that they take part in – be it a marathon, triathlon or some sporting event – they raise awareness and funds for their adopted charities Singapore Cancer Society and Handcycling Association of Singapore. Run to make the lives of others better and not run for fame and glory – now that is worth a salute. Follow her on Instagram at @upupgalaxies.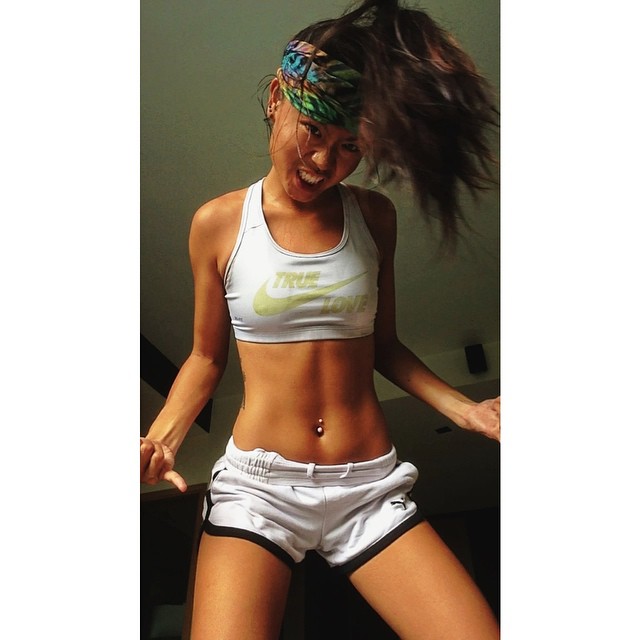 Photo: Jayve's Instagram
4) Claire Jedrek
It was only a matter of time that Claire Jedrek got behind the wheel herself. Girlfriend to Yuey Tan – Porsche Carrera Cup Asia (PCCA) racing driver, former promoter of the Singapore Karting Championship (SKC) and co-owner of the upcoming Karting Arena – it  is no surprise that the adrenalin junkie would get bitten by the racing bug. The British-born may be 31 years of age, but feels she is at her fittest and there is no better time for her to go racing than now. Racing is a male-dominated sport but nothing will scare this daredevil here. Follow her on Instagram at @clairejedrek.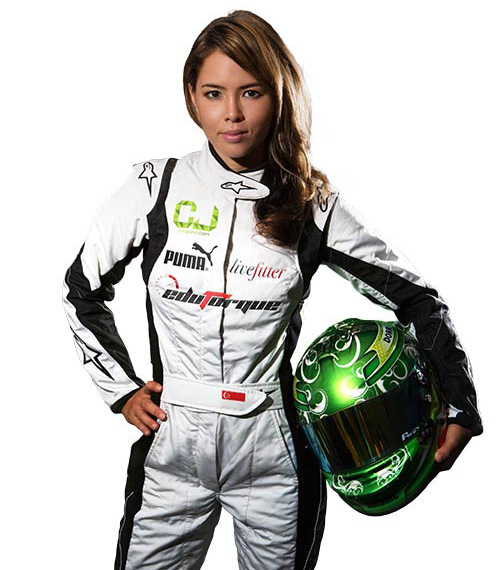 Photo: Claire Jedrek
5) Fay Hokulani
Fay Hokulani – face of Maxinutrition and Adidas #mygirls – moved back to Singapore last July and ventured onto a new career path: personal training. After eight years of modelling and a career in television and radio, the once-anorexic sees the future in fitness coaching, an extension to her blog on healthy living. Be brave and dare to explore new opportunities in life; you never know what it may lead you to. Follow her on Instagram at @fayhokulani.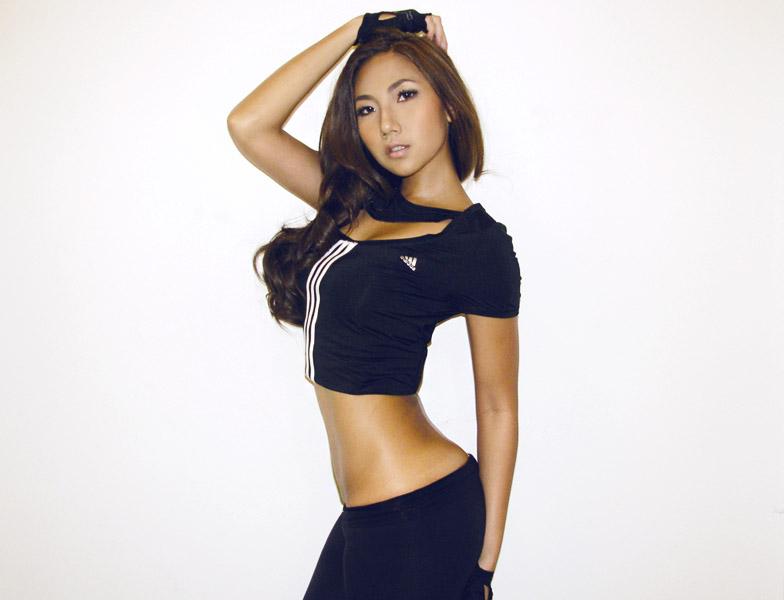 Photo: Fay Hokulani
6) Kelly Latimer
After battling the bulge for five long years, Singapore-based TV host and emcee Kelly Latimer finally overcame it in time for her wedding. She gained 15kg when she was studying in Melbourne for one and a half years. Returning to Singapore in 2008 at 68kg, she got depressed seeing all these skinny Asian girls and started trying everything to lose weight. After yo-yoing back and forth with her weight, she finally threw off 14kg and is in her best shape ever now. We all hate dieting don't we? It's really how much you want it. Follow her on Instagram at @kellylatimer.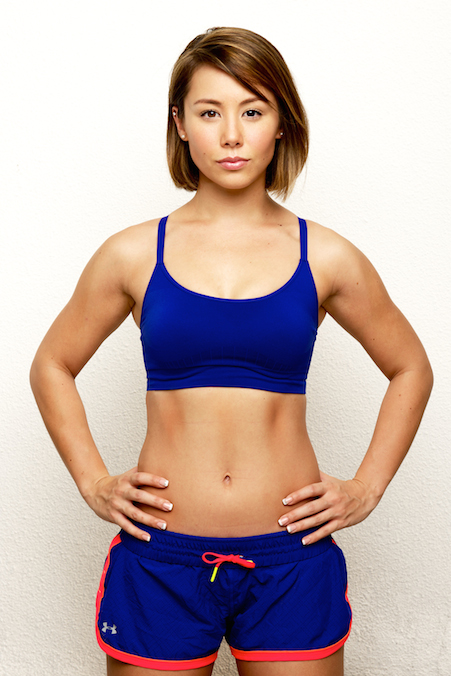 Photo: Beauty Cleanse
7) Kirstie Gannaway
Singapore's hottest mixed martial arts (MMA) star Kirstie Gannaway is the third Singaporean female to sign with premier Asian MMA promotion ONE Fighting Championship and only the second local woman to be on the prestigious Evolve Fight Team. She made her professional MMA debut in September at the Singapore Indoor Stadium and won it resoundingly via submission in the first round. Women MMA is still new in this part of the world and I'm proud to have Kirstie paving the way while flying the Singapore flag high. Follow her on Instagram at @kirstiegannaway.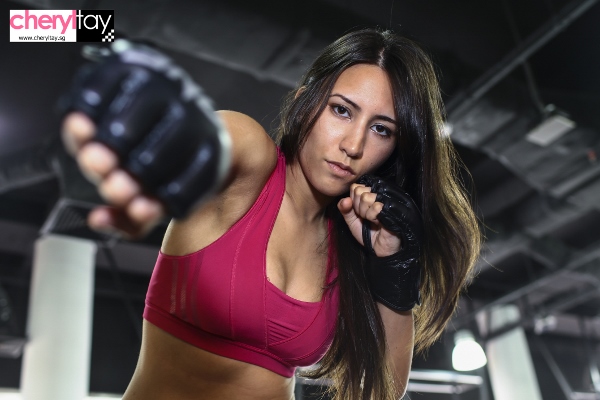 8) Limaran Agustina
Limaran Agustina and her husband Jason Julius Lim are bonded as one not just by love, but also by fitness. The dedicated duo train six times a week and make sure this routine is not broken even when they go on vacation. Thus, their holiday accommodation is usually planned in areas with a decent gym nearby. Their reward? Their awesome bodies. Follow her on Instagram at @limaranagustina.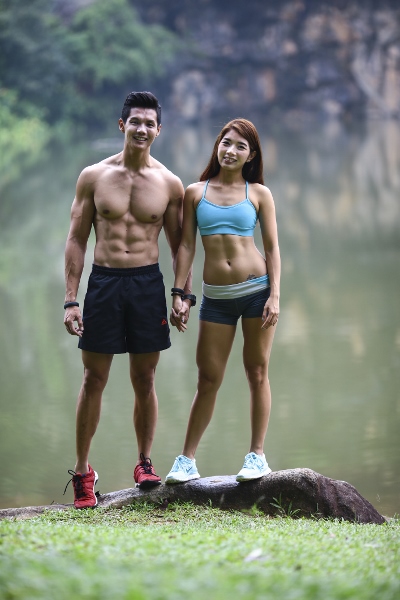 9) Gladys Leong
When I first saw Gladys Leong on stage at NutriGirl 2014, I didn't think she was a mother of three boys – Ian, 10; Zac, 5 and Wyn, 2. She has these boys to take care of, daily household chores, a pet shop business to manage and clients to handle as a freelance personal trainer. How does the 34-year-old keep in shape and also motivate mummies out there with No Flab Mommas? Follow her on Instagram at @gladys80.
10) Barbara Chng
A mother of twins, Barbara Chng  Johnson, is 40 but that did not stop her from pursuing her late-found passion in competing. She struggled with her post-pregnancy weight gain of 40kg and only managed to lose it after two years. She achieved her dream of competing at the 12th South East Asian Bodybuilding Championships in June and was thrilled with her second place finish in the Women's Athletic Physique (under 165cm) category. From Barbara we learn that it's never too late to start anything and dreams can be achieved at any age, any time. Follow her on Instagram at @barbarachng.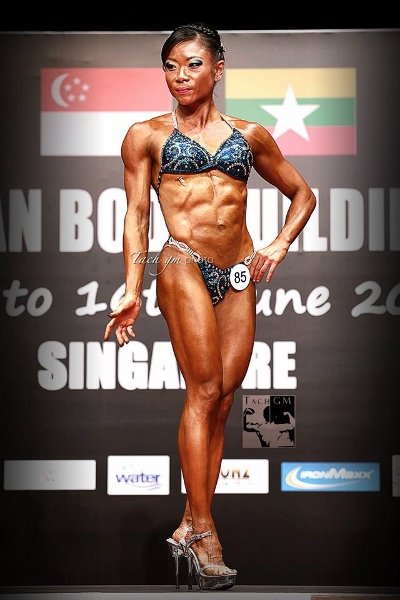 Photo: Tach GM
11) Sherilyn Lim
From being bullied in school for being chubby, Sherilyn Lim has come a long way to become a pro MMA fighter. She wasn't even overweight, just chubby, but her classmates gave her a hard time and she often found herself being the last to be picked for group work. Well, if those classmates saw the way she throws punches in the cage now, I doubt they will dare to pick on her anymore. Oh, the irony.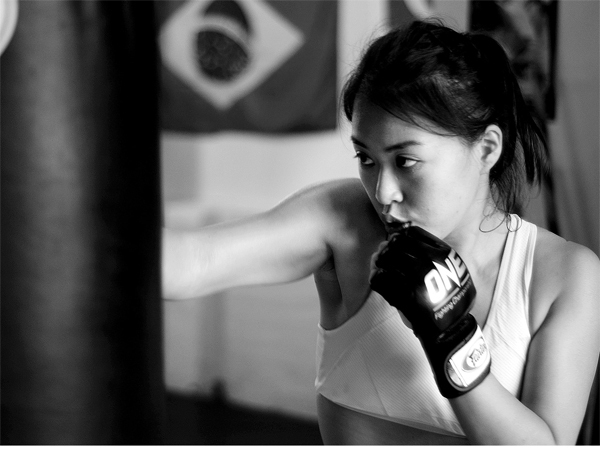 12) Angeline Pham
NutriGirl 2014 winner Angeline Pham only started going to the gym 29 months before she won her first fitness competition. Inspired by her favourite fitness model Jamie Eason, she fell in love with weights but never thought it would lead to two spectacular finishings at her first two competitions. She came in second at the Muscle & Fitness War 2014 in January before taking the NutriGirl crown a month later. Two weeks before the NutriGirl finals, Angeline fell ill and could not train at all but managed to come in top form still. Dare to dream. Follow her on Instagram at @angelinepham.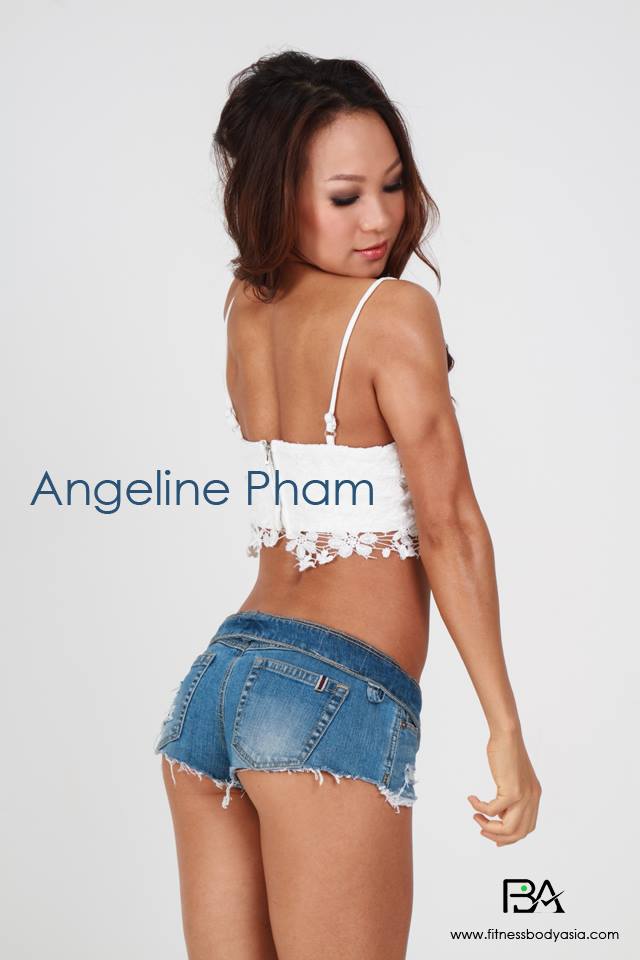 Photo: Fitness Body Asia
13) Melissa Sarah Wee
Bulimic in her teens, Melissa Sarah Wee used to binge then purge her food, finally landing in hospital. She got back on track and put on weight, but overdid it and shot up to 74kg from the 45kg she was. She then signed up for a gym membership and went for group classes, but felt inferior and decided to lift weights and run on her own. From the cardio bunny she was, she had to stop running due to her knee injury, thus switching to weightlifting.
2014 did not go start off well for her, when she found out about her fiance's infidelity. That killed the 11-year relationship they shared and the marriage called off.  She then made a tough decision to leave the teaching force after five years in the trade so she could fully focus on her career as a personal trainer. Signing up for her first competition in the States, she nearly could not compete when it got cancelled.
Hurdle after hurdle, it all turned out well when she managed to sign up for another competition -National Physique Committee (NPC) competition in Central California – and even came in second. A fine example of perseverance and extreme optimism. Follow her on Instagram at @melissasarahwee.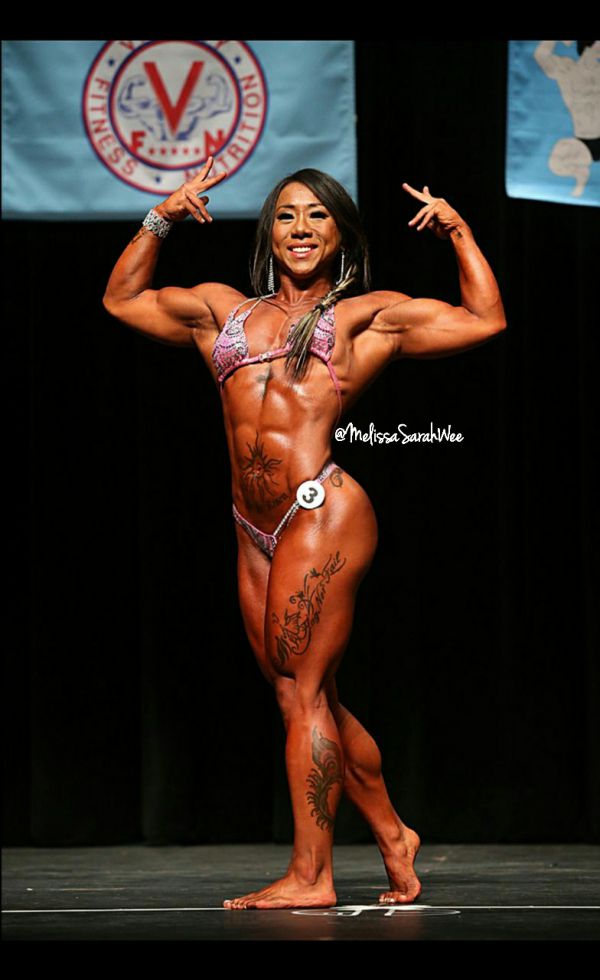 Photo: Melissa Sarah Wee
14) Agnes Lee
Former female bodybuilding champion Agnes Lee, now 60, still impresses people with her ripped and tattooed physique which was painstakingly sculpted over the last 28 years. Her last competition was a decade ago but she still makes the effort to maintain her body – to a point where teenage boys send her salacious messages on Facebook, asking her to teach them "how to make love". Make your passion a lifetime one. Follow her on Instagram at @aqlee13ironladylicious.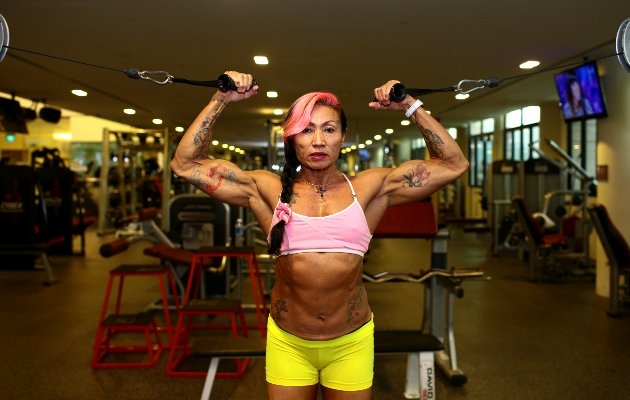 15) Joan Liew
Singaporean bodybuilding champ Joan Liew has been in the sport for 20 years but has never received any funding or congratulatory note from the authorities. In February this year, the four-time Asian bodybuilding champ beat 23 competitors from 13 countries to be crowned winner of the Arnold's Amateur International Bodybuilding Women's Physique (tall category) held in the United States and she was the only Asian in the field. Dare to be different; have the courage to stand out from the crowd.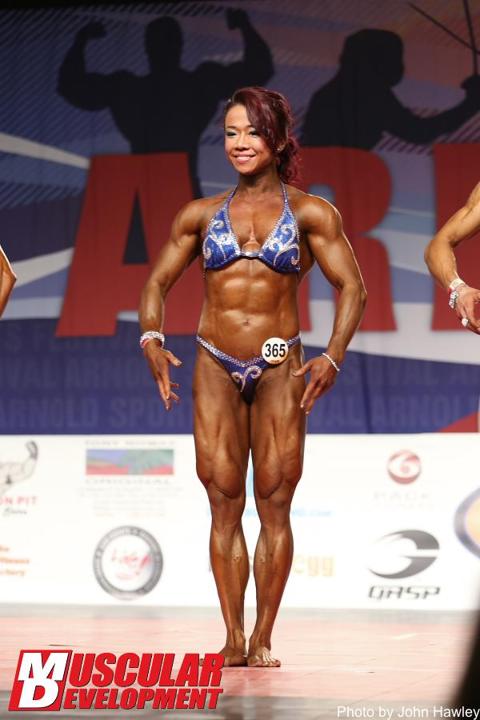 Photo: John Hawley
Happy New Year one and all!