When I saw how Claire Jedrek was so involved with motorsport last year, I figured it was a matter of time before she gets behind the wheel of a race car proper. As girlfriend to Yuey Tan, Porsche Carrera Cup Asia (PCCA) racing driver, former promoter of the Singapore Karting Championship (SKC) and co-founder of the temporary Changi Karting Circuit (CKC), it was only natural that she gets bitten by the racing bug. The British-born Singaporean PR does not see her age of 31 as being too late to start racing; in fact, she feels she is at her fittest and also, her age makes her wiser she said.
[Read the full interview I did with Claire on Yahoo! here.]
"If I let this opportunity go, there will be fewer opportunities for me to go racing in say, five years' time. It's something I want to do now; it's a good timing and nothing is gonna stop me from doing this. I would love to look back and say, 'Hey! I did that!' I think I'm still mentally sharp and I'm in one of the best fitness health in my life to be honest. I think I'm fitter than I've ever been! Sure I was fit in secondary school but I have more willpower and endurance now," she said.
She did a Formula Renault experience at Zhuhai last January, then had some fun kart races at CKC during the six months it was open. She was also a commentator for the SKC and helped out with Yuey's team on the logistical, operational and managerial aspects. All that exposure and learning led her to seriously consider racing – not for fun, not for a hobby, but as a proper career. Yuey and her spent about six months talking about it, finally making the decision at the end of last year, after all the racing for 2013 ended. It was when she beat some of the PCCA drivers at CKC during a fun kart race in September (they came down for F1) that the possibility got real.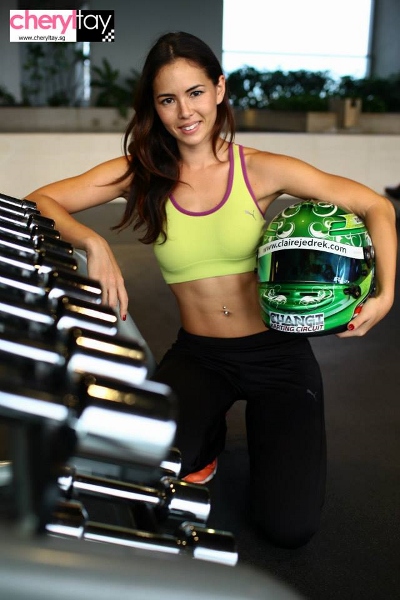 They looked around to see which racing series she could start with and most importantly, if she could raise the money. Which she did. Claire managed to raise tens of thousands in cash from sponsors Exquisite Marques, EduTorque, Puma, LiveFitter, EVO Singapore and The Film Dispensary. Where credit is due, Yuey said he forked out no cash from his side for her racing fund. Her debut will happen this weekend at the Malaysian Super Series (MSS), which is a support race to the Formula One Malaysian Grand Prix at Sepang. Yup, she will be driving a two-litre manual Honda Civic – starting from the basics! The plan is to continue to do more races in the MSS, while looking out for other potential series she can compete in.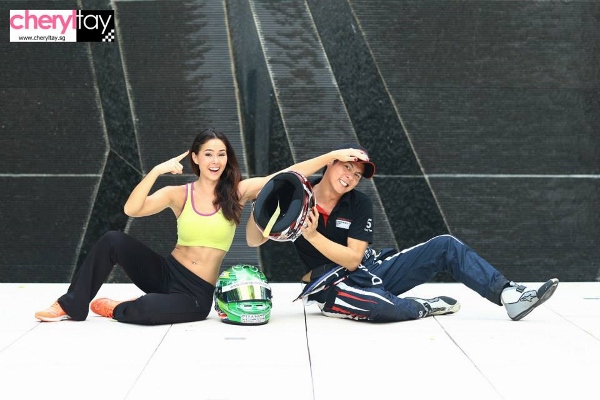 "Expect the unexpected. Don't regret what you have done, regret what you haven't done. That's the life mantra I live by. Why let people put limits and expectations on you? Live your life by your own values and stick to what you believe. It really has to come from within. You really have to be proactive and want to do it yourself. No amount of pushing from others will help. I think being older has helped me become more comfortable with myself. I know who I am; I can't say I know what I want, but I know what I don't want," she added.
Claire's life has definitely picked up faster than she thought, but she has no complaints about it. When she returned to Singapore from Perth at the end of 2012 after a failed relationship and three years there, there was a lot of uncertainty and she admitted feeling "a bit lost". But she had a change of mindset, carried on doing what she loved and is now happy that she is getting recognised for doing what she loves.