Train your body as the machine, not with machines
Keep your training raw and rough with these gyms
You don't need fanciful machines to train. Sometimes I get overwhelmed by the influx of advanced machines in globo gyms especially. For example, it's not just TV that you can watch while running on the treadmill. Now you can also surf the internet and book that holiday you didn't have time to do in the office. I wouldn't be able to run very fast if I'm doing that though.
Dumbbells, kettlebells, barbells, medicine balls and the all-important squat rack are more than sufficient. No need for the frills and just get back to basics. Here are 8 strength and conditioning gyms in Singapore where you train your body as the machine and not with machines. You won't find a treadmill in these places.
Get ready to work out raw and rough:
1) Solitude of Strength
National weightlifting record holder Lewis Chua started Solitude of Strength (SoS) in September 2013. His 2,400 square-feet space has all the equipment every strength athlete can dream of. SoS is also home of CrossFit Statera, which is helmed by Head Coach John Cheah, one of Singapore's top CrossFit athletes.
If you prefer to plan your own workout, you can pay the walk-in rates of $12 for adults and $8 for students (or get a monthly membership) and do your own thing. Open gym hours are between 9am to 9pm. Weightlifting classes are held every Tuesday night and gymnastics classes are held every Thursday night. CrossFit classes run daily. Personal training sessions are also available.

Solitude of Strength is located at Blk 37 Lor 23 Geylang. More at www.facebook.com/SolitudeOfStrength.
2) UFit
UFit, Urban Fitness it means, is this 5,000-square-feet facility in the CBD area which offers personal training, nutrition guidance, physiotherapy, sports massage and MMA. They are also known for their outdoor group training such as the UFIT Bootcamp, RunFIT and UFIT Core. No open gym to the public but you can sign up for a free trial. They also have a huge group of trainers, about 22 the last I checked.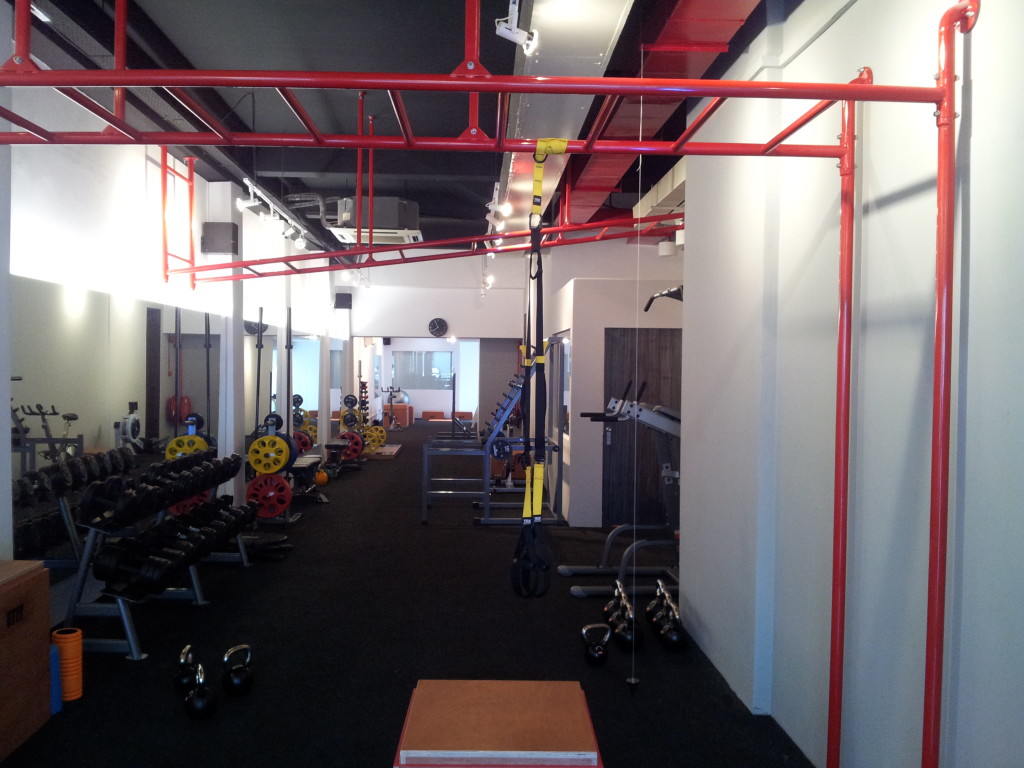 UFit is located at 87 Amoy Street. More at www.ufit.com.sg.
3) The Pit
The Pit has been around since 2011 and is known for being a hardcore gym. It moved to Orchard last September. You get a sense of 'beast mode' when you are there and members are often referred to as 'PITbulls'. This is where Chew Feng Yi trains – yes the one who broke all three events at the Global Powerlifting Alliance on 13 March 2015. Competing in the Under 48kg category, she lifted 150kg, 120kg and 62.5kg in the deadlift, squat and bench press events respectively.
There is a lot of emphasis on barbell work and the four basic lifts, as managing director Irving Henson believes in strength before conditioning. You can sign up for personal training or attend classes like Metcon, TacFit and Muay Thai. They also have specific sports training for golfers and triathletes. Open gym is for members only.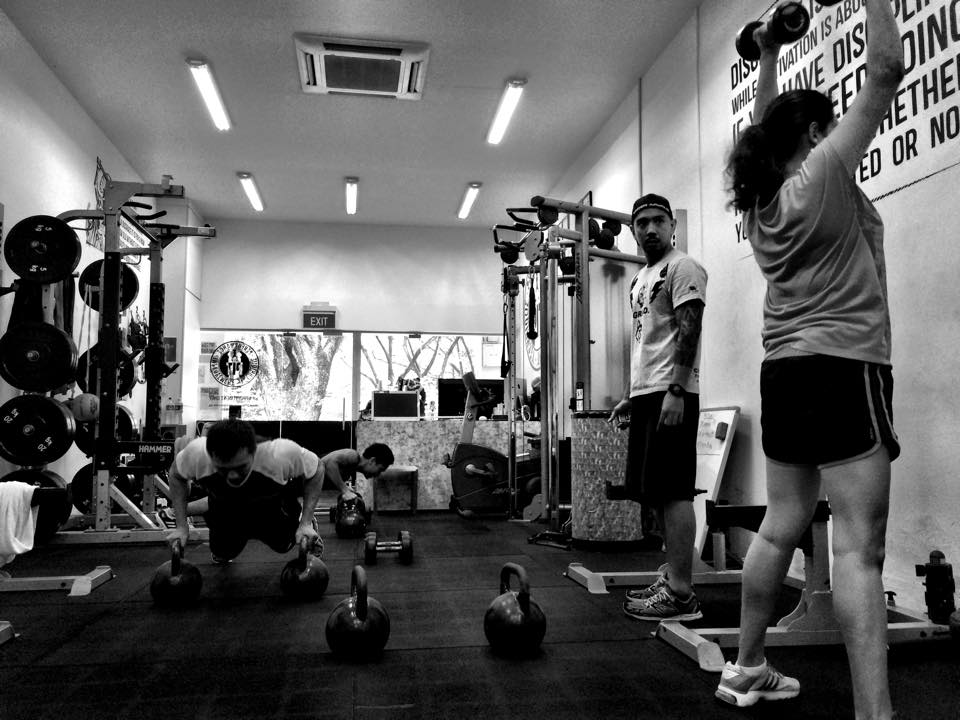 The Pit is located at 123 Devonshire Road. More at www.pitpersonaltrainer.com.sg.
4) Ritual
Ritual is a boutique gym with a clever HIIT (high intensity interval training) concept that caters best to working professionals. Limited to 10 people a class, the same 20-minute workout is run every half hour so you can book any session that suits your schedule. The remaining time is for you to shower and grab a protein shake before you get back to work. Working attire is provided and you train barefoot.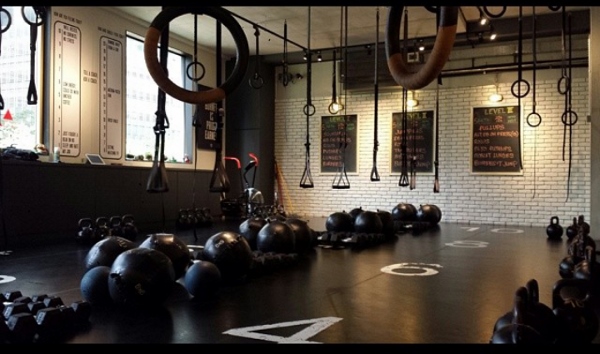 Ritual is located at 11 North Canal Rd. More at www.ritualgym.com.
5) Grit – Training for Warriors
Opened in May 2014 down the same road as Ritual, Grit is the first and only affiliate of the Training for Warriors (TFW) system in Singapore. TFW is a physical and mental training programme created for fighters more than 10 years ago, but you do not have to be a fighter to take this on. It involves speed, strength and endurance training, as well as flexibility work. Classes offered include Strength, Power (next level after Strength), Hurricane Day (metcon) and Active Recovery, limited to no more than five participants per session.
Grit is located at 39D North Canal Road. More at www.tfwsingapore.com.
6) The Strength Yard
As you can tell from its name, The Strength Yard is the place where you can literally build strength. It is also known as the Barbell Club. This is a pure open strength and conditioning gym with no classes. You can walk in and work out by yourself at $8 for a day pass or $65 for a month, every day of the week. Equipment includes squat racks, barbells, dumbbells, kettlebells, prowler and tyres. It's not a full functional strength and conditioning gym, without things like rings and rowers, but it's enough for most people.
The Strength Yard is located at 58 Joo Chiat Place. More at www.thestrengthyard.com.
7) Level
Level is a human movement-focused gym where you'll find pull-up bars, barbells, rings, ropes, kettlebells and space for squatting, running, jumping, climbing, lifting and throwing. They offer personal training, partner training (so you don't have to train alone) and classes such as ColeMine (HIIT), Friday Under The Bar (barbell strength work) and Weekend Warrior (boot camp). You can sign up for a trial too.

Level is located at 137 Telok Ayer Street #01-03. More at www.level.com.sg.
8) Sweatshop
I love this name. I feel like I've already worked out before going there, LOL! Focused on circular strength training, they believe your body was meant to squat, crawl, climb, plank, pull, push, press, rotate, pivot and become the ultimate dancing machine. Uh huh, dance.  No barbells or weight plates, but there are gym rings, pull-up bars, ropes, clubbells, kettlebells, medicine balls, punching bags/gloves/pads. You can walk in to use their facilities for S$30 a month or S$180 for unlimited. They have boot camp, Muay Thai, TacFit or personal training.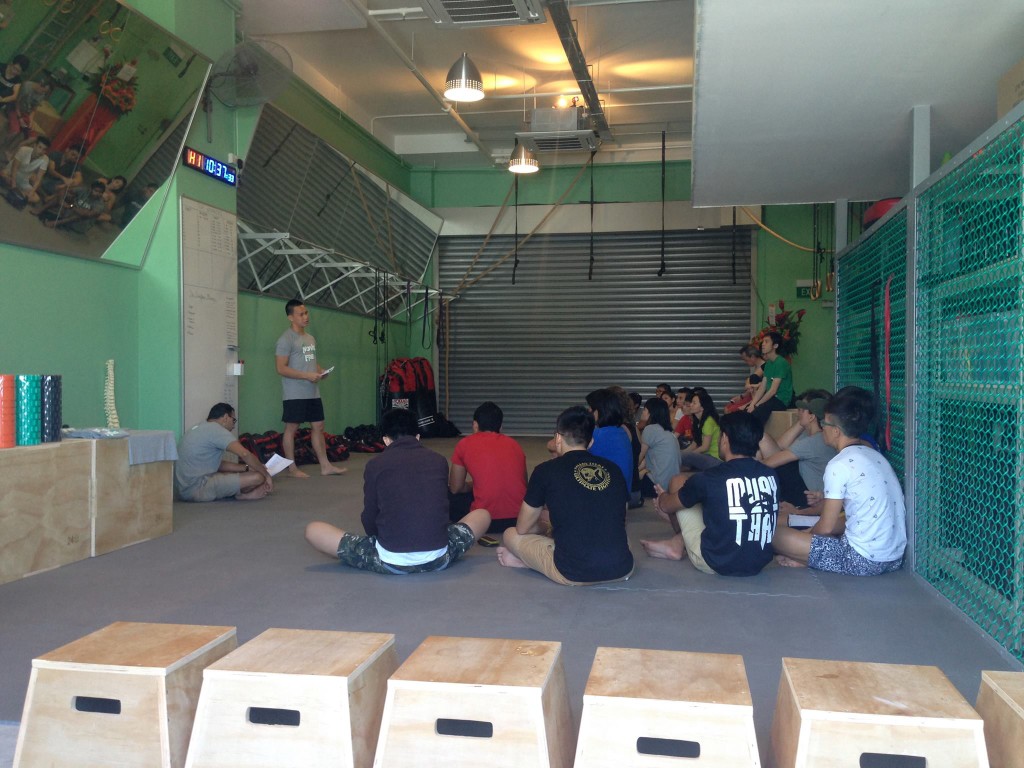 Sweatshop is located at 18 Boon Lay Way #07-127 Tradehub 21. More at www.sweatshop.sg.
Did I miss anyone out? Drop me an email at info@cheryl-tay.com so I can update this list then!