Postcard from Marina Bay: Formula One SingTel Singapore Grand Prix 2013
Although there is limited motorsport activity in Singapore, I am grateful that we motorsport fans have the annual Formula One SingTel Singapore Grand Prix to look forward to! It's a special race as it is held at night and on the streets of the city centre, the very roads that I drive on nearly every day. Of course, that also means road closures and having to leave my car at home for public transport.
My typical Formula One week usually starts on a Wednesday, as that's when the drivers start coming in and making appearances. Wednesday is also when the FIA media accreditation centre opens so I can collect my media pass. Last year I did a behind-the-scenes story on the Scuderia Toro Rosso team setting up shop so I was already in the paddock on Monday and Tuesday. This year, I properly kicked into Formula One gear on Wednesday, when the first events started happening.
Mark Webber of Red Bull Racing had a very busy Wednesday afternoon, first at the National University of Singapore engineering faculty to launch the Infiniti Performance Engineering Academy, then to Assumption Pathway School to award prizes to the winners of the helmet design contest, before giving a ride to the winners from the school to OCBC Centre for a cocktail reception by Infiniti.
McLaren's Sergio Perez and two-time World Champion Mika Hakkinen were at Clarke Quay that same evening for a Johnnie Walker anti-drink drive campaign launch with SMRT. Earlier in the afternoon, Sauber's Esteban Gutiérrez was at Henderson Secondary School for a soccer clinic with Chelsea FC Soccer School Singapore.
[read my post on F1 events here]
Thursday was a crazy day of driver appearances and I really wished I could have cloned myself. I went for a group interview with Hakkinen first and he recognised me after I showed him this photo we took when I first met him in Siena, Italy back in 2010.
The session got delayed and I couldn't make it down in time for a Shell cooking demonstration that Ferrari's Felipe Massa was at, so I made my way to Marina Bay Sands to wait for three-time World Champion Sebastian Vettel of Red Bull Racing to arrive and grace the official opening of the first G Factory Premium Store in the world.
He was there for no more than 20 minutes, although his fans waited for over an hour just to catch a glimpse of him.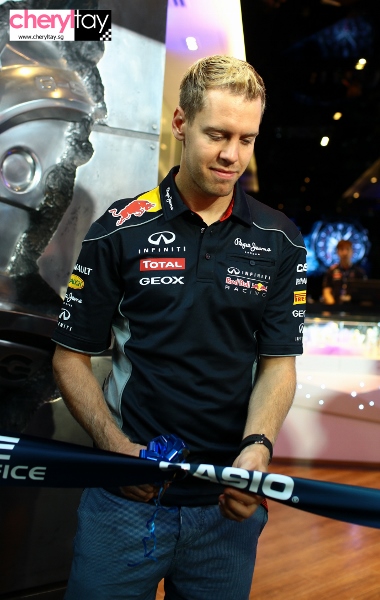 There was a meet-and-greet session by the Mercedes AMG PETRONAS drivers Lewis Hamilton and Nico Rosberg at the same time over at Millenia Walk, and I was told by a fellow media colleague that it was just as brief, with the drivers walking in, saying hi, taking some questions, chatting with a fan who won some contest to meet them and then leave. Hakkinen was also making an appearance at VivoCity for the The Gillette 'Great Face Race'.
I made my way down to the paddock next and saw some last-minute touches being carried out on the track. I started to feel flutters of excitement when I walked on the track, in anticipation of the racing action.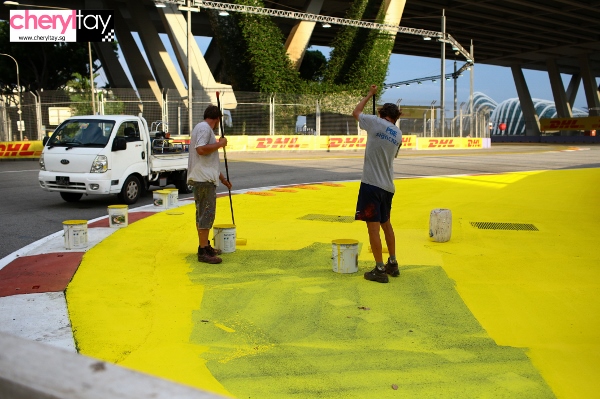 Coincidentally, Vettel reached at about the same time as I did, although he left the event earlier and went by car whilst I went on foot.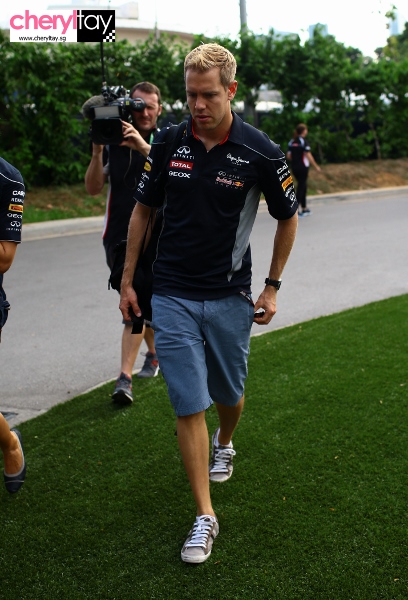 I had a little time before my one-on-one interviews with Mark Webber and Christian Horner, so I hung around the paddock entrance for a bit to see which drivers would come in next.
With some luck, guess who came?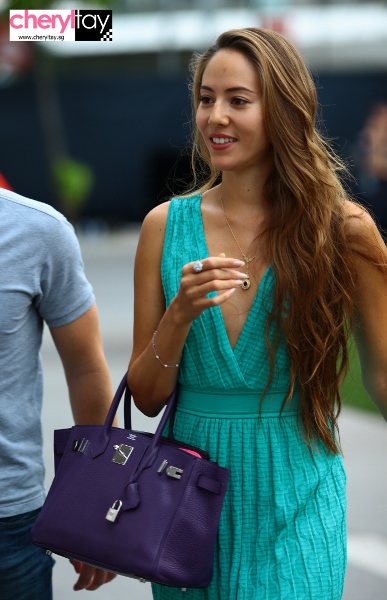 Jessica Michibata! Yes, the pretty girlfriend of Jenson Button… Now that Hamilton has broken up with Nicole, all the attention is turned to Michibata.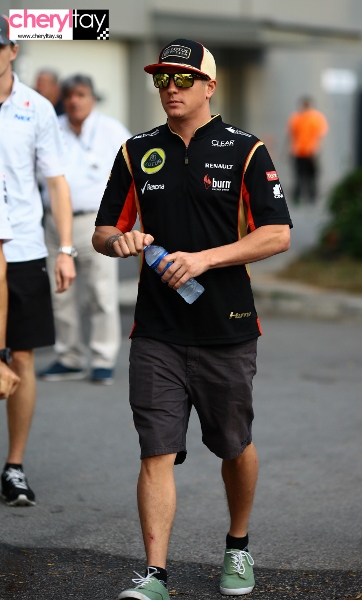 Some of the drivers who had to attend the Thursday FIA press conference also walked past. Poor Nico Hulkenberg was yawning away, probably suffering from jetlag, despite still staying on European time.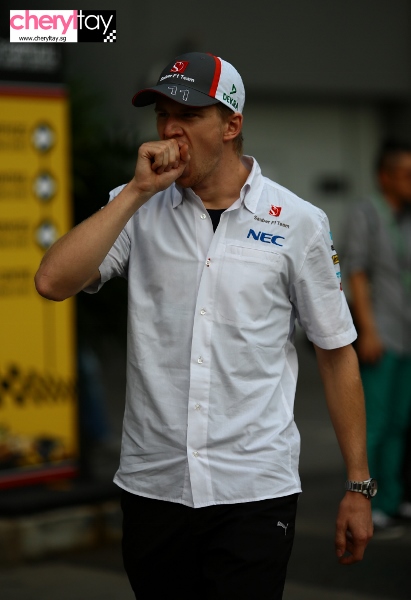 The drivers sleep at 6am and get up at around 2pm, so that they can stay on the European clock.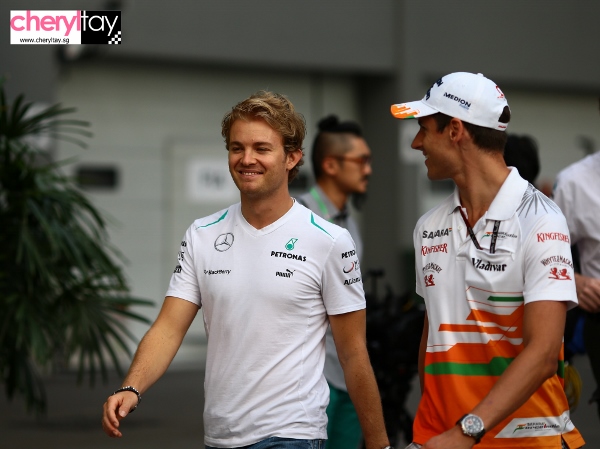 I had the chance to interview Mark Webber and my first question was about the possibility of him returning to Formula One. "No, never, I won't return to F1," was his reply. I've interviewed him every year since 2010 and I do like his candid and honest personality. This is the last time I am seeing him in F1 so I had to get his autograph on the picture we took together at the first interview I had with him.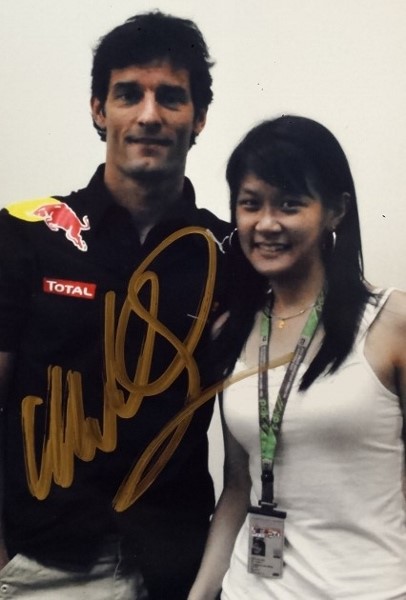 While I was in the paddock interviewing Webber, there was a Women in Motorsport event at the UBS Command House. I really wished I could have been there to listen to Claire Williams, deputy principal of the Williams team, and Susie Wolff, development driver for the Williams team!! After speaking to Webber, I had the chance to interview Christian Horner too and got him to autograph a picture I took with him back in 2010.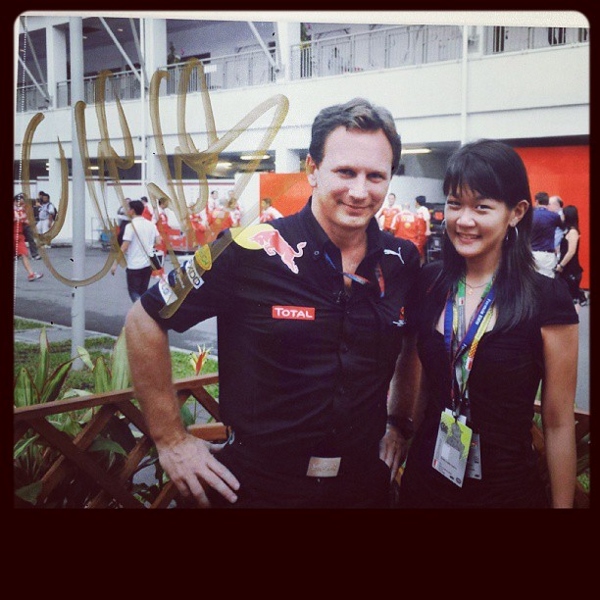 I wanted to get Vettel's autograph but I was a little nervous. I finally just found the courage to go up to him and ask him to sign this, yay! I remembered when I asked him for this photo, he said "Ok but make it quick". This time he obligingly signed for me with a huge smile though!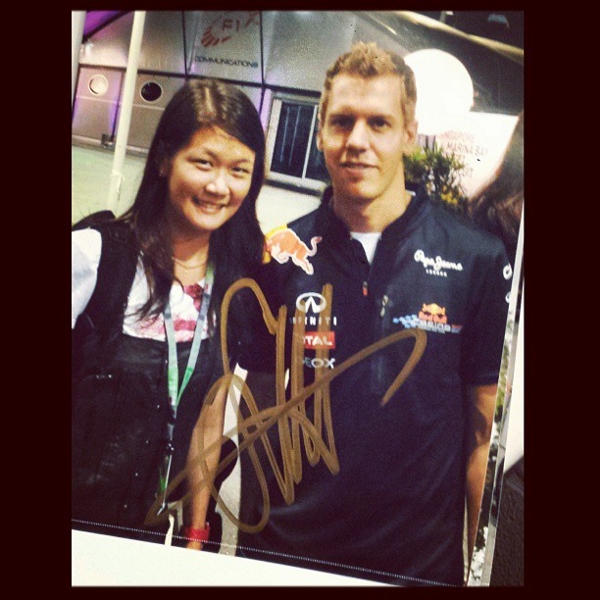 While waiting for Horner to end his phone call so the interview could go on,  I happened to see Button leaving with Michibata! Oh I think they make a great couple!!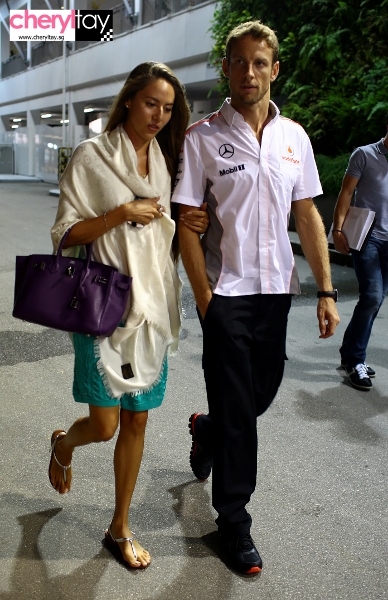 On Friday I went to the paddock around 4pm so I could catch the drivers coming in. Teams are not allowed to come in before 3pm and after 5pm or they will be fined for being late. The first two practice sessions got under way on Friday night and it felt great to hear the F1 cars come to life!
Drivers were all in their racing suits now, ready to go out on the Marina Bay street circuit which has some modifications made to it this year.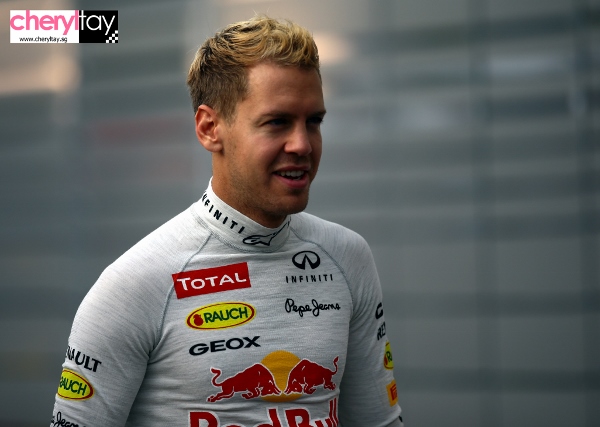 The thing about being a street circuit is having the fences up around the track, so many face the problem of having to shoot through the fence.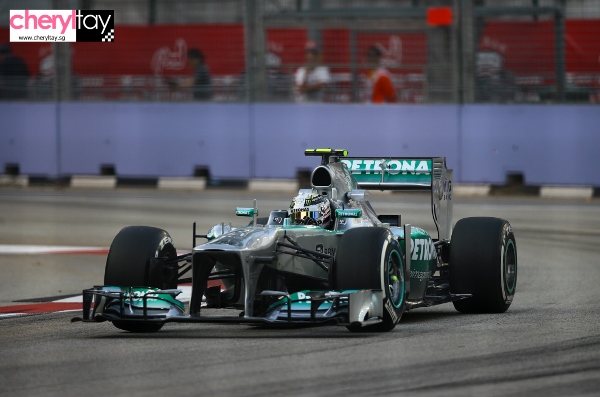 I went out to shoot, but I stupidly forgot to get ear plugs, so I barely took a few shots and had to return to the media centre. The cars are really too loud and there was a ringing in my ears.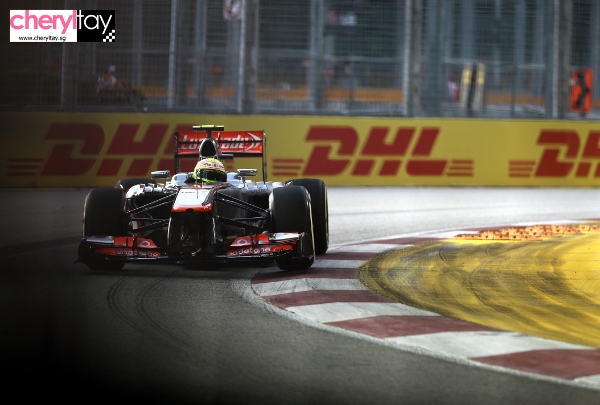 Lesson learnt – always keep a set of ear plugs in my bag!!
Hamilton was the fastest in first practice, but Vettel came back strong in the second practice session.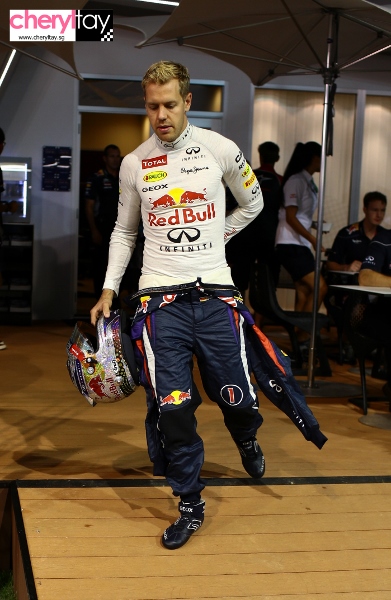 I was at the track till really late on Friday, because I had an interview with Daniel Ricciardo of Toro Rosso at 145am. I interviewed him last year as well, when he was a rookie and I remember how cheerful and fun he was to talk to. Next year Ricciardo will take a major step in his Formula One career when he takes over Webber's seat at Red Bull Racing – will we be seeing Ricciardo on the podium soon?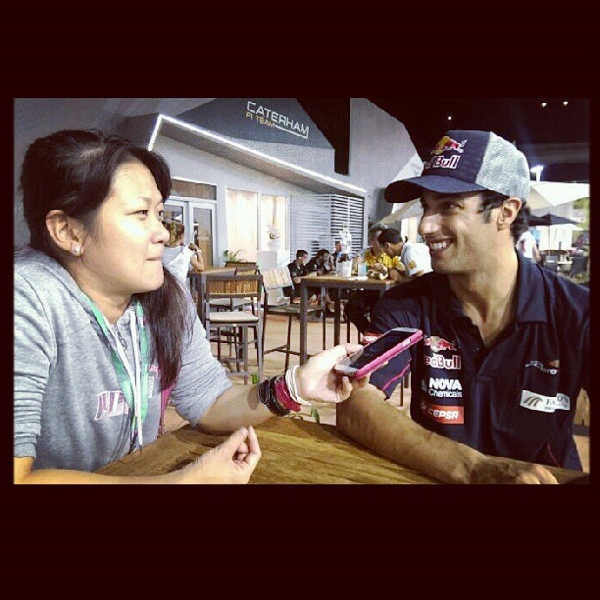 After I was done with the Ricciardo interview, I packed up and happened to leave at the same time Button left with Michibata. Although it was already 3am by then, there were still some fans waiting at the paddock entrance in hope of meeting their favourite drivers! Button was kind enough to sign autographs before being whisked away back to his hotel.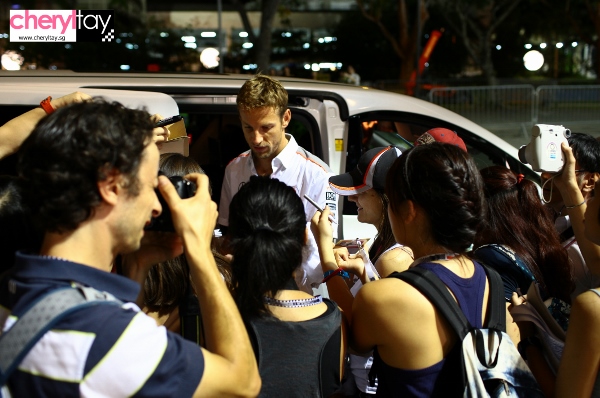 Every year I would be interviewing someone at such a late hour and by the time I leave the circuit, it will be quite deserted.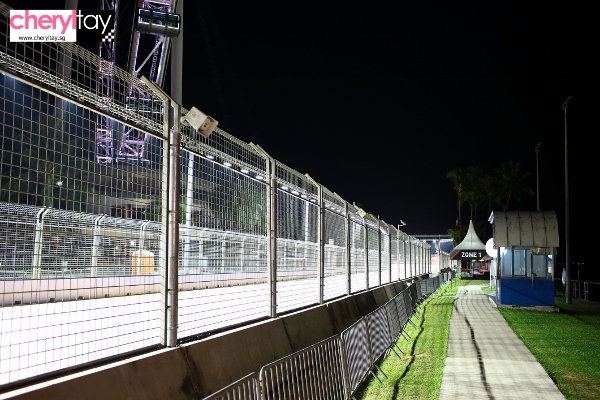 I thought it would be easy to get a cab from Marina Bay Sands, but nooooooooo the queue was horrendous!!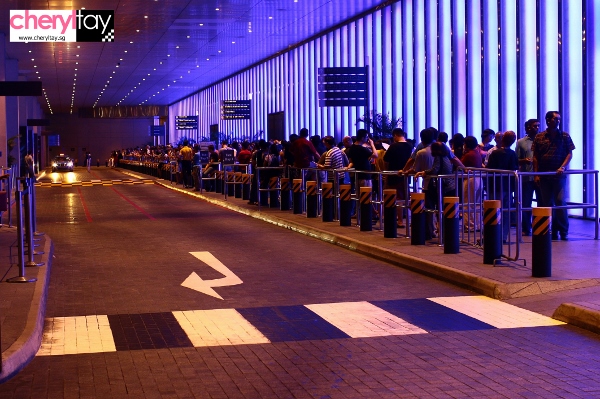 There must have been 600 people in that queue and hardly any cabs available! This was only the casino side – the queues at the hotel and shops were just as bad. I walked out all the way to Shenton Way and waited nearly an hour before being able to flag down a cab that was available. It was 4am by the time I got into a cab!
The next day I made my way down to the track at about 3pm and I happened to walk behind Britta Roeske, Vettel's PR manager. No, Vettel wasn't with her, but some of the fans recognised her and asked for her autograph. How cute!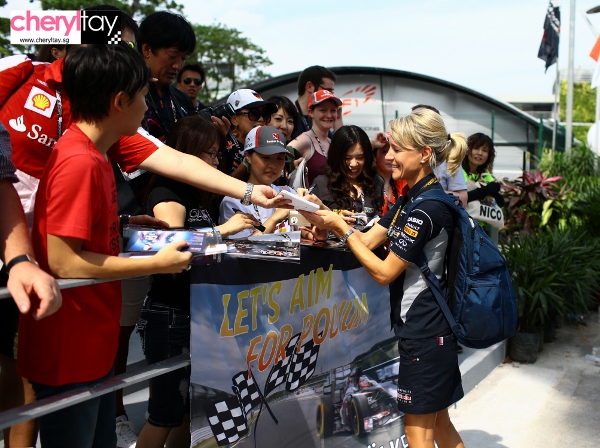 The fans are really dedicated, waiting from mid-day in the hot sun for their idols to arrive!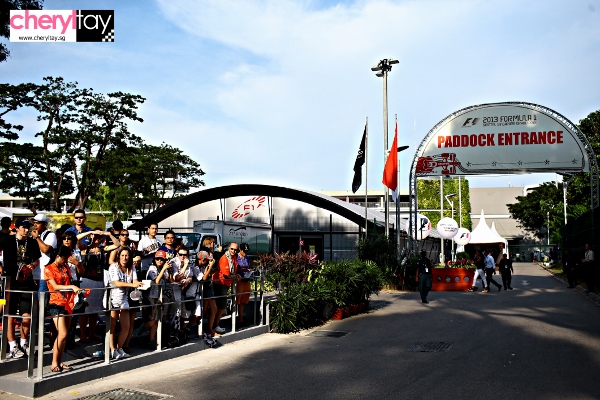 I did a bit of stalking again, waiting for the drivers to come through the entrance.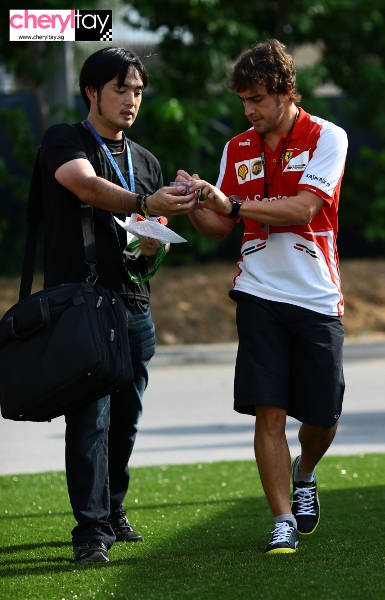 They are often stopped for autographs and I figured this was a good time to get Ferrari's Fernando Alonso to sign for me. I didn't want to disturb them on race day!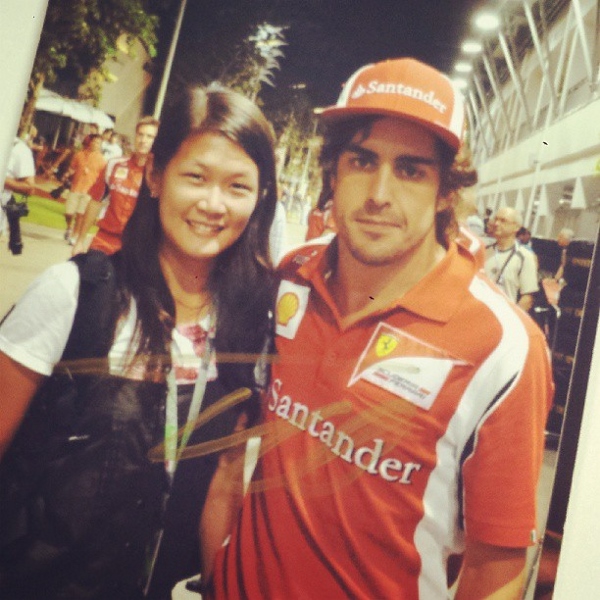 There was one more practice session before the all-important qualifying.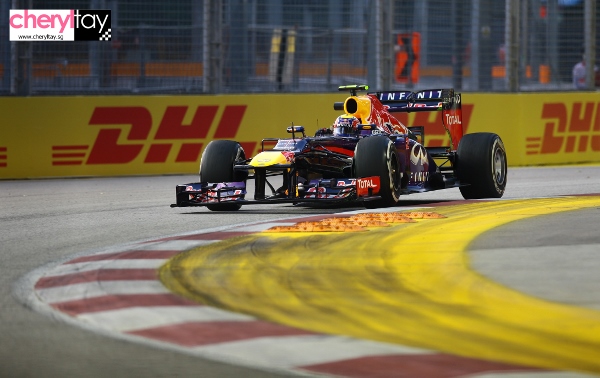 Once again, Vettel was fastest in third practice. He won the Singapore Grand Prix the last three years and is tipped as the favourite for this year, but it was still crucial to get pole position on a street circuit.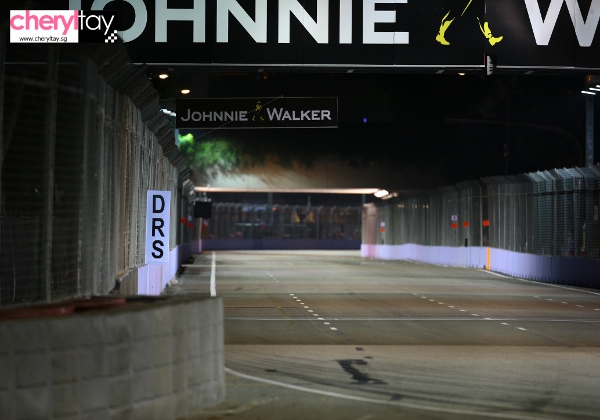 As I walked around to get photos, I was really amazed at how our humble streets of Marina Bay could be transformed into this high-speed Formula One track!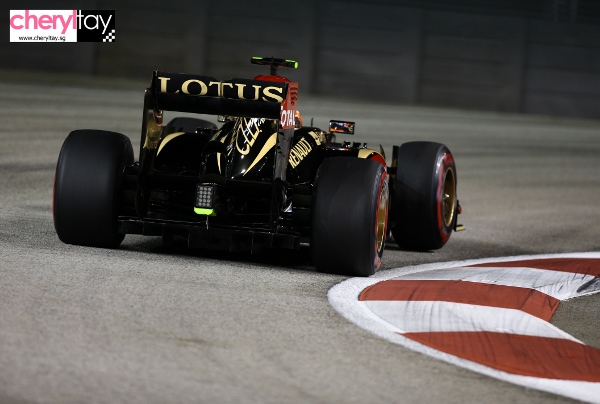 The cars fill up the city with their wonderful (and super loud) sounds, a once-a-year affair which I really treasure.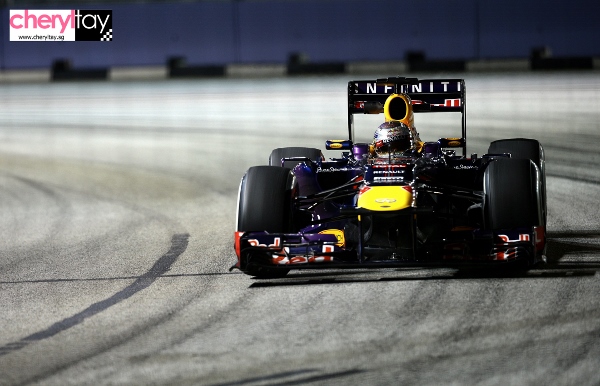 Vettel took a gamble in Q3, coming back to the pits early so he could save his tyres. It must have been nerve-wrecking for him, watching the rest of the drivers clock their times and hoping they wouldn't beat him.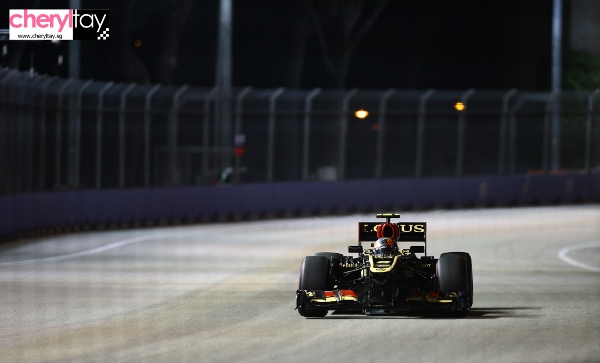 Rosberg clocked a time nine-hundredths of a second behind Vettel, having to settle for P2, while Romain Grosjean of Lotus came in P3, much to the delight of his team.
Sunday was the day everyone was waiting for! RACE DAY! Although the race only started at 8pm, I was there in the afternoon. I had an interview with four-time World Champion Alain Prost first, before heading to the media centre.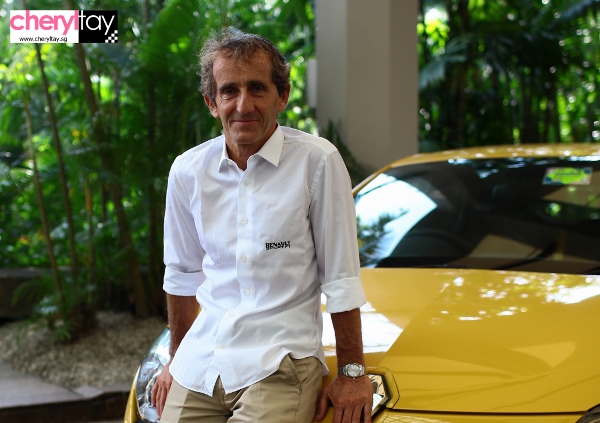 Prost was the man of his time, known for all the controversy and also his constant battling with the late Ayrton Senna. At 58 years old now, he is still involved in the sport as a global ambassador for Renault. I really enjoyed speaking to him, as he shared interesting answers. None of us at the interview asked about Senna though, out of respect.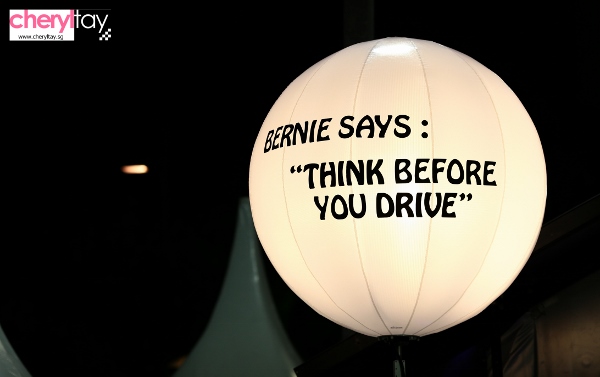 The FIA media centre on the second level of the pit building is where I set up home for the week. Singapore GP does a great job of providing lots of food and drinks, including hot soup, sandwiches, wraps, pies, cereal bars, chocolates and Ben & Jerry's ice cream. Previous years the ice cream was from Haagen-Daz. There's an endless supply of drinks, like soft drinks, isotonic drinks, water and even fresh coffee from a Nespresso machine. That's an A+++ for hospitality man!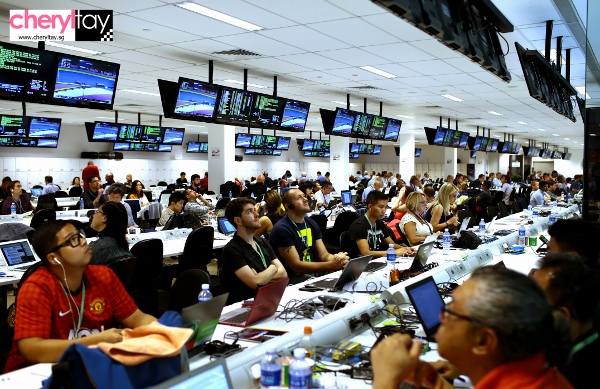 The media centre is where all the F1 reporters are gathered for the same purpose and I love the atmosphere in there! It is also located directly above the Red Bull Racing and Ferrari pits.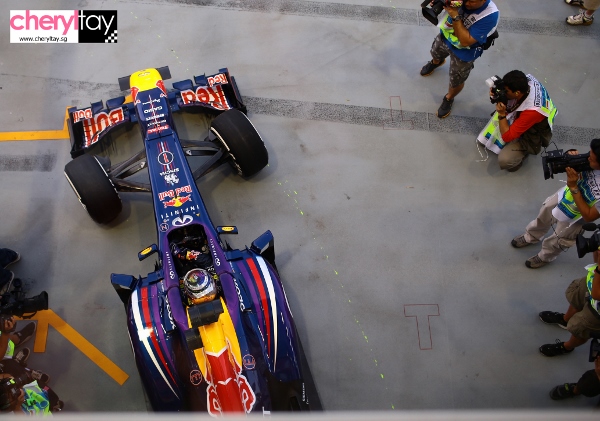 I wanted a bird's eye view of Vettel's pit stop so I marked my spot by the window and stood there from the start of the race until he made his first pit stop. Success!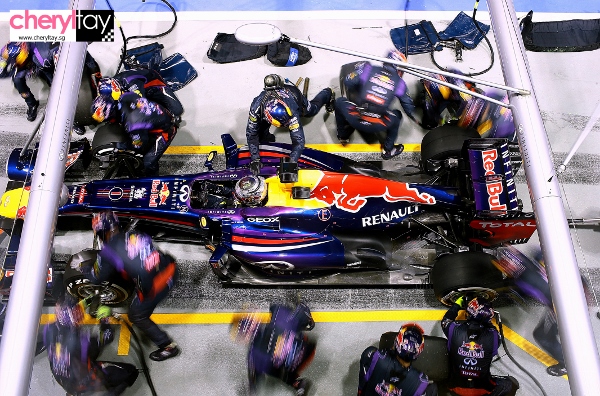 The Singapore Grand Prix has never failed to have drama, with the safety car always being deployed. This year wasn't spared and the safety car was brought out when Ricciardo found himself in the wall. That helped to bring the field together but on the restart, Vettel was really too strong and he went off into a great lead, while the others battle for place behind him.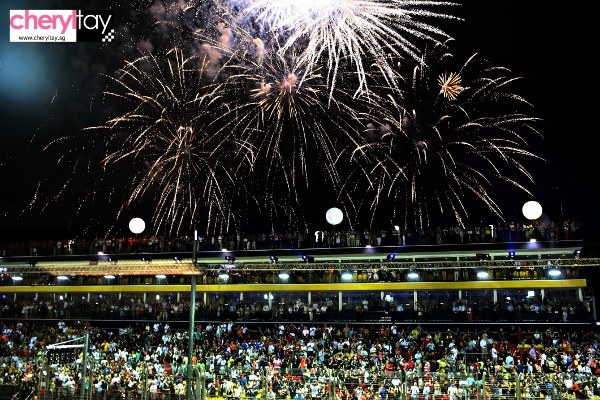 Finally, 32.6 seconds after Vettel took the chequered flag, Alonso came through, followed by Kimi Raikkonen of Lotus. Raikkonen was suffering from back problems and had to take painkiller injections. The Lotus team also owed him his salary, but he still drove hard for a great result.
The Mercedes pair came in P4 and P5, just missing the podium unfortunately.
Alonso was in high spirits; although he didn't win, he felt like it was victory because it was such a challenge to bring the underperforming Ferrari to the front.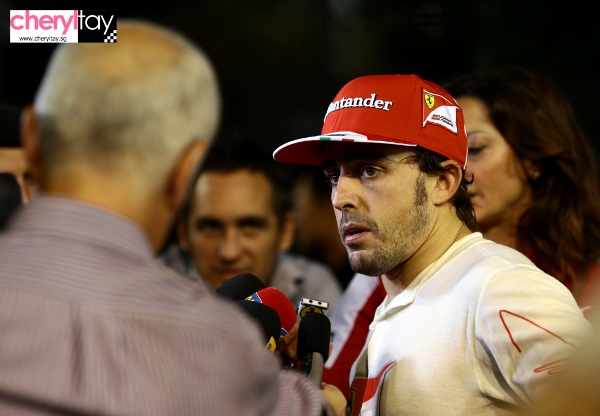 Teams started packing up even before the race ended and I saw containers being brought out in the middle of the race when I ran down to the paddock to try and hunt for David Beckham. YES HE WAS THERE to support Hamilton but I didn't get a chance to see him!!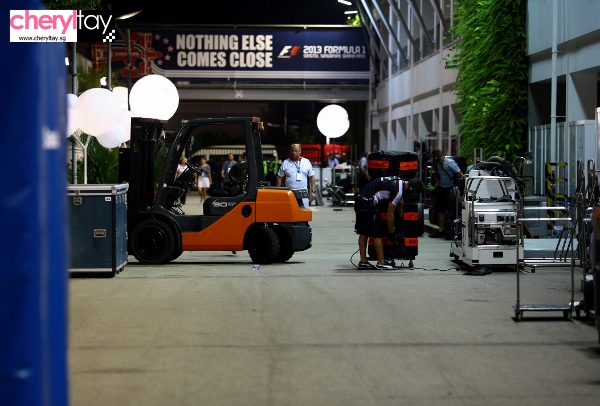 Formula One wraps up as quickly as it comes around and while I do suffer from some inconvenience, it's worth it all!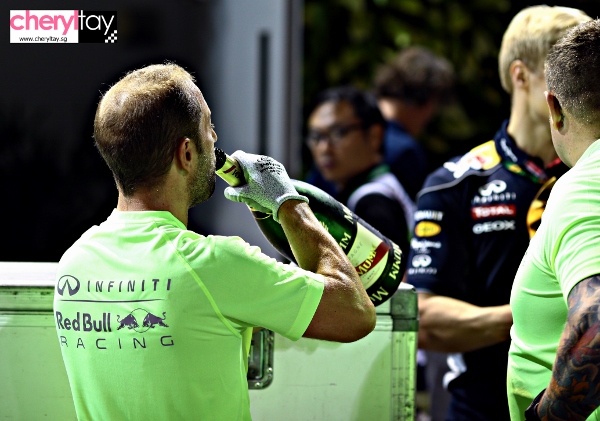 Vettel leaves Singapore with a 60-point lead over Alonso in the driver standings. He got booed when he was taking his prize on the podium – I don't think that was nice at all, but thankfully he took it in good humour.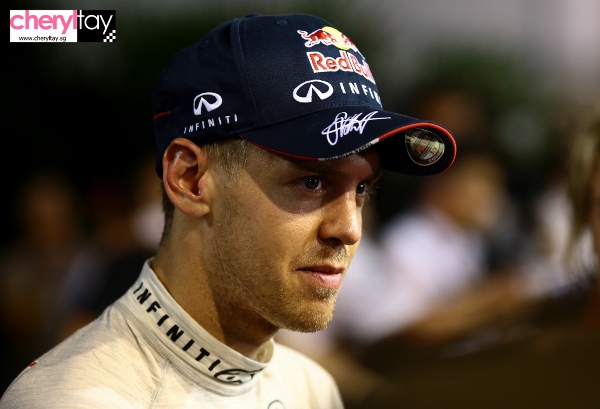 Will Vettel achieve his fourth consecutive title this year? We shall see!