Although the racing only happens over Friday, Saturday and Sunday, the city revved into top gear in the month of September and drivers started making appearances from mid-week onwards as they arrived into Singapore.
Here are some of the happenings, in case you missed them:
Mark Webber launches Infiniti Performance Engineering Academy at NUS, before greeting OCBC and Infiniti customers at OCBC Centre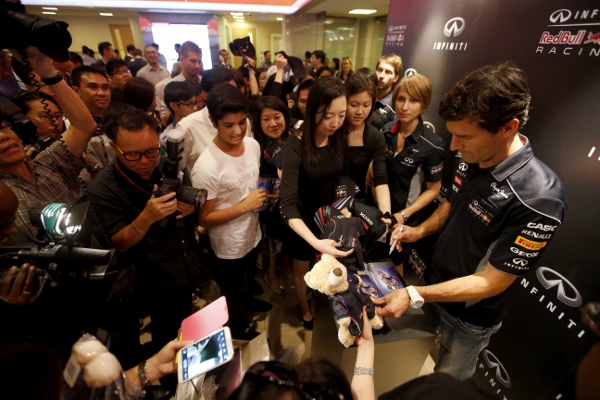 Infiniti is offering performance-driven engineering graduates an exclusive opportunity to work in Formula One via a new global talent search initiative. Singapore is the first country to launch the programme at the National University of Singapore, the top ranked university in Asia. The Infiniti Performance Engineering Academy will see two winning candidates complete a 12-month assignment with triple World Championship-winning Formula One team Infiniti Red Bull Racing, based in Milton Keynes, UK. The two graduates will work alongside Infiniti engineers already based at the F1 team's factory. In addition, they will also spend time at Infiniti's nearby technical center in Cranfield, UK, where they will intensify their knowledge of future road car technologies.
The new programme is the latest development in the Infiniti Red Bull Racing partnership, generating mutual benefits on the track and the road. Recruitment will open later this year. National selections across several global regions will begin in May 2014, putting applicants through a comprehensive selection process to assess their performance potential and innovative thinking. Finalists will present their ideas to a panel of senior technical figures from Infiniti and Infiniti Red Bull Racing in July 2014 with the two winners announced at the British Grand Prix. The placements will begin in September 2014. This once-in-a-lifetime scholarship includes a salary, accommodation, and the use of a car.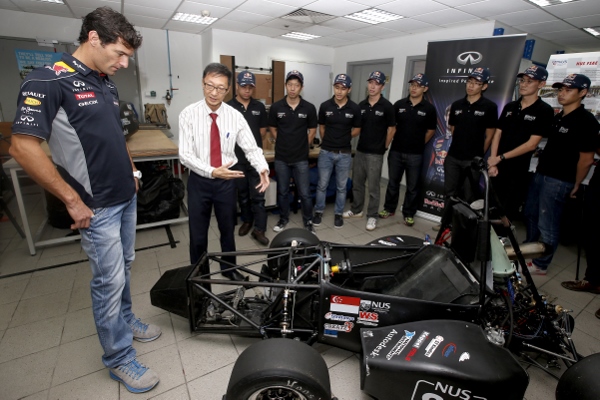 Infiniti also collaborated with Assumption Pathway School for a privileged drive event with Red Bull Racing driver Mark Webber as the distinguished guest. Students from Assumption Pathway School are mainly from low income families. They lack self-esteem and confidence due to their family background and poor academic results. This initiative from Infiniti gave the students a once-in-a-lifetime opportunity to get up close and personal with Webber. Essentially, it helps to boost their morale.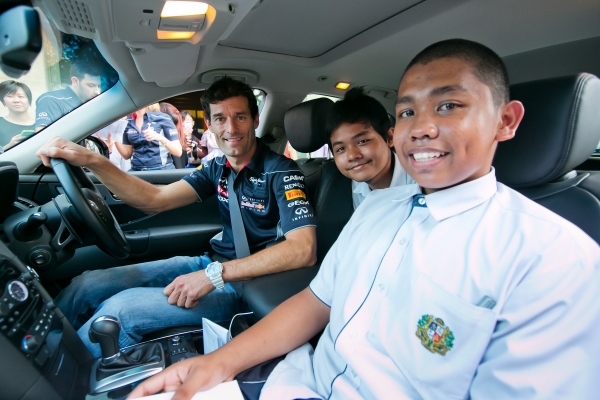 A contest was held in the school for students to compete for the top two helmet designs. The two winners of these designs, Muhd Irsyaduddin B Mohd Nasir and Muhd Mikhael Bin Abdul Rasid, stood a chance to take a joy ride in an Infiniti driven by Webber from Assumption Pathway School to OCBC Centre, where an evening cocktail event was held. Customers from both Infiniti and OCBC were invited to this cocktail event for an exclusive meet-and-greet session with Webber.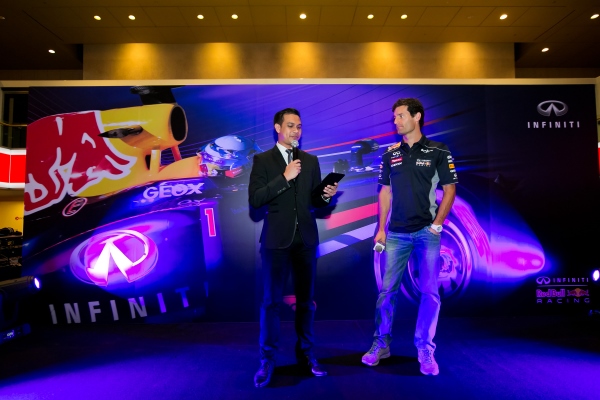 Chelsea Football Club and Sauber F1 Team at Henderson Secondary School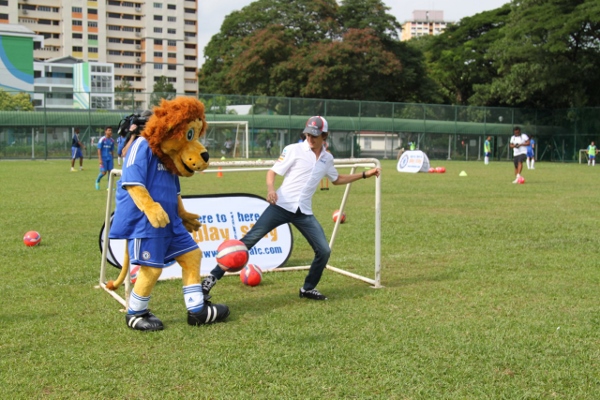 In conjunction with F1 in Schools, the kids aged 11 to 14 from Henderson Secondary School and Chelsea FC Soccer School Singapore, took part in a soccer clinic and had the chance to build and race a balsa wood model car. Points were awarded for their football skills and how their car performed in the races.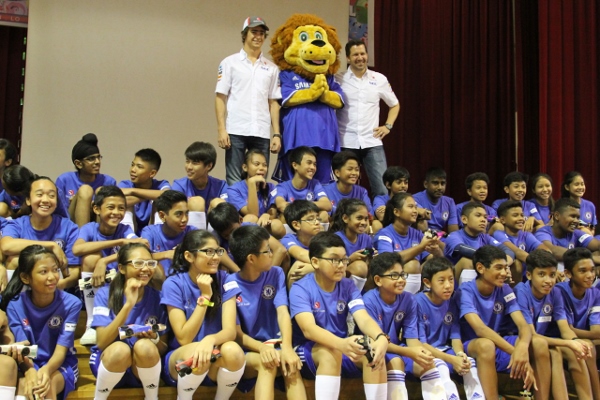 The 48 youngsters were competing for the chance to win a behind-the-scenes Sauber garage tour. Sauber driver Esteban Gutiérrez gave a unique insight into life as a professional racing driver and also joined in the fun on the football field during the soccer clinic.
Johnnie Walker and SMRT launch global campaign with Sergio Perez and Mika Hakkinen
Johnnie Walker launched its global Join the Pact campaign with McLaren driver Sergio Perez and two-time World Champion Mika Häkkinen at Clarke Quay on Wednesday. Reinforcing the importance of responsible drinking, Johnnie Walker announced its ambition to gather one million global commitments to never drink and drive via the unique hashtag #ImNOTdriving. To honour the one million commitments, Johnnie Walker will give away one million kilometres of safe rides home across the globe beginning in Singapore.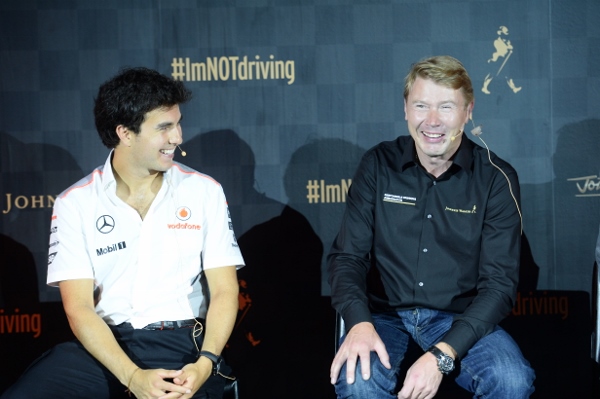 In partnership with SMRT Corporation Ltd, Johnnie Walker gave away 10,000km of safe rides home in SMRT Chryslers from Clarke Quay (19 – 20 September) and Marina Bay Sands (21 September). Patrons who pledge to never drink and drive using #ImNOTdriving stood a chance to win a free ride home that evening, simply by showing their pledge to the Johnnie Walker roving team at the different locations.
Fans also stood a chance to win the Ultimate Chauffeur Service over the race weekend. Häkkinen personally drove one guest home from the Johnnie Walker Circuit Lounge party on 21 September. In addition to the Ultimate Chauffeur Service with Häkkinen, the winner also received two VIP invitations to Johnnie Walker Circuit Lounge.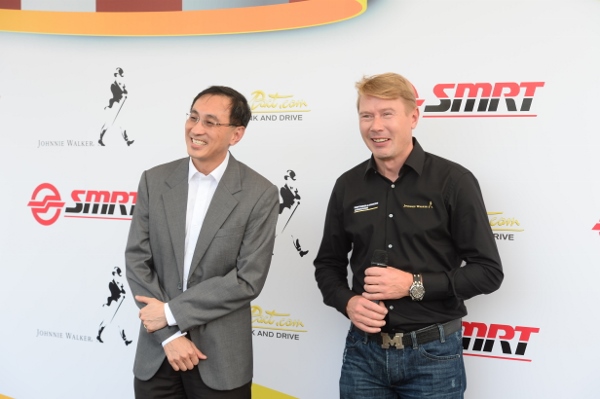 Shell unveiled 'Recipe for Success' with Felipe Massa
More than 250 fans and members of the public attended an insightful session on the unique composition of Shell V-Power, as well as Shell's successful technical partnership with the Scuderia Ferrari F1 team. The advanced formulation of Shell V-Power was presented via a simple culinary demonstration, making it easy for everyday drivers to understand.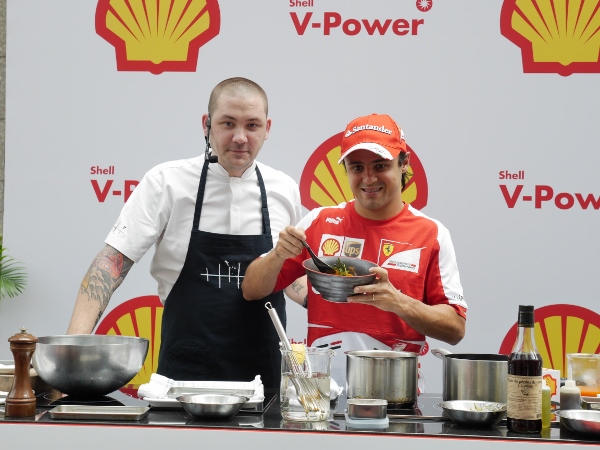 Themed 'Shell's Recipe for Success', Ferrari driver Felipe Massa joined modern gastronomy chef Ryan Clift for a 'live' cooking demo onstage, to show how the composition of Shell V-Power has a lot of common with the ingredients used for this special dish called 'Carrot V'Dumplings'.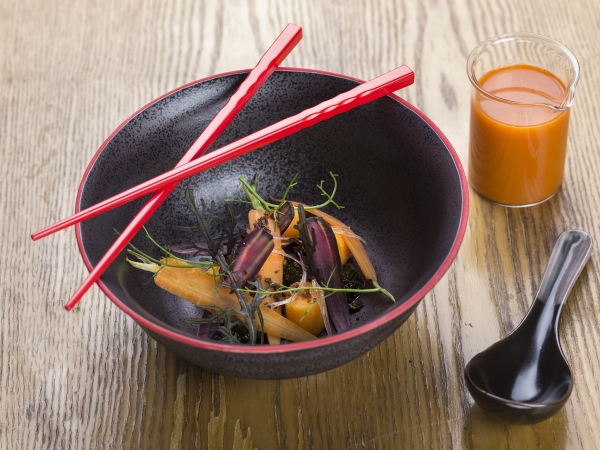 The dish is a carrot gnocchi made out of both Western and Eastern ingredients – Iranian pistachio, chervil stems, avocado oil, rojak flower and carrot soup. Giving the carrot gnocchi a tinge of local flavour, the rojak flower is widely used in traditional Nyonya cooking and can also be found in rojak.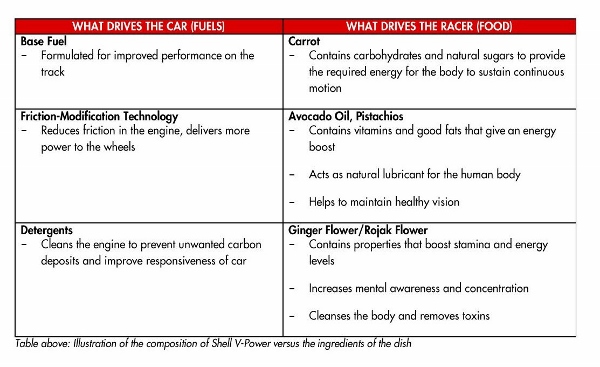 Mercedes AMG PETRONAS F1 team drivers meet and greet fans at Millenia Walk
2008 World Champion Lewis Hamilton and Nico Rosberg met fans at an exclusive meet-and-greet appearance with Mercedes-Benz at The Great Hall of Millenia Walk.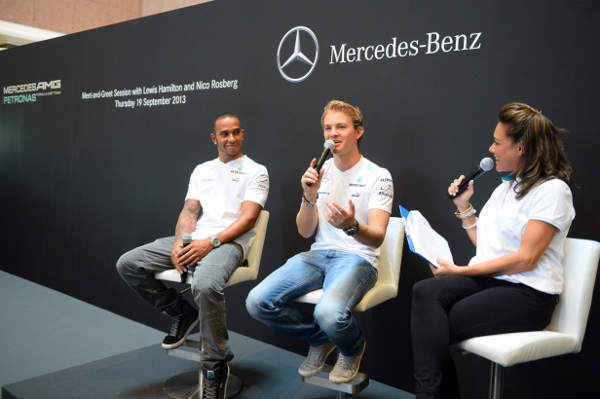 An ardent fan of Hamilton and the Mercedes AMG Petronas F1 Team, eight year-old Alex Kattoulas had a once-in-a-lifetime opportunity to share the stage with the champion duo. A kart racer himself, Alex waited for over six hours to meet his biggest inspiration in motor racing and presented Hamilton with his favourite Haribo candies, as well as a picture of his own kart , designed to look like Hamilton's 2013 F1 car.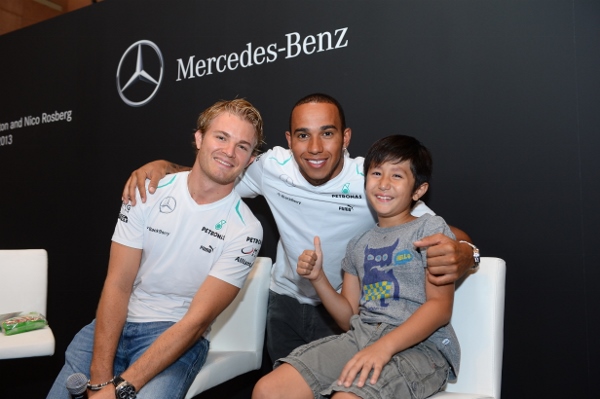 Casio opens world's first G-Factory Premium Store in Singapore with Sebastian Vettel
Casio, the leading manufacturer of consumer electronics, opened its first ever G-Factory Premium store with triple World Champion Sebestian Vettel of Red Bull Racing. As part of their ongoing retail expansion strategy, the new G-Factory Premium store is located at The Shoppes at Marina Bay Sands catering to discerning, affluent individuals in Singapore.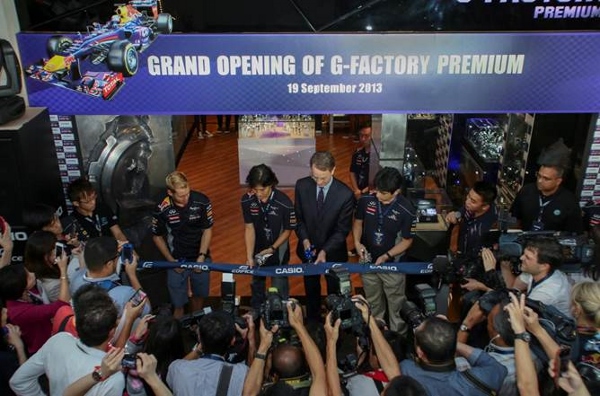 The bold and sophisticated G-Factory Premium store offers a top-tier range of brands including the elite line of OCEANUS, MT-G and MR-G range of timepieces. Consumers can also look forward to the EDIFICE (including those designed in partnership with the Red Bull Racing Formula One Team) and SHEEN range of watches. The G-Factory Premium store is now open at The Shoppes of Marina Bay Sands, 2 Bayfront Avenue, unit B2-90.
Mika Hakkinen races The Gillette Great Face Race
Gillette teamed up with Vodafone McLaren Mercedes to present an appearance by Mika Häkkinen. The Gillette Great Face Race, designed to launch new Gillette® Fusion® ProGlide™ SilverTouch, pitted enthusiasts against Hakkinen in a unique remote-control car racing tournament.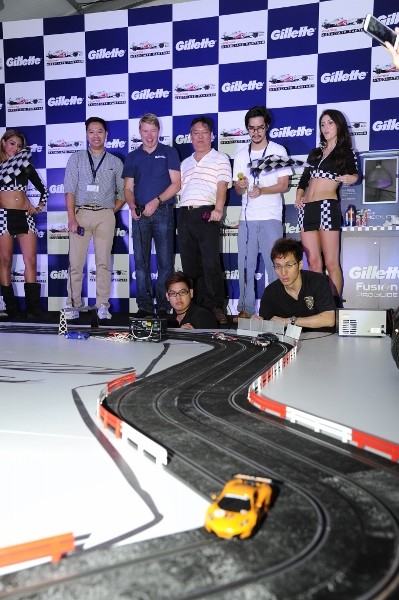 UBS Women in Motorsport Singapore forum with Claire Williams and Susie Wolff
Organised by Asia Motorsport Development, the inaugural 'Women in Motorsport' event, supported by UBS, a global partner of Formula 1, featured two of F1 leading ladies to generate public awareness and promote interest in motorsport in Singapore for women. Guest speakers included Claire Williams, deputy team principal of the Williams F1 team together with Williams' development driver and Women In Motorsport ambassador Susie Wolff, who gave a valued insight into how the disciplines within motorsport can be used as a positive motivational force, not only just in motorsport, but also in all aspects of professional life, education and business.
With an increasing number of highly qualified women rising to the ultimate challenge, whether that be in driving, technology, engineering, business, management or as officials, the event is supported by the Singapore Motor Sports Association, who are the National Sporting Authority of the global governing body of motorsport, the FIA who created the Women in Motorsport Commission to encourage, support and promote the involvement of women at all levels of motorsport and to highlight where women are successful.
SingTel flags off race weekend in Singapore Style
For the first time in Singapore Grand Prix history, members of the public were invited onto the famed Marina Bay Street Circuit a day before the Circuit Park's official opening. Mr S. Iswaran, Minister in the Prime Minister's Office and Second Minister for Trade and Industry, also joined in the festivities.
SingTel, title sponsor of the 2013 Singapore Grand Prix, unveiled Singapore's top three Grid Girls at The Pit Lane Experience, just 24 hours before race weekend. 23-year-old student, Shannon Lim won the honour of holding the Singapore flag as this year's top SingTel Grid Girl. She is one of three winning Grid Girls who flagged off the race. In second and third place were Jermayne Chow, 23 and Stacey Liu, 21, both also students. The public got to know this year's SingTel Grid Girl contenders via The Singapore Factor, a series of Singapore-style challenges that were designed to find Grid Girls who best epitomise the Formula 1 Singapore Style theme.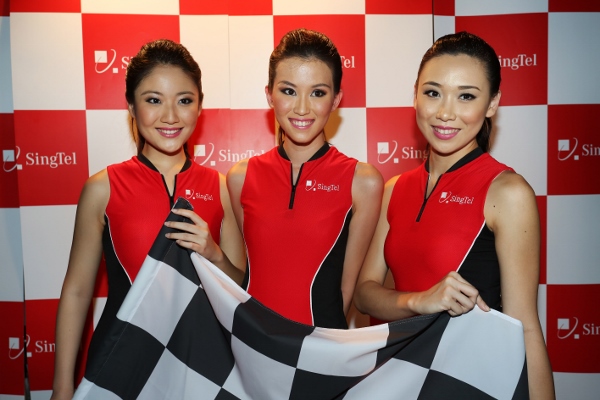 This year, SingTel custom-designed a chequered flag featuring a single red square to symbolise the uniqueness of the Singapore night race. The champion of The Big Race, Yoga Brata is officially the first Singaporean to take this chequered flag. The 32-year-old edged out his fellow finalists with a time of 5:29 minutes in the official F1 racing game, winning the much-coveted grand prize of a return trip for two to Nice, France, and an F1 driving experience in the prestigious AGS Formula 1 driving school. Brata's best lap time of 1:47 seconds beats the fastest lap by Nico Hulkenburg in last year's night race!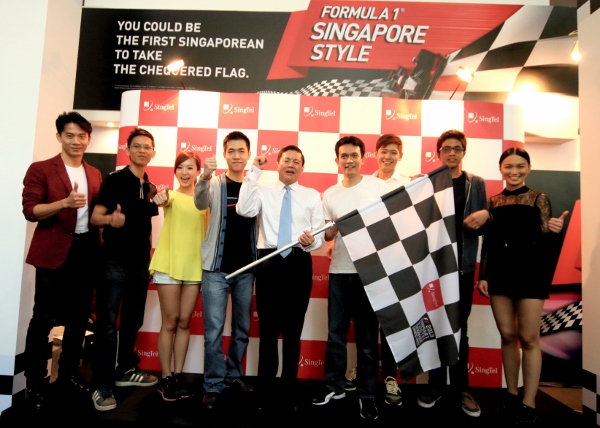 The exciting showdown took place over four roadshows which also saw Singapore's popular celebrity Romeo Tan pair up with Brata to clock in the fastest combined timing in the Team Category. The three other finalists, Lee Qing Xian, Jackson Tham and Muhammad Nazmi each walked away with an Xbox 360 Console with Kinect and Sunday Walkabout tickets.
All-new Range Rover Sport made its public debut at The Podium Lounge
The all-new Range Rover Sport made its first public appearance in Singapore on 20 to 22 September 2013 at The Podium Lounge 2013. The Range Rover Sport is the ultimate premium sports SUV – the fastest, most agile and responsive Land Rover ever.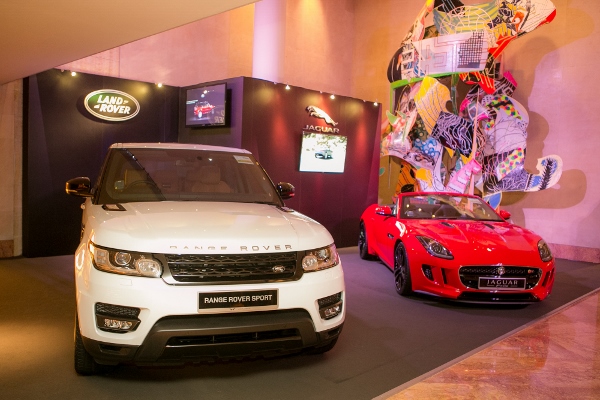 The Podium Lounge is the star-studded after-race party of choice for race drivers, celebrities, Asian royalty, ambassadors, models and musicians. After consecutive sell-out events in 2009, 2010, 2011 and 2012, The Podium Lounge returned for a massive Year 5 celebration at The Ritz-Carlton, Millenia Singapore's poolside.
Jaguar Land Rover is proud to be the official car of The Podium Lounge 2013. Two of the latest additions to both the Jaguar and Land Rover ranges – the F-TYPE and the all-new Range Rover Sport, were on display at the event to highlight the brands' world-class capability in setting new standards in uncompromising luxury and performance.