Why I made my car pink (and a chance to win a FREE full car spray from Nippon Paint):
I realise it does not matter what car I drive, but it's the colour of the car that attracts the attention. I used to have an S2000 in pink and while that gets added attention, I notice my pink Lancer receives a lot of stares too.
I feel particularly happy when I see little kids tugging on their parents and pointing to my car. Recently I have more reason to rejoice because my Lancer just got a fresh coat of paint! It's now in a darker shade of pink mixed by Nippon Paint Automotive, cleverly done up by the folks at Graffiti Garage.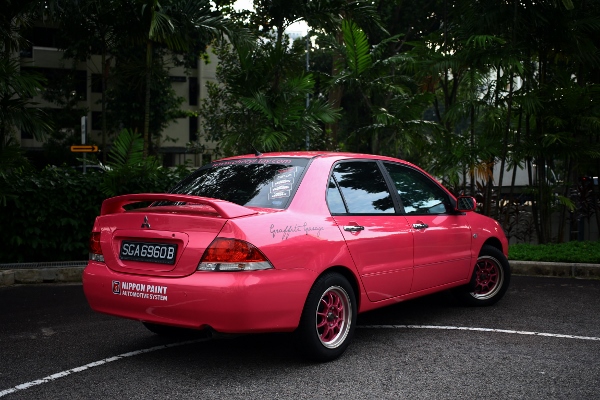 It was funny how my mum said, "Hey you made your car more pink!" when I picked her up from the airport after collecting the car back from the workshop. Yes Mum, I really made it pinker!
Why pink? Well, it is my favourite colour and most of my things are in pink – like my bag, water bottle, wallet, thumbdrive (YES!), shoes, car charger (UH HUH!), laptop, handphone cover and the list goes on.
Pink makes me very happy and I think it's important to keep ourselves surrounded with positivity all the time. So, my car is something that I interact with every day and I spend a considerable amount of time with her (yes it's a her because it's pink!). Therefore, my car has to be coloured pink!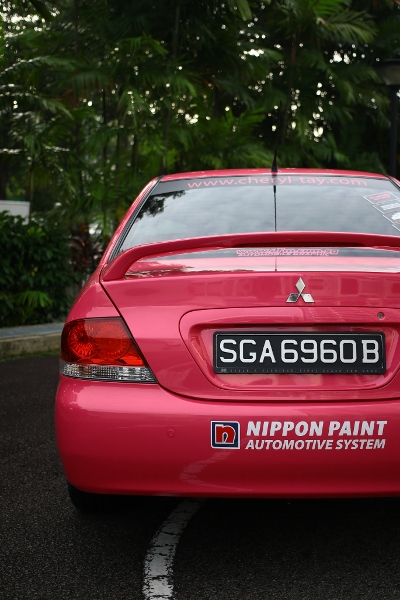 Then, what are some of the considerations when I decide to get my car spray painted?
Being in tropical weather, we are exposed to a lot of sun all year round and I don't want the pink to start fading after a while, especially when I have to park outside quite often. To resolve that, there are three layers on my car – the primer, the base coat of paint and finally the top coat. (Read more about the process in my previous post here).
It is important that you give your car a good paint job, particularly in Singapore where the car is constantly exposed to rain and shine. Poor quality paints will only give your car a limited window of protection before chalking and discolouring start to occur.
The humidity also increases the rate of corrosion on exposed metal and even aluminium. Hence, if your car (touch wood!) meets with an accident that leaves metal or components exposed to the environment, do have it patched up as soon as possible.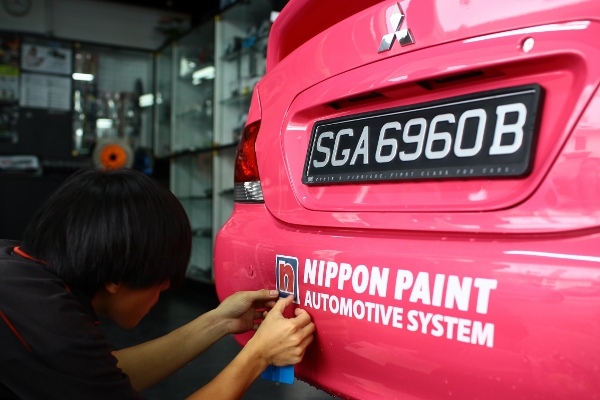 Choose a good automotive refinishing paint like the Nax Premila Master Tint system by Nippon Paint, a high quality product based on Polyurethane (PU) technology. It decreases the rate of degradation via UV attacks through exposure to the sun. The top coat then complements this protection system and with the new CyGLAZ technology, Nippon Paint differentiates itself from its competitors by further enhancing the performance of this protection system.
Are you thinking of getting your car sprayed? Or do you know of someone who deserves a makeover for his/her car? The generous folks at Nippon Paint have launched a contest for a FREE full car spray (worth S$2,000). Just in time for Christmas!
All you have to do is come up with a creative caption for this photo: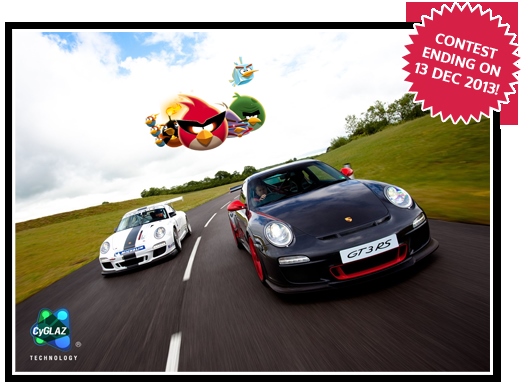 Get your thinking cap on and submit your entries here. For an additional chance to win, log on to their Facebook page and share the contest photo. Contest will close on 13 December 2013 2359 hours so do act fast.
Good luck!
*This post is sponsored by Nippon Paint Automotive.