I've been training for Ironman 70.3 triathlons for two years now and all the training is done in Singapore where I live (have lived all my life actually), with the exceptions of a few week-long training camps in Phuket previously. I've also gone for holidays in Australia, Finland and most recently Switzerland, where I've taken my bike along and did some training too.
Having just returned from Switzerland, one thing I have to say is – Singapore is really flat. I was in Zug for nearly two weeks and there were hills everywhere. Small hills, big hills.. suddenly Mount Faber or South Buona Vista seems small in comparison. Not just for cycling, but even for running; I was running on gravel and also going up and down slopes.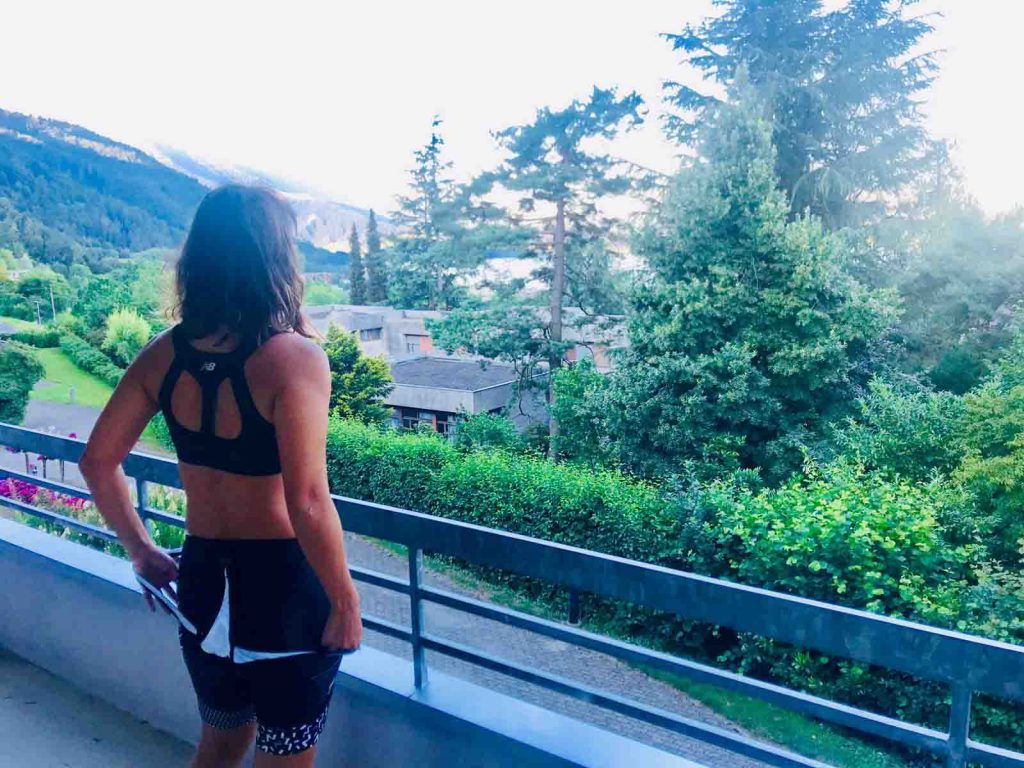 It's summertime in Europe now, where the days are long. Sun is up at 5+am and only sets by 10pm, which means there's a lot of time to train. Weather is beautiful too – blue skies, warm sun but cool breeze! Oh how I miss the weather there!!
So, this inspired me to write about what training for triathlons in Singapore is like… if you're curious.
PROS of training in Singapore:
1) Singapore is a safe city
Singapore is relatively safe, as we have low crime rates. You can cycle in the wee hours of the morning or late at night, and the roads are well-lit. And if you stick to the main roads, you will most likely get a cab or two driving past, some people zipping around on those e-scooters with loud music and bright lights.. so you will not be completely alone the entire time. I have a friend, mother of one, who sometimes trains from 10pm to 3am because that's when her kid is asleep. But please be careful ok?
2) Roads are clean and relatively smooth
The roads here are of good condition – some countries I've been to, have very rough roads or a lot of potholes and can get very dangerous. Although I have to add, in some areas like Tuas, or where there are a lot of heavy vehicles, you might get some debris (including broken glass!!) or more than the occasional pothole.
3) You can train anytime of the year
We are practically summertime all year round – it's either bloody scorching hot or pouring cats and dogs. But this means you can train all 12 months here. We don't have a winter time where it's snowy and too cold to go outside, and you have to painfully train indoors all winter or travel out to warmer climates.
4) Access to world-class facilities
I've been to some countries where the public pool is not the best-maintained, or is only 25 metres, or has no proper pool. In Singapore, you can use the OCBC Aquatic Centre, which has two pools – the competition pool (the same one used for SEA Games and international swim meets) or the training pool. It's only S$2 per entry (for Singaporeans) and you can use all your swim 'toys'.
5) Help is all around (though at a high cost sometimes)
Being in a small city like Singapore, access to a bike shop or a running shop is not that difficult. There's always one not too far away from you. If you need something, it will not be difficult to find someone to help you; and you might have a few places to choose from. The downside though, is that it will not be cheap la (oops this should be under Cons haha).
6) Public training facilities are not too expensive to use
Besides the OCBC Aquatic Centre, we have a lot of public pools around and entry is less than S$2 approx. (for Singaporeans). However, you cannot use your swim "toys" here and you might have to deal with non-competitive swimmers who don't stay in "lanes" when they swim.
CONS of training in Singapore:
1)Limited cycling and running routes
Because Singapore is so small (we are an island of only 719.9km²), there is only so much land for us to cycle around. A round-island cycle will be between 120-150km, but it will include A LOT of stoplights (annoying!). The more popular places to ride are: Tanah Merah Coastal Road (which has Singapore's only dedicated cycling lane of 10km each side of the road), Seletar Airport area (minimal stoplights), Mandai (nice ups and downs), Kranji/Neo Tiew/Lim Chu Kang, NTU (for some slopes), Mount Faber (our biggest "hill") and South Buona Vista (for some slopes). But that's about it – these roads are not long like country roads in other parts of the world AND there are stoplights, stoplights, stoplights.
Same for running – there are only so many places for us to run at. I usually run at East Coast Park (10.5km one way and flat) through Gardens by the Bay South to Marina Barrage and then to Marina Bay Sands. For trail running, we only have MacRitchie, Bukit Timah hill and Dairy Farm.
As we have limited cycling and running routes for training, you can imagine how the races here are mostly around the same areas. Most run races will start at F1 Pit Building or Padang or MBS and we will likely run through Nicoll Highway, ECP, Marina Bay areas. For multisport races, anything that has a swim component will either be at ECP or Sentosa. Duathlons may be at Nicoll Highway or Changi. That's it!
2) Limited open water swim places
We have no beautiful lakes here and we can't swim in the rivers (Singapore River or Kallang River). I mainly go to Tanjong Beach at Sentosa to swim. It's a lagoon so the currents are not crazy, but the water is gross and murky and you can't see anything beneath. You can also swim at ECP but I don't like it there because it's always so choppy and I feel like I'm gonna drown LOL.
3) Monotony of training might get to you
Yes, as both Points 1 and 2 above have narrated, the limitation of training routes inevitably lead to monotony and boredom. Every week, in and out, you run the same route, cycle the same route. For me I just try not to think about it and just focus on the training, but on bad days you really feel damn sian.
4) No dedicated cycling lane
In Phuket, Gold Coast, Hokkaido, Turku and Zug, there were dedicated cycling lanes everywhere where I was. Ok sometimes it's an extended road shoulder, but mostly there are cycling lanes and the vehicles there know how to give way to cyclists. I always get honked at very angrily or impatiently when I cycle here, or get vehicles driving past me VERY CLOSELY. Coming too close can shock us and cause us to fall over you know! Those places also have nice country roads and back roads that sometimes seem to go on forever!
5) Drivers need to be better educated
I dare say we don't have a cyclist-friendly culture here – drivers just aren't all that friendly towards cyclists. I get that it's a chicken-egg story and sometimes the cyclists are the ones who make mistakes. But it doesn't help that each time I cycle on the roads, there will surely be drivers who drive too near me (even when there are three other empty lanes), honk at me and startle me, or think that cyclists are slow and they speed up (when they are turning out of a lane and we are coming by for example) and nearly hit us. Because there are no dedicated cycling lanes on the roads, I think that's what makes drivers feel that we cyclists don't "deserve" the roads. And it's not that we don't want to keep to the side as much as possible, but sometimes there are a lot of debris!
6) Having to wake up early (because traffic is a bitch)
The best times to cycle on weekdays is before 6.30am, otherwise traffic will be a bitch. That means having to wake up at 4am or earlier, URGH! You can also cycle at night, after 10pm when there's less traffic. On weekends though, traffic is not as crazy so you can start later and do round-island rides, but then there's the weather (see next point).
7) Hot and humid all year round
While being in the tropics mean you can train here all year round, it also means that you have to face unforgiving weather all year round. And also means you have to wake up earlier and start earlier and end training earlier if you don't want to be in the sun too much. Our average humidity level is 84.2%! It can get very hot at certain times of the year and you will feel like shit, but if you're racing in other parts of Southeast Asia then it's fine because you will be acclimatised to the heat.
That is what training in Singapore, to me, is like. Do you train for triathlons in Singapore too? If you do and have something to share, or if I missed anything out, let me know!
Very briefly, I'll also sum up my experiences training in these other places:
Phuket, THAILAND
I was in Phuket to train with Z-Coaching three times last year and they train around the Boat Avenue / Laguna Phuket area. Swimming is done in a public pool at the Cherngtalay Municipality Sport Centre, which is a simple complex that houses a 25-metre pool that is SUPER COLD and leaves a strong aftertaste of chlorine which might make your teeth hurt. Entry fee is S$4 for foreigners.
Open water swimming here is beautiful in the sea, but it depends on weather. If it rains a lot, the seas can get rough and one time I was there, we went to a wake boarding park to swim.
For cycling, there are a lot of nice places to ride out to, in the forested areas (which has some slopes) or down the highway to the Home and Life Bakery (about 60km from Boat Avenue). And for running it's usually just around the Laguna Phuket area, where Layan Beach is.
Gold Coast, AUSTRALIA
I went for a week Down Under in August 2016 to nurse a broken heart (I was super emo momo then lor). I was staying along the coast, so running along there was damn shiok. The weather was also amazing – blue sunny skies with cooling breeze. I needed a windbreaker for riding though. Armed with maps from my friend, I followed the cycling lanes on the main road and then ended up on some country roads so it was really nice.
Turku, FINLAND
One year later, in August 2017, I was in Turku, Finland for a week. Turku is a very quiet place with very few Asians, so I did get quite a lot of "friendly stares". From where I was staying, I just followed the cycling lane out and you could keep going and going, ending up in another town. I would run the same route there too. For swimming, I went to the Impivaara swimming facility at Uimahallinpolku and it was so big! There were many types of pools, including an Olympic-sized pool with proper lane allocation. You can use all your swim "toys" as well. I can't recall how much entry was though! Weather at that time was very cooling and I needed a windbreaker for running and cycling.
Hokkaido, JAPAN
I went for a cycling trip in the north of Hokkaido last September and it was so nice to cycle there! You should go there and try their many cycling routes, on top of enjoying the food. I didn't get to cycle as much as I wanted to; I have to go back one day!
Zug, SWITZERLAND
Most recently I was in Zug for 1.5 weeks and this time of the year is beautiful. I cycled around the big lake, I rode till I found myself in Zurich or Lucerne, and there were hills everywhere! I also ran around the lake, where you get gravel to run on, as well as big meadows where you go up and down for a bit. For swimming, I went to Schwimmbad Lättich, which is a huge swimming facility with many pools indoor and outdoor. Entry fee is S$12!! Whew. The 50-metre pool has no lane allocation but people just somehow find a way not to swim into each other. Oh and yes you can use your swim "toys". Actually the lake is a beautiful place to swim in, but I was afraid it would be too cold so I didn't try 🙁 In hindsight I should have!