He used to avoid telling his relatives that he was a Muay Thai instructor or that he was pursuing mixed martial arts (MMA) as a career. Royston Wee, 27, would vaguely say he is an instructor when asked by relatives what he does, avoiding details unless pressed. "People tend to think MMA is violent and for hooligans or the non-educated. Honestly when I started out as a trainer, I didn't dare to tell them I'm a fighter when relatives ask what my profession is," the Impact MMA instructor said.
This Chinese New Year though, he had no way to escape after he successfully won his debut Ultimate Fighting Championship (UFC) match. He made history as the first Singaporean to fight in the prestigious UFC, beating David Galera of The Philippines via unanimous decision on 4 January in front of a 5,200-strong crowd at Marina Bay Sands. This major MMA event, UFC Fight Night 34, marked UFC's foray into Southeast Asia, as it makes plans to expand further into this region. 
Inevitably, Wee gained loads of media attention rapidly but he remains the humble down-to-earth guy that everyone knows, sipping his bubble tea with pearls while I interviewed him at Impact MMA. "I hit the media a lot this period but throughout it all, I just want to bring a positive image to the sport. People still think MMA is a fad sport but I want people to know that yes I'm a pro fighter in the UFC but I also hold a double major degree. I don't misbehave," he explained.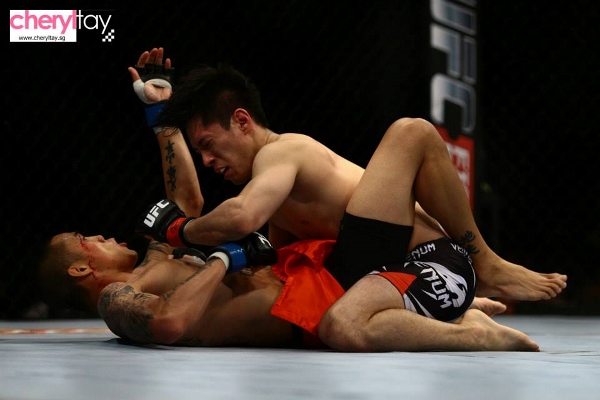 His story
Growing up, Wee was a scrawny and unfit kid who often failed his NAPFA (National Physical Fitness Assessment) test. He recalled taking 21 minutes to run 2.4km and he would also fail at the pull-up and standing broad jump stations. It was only after he completed his polytechnic education that he found the time to try Muay Thai at Fight G, as well as Brazilian Jit-Jitsu.
"I started training to keep fit and to protect myself. Then I also happened to watch the first season of The Ultimate Fighter (an MMA reality show) and that got me really interested in MMA. I did lots of research on the internet and watched more videos. Gradually, my fitness picked up and I started seeing improvements in my techniques," Wee recalled.
After two years at Fight G, Wee moved over to join Impact MMA upon completing National Service and has been training with them since. The plan was to get a degree first but he told his parents to give him one year to train, teach and compete in MMA. He eventually registered with Kaplan Singapore for his full-time degree, while training and teaching part-time. Then he had the chance to fight in the Malaysian Fighting Championship in late 2011, winning both bouts – that took place within a month – via submission.
It was tough balancing studies and training competitively, so Wee gave his best to studies for about two years. With no fight to work towards, things got a bit unmotivating for him but just as he was almost to the end of his double major course last June, an offer to fight in Rebel Fighting Championship came. Then in July, trials for The Ultimate Fighter (TUF) China were held in Singapore and Wee went for that.
Although he did not make it to the final cut for the show, he was taken up to Shenyang, China as an alternative. What came next was a surprise for Wee: the chance to fight in the UFC Fight Night 34 in Singapore. "Being in the show would give me lots of exposure but I think I made the better and right choice to fight in the UFC," he commented.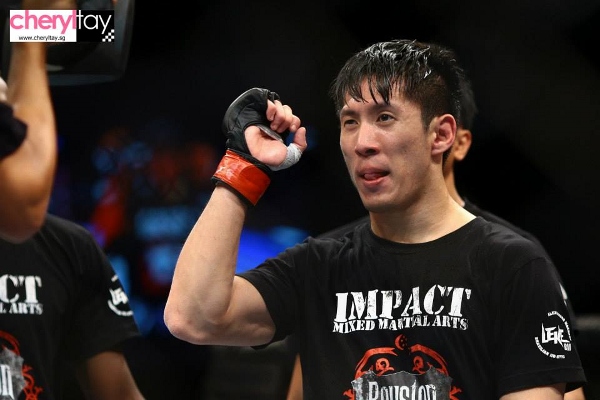 Fight Night
Going into the fight, the odds were stacked against Wee. He has not been fighting for two years and has only had two fights before this. His opponent Galera on the other hand, is an interim bantamweight champion in the Universal Reality Combat Championship (URCC) with five professional wins.
"After two years, my next fight was to go against a champion so it was quite pressurising for me," Wee revealed. It also did not help that he fell ill one week before the fight. He managed to conceal his sickness throughout the pre-fight events, but on the night of the fight, Wee was still coughing during warm-up.
Recalling how "scary" it was, Wee had to stop warming up and drink water to soothe his cough. By doing that his body cooled down and started to relax – which is not a good thing five minutes before you are due to fight.
However, when he walked out of locker room and heard the loud cheers from the crowd rooting for him, he "suddenly snapped and got into the zone". Once he got into the cage, he was calm despite being in front of 5,000 over people and millions more watching online.
Looking back, he said, "It's a bit crazy and I was surprised I didn't freeze. It was really a great feeling; I miss this kind of feeling."
With an aim to become a top Asian contender, Wee might be fighting in the UFC one more time this year. No dates are firmed, but you will "definitely see" him again in the UFC.
*This was first published in Wheels Asia magazine.