You know how they say absence makes the heart grow fonder? And that sometimes you need to go away in order to realise how much something means to you? That's how I feel about Ritual, as I'm 6,000 over miles away from home right now.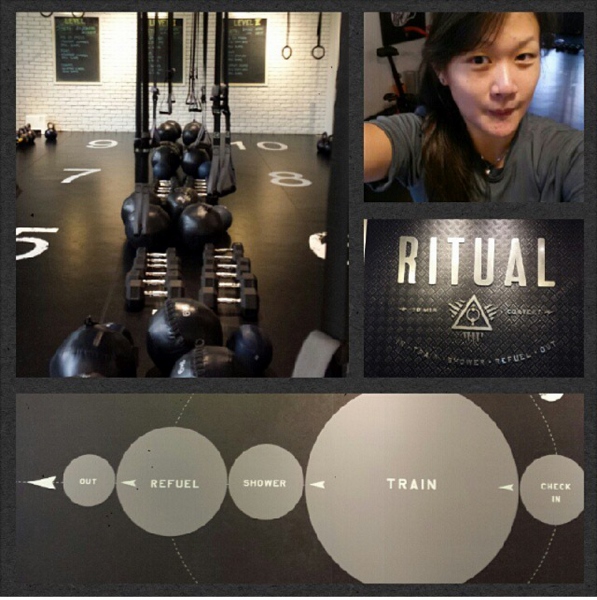 I'm a pretty spontaneous person by nature and I'm perfectly fine when thrown out of routine. (I do know of friends who don't like travelling because it wrecks the routine that they are so used to.) But working out is something that I have to do, even if it is just for 20 minutes a day. And believe me, after going to Ritual for one and a half months, I know how 20 minutes is more than enough to knock the breath out of you.
I was going to Ritual at least four to five times a week when I'm back home, sometimes even six. They are closed on Sundays so that's my rest day usually. Because of the way it is structured – 30 minutes in and out – I don't need to spend too much time on working out, suiting my busy schedule very well.
To elaborate further, I realised five reasons why I made Ritual my daily ritual:
1) More for less – HIIT is efficient
The workouts at Ritual are based on High Intensity Interval Training (HIIT). As its name suggests, you work out at an intense level over a shorter period – for example, doing a set of sprints instead of jogging for an hour.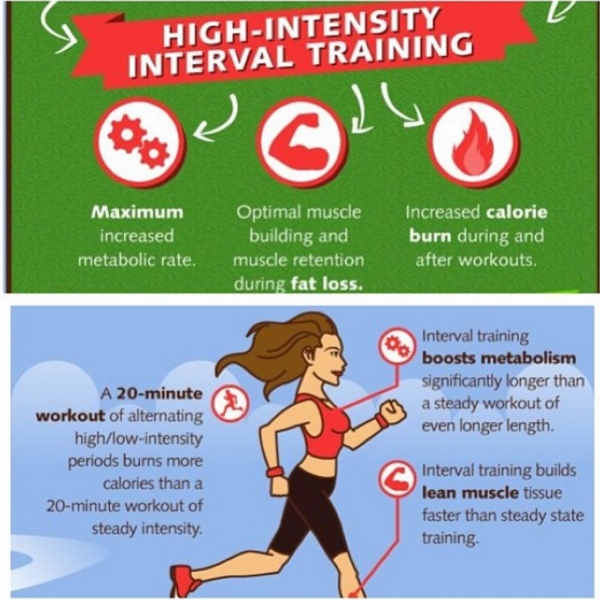 The magic behind HIIT lies in the afterburn effect and its positive effect on metabolic efficiency. I will elaborate on the science of HIIT in a separate post, but just know that your metabolic rate will be elevated as your body will be kept burning for 12 to 24 hours even after you are done with HIIT. This is more efficient, compared to steady state cardio like jogging where you burn X amount during the activity but stop burning once the activity stops.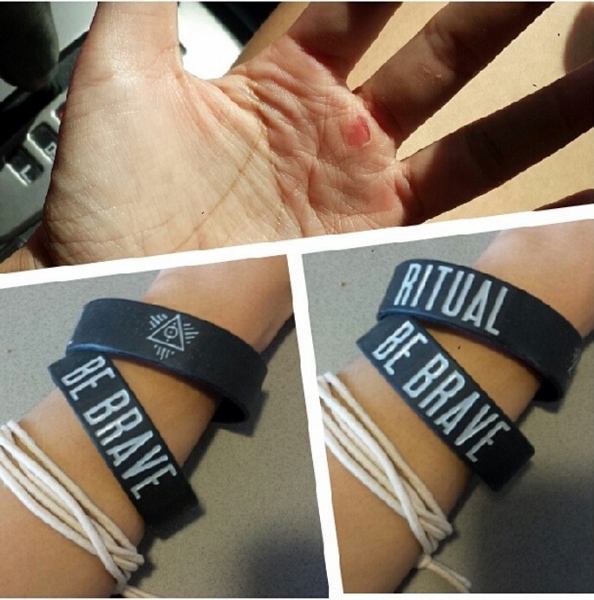 2) No excuse
With sessions ran every half hour from 6.30am to 9.00pm all day (except half-day Saturday and closed on Sunday), the Ritual concept is extremely convenient for those with hectic lifestyles. You get in, use the workout attire that they provide (no shoes needed), complete a 20-minute HIIT workout, shower and get out in as quickly as half hour… depending on how long you need to wash yourself and get changed.
Booking of the sessions are done via their website (which you can access on your smartphone) and there is no penalty for cancellation or change of class. You might get penalised if you book and forget to cancel though. Knowing that there are sessions running all day long makes it very convenient for me. If a meeting overruns or I'm caught in a traffic jam, I just have to cancel the initial booking and make a new one. It's as simple as that and it means never having to miss a workout.
There are three levels to the workout for the day and you just do what you can according to your fitness level. This makes it fun as you can work out together with friends side by side, but going at your own pace and abilities.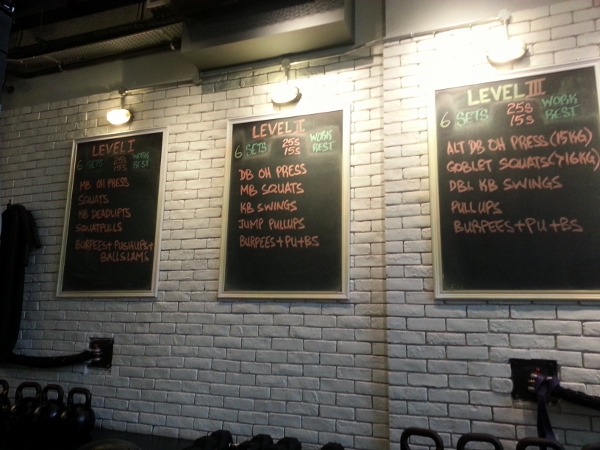 The boy joined me for a week of Ritual-everyday and it really is an awesome way of bonding. Ok he wasn't too happy about the post-workout selfies, but whatever!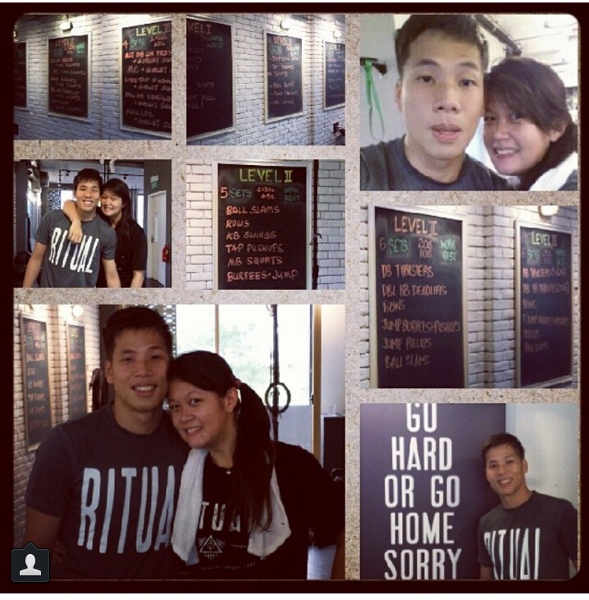 Lockers and towels are provided too (for both face and shower) and the toilets are awesome. Each shower stall is generously spacious with a changing area separate from the shower area. It means no more finding places to hang your clothes and risk getting them wet.
Oh, and if you are hungry, you can grab one of their shakes at the bar.
3) Awesome people
Haha I don't even know where to start – from the founders 'Vanilla Gorilla' Brad and Ian-whose-hair-is-longer-than-mine, to Shrek-the-head-trainer-who-has-huge-eyes to Stephanie-and-her-hot-bod-that-I-want to Mel-and-her-oh-so-gorgeous-eyes and the forever-giggling baristas Joyce and Cass-and-her-three-way-heritage-of-Russian-Javanese-Hongkee.
Ah, I might as well list everyone then – the rest of the trainers Kai, Mubin, Nas and Amirr love pushing me hard as much as they love teasing me. Plus Nadia the PR lady who provided me the hook-up to Ritual.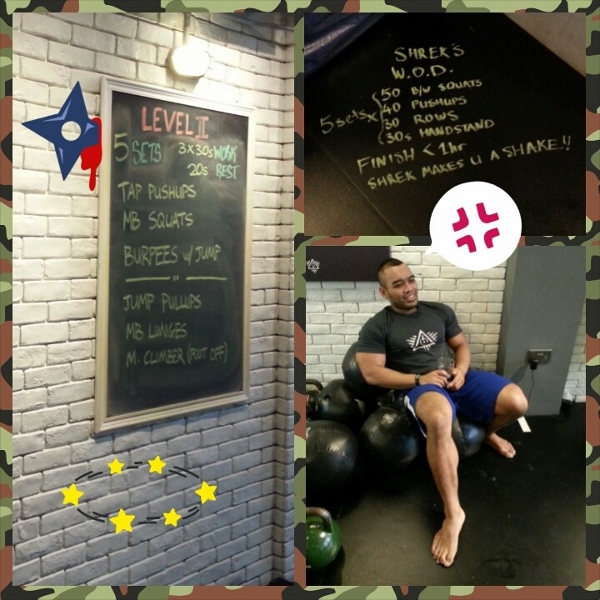 Each of them has their own sense of humour but it's a light-hearted atmosphere and I enjoy sitting around for a bit after my session so I can just basically talk nonsense to them.
I love feeding them, such as bringing them cupcakes, Quest bars and nut butters, and in return, they have decided to help me clean up my diet – starting with f*cking the counting of calories, dumping the processed garbage (as Ian calls it) and just eating real food. Ian talked to me about it first, then Brad himself and then Shrek and soon I think more of them will start asking me if I have been eating properly… oops!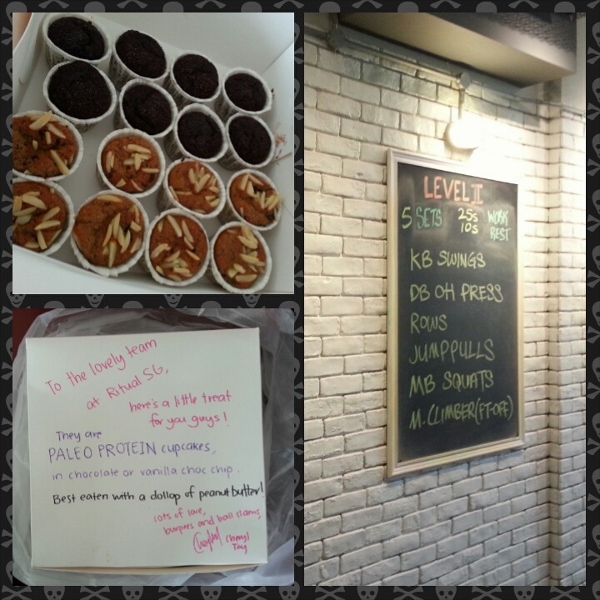 4) Crazy culture
That's right- they are crazy! In a good way of course. It's quite hilarious watching how everyone crowds around just to paint a wall. Ok in the end only one person did the rest of the painting but still, everyone came round to check what the fuss is about.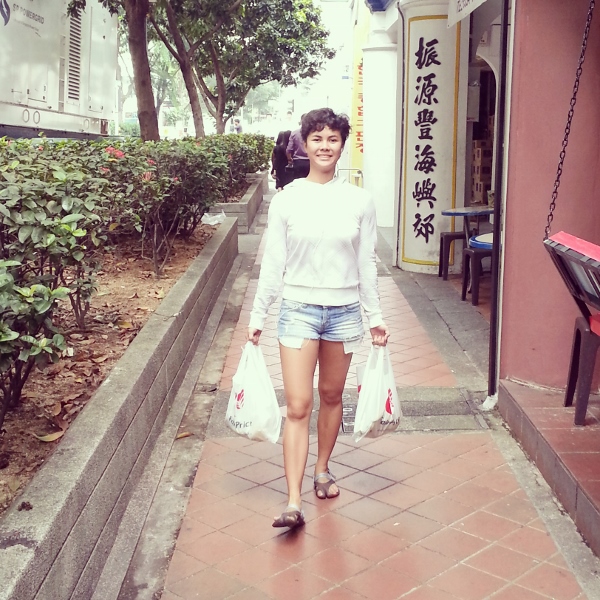 And I like how the jars of nut butters I bring over gets finished up so quickly, with nearly everyone giving it a try… though most of it got eaten by the baristas! (I don't blame them – the jars are right there in the face all the time.)
5) I'm hooked
What can I say? It's not just about the exercises in the workout, but it's the lifestyle. It fits well into my hectic schedule of running around the island for meetings, events and whatnot. I don't need to spend hours in the gym to feel like I have worked out, and I absolutely love the feeling of HIIT – where you get all wheezed and out-of-breath.
I'm used to checking out the boards and only know what's on the menu for the day just minutes before going into the workout. I'm in Stuttgart now and I had my travel workouts planned (from Bodyrock and WayofGray), but I found myself asking for the workouts so I could do it (even if I had to modify some parts) here.
I spent the whole of 2013 finding my way around in fitness, including investing  a pretty hefty sum in personal trainers. I will continue to try new things (always game to drop in for a workout anywhere or try a new programme!) and also keep learning about fitness, but hey, I'm glad I finally found my happy place. Now to get a grip on my diet and shed the unwanted fats!
My biggest gripe about Ritual? PARKING, or the lack thereof.
Well, nothing's perfect. You aren't, neither am I. So, just give and take some!