Japan is one place that I will never get sick of travelling to. In the last two years, I have visited Japan nearly 20 times, mostly because I followed the PETRONAS Syntium Team for two full seasons of the Super Taikyu Series. As a result, I've photographed at most of the major circuits in Japan such as Suzuka, Fuji, Motegi, Autopolis, Okayama and Sugo. There's a lot to like about Japan – the kind people, the welcoming culture and of course, their food.
There's one more thing that I like about Japan – the snacks! The Japanese are very creative with their packaging and sometimes I find it such a waste to tear open the boxes and throw them away. I also enjoy raiding their supermarkets and convenience stores for interesting flavours of Pringles or Pocky for example.
Then there is my usual airport shopping routine where I will always buy the same food gifts before boarding the flight home. Some of you may have tried these before or heard of them – these five are an absolute must to buy home for friends or for myself! They are very popular though, sometimes being out of stock!
1) Tokyo Banana
These sponge cakes filled with banana custard cream are very popular, with the rich custard filling your mouth quickly as you bite into the soft cake. Tokyo Banana comes in boxes of either eight or 12. Besides the original Tokyo Banana, there are also variations to it. For example, the striped Tokyo Banana Roar is filled with caramel custard, the giraffe-spotted Tokyo Banana is filled caramel banana custard and the leopard print Tokyo Banana is filled with chocolate banana custard. Then there is the tri-layered kueh lapis-like Tokyo Banana Baumkuchen, Tokyo Banana milkshake cookies and Tokyo Banana Pie crisps.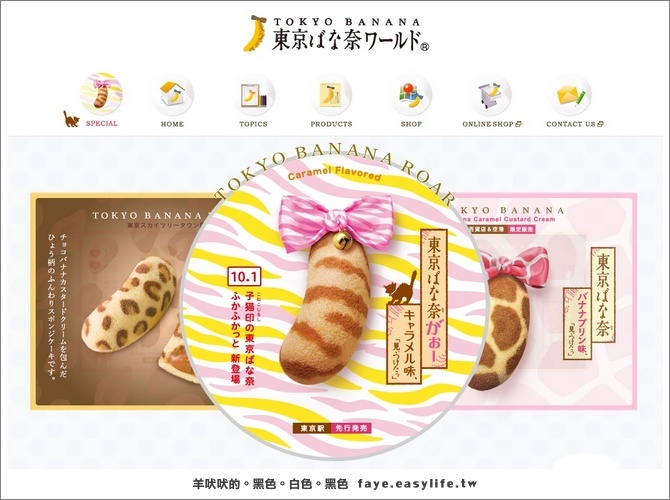 2) Shiroi Koibito (白い恋人)
Manufactured by Ishiya Confectionery Co., Ltd in Hokkaido, Shiroi Koibito (which directly translates to mean 'White Lover') is simply a thin piece of white or milk chocolate sandwiched between two square-shaped butter cookies. Called 'Chocolat blanc et langue de chat', there is something addictive about the cookies which are smooth and crunchy, practically melting in your mouth. You can even go for the Shiroi Koibito factory tour in Hokkaido to understand more about the biscuit and its making.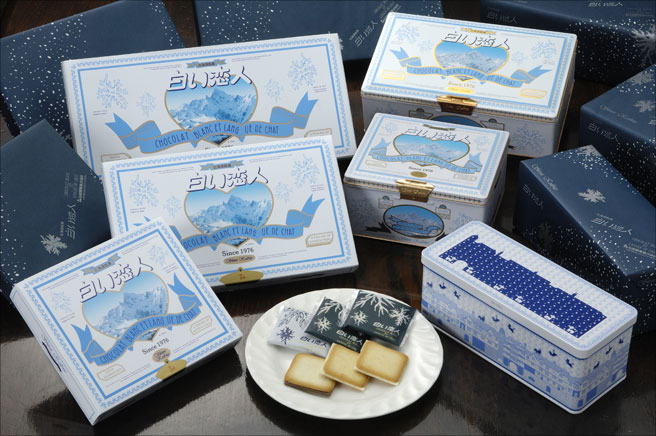 3) Potato Farm Jaga Pokkuru
If you like potato chips, there is no reason not to like Calbee's Potato Farm Jaga Pokkuru. These lightly-salted potato sticks are like French fries, except that they are lighter and crispier. Eachbox comes in 10 individual packets of just 108 calories each, but for junk food addicts like me, I find it very difficult to stop at just one.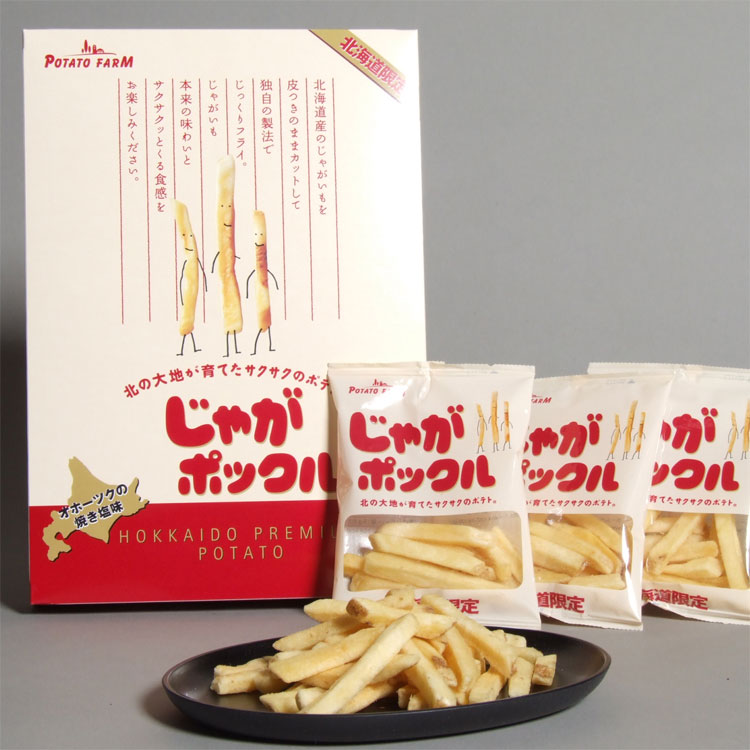 4) Royce Potatochip Chocolate
There is something magical about eating potato chips coated with chocolate, making for a unique blend of salty and sweet rolled into one. There is the original chocolate flavour – which is my favourite – then there is also white chocolate, mild bitter chocolate, caramel chocolate and fromage blanc (cheese) flavours. I thought the white chocolate one was too sweet, making me feel a little sick after a while, but the original chocolate one was perfect. These can be found at the Royce stores in Singapore by the way.
5) Kit Kat Matcha
Kit Kat is not originated from Japan, but the famous chocolate-covered wafer biscuit bar has many flavours uniquely for Japan. One of the most common flavours for Japan is matcha (green tea). The matcha sakura and strawberry flavours are also often found at the airport. Depending on which part of Japan you go to, there are bound to be new flavours to be discovered.
Basically, there are the regional specialty flavours, usually of a local delicacy, vegetable or fruit pertaining to that particular region. Seasonal flavours are limited edition and only available for short periods of time. Then there are the evergreen flavours which are always around.
Just to name some, I've tried strawberry cheesecake, annin dofu, purple sweet potato, wasabi, edamame soybean, blueberry cheesecake, hot Japanese chilli, cinnamon cookie, Nihonbashi Kuromitsu (brown sugar syrup), rum and raisin and more.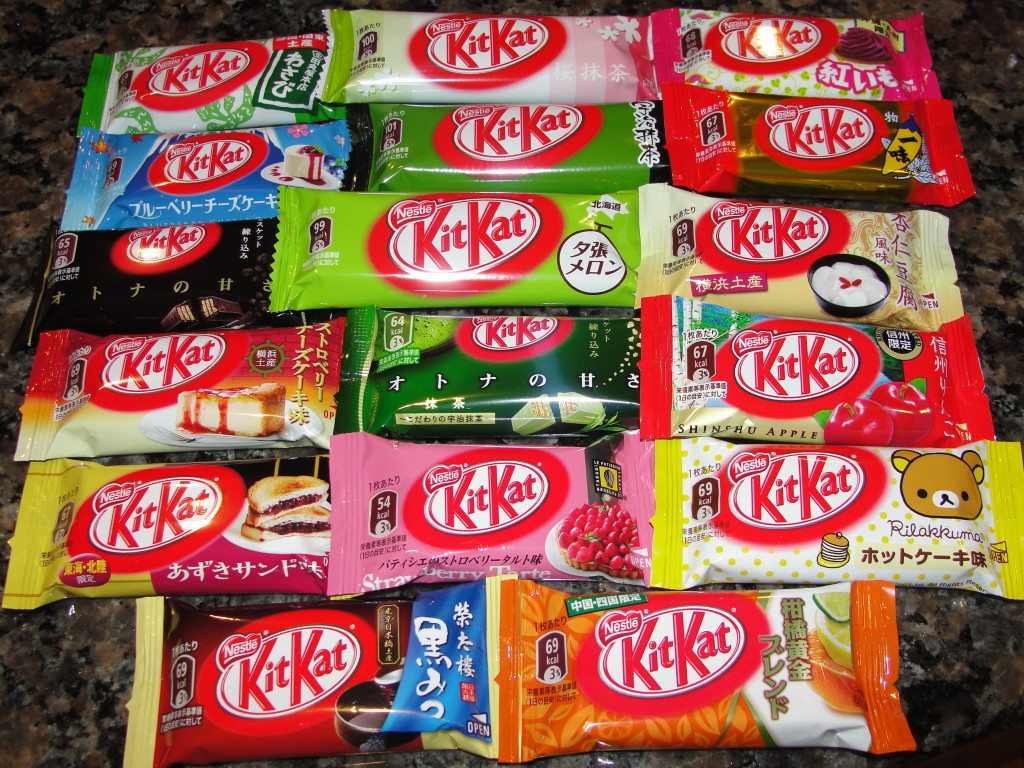 There are a lot more Japanese snacks that I often eat whenever I'm there, but these five are the ones that I always add to my basket on each trip. I'm not sure when I will be heading to Japan again, but if you are, do try these if you have not!
*This was first published in Wheels Asia magazine.