After the proposal, I was very excited to start planning for the wedding. I love planning events so I whipped out a brand new notebook (yes I'm still very much a pen and paper type of girl) just for the wedding planning. The first thing I did was create a list of potential venues and both of us searched the internet for a long time. I even made Grace write down her invite list, instead of typing out HAHAHA.
At that point in the first half of 2021, events were not allowed yet, with the exception of weddings, but these weddings needed proof from the Registry of Marriages and guests had to wear masks and there were a boatload of restrictions. We decided to do it in 2022, hoping the restrictions would have eased by then, so I thought to reach out to some venues first.
I was ready to start sending emails to some venues, when G sat me down and pre-empted me. She said that there might be venues who will turn us away because of the nature of the event that we are planning. I was genuinely surprised because this had not crossed my mind at all. I mean, this is all very new to me, being in the LGBT world, so there were many things I had to learn. Naive me had thought that so long as we are willing to pay the event venue fees, why should they stop us?
True enough, my very first enquiry came back as a no!
This was the email I sent to the venue that I was very interested in:
And this was the reply I got: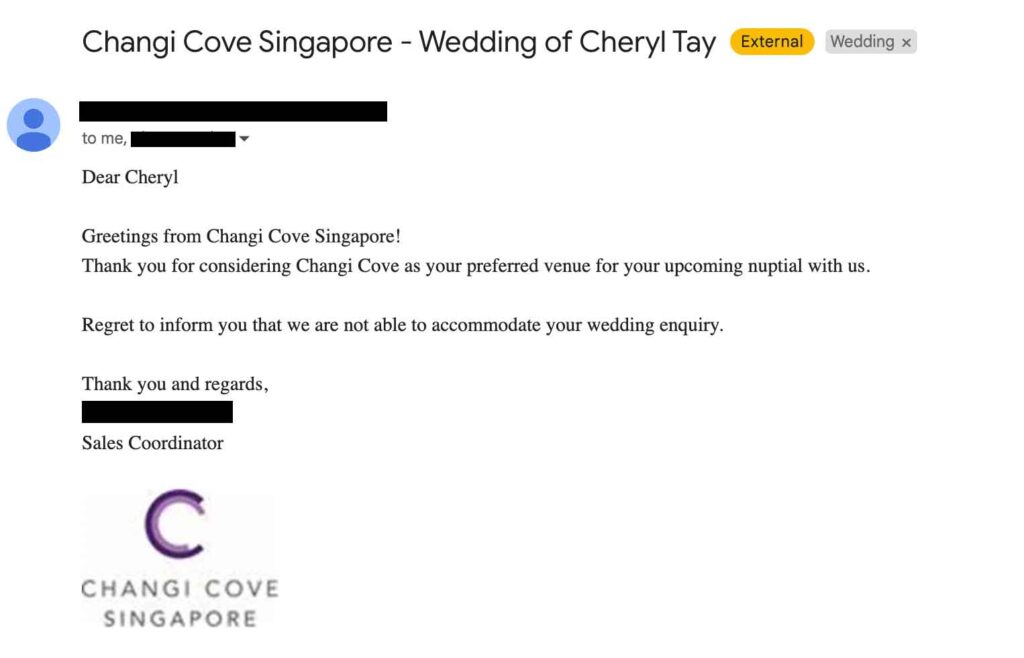 They didn't state the reason specifically but it was obvious that it was because of the nature of our wedding. I felt a little crushed to be honest, but it is what it is. After that, I received a few more rejections and it took the joy out of the wedding planning to be honest.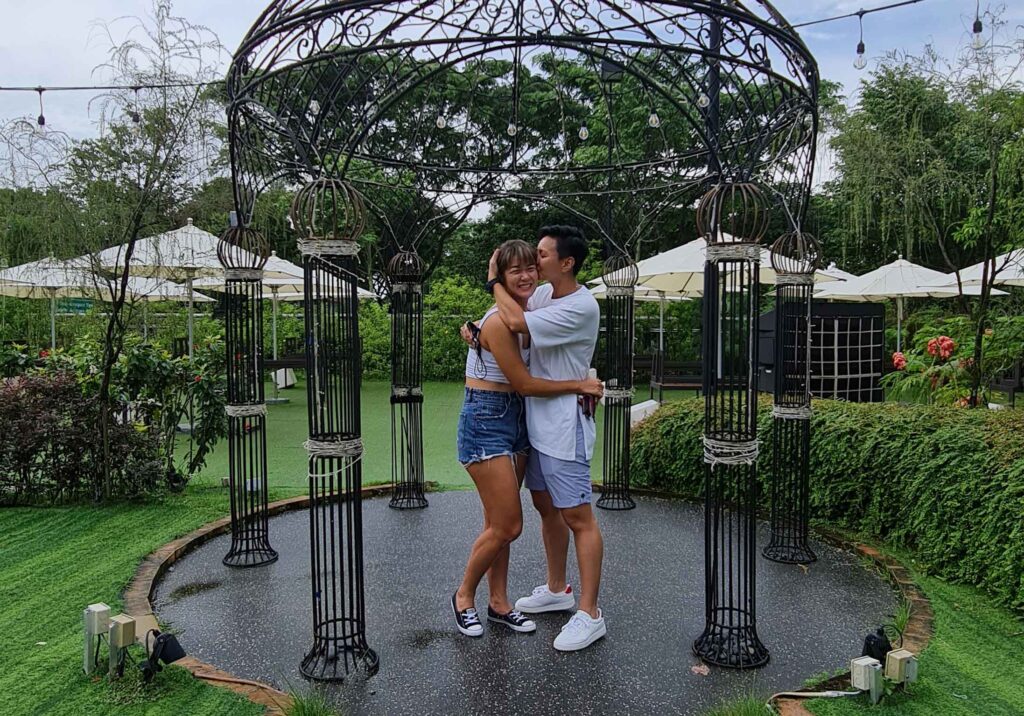 To be fair, we did view some places who welcomed us – like The Summerhouse and Pasir Panjang Power Station. I also received sweet messages from places like The Warehouse Hotel who said they were open to hosting us.
Eventually, we couldn't find a venue that we really resonated with, plus we didn't know when the restrictions would ease so it was hard to nail a date. Thus I put aside wedding planning for a while, but I would still occasionally look out for possible venues.
Then it wasn't until sometime in 2022 when I came across someone's post on Instagram one day, about this place that looked pretty cool with lots of neon lighting and ARCADE GAMES. It was a bar called Level Up that had a stage and lots and lots of arcade games. We went down to view it and immediately got drawn to it. That was when we really started planning the wedding!
I guess everything happened for a reason, because this venue was much cooler. Instead of a sit-down dinner with food served to you, I wanted a buffet with a dessert table and free flow alcohol with free arcade games all night and karaoke after dinner. Come on, how fun would that be!