I think that every girl out there should go running with their partners at least once during the course of the relationship. Unless he is a competitive runner serious about training like Singapore's fastest marathoner Mok Ying Ren who needs to use the run as part of his training, or he has an ego so huge that he has to run all out each and every time to get his fastest time hence leaving you behind, running together as a couple has lots of benefits. Of course, if he is sick or injured then don't. But if he's lazy and unmotivated, then all the more you need to get him out.
Workout out together as a couple improves the relationship, strengthens the bond, increases quality time with each other and enhances bedroom life too. (More benefits elaborated here).
I love working out with my dearest Kelvin, be it at Ritual, with a personal trainer or just running. He willingly sacrificed his precious Sunday morning sleep to run 8km with me last Sunday, at the MediaCorp Hong Bao Run 2014. Coincidentally, TV hosts Kelly Latimer and Claire Jedrek also ran the Hong Bao Run with their partners. And in all three scenarios, it was the girl who brought along the 'plus one'!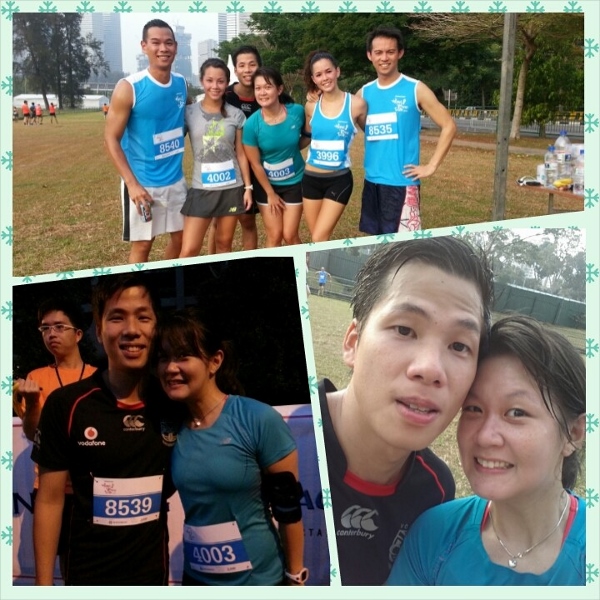 I'm sure you've heard of it – it's  the one with the grand lucky draw prize of $88,888 in CASH. Yes, the one that artistes like Felicia Chin and Joshua Tan ran too (and a whole load of other actors and actresses). No, I did not win the $88,888 or any of the 10 $888 consolation prizes. But yes I completed the run and you are gonna read about it.
This was my first mass run of the year a 8km is a pretty unusual distance for mass runs (usually it's 10km, 21km, 42km) but it's a Chinese New Year-related run you see. Hence the abundance of '8s' – the registration fee was $68 and the top 3 winners for male and female categories took home $2,888, $1,888 and $888 respectively.
I admit I've not been running as much, so I took this 8km run slow and easy. Kelvin could have run way faster than me, but he accompanied me the entire way, even slowing down to wait for me at points where I lagged. I think it makes a lot of difference having your partner there with you; it makes the run a lot more bearable.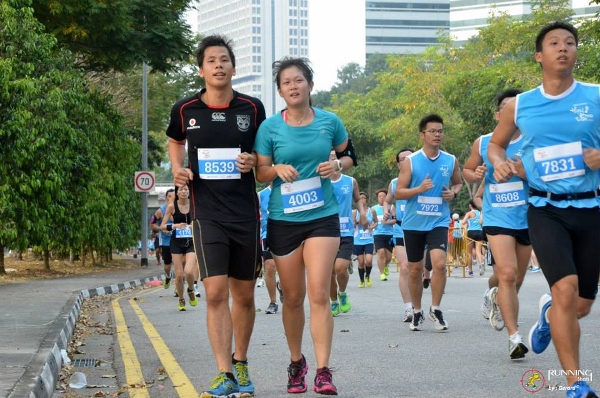 This was a rather 'un-glam' photo of us but I like it because it reflects our relationship in a way. Cheesy as it may sound, he sticks by me through thick and thin, clean and sweaty. Heh.
Did you notice my new shoes too? I already have the same model (Minimus 3090v2) in hot pink that isn't sold in Singapore, but this is one of the latest colours – black and pink! In fact, my entire running outfit (sports bra included; panty not included) was new – thanks to New Balance Singapore!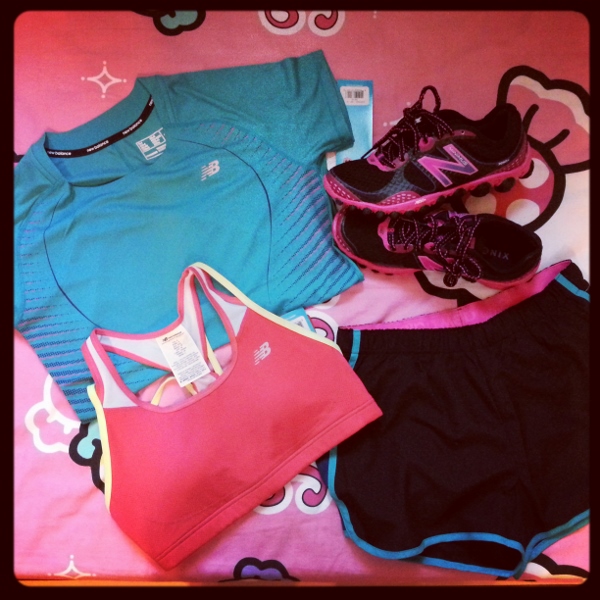 There were about 3,000 runners, so it wasn't too crowded and there was enough space to run without getting stuck behind others. The route was mostly flat ground, with a little slope (the underpass towards the end of the run) towards the end. For an 8km run, there were a lot of hydration points – four altogether. I don't have a habit of drinking water when I run, unless I'm doing a half marathon or longer.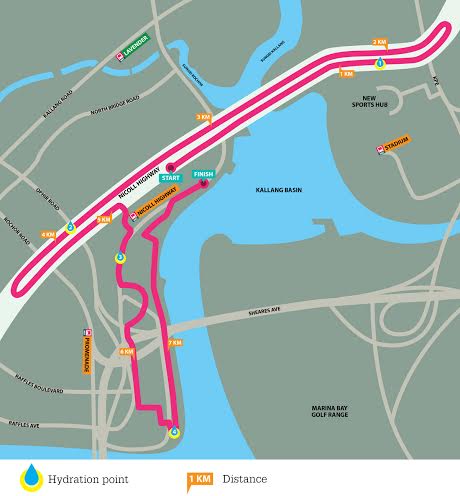 Because there was a fancy dress contest with $888 cash prizes, there were all sorts of costumes and mascots. I saw ballerinas, a few God of Fortunes, and even Little Red Riding Wolf with the Big Bad Wolf. I really have to give it to them – isn't it hot to run in these? Though I think those in the mascots ended up walking.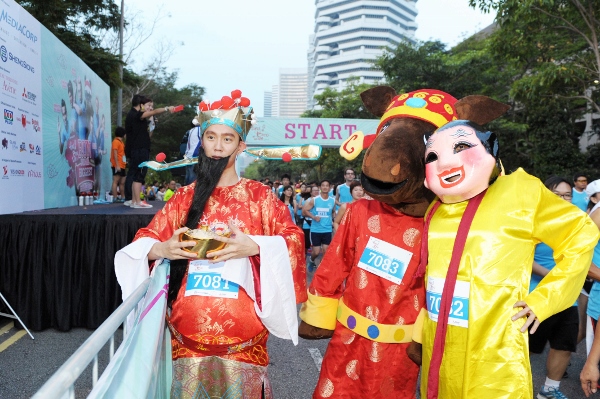 Oh look, Thor was there as well. I also saw a guy who dragged a car tyre with him the entire way and ladies running in cheongsams, what?!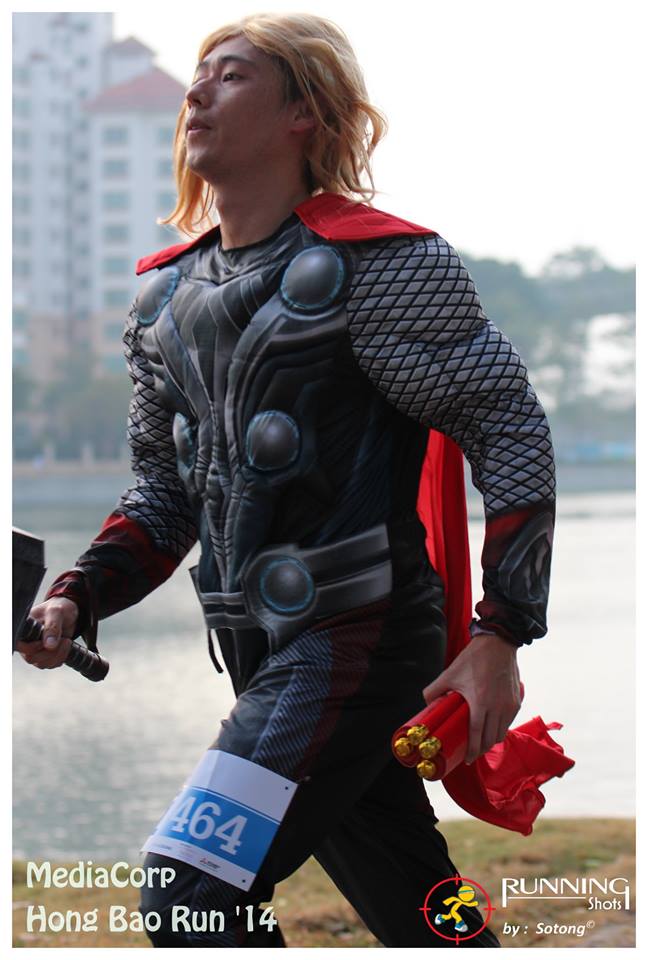 There were a lot of MediaCorp DJs such as Glenn Ong, Jean Danker, Pei Fen, as well as artistes like Romeo Tan, Priscelia Chan, Sora Ma, Xu Bin, Jayley Woo, Shane Pow, Tracy Lee, Jeffrey Xu, Kym Ng, Ian Fang.. just to name some. But they spent a lot time inside the VIP tent, while their fans huddled outside waiting to catch a glimpse of them. I know they are tired from the early morning wake-up call (4am I think) and they just completed the run (most of them did 3.44km only though), but I thought they should have spent more time interacting with their fans. Some did, briefly taking photos and getting gifts, but most of the time they stayed amongst themselves. They went up on stage for a quick appearance but that was about it.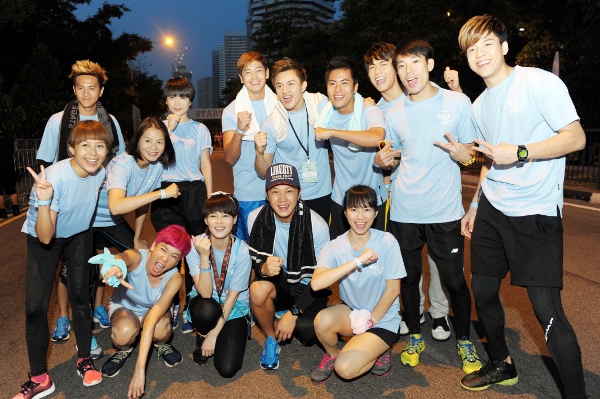 Without a doubt, Mok won the men's category. I have much respect for this athlete! Crazy fast!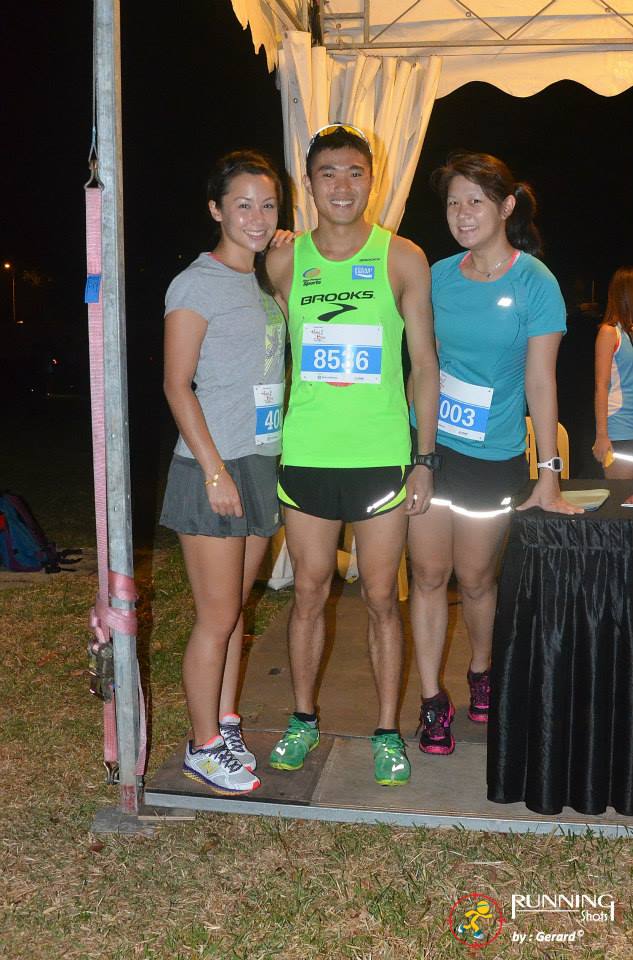 The top three males were:
 Mok Ying Ren (26:42.59)
Nabin Parajuli (26:45.49)
Foo Gen Lin (27:07.67)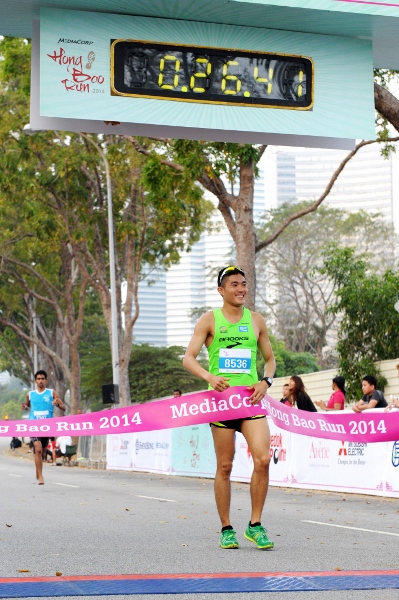 The top three females were:
 Suzanne Walsham (28:34:21)
Vivian Tang (30:00.29)
Mok Ying Rong (31:43.47) – yes this is Mok Ying Ren's sister
Those are crazy timings man. Usually people clear out quite quickly after the run, but this time most people stayed back to see if they had a chance at winning any of the lucky draw cash prizes. We stayed back for fun too, just to see if we could get lucky. Nah, wasn't our day! It was Mr See Hak Loo's day! WOW.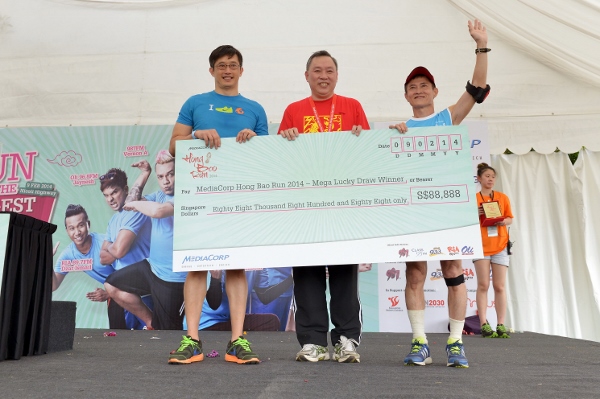 Individual timings can be found here, just key in your name or bib number. My biggest grouse is not having photos! Some runs have this system where you key in your bib number and you get some photos of yourself taken during the run (if anyone captured you). For this Hong Bao Run, I managed to find photos on Running Shots' Facebook page thankfully!