Overlooking the cliffs to the Venetian turquoise waters underneath a clear sky, I took a moment to be still in the cool breeze while allowing the warm sunshine to embrace me. This was a spot along the path to the Oedolgae Rock (Lonely Rock), away from the tourists, offering the most beautiful scenic views. With the popularity of Jeju – South Korea's largest island – as a tourist destination, it is always crowded at the attractions, but I managed to find some quiet so I could appreciate its beauty.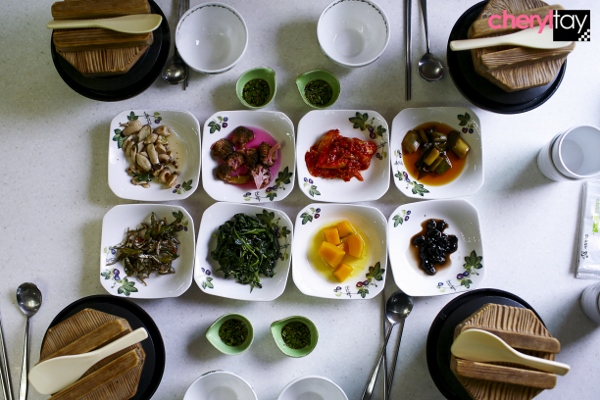 Joining the Automobile Association of Singapore (AAS) on one of their self-driving holidays to Jeju courtesy of Korea Tourism Organization (Singapore), Jeju Tourism Organization, we spent five days there driving ourselves around in a convoy of rented cars. Self-driving holidays is not new, as it is common for people to rent cars and go about the destination themselves. But what we did this time was to group together in cars and drive to the various attractions, communicating via walkie-talkies.
The most convenient way to get to Jeju is by domestic flight from Seoul. There are nearly 100 flights going into Jeju daily, mostly from Gimpo International Airport. Flight time is only an hour, similar to getting from Singapore to Kuala Lumpur. The rental cars were collected at the airport after arrival, so we could immediately start driving. Note that it is left-hand drive in Korea, so do make a conscious effort to keep more to the left and be careful not to clip the kerbs on the right.
There is a lot to do in Jeju – it is after all, three times the size of Singapore. Explore the nature sites, take a walking trail round its coastline, visit wacky museums like one of the many trick museums, the Health & Sex Museum or the Teddy Bear Museum, indulge in adult humour such as sex-themed park Loveland, suntan on one of their many beaches, get down and dirty riding an ATV through mud, go horseback riding or bring your kids to Hello Kitty Island that just opened end of last year.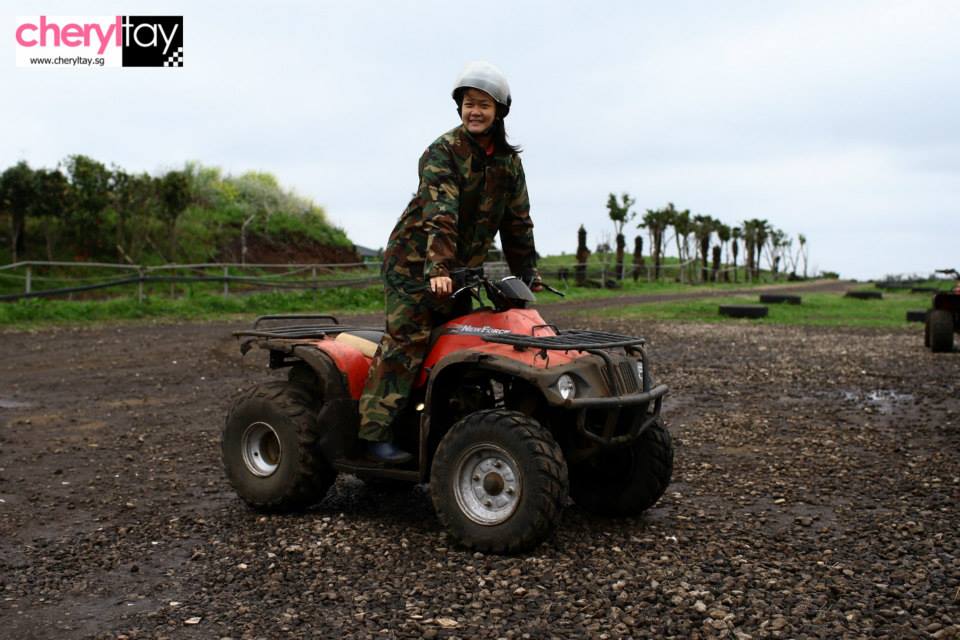 What you definitely need to try is black pork barbeque, a native delicacy, from the black pig that is a domestic breed found on Jeju.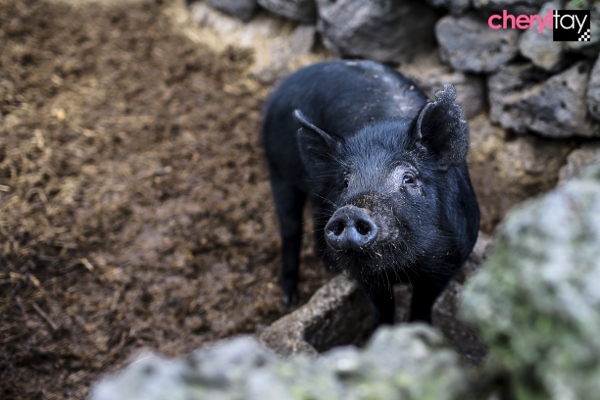 There is even an entire street dedicated to black pork in the city. Sliced thickly and grilled over a charcoal fire, it does taste better than the usual pork, and also has a stronger smell.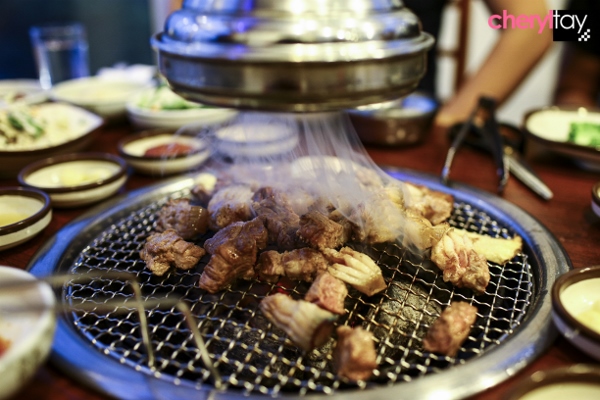 Jeju is also famous for Hallabong oranges, large and sweet oranges with a unique shape. These oranges can be found easily and tourists are often seen buying boxes home.
Over three full days (the other two days were most for travelling), I visited some of the most popular nature attractions that you must see if you ever go to Jeju.
Mysterious Road
The 'Mysterious Road' in Jeju, known as Dokkaebi Road, is on a hill at the foot of a mountain. Interestingly, when you drive along that stretch of 'mysterious road', put the car in neutral or even turn off the engine if you want to, and watch the car roll uphill. You can try doing it with a bottle and watch it roll upwards instead of down. What is happening? Well, this defiance of gravity is actually an optical illusion. The road has a downhill gradient but because of its seemingly high surroundings, it looks an uphill road.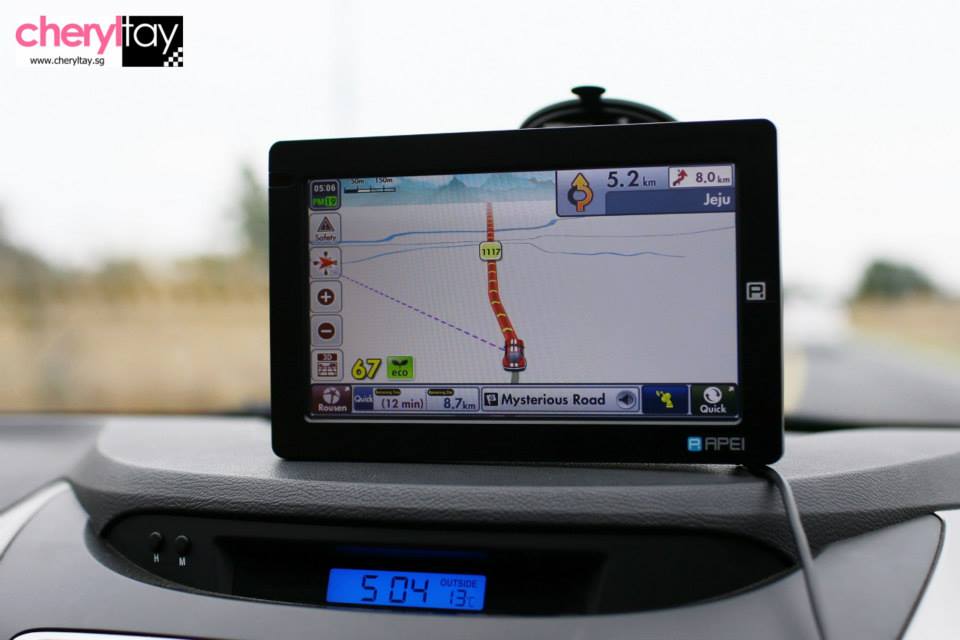 Yongduam Rock
The Yongduam Rock means Dragon Head Rock, as evident from the shape of the rock that you see on the coastline. To get a better view of it, make your way down the steep steps (with caution please) and you can also get nice photos of the waves crashing against the rocks below.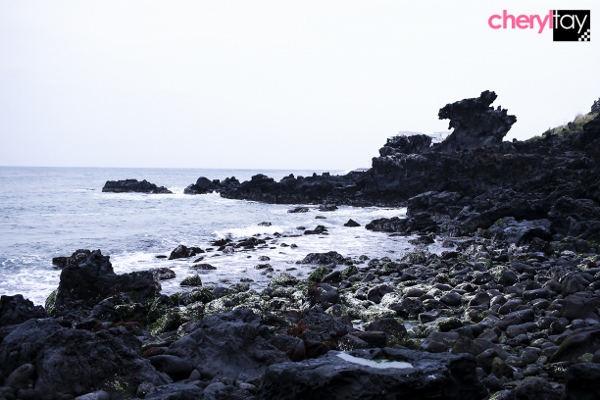 Hallim Park
Similar to our Botanical Gardens in Singapore, Hallim Park is all flora and fauna, with sections of Jeju history too. Over a space of about 1,000 square metres, there are nine different areas you can explore, such as the bird garden, water garden, flower garden, bonsai garden and folk village. Hallim Park is also famous for having Hyeopjaegul and Ssangyonggul Caves, touted as the only two-dimensional caves in the world. These caves were formed when Hallasan erupted and the cool temperatures within the caves are maintained all year round regardless of season.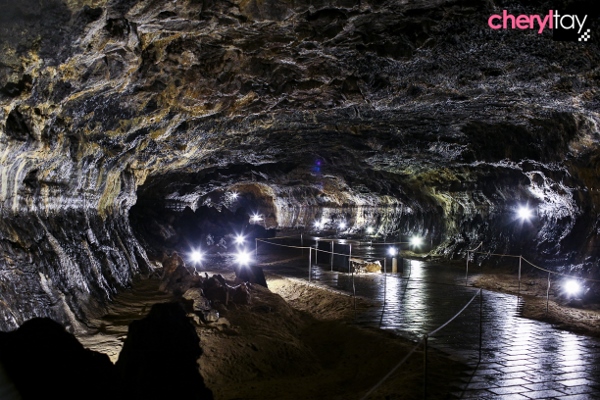 Suweolbong
Suweolbong is a popular spot for viewing the sunset, but I went on a rainy mid-afternoon so there was no spectacular sunset to see. But, it serves as a good vantage point for views of Chagwido, a small group of uninhabited islands Daeseom, Jisileeseom and Wado. In case you have problems locating Suweolbong, you can try searching for the Gosan Weather Station which is right next to it.
Seongsan Ilchulbong
Conversely, a good spot for catching the sunrise is Seongsan Ilchulbong, aptly named Sunrise Peak, which is an UNESCO Natural World Heritage site. Standing at 180 metres high, this tuff cone formed by hydrovolcanic eruptions has a preserved bowl-like crater only visible from aerial view. You can take the stairs and climb to the top (about 20 minutes) where there are benches for you to rest and slowly absorb the panoramic views. Should I return to Jeju one day, I will make the effort to wake up before sunrise and get to the top so I can capture it. At the bottom, you can also see performances by Haenyeo (Korean women divers).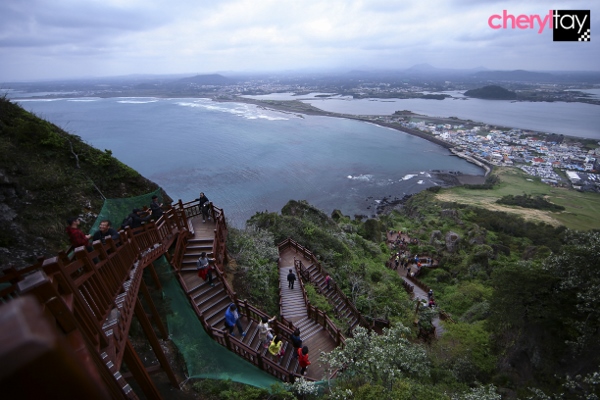 Cheonjiyeon Falls
Don't expect anything like the Niagara Falls. Cheonjiyeon Falls is simple and tranquil. The walk from the main gate to the falls is pretty scenic, so you will probably keep stopping to take photos. Once you get to the falls, you will find the air really fresh and clean. Take a moment to sit there and take some photos of yourself with the falls in the background.
Oedolgae Rock
My favourite spot of the entire trip was at the Oedolgae Rock. Not the rock itself, but the views around it that are absolutely stunning. Oedolgae Rock, translated to mean Lonely Rock, is this lone rock standing 20 metres above sea level by itself, with a face on it if you look carefully.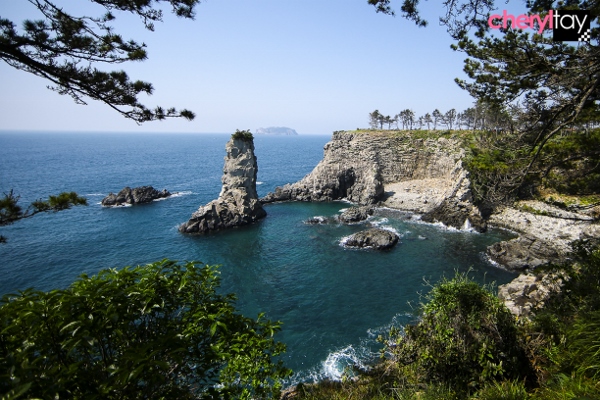 Some might think there is nothing to shout about the rock, but the scenery that you find around it is mesmerising. Spend a little more time there to walk to the surrounding trails and you will find the cliffs that I mentioned earlier.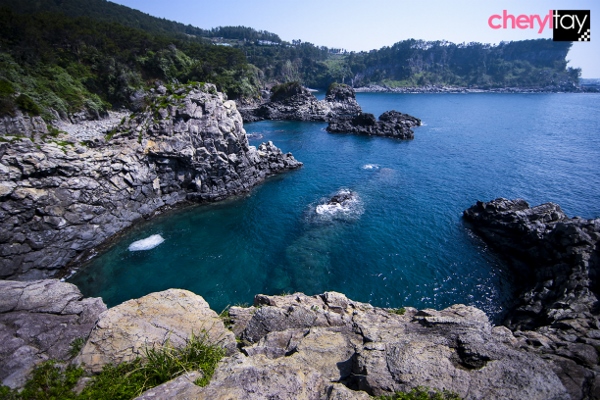 Jusangjeolli
Jusangjeolli are these columnar jointed cliffs, which formed when Hallasan erupted and its lava flowed into the sea of Jungmun. The vertical pillars are shaped hexagonal, shoot up to a height of 20 metres and run for 2km along the Daepo coast. Isn't nature just so amazing? I was quite awed by this formation.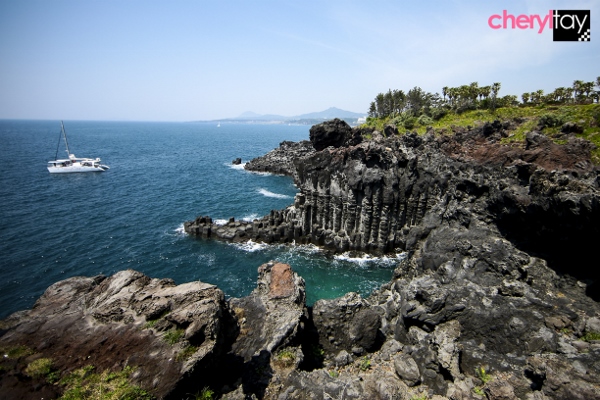 Sanbangsan
Sanbangsan is a mountain located on the southwest coast of Jeju. It has a very steep gradient, hence looking almighty and fine. According to legend, Sangbangsan is the actual top of Hallasan but was thrown out by angry Gods and landed where it is today, thus there is a crater on the top of Hallasan. Sanbangsan is also home to several Buddhist temples, such as Sanbanggulsa and Bomunsa Temple with the huge golden Buddha.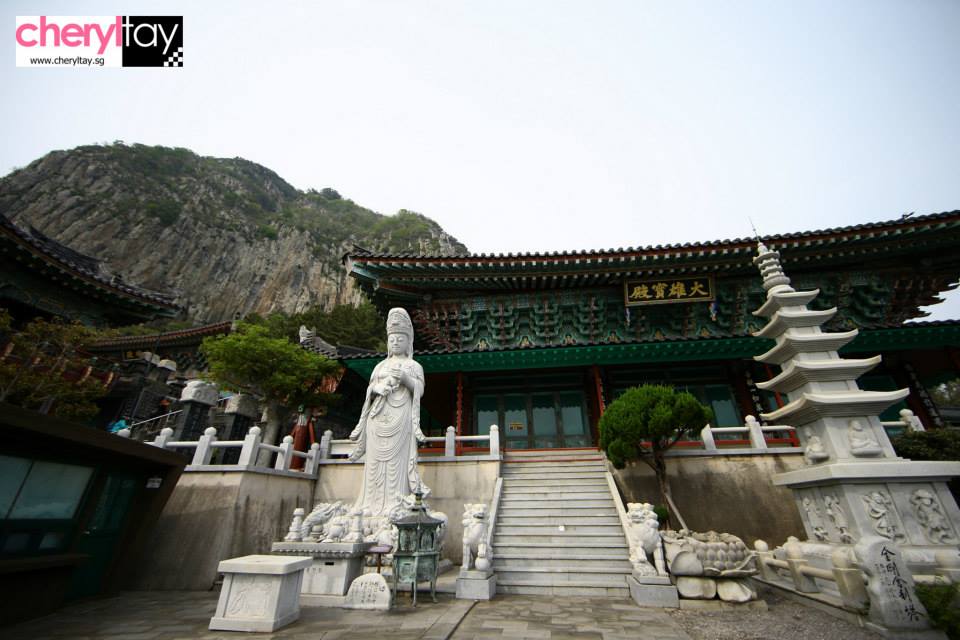 These were the nature spots that I visited on this trip. There are a lot more that I would have liked to go to, such as Hallasan, the highest mountain in South Korea, and Jeongbang Falls, the only waterfall in Asia that flows directly into the ocean.
If you like your plants, you can go to Spirited Garden, which is a bonsai garden. If you are an arts person, the Glass Castle is quite interesting. It is a glass art theme park featuring exhibits that are entirely made out of glass, from inside the halls to the mirror lake and gardens outside.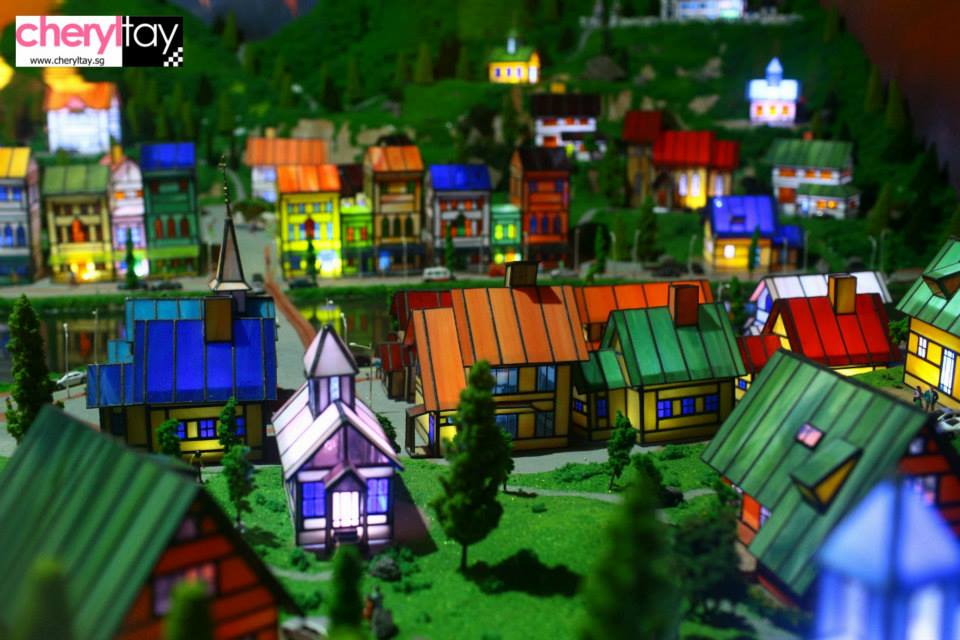 To learn more about the history of Jeju, you can go to a folk village and see how life was like in the 19th century, with traditional houses and folk items on display. Jungmun Tourist Complex is another popular place which has the Teddy Bear Museum and Ripley's Believe It or Not! Museum, and also duty-free shopping.
Green tea lovers must definitely go to the O'Sulloc Tea Museum, which is surrounded by its own green tea fields. Besides buying their tea, or tea-derived facial products and cosmetics, I highly recommend trying their green tea ice cream, green tea cake and green tea ice blended. If you do not have the chance to go to Jeju, there are a few O'Sulloc cafes in Seoul as well.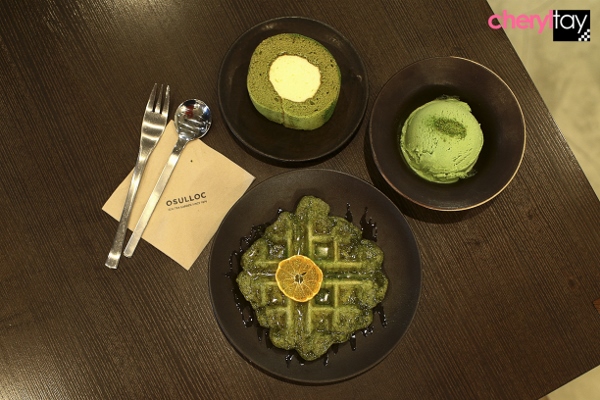 Undeniably a picturesque place, Jeju gave me the respite I needed from the stresses of work, although I was driving in the city. The weather was cooling during the month of April, around 11 to 13 degrees Celsius in the day, and some of the breathtaking sights allowed me to get in touch with nature. Sometimes, there are places you go to once and you know it's enough; but Jeju is a place I want to return to someday.
Tips for driving in Jeju
It is not difficult to adjust to left-hand driving, so don't be afraid. The roads in Jeju are generally wide with not much traffic. In the cities of Jeju-si and Seogwipo-si however, the lanes are narrower and traffic becomes more congested. Watch out for speed cameras mounted overhead and also, there are flashing amber lights at uncontrolled junctions which basically mean to take caution. The rented cars we had came with a locally-programmed GPS, so instructions were clear. Before leaving Singapore, please remember to get your international driving permit from the AAS.
See the rest of my Jeju photos here.
*This was first published in Wheels Asia magazine.