Of course this was a run I could not miss – it's HELLO KITTY! When I first read about it on Facebook, I immediately went to sign up for it. The Hello Kitty Run Singapore is in celebration of her 40th birthday and it was held on 1 November at Sentosa. A massive crowd of 17,000 Kitty fans (including my boyfriend and I) turned up for it and I have to say, this cat really has amazing star power.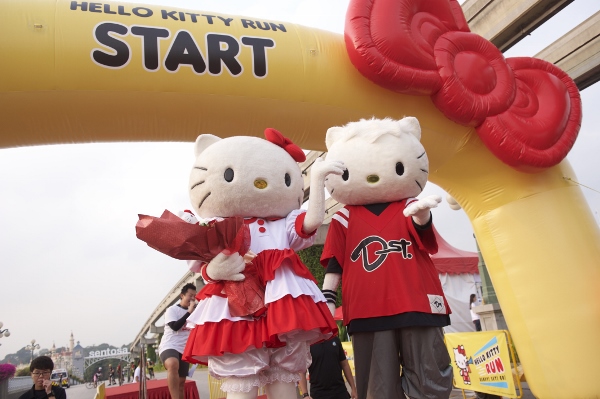 The goodie bag was pretty decent, consisting of a drawstring bag and a plush toy, on top of a bunch of vouchers. But the event was unfortunately plagued by a string of problems – overcapacity thus long waiting time to start, heavy rain that caused stranded and drenched participants, incorrect race distance of 3km+ instead of said 5km etc. – and the biggest issue was the messy medal collection.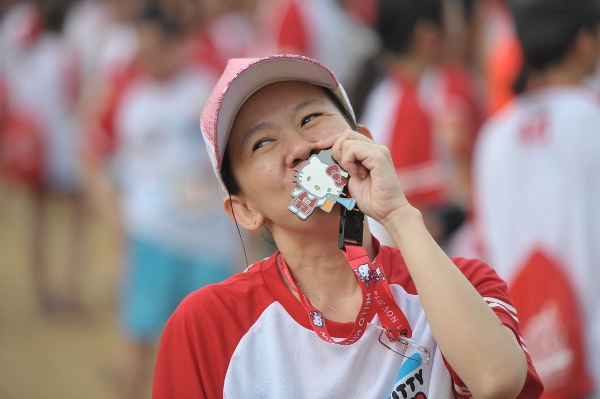 Suddenly, the success of the entire event boiled down to that precious piece of coloured metal. I've not gotten mine yet (the organisers replied my email to say they will send the medal to me within a month) but it's quite unreal how chaos erupted over that coveted exclusive Hello Kitty finisher medal. Not everyone got the finisher medal (some left because the queue for the starting line was too long or they got stranded and turned back); an announcement was made at the collection booth that the medals were limited so there was a mad rush to get to the front; participants were demanding for the medals to be sent to them, blah blah blah.
For me, I arrived at the start line at 7.45am, after managing to avoid the jam from AYE's Telok Blangah exit to VivoCity's car park entrance. I drove to some random MSCP at Henderson and took the train down to Harbourfront from Telok Ayer (one stop). When I saw the queue for the start line I immediately shook my head. I couldn't even see that yellow thingamajig! I waited 40 minutes to get to the start and because no one was running, I only made it to Resorts World Sentosa when the skies opened. I didn't quite understand what the update on the Hello Kitty Run Singapore Facebook page meant – put on hold means a chance of resuming the race, yet arrangements to collect the finisher medals are being made?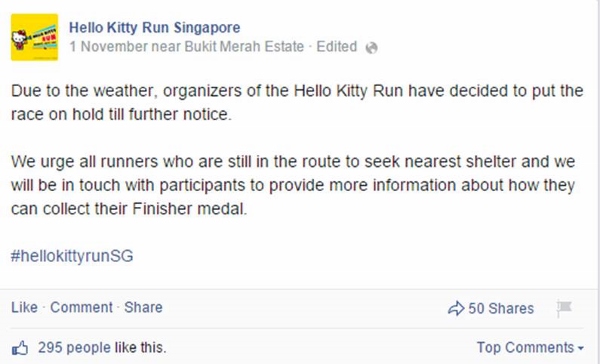 In any case, I'm not here to talk about what the organisers could have done better, but I'm here to draw five lessons any Hello Kitty fan or non-fan can learn from this run:
1) Never piss Hello Kitty fans off.
I'm serious. We are all there for one simple reason – we absolutely adore Hello Kitty. That's why 17,000 people were willing to pay $65/$75 each for a 5km run (or stroll). What does that show? It shows passion and passionate people will fight harder for what they care about. We all love Hello Kitty and non-fans will not be able to understand why we want that medal so badly.
But just think about it – if you're one of those who got stranded due to the heavy rain and had to abort the run, the least you want is the medal. Don't be so quick to judge or pass a comment like, "It's just a Hello Kitty medal, what's the big deal?" Switch the context to something that means a lot to you and think about how you would have reacted – what Hello Kitty is to us fans, can be as big a deal as what Real Madrid is to you.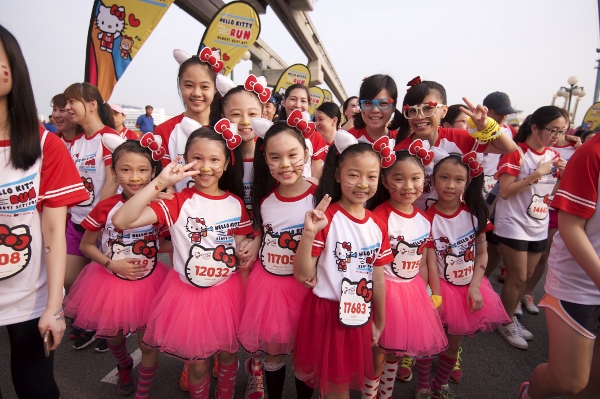 2) Any limited edition Hello Kitty item will land in the black market.
Please remember that anything which has Hello Kitty on it and is of limited edition, has a high tendency to end up on the black market, especially if it cannot be bought anywhere. We saw some ugly behaviour in the queues at McDonald's for the Hello Kitty plushes and not surprising, these Hello Kitty Run medals caused the biggest upset of the race.
There were participants who went home without the precious medal, some believing there's a possibility they may not get one due to shortage, thus getting angry when they hear of others taking more than one medal. Fans got more upset when they saw people selling their medals online, leading them to think those who took extra meant to profit from it… but it could just be some of the boyfriends not wanting theirs. Well, if I didn't want mine, I would have given it away to a fan who would know how to treasure it more instead of selling it, but if others insist on selling theirs, we can't stop them right? Then what was that about the woman who boasted about snatching an entire box and licking her lips in glee?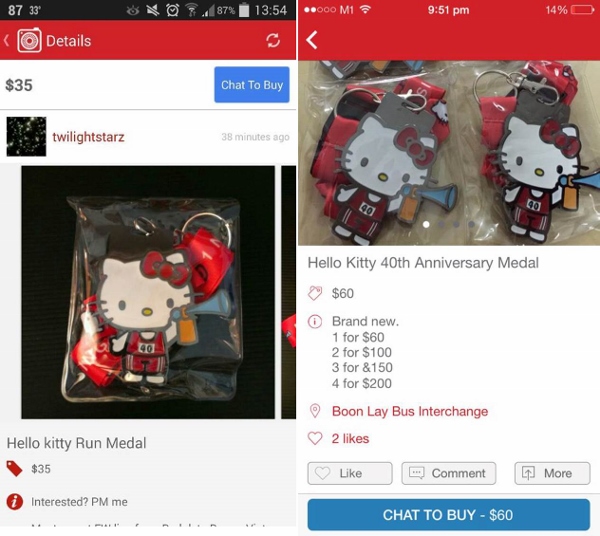 3) Only real men wear Hello Kitty.
How many of you guys out there will wear the Hello Kitty event tee and accompany your partner for this, especially if you do not have kids?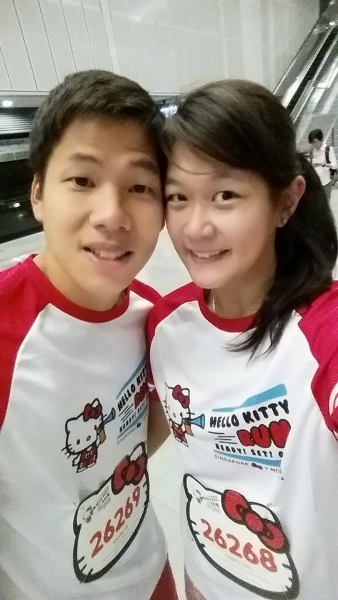 4)  Let's just blame the rain.
I read many reports on how the Hello Kitty run was a failure, with the biggest gripe being not getting the finisher medals. But I would like to think that the culprit for all the problems was the rain. First, the participation numbers overwhelmed the venue, then the rain came down and all hell broke loose.
There were some comments in Facebook about some people running in the rain and enjoying themselves, but many came with families and young kids whom you typically want to keep out of the rain. A lot of unhappiness is going around and I feel a bit sad that Hello Kitty's 40th birthday celebration in Singapore had to end up like that – let's try to cut the hate; just blame the rain ok?
5) Hello Kitty will still be loved.
I think it's safe to say that no matter what complaints are made about the event and/or the organisers and the weather, one thing remains unchanged and unaffected – we will continue to love Hello Kitty.