That one time when the Lion City roars into racing mode is indisputably my favourite time of the year – the Formula 1 Singapore Airlines Singapore Grand Prix! It's when the city centre (literally) lights up for the grand night race and the biggest stars in motorsports arrive on the shores of our tropical little island.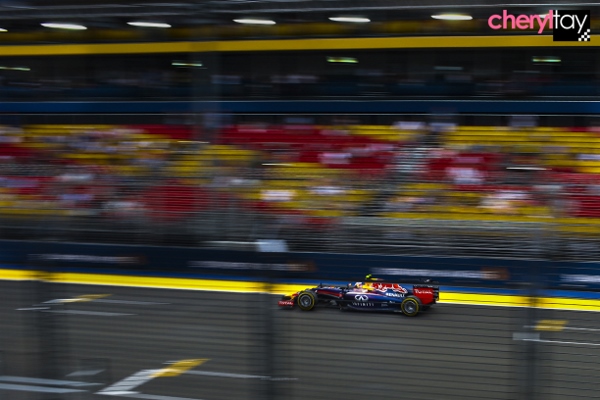 With a new title sponsor – Singapore Airlines – this year, as well as the downsizing of engines, the Grand Prix felt a little… different. It was way quieter for sure, to the point that I didn't need earplugs at all! I don't think I'm the only one who felt this, but somehow I thought there was less excitement surrounding the race this time. Nothing changed with me though – It's my seventh time covering the Singapore Grand Prix and I still feel the same adrenalin rushes and goosebumps.
[Read my article '7 ways the 2014 Formula One Singapore Grand Prix was different' on Yahoo! Sports]
The usual pre-race driver appearances happened from Wednesday onwards, such as the Mercedes pair at Paragon and Fernando Alonso for UPS at Clarke Quay. I entered the circuit on Thursday and headed to the media centre in the paddock to get myself registered and settled in nicely first. An interview with Daniel Ricciardo of Red Bull Racing was scheduled for me so I went over to their hospitality suite and that was when I caught sight of our dearest four-time World Champion Sebastian Vettel all relaxed and having some salmon and rice while talking to a journalist.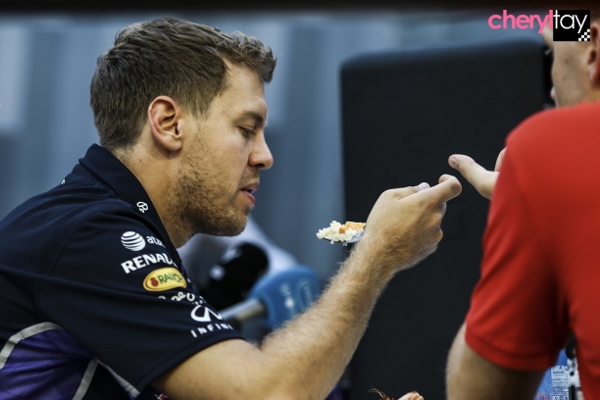 The interview with Ricciardo was really good and I was happy to see his usual cheery self with the big smile. I've interviewed him every year since he first came into F1, so I'm rather fond of this Aussie boy! When asked about his relationship with Vettel, he remarked, "As good as it can be!' Take that Mercedes. Hmmm but then again, things will be different if Vettel and him are fighting up front for the title. Remember how bad things got between Vettel and Mark Webber that the latter left the sport for good? (UPDATE: Vettel has announced that he is leaving for Ferrari as Daniil Kvyat replaces him for 2015.)
[Read my interview with Daniel Ricciardo on Yahoo! Sports]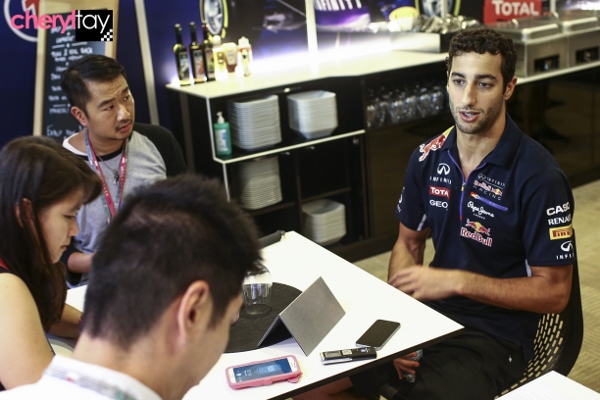 Adrian Newey wasn't in Singapore this time (he has stepped away from his designer role in F1 into a consulting role) but things should be under control since Christian Horner was seen exchanging laughs with F1 supremo Bernie E.
Clearly, the focus is on the Mercedes team this season as reporters and photographers flocked around Nico Rosberg and Lewis Hamilton, both of whom are embroiled in one of the biggest driver rivalries in recent years. I guess competition does that to even the best of friends, sadly. Other than the Mercedes event, I've not seen them together at all in the paddock.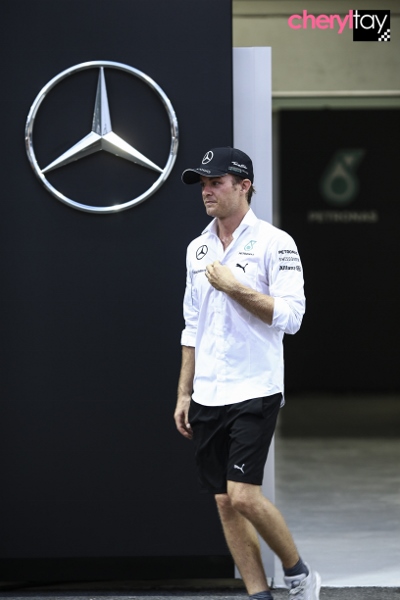 Friday was a little more exciting as track action began. There was some long-ass queue at the paddock when I arrived though, with teams coming in at the same time.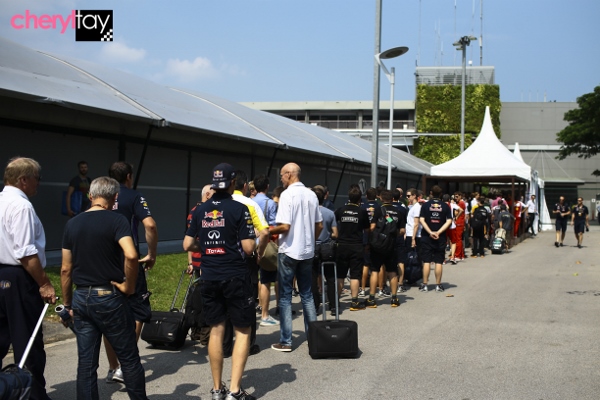 Once I got in, I quickly deposited my stuff at the media centre and started camping at the paddock entrance for the drivers to arrive. As expected, Rosberg and Hamilton arrived separately…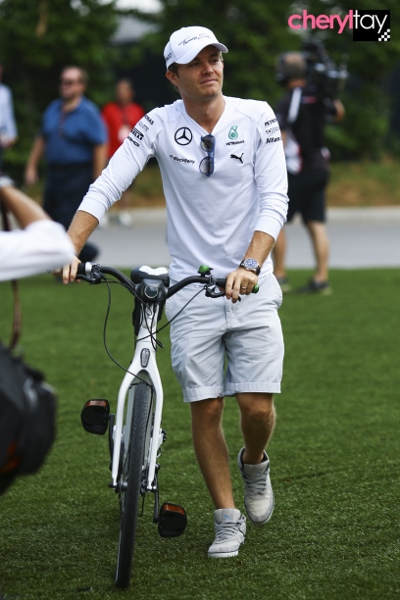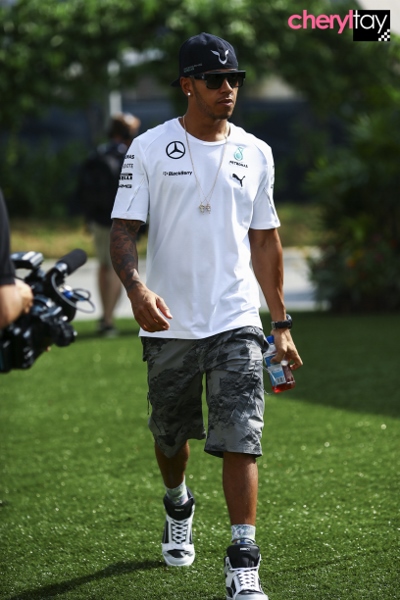 … whilst Ferrari's Fernando Alonso looked like he was in a rush.
Vettel, probably the last time I'll see him in Red Bull Racing, was in his usual schoolboy get-up of denim and a backpack.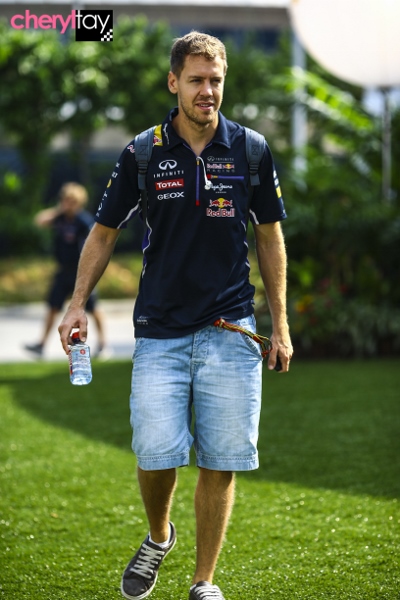 I was keeping my eyes peeled for Jessica Michibata, the insanely hot fiancee of McLaren's Jenson Button but she was not seen at all on Thursday and Friday! I was beginning to think she might not be coming 🙁 Button also seemed to look a little sad, or maybe I'm just being over-sensitive.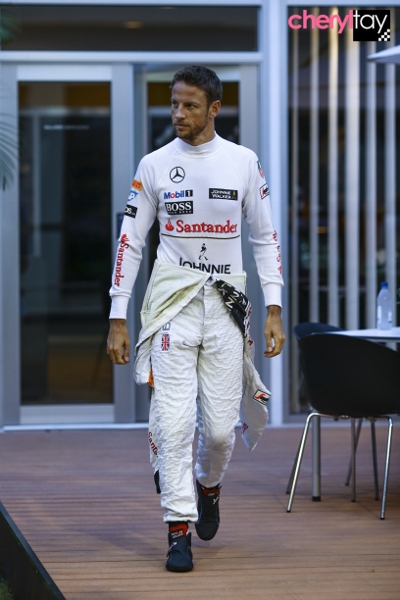 Practice sessions got underway and man, the sounds of the new engines were really quite dull. I miss the roaring V8s that would leave your ears ringing each time the cars fly past!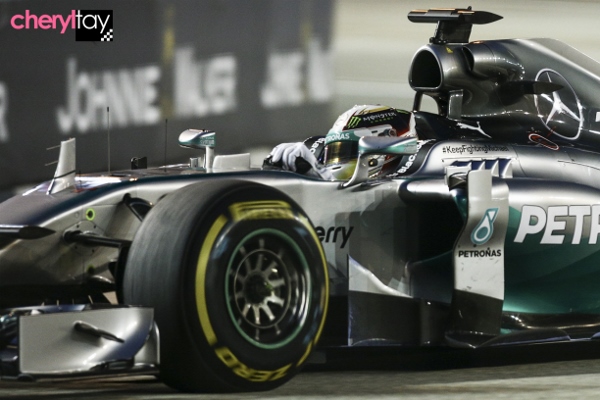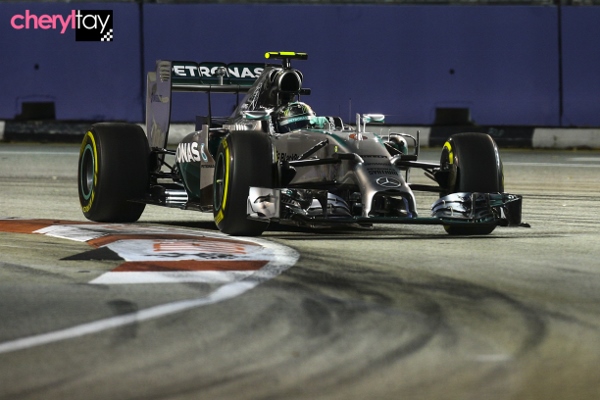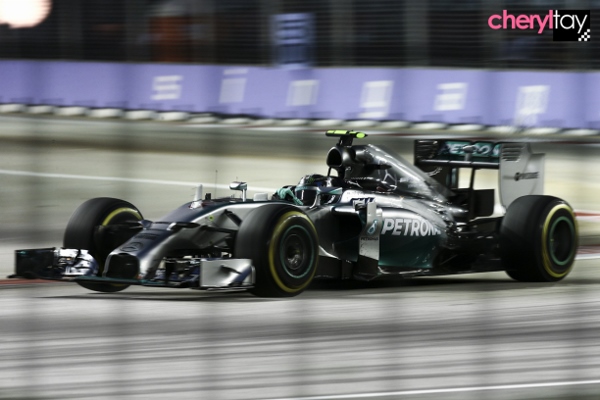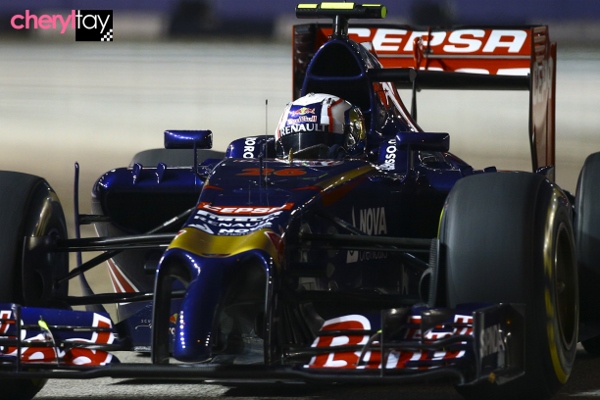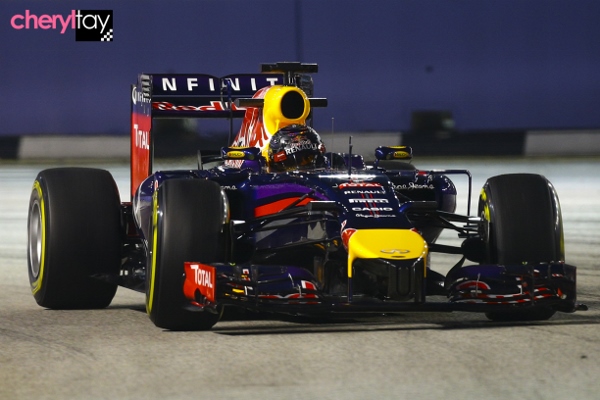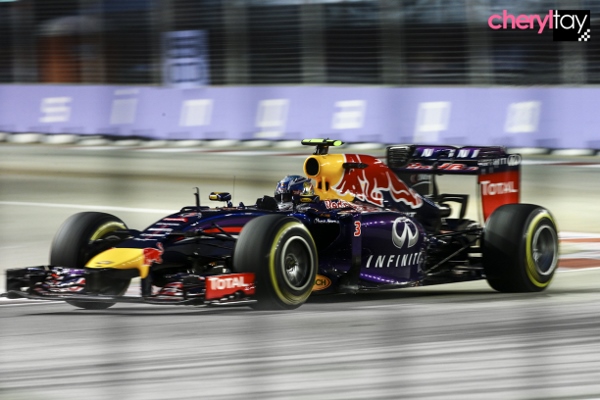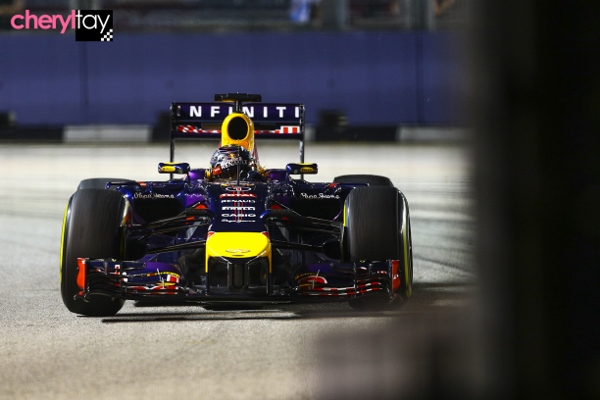 Between both practice sessions, I had the chance to interview Susie Wolff, development driver for the Williams Martini Racing team. She was the first female in 22 years to drive on a F1 weekend when she did the practice sessions for the British and German Grands Prix earlier this year. I chatted with her for about half hour and she revealed a lot of interesting things, including how she hates cooking (LOL).
[Read my interview with Susie Wolff on Yahoo! Sports]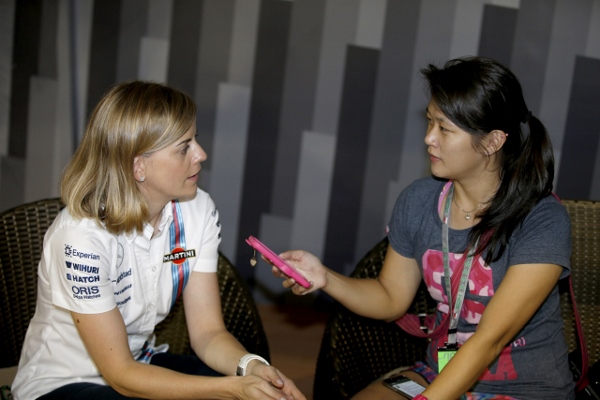 The atmosphere in the paddock became more tense on Saturday as qualifying was coming up. After the third and final practice session, you could literally feel the intensity of the paddock increase as teams quickly worked on the cars to make sure they are in as best a condition as they can be for qualifying.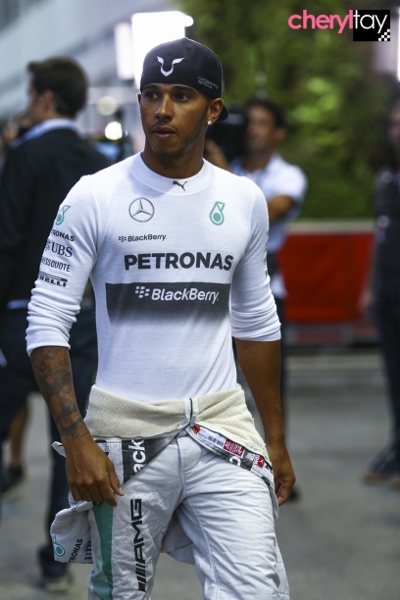 In what was a nail-biting qualifying, Hamilton took pole position ahead of his teammate by a mere 0.007 seconds. WHAT. I can't even say the letter 'I' in that time. "Dammit!" was Rosberg's reply when his crew informed him that Hamilton had beat him by seven thousandths of a second. At the mandatory post-qualifying photo opportunity, it was nice to see Hamilton and Rosberg high-five each other but I doubt it did anything to reduce the strain between them.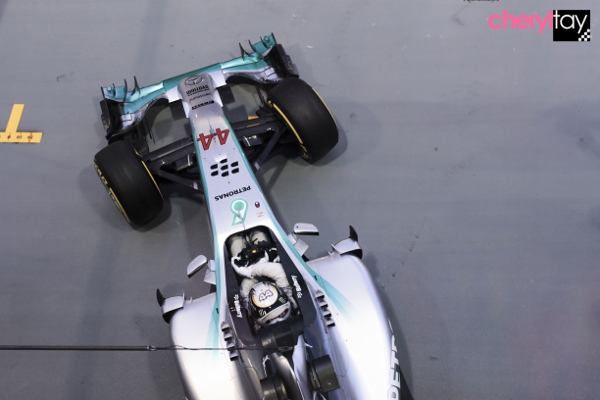 Michibata arrived sometime before the practice session and she was spotted going into the McLaren pit, but she returned back to their hospitality suite after and never came out again. I foolishly waited until qualifying was over but she still remained in there, so I gave up after two over hours, not wanting to wait until she leaves the track. Thankfully, I managed to get a shot of MasterChef Gordon Ramsay who randomly walked out of the McLaren hospitality suite!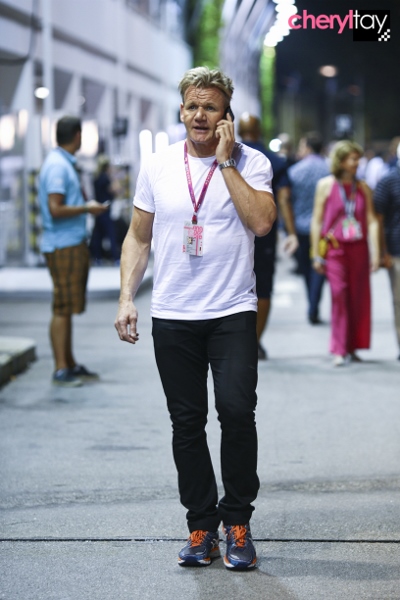 Race day is always the most exciting, but it also saddens me a little because it means the Grand Prix week is ending and I'll have to wait an entire year before I get to experience it again. Rosberg and Hamilton came to the track at different times, as usual, then I noticed a smiling Alonso! It's not every day that you get to see him smile you know…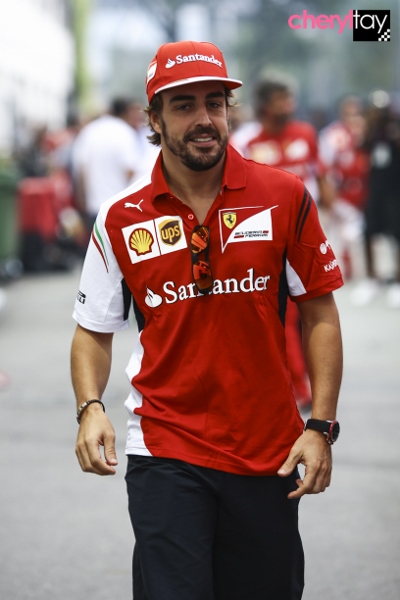 Er, Kimi 'Iceman' Raikkonen was as cold as ever…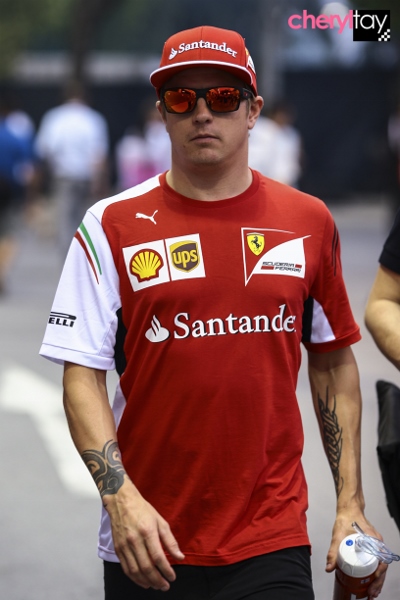 A safety car has been deployed at every edition of the Singapore Grand Prix and it was no different this year. However, there was a lot less drama – no fires, no crashes, just one safety car period when they had to clear the debris from Sergio Perez's smashed-up front wing. Rosberg suffered a really unlucky fate though – he encountered a problem with the steering column and wasn't able to start the car when the rest went for their formation lap, so he started from the pit lane.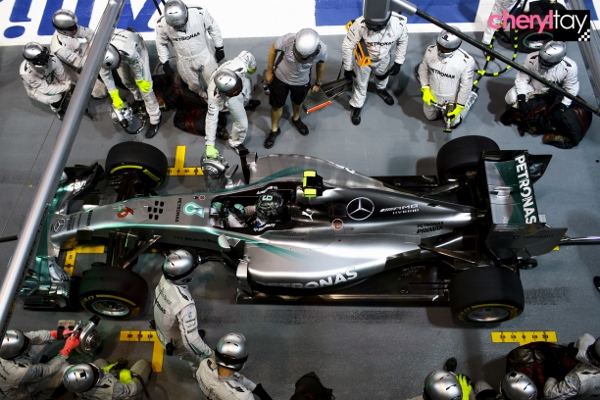 The poor fella was at the back of the field trying his best to play catch-up, but he was later forced to retire when he couldn't get his car out of neutral after his first pit stop. The photo above shows the crew standing around waiting for Rosberg as he tried in vain to get his car going, and the photo below is of the crew pushing him into the pit as he retired.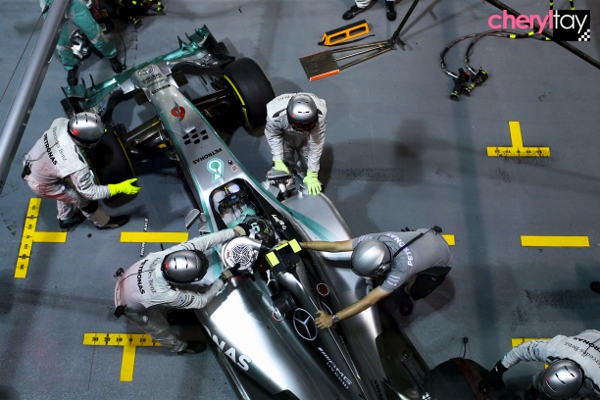 That gave Hamilton a pretty easy race without much challenge as he cruised from pole to take the chequered  flag. He even managed to do three pit stops, while the Red Bull boys only did two. Hamilton exited from the pits between both Red Bulls, but he was simply too quick that night, easily overtaking Vettel to go on and win.
With Rosberg out of the race, it gave the Red Bulls the chance to fill up the rest of the podium – Vettel in second (his best result this season thus far) and Ricciardo in third. Alonso was on the heels of Ricciardo but just could not get enough speed to pass, thus settling for fourth.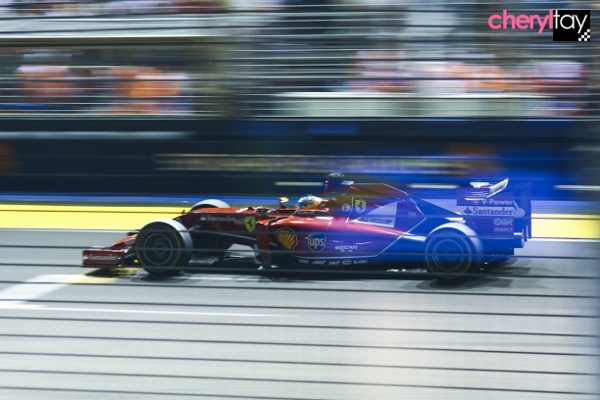 Singapore was significant for Hamilton because the DNF from Rosberg gave him the lead in the driver standings (by three points).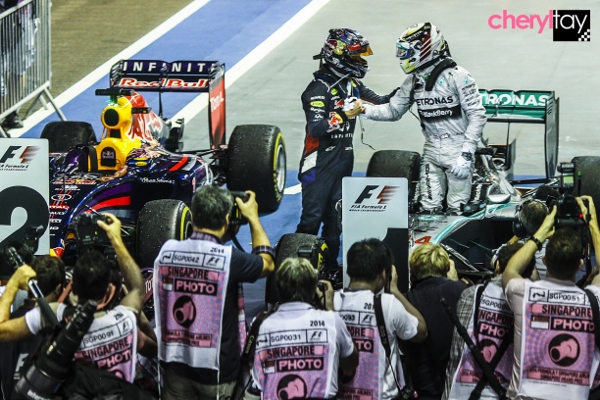 Five more races to go and the title fight becomes really tight! Who are you rooting for? Hamilton or Rosberg? I can't wait!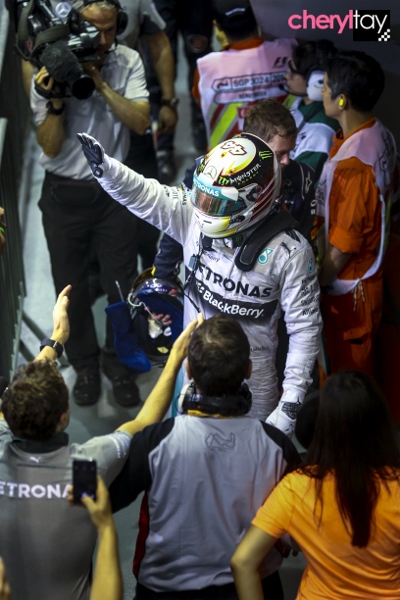 How did I end my Formula 1 Singapore Grand Prix 2014 week, you asked? Heh, I waited nearly three hours outside the McLaren hospitality suite for Michibata to leave, because that was my last chance to get a photo of her. She finally left with Button past midnight and I did get my shots (phew!); however, she was all covered up so I can't say I'm satisfied.
Well, one thing's for sure – I don't think I will ever wait five hours (across two days) for anyone again. I was just being stubborn because I didn't understand why she was so reclusive; plus once I started waiting I didn't want to let any of it go to waste. What if Button doesn't get his contract renewed and I never see Michibata again?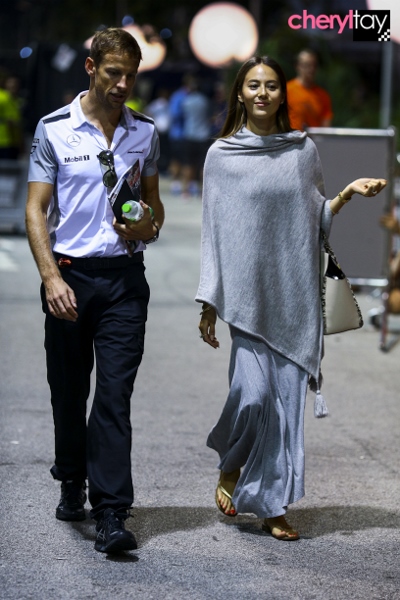 So, that was a summary of my F1 Singapore week! 2015, come around quicker!!
View all my Formula 1 Singapore Grand Prix 2014 photos here.