I remember Alex Brown as the cute little boy from the Cadet category when he started racing in the Singapore Karting Championship (SKC) in 2012. He was somewhat reserved (or should I say shy) but showed promising speed in his craft. True enough, the 10-year-old of English and Filipino mix (hence the good looks) delivered in his second year of racing, taking home the national Cadet title of 2013. He also took home the Best Sportsmanship Award.
Alex was seven years of age when he came across go-karting at the now-defunct KartWorld in Jurong and had to drive with a cushion propped up behind him. He tried karting a few more times in Phuket and liked it so much that he wanted to take home the kart at the shop. "I like the speed, especially when I drove a junior kart around the Changi Kart Circuit (now closed). Another thing I like about karting is how there are a lot of pieces in a kart, and I enjoy watching all of them move together," he said.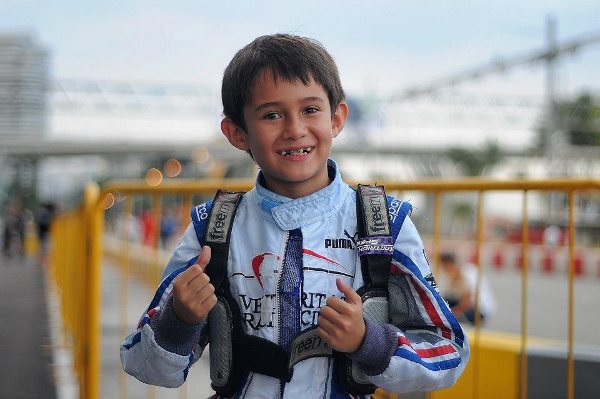 Seeing his interest, Alex's father David looked around and managed to find a secondhand Arrow kart. With that, Alex spent a lot of time practising at Kartright Speedway, eventually deciding to take part in the SKC. Alex's first race with his first team did not go too well and results only began to show from Round 2 of the SKC 2012, after he made a switch to Veritas Racing. The 2013 season ended well with the national title and also second place at his first international race – the Asian Open Karting Championship (AKOC) held at Kartright last November.
In December, Alex raced outside Singapore for the first time at the RMC Xeramic challenge in Sepang and came in third, losing two places at the last two corners of the race! This year, besides the SKC, Alex is also racing in the Rotax Max Challenge (RMC) / Asia Max Challenge (AMC) Micromax category. He has done well with a win at SKC Round 1 and a second place finish at the opening round of RMC.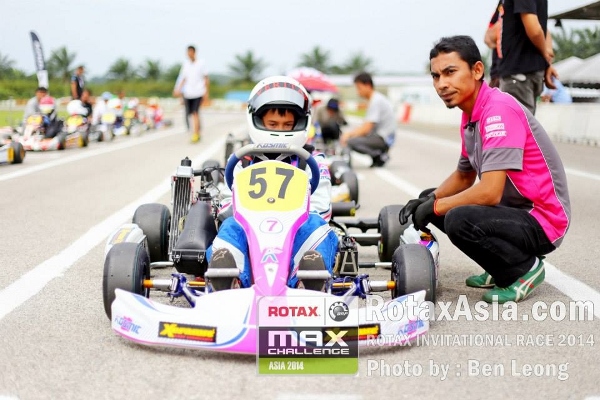 "Watching Alex race makes me excited, nervous and agitated all at the same time," David said. "I keep trying to remind myself that it is a long haul and over a whole series – given all the ups and downs – it will even out and the best racer will win. If not, the race weekend becomes too emotionally taxing and not that enjoyable. I guess this is the joy and pain of kart racing. In 10 to 15 minutes, so much can happen and some can be quite random."
There were occasions when a heat or race didn't go Alex's way, but time and time again, he has had to steel himself to be patient, bounce back and work his way back up, as observed by his father. "He has made some really good friends and has a hobby which he can talk knowledgeably about. This helps his confidence for sure," David added.
Looking to defend his Cadet title, Alex is up against increased competition from a record entry of 15 drivers in the category this year. Nonetheless, he got off to a good start with a win in Round 1 and is aiming to repeat that for the rounds to follow.
David Brown would like to thank Rose for taking Alex to practices, Shaun of Veritas Racing and Rodney of Seven Racing who have invested time and patience in coaching him.
Related articles