Light commercial vehicles (LCVs) are becoming a popular choice of personal transportation, especially in existing market conditions where vehicles are costly. I have had friends, especially those who run their own businesses, switch to LCVs for convenience – to carry both passengers and goods when needed.
Getting a full-sized van or lorry may not be practical as they are too big to enter some car parks, but an LCV has the comfort of a passenger car, coupled with van-like features such as low fuel consumption and lots of cargo space – essentially getting the best of both worlds.
To achieve a better understanding of life with an LCV, I took the Volkswagen Caddy Maxi out for three days. Friends I met during that period curiously asked me, "Why are you driving a van?" and I had to patiently explain the difference between a typical goods van and an LCV.
The Caddy Maxi has a passenger area as comfortable as any of its cars, while having the utilitarian area in the back that offers a lot of versatility. I thoroughly enjoyed the luxury of space I had with the Caddy Maxi, able to store all the lights I carry around for indoor photography, my camera equipment and my gym stuff. Coincidentally, I had a photoshoot for fitness models during those three days and only the Caddy Maxi was able to fit the huge gym ball I needed.
I recall how it was raining heavily one morning and in my hurry to get into the vehicle, I didn't close the sliding doors properly. But I could just reach behind my driver's seat and easily re-open and shut the doors tight. These are just some of the things that impressed me during my test drive.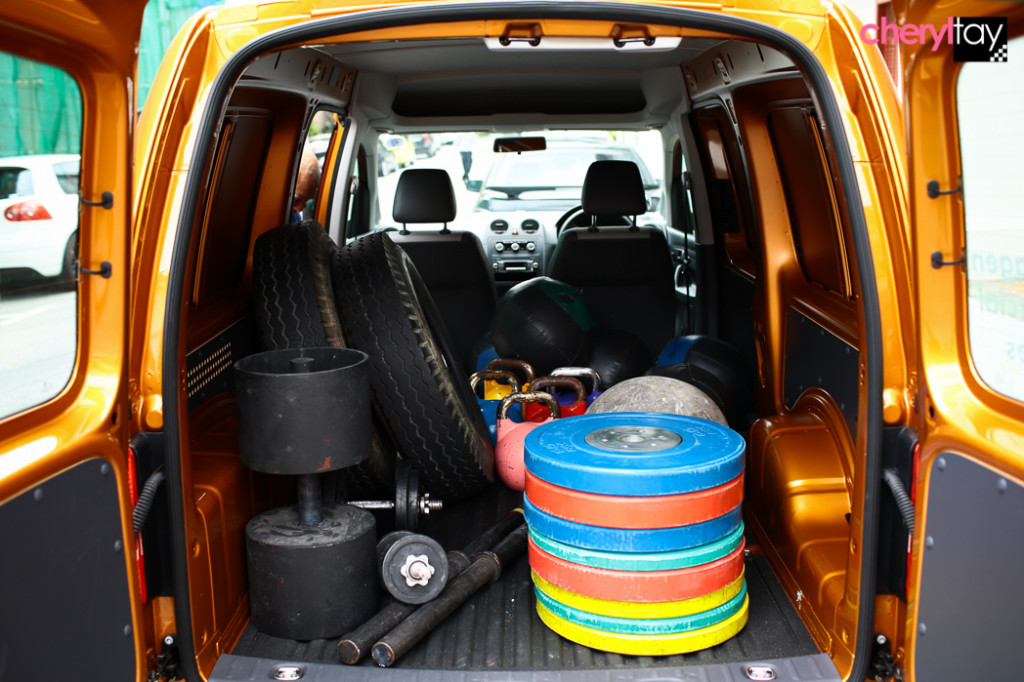 Driving it
Driving the Caddy Maxi was actually quite fun, with the 1.6-litre turbodiesel powering the Caddy Maxi more than adequately. Controls within the cabin are conveniently laid out and easy to reach; the seats are comfortable enough for long journeys. The 250Nm of peak torque from as low as 1,500rpm made overtaking a breeze; though the max power of 102bhp at 4,000rpm is not an area you will venture into often.
There is the usual diesel clatter and the road noise but nothing was more jarring than the speed limit warning which beeps so loud and hard above 70km/h. It's a locally-fitted device so there was no way to turn it off and no amount of loud music is able to drown out the incessant beeping.
The Caddy Maxi is the panel van with no windows at the back, so it took a little initial adjusting when checking blind spots. The big side mirrors were a huge help during parking, but I couldn't help being extra cautious. A continental car owner actually stood there watching me park the Caddy Maxi and he waited for me to get out so he could tell me I did a good job. Is it that rare to see a young lady parking an LCV??
Too much space
When I first opened the back doors of the Caddy Maxi, I got really excited (hold your thoughts please) when I saw the large space of 4,200 litres. Images of picnics, relaxation lounges and sleeping area filled my mind first – I imagined bringing in food and drinks, large cushions, stuffed toys and balloons. But I had a better idea.
A personal friend of mine, Ahmad Taufiq Muhammad, is a pioneer in the strongman community and former regional champion. Strongman is a weightlifting-based sport where athletes compete in time-based events such as pulling a 6,000kg truck, dead-lifting a car or flipping massive tyres. The elements used in the sport of strongman include atlas stones, axle bars (thicker and heavier than the ordinary Olympic barbell) and lots of other heavyweight stuff. I know Taufiq has to transport his equipment regularly, so I offered to give him a lift one day.
With the help of three other strongman athletes, we loaded up the Caddy Maxi with axle bars, tyres, dumbbells, kettlebells, medicine balls and atlas stones. A quick calculation estimates about 700kg of equipment in there.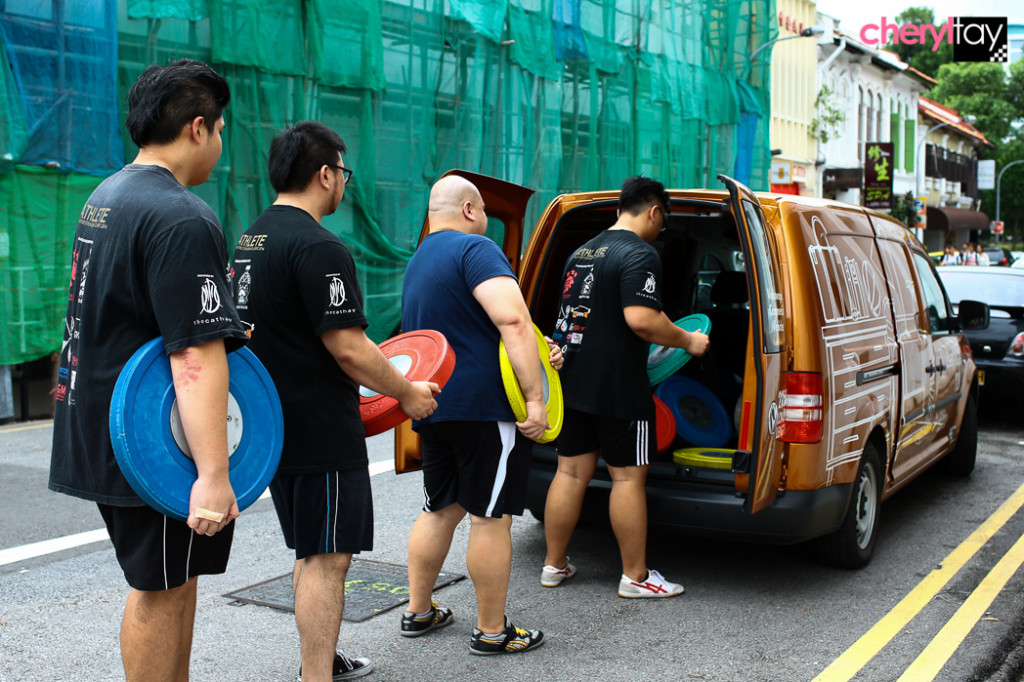 The Caddy Maxi takes pride in having a high load capacity (830kg payload) so I was not worried about overloading it. It is also longer than the standard Caddy by 4.7cm, with a cargo area up to 2.25 metres in length. This is perfect for the axle bars (2.4 metres long) which fitted nicely diagonally!
After we spent some time loading everything – well, they loaded, I took care of the photos – we proceeded to drive to Taufiq's training destination. The vehicle felt much heavier and I could not accelerate with as much breeze compared to it being empty (obviously), but the engine didn't struggle or whine under the heavy weight.
By the time we finished unloading everything, Taufiq was very impressed with the Caddy Maxi. It's not everything you find a smart vehicle like that he said. It's much more practical, with both car- and van-like features, and the frugality of the TDI engine keeps fuel bills low. Besides awesome fuel economy, the Caddy Maxi only needs servicing every 20,000km.
Easy to drive, highly versatile and able to cater to everyday comfort needs, the Caddy Maxi is a winner at heart.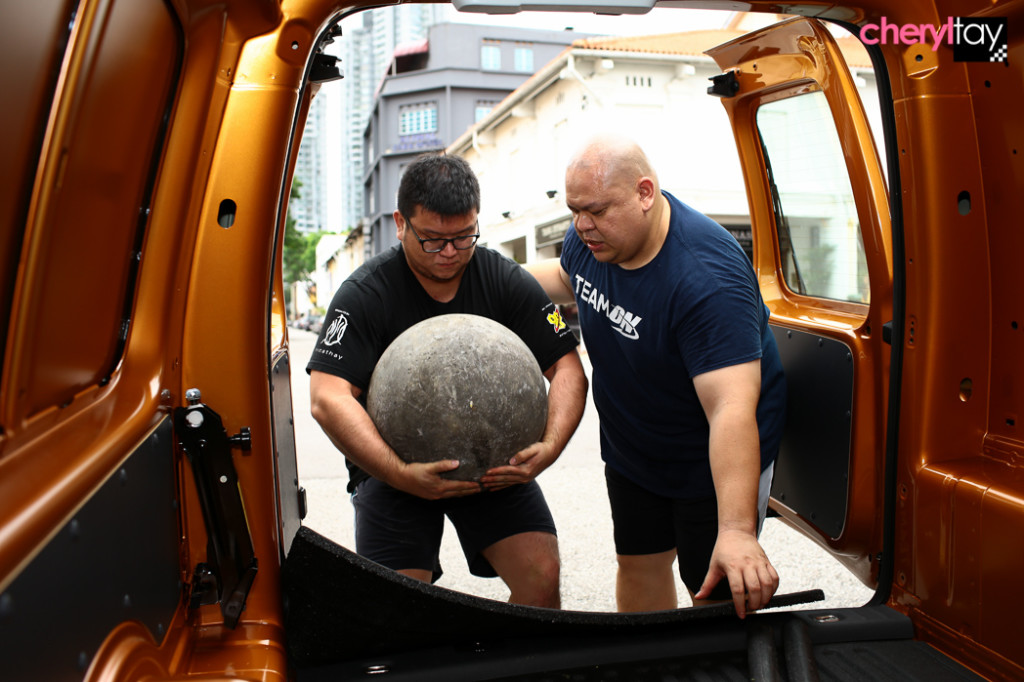 At A Glance
Engine: 1,598cc diesel
Transmission: 7-speed DSG
Performance: 102bhp/4,000rpm, 250Nm/1,500-2,500rpm, 0-100km/h 12.7 secs, top speed 168km/h, CO2 149g/km, fuel economy 5.7L/100km
Test drive & Enquiries: Volkswagen Group Singapore
Tel: 6602 8096