Going on a cruise now is probably the closest thing you can get to a holiday, complete with passport scanning, packing a luggage and walking an aerogate. Technically you're still in the vicinity of Singapore, but you still get a little bit of the "overseas travel" feels when you wake up to the open seas, so I would recommend going for this.
I've been on cruises several times with my family pre-COVID, so I already know what to expect, but this time it was less crowded and quieter due to the reduced capacity – which is good!
One thing I liked about Royal Caribbean is that the swab test is done a few days before your trip. We booked an appointment to head down to the testing centre at Raffles City and it was quick and easy. For Dream Cruises, you do the swab test when you check in at the cruise centre and it can be quite a long wait in the queue (a friend's friend waited over 2 hours!).
The check-in process was super efficient and fast. We alighted and got ushered in to scan our bags, collect our Tracelets (these prisoner looking wrist tags you have to wear ALL THE TIME when outside your room on the ship), scan our passports and then onto the aerogate we went into the ship.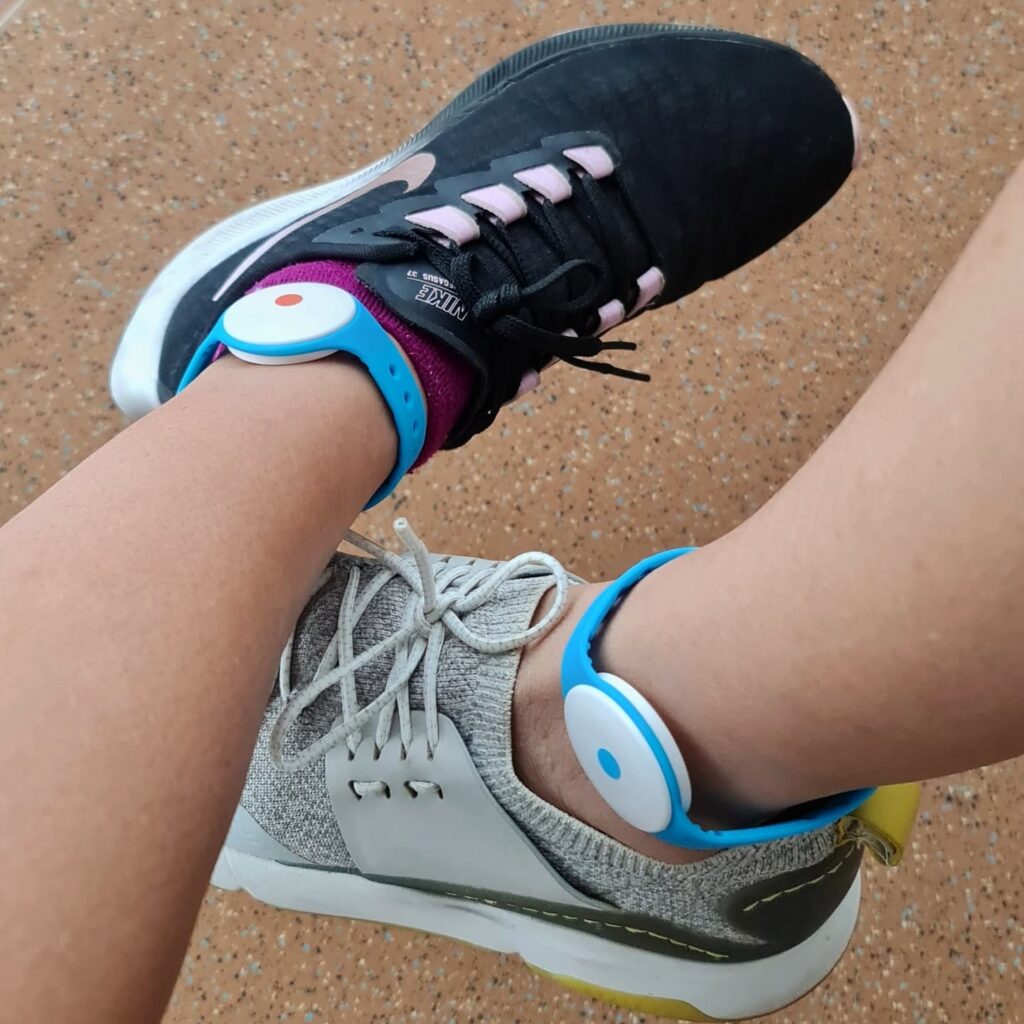 Once on the ship, we went to our assembly station for a quick safety briefing then straight to our room where our SeaPass cards (this card that acts as your identification, credit card, key card and also access card) were at the door. This SeaPass card must go with you everywhere because you need to scan in and out of every section on the ship.
Here are some tips I've put together to help you if you're going or thinking of going:
1) Do your check-in via the app before your trip.
Online check-in opens 90 days before your trip so do it as soon as you can, so that you can book the earliest boarding slot which is at 2pm. The cruise only departs at 8pm but you want to get on earlier to maximise your time. You can only board when it's your official time slot so please don't be kiasu and show up earlier.
Download the Royal Caribbean app and you can complete 2 of the 3 check-in steps. The last step, the health declaration, can only be done 24 hours before departure.
Within the app, link your credit card and set up your profile too.
2) Buy Wi-Fi and beverage packages at discounted prices before your trip via the website.
Create an account on the Royal Caribbean website and do purchase Wi-Fi and beverage packages up to 48 hours before your trip. They will usually be at discounted prices, like 30-40% off.
For the beverage packages, they have different types like Classic Soda (unlimited soft drinks at S$10.87/day), Refreshment Package (unlimited non-alcoholic drinks at S$27.20/day), Deluxe Package (all non-alcoholic and alcoholic drinks at S$54.50/day) and there's even one for just specialty coffees.
If you want to let your hair down and drink, my suggestion is take the Deluxe Package so you can get free flow alcohol. Every passenger in your travel party MUST purchase the Deluxe Package, so it cannot be only one of you buy it and the rest don't. Each stateroom can bring 2 bottles of wine onboard btw, just no hard liquor.
The Refreshment Package however, depending on how big your group is, you can just get 1-2 people to buy the package. Then what you do is send these people to go and get drinks for the group (sssshhhh!). But to make it less obvious that you're cheating the system, please take drinks from different cafes/bars.
The only time you cannot get away with this is at mealtimes, where only those with the packages can order drinks for free. But they serve free water at meals in the main dining hall and the buffet has free coffee and juices so it's fine!
You will get only 2 x 500ml bottles of water in the room when you arrive. They will not replenish the water after that. You can order from Room Service but there will be a service charge and 18% gratuity. There is a kettle in the room which you can boil water with, but the tap water tastes a bit funny. The water coolers around the ship are also all shut so you can't refill your bottles. You might be able to refill your water bottle at the buffet restaurant though.
I mean, if you don't really drink much water then maybe you can just buy one bottle of water a day instead of buying the package so work your sums. One glass of fresh orange juice is US$4.13!
I would say get Wi-Fi for your mobile phone at least, or you will totally not have any connection once out at sea…unless you're fine with being totally off the grid. You will also need the Wi-Fi so you can contact your friends; otherwise you can stick to each other throughout.
They have Surf and Surf + Stream packages. Basically Surf is mostly for emails and WhatsApp, and Stream has better bandwidth for social media and even Netflix. We purchased the package for 2 devices which cost us S$24.47 per day.
But with this Wi-Fi package, be prepared that there might be moments where the connection becomes weak or totally no connection. I didn't use my laptop at all so I'm not sure how strong the speed is, but I would say just stick to the phone.
3) Make reservations for specialty restaurants via the app.
All meals are included in your package, so technically you don't need to fork out extra. The places that you can eat for free are at the Main Dining Hall (called My Time Dinner which is usually at Silk or American Icon Grill), Windjammer (buffet restaurant), Dog House (hot dog stand), Sorrento's (pizza) and Cafe Promenade (sandwiches, wraps, cookies). There were other complimentary dining places to eat at but they were closed on our trip!
The meal times for the Main Dining Hall is 8.30am to 10.00am for breakfast, 12.00pm to 1.30pm for lunch and for dinner you can choose between 6.00pm and 8.00pm. You can call ahead of your trip to choose which dinner time you prefer.
No reservations are needed to be made for these complimentary dining places, but if you would like to eat at their specialty restaurants like Chops Grille, Izumi, Jamie's Italian or Wonderland (some fancy sensory experience thing), make the reservation via the app before your trip. They get booked up quite quickly!
We chose not to spend more money on food so we didn't book any specialty restaurants. To our dismay, the food at the Main Dining Hall was really quite bad – just think mass batch cooking and reheated. Grace and I are not fussy with food at all, plus we are gluttons, so for us to not finish the food really says something.
We felt bad for wasting food so we didn't return to the Main Dining Hall anymore after the first night's dinner. Breakfast at the Main Dining Hall was not too bad (there's free juice!) but the hashbrown was soggy and mushy (noooooooo!).
The buffet restaurant is better because there is a variety so it's a hit and miss – some taste good, some taste bad. The Indian food was decent, but the Asian soup noodles were either too salty or too bland. The bun of my slider was so hard and the omelettes freshly fried from the egg station were flat and overcooked. We mostly ate our meals at the buffet restaurant, but for dinner the last two nights we had cup noodles and the free pizza in our own room.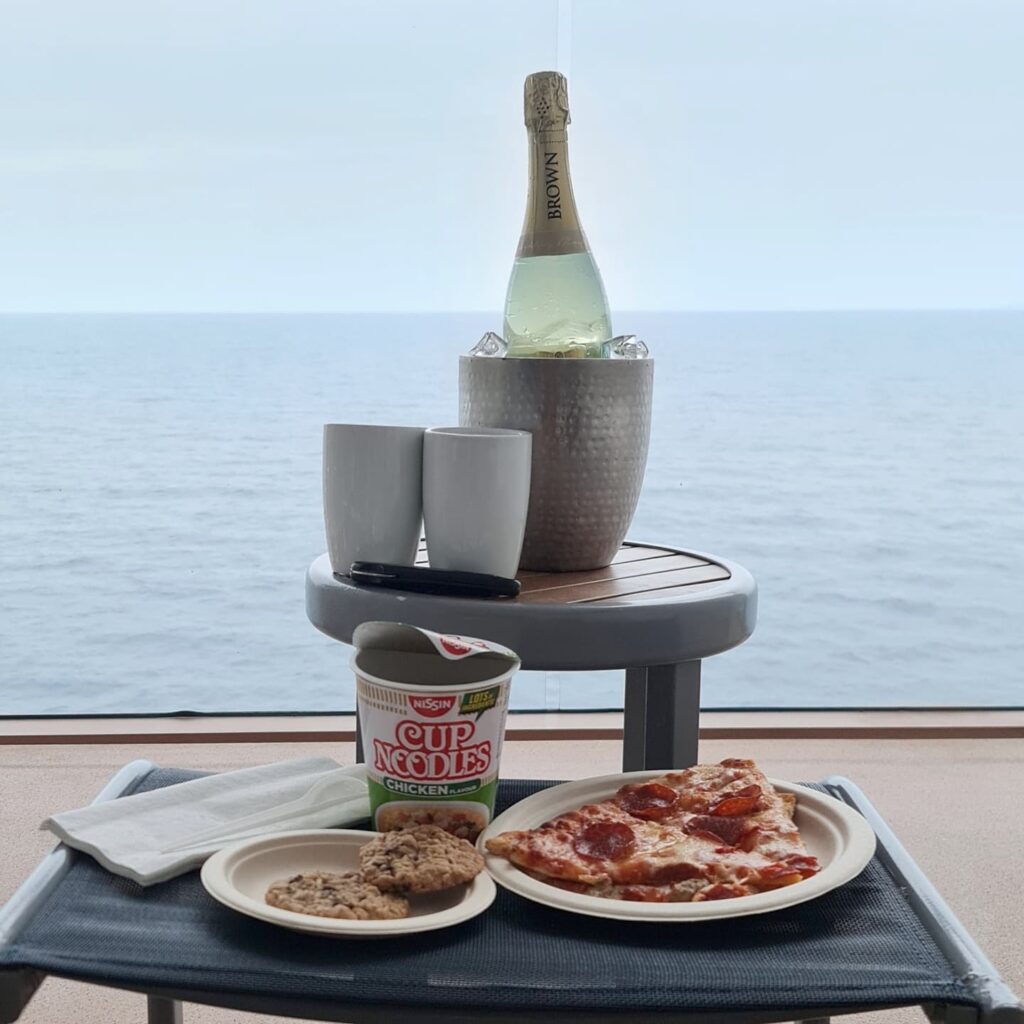 You can order from the room service menu but there is a service charge and 18% gratuity.
4) Bring your own snacks
This brings me to my next point of bringing your own snacks. You can only bring packaged food like chips, biscuits, nuts, chocolates, cup noodles. You can't bring cooked food and fruits. There is NO convenience store onboard so I would highly recommend bringing your own food. In hindsight we should have brought more cup noodles hahahah but I finished the rest of the snacks we brought.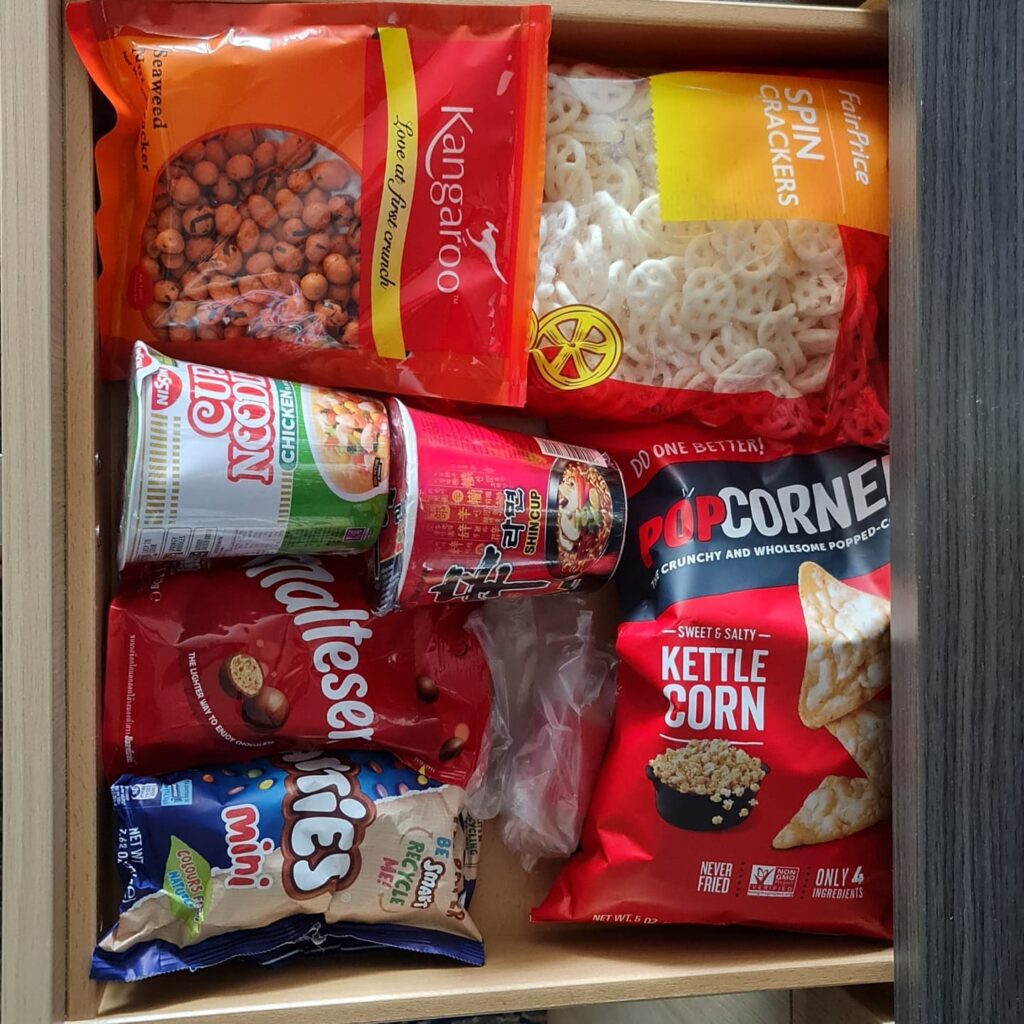 5) Bookings for activities can only be done once onboard.
Although dining reservations can be done via the app prior to boarding, bookings for activities can only be done onboard. Once you get on, faster open up your app and start booking! There are limited slots and they get booked out fast. Free activities include flowriding, rock climbing, bumper cars and some other games within the SeaPlex (their sports centre). There are also movies, trivia quizzes, scavenger hunts, dance classes and movies. You can also book slots to hit the gym.
Pre-COVID, there were A LOT more activities for sure. One thing that was sorely missing were the live performances at night. There used to be musicals, dances, comedies, magic shows, singing etc. but now there's only one live show and it's only for the Royal Suite guests.
We didn't go for any of the activities, except soaking in the jacuzzi (time limit of 10 minutes) at the adults-only Solarium, but we didn't find ourselves bored because we had the company of each other and we enjoy doing nothing.
If you're going with friends, I would suggest bringing your own games onboard or you might get bored!
6) Have your TraceTogether app or token ready and also bring a lanyard/cardholder/pouch to carry your SeaPass
The SeaPass must go with you everywhere to scan you in and out. You don't really need to carry cash since you can charge everything to the SeaPass and they will just bill to your credit card. But… (see next point).
7) Remember everything on the cruise is in USD. Bring USD cash if you don't want to lose out on the exchange rate.
Just bring US dollars and settle your outstanding bill in cash at Guest Services so you don't lose out on the exchange rate. For those who want to hit the casino, there is an ATM machine you can draw cash from, but there is a very high commission for card withdrawal, hence bring cash. You can also prepare small notes for tips to the staff.
8) Check your allocated departure time ahead.
Unlike check-in, you will be allocated a departure time between 7.00am to 8.15am. They will only let you know this time on the day of departure itself via channel 23 on the in-room TV, but what you can do is check at Guest Services so you can make arrangements for transport. But to be honest, you can just leave anytime you want between 7.00am and 8.15am. There is breakfast from 6.00am btw.
All in all, I would say it was a good experience – just that the food was really disappointing. I don't remember the food being this bad to be honest, but that was pre-COVID. But whatever they lacked in, they made up for in service. The service was excellent, no matter where you went, whether it was at the dining hall, the buffet restaurant or the stateroom attendant (aka housekeeper).
I hope this helped! If you have any other questions or if I missed anything out, just DM me on Instagram and I'll respond there.