This was initially planned as Grace's birthday trip and I booked it all the way back in November. I've been having major FOMO seeing all my friends and their year-end travel, but we couldn't help feeling a bit apprehensive. We almost didn't make this trip, with the Omicron wave hitting us and personal matters. Eventually we postponed it and travel restrictions eased YAY. What great timing it was!
I like how it was a pure holiday – not for a race, not for work and we are not meeting anyone. It was just the two of us doing what we want to do, in our time, at our own pace. There was no strict itinerary to follow, just a list of places we had in mind that we can be flexible about.
Leading up to the holiday, it was a busy time as I was clearing work and we didn't get to spend much quality time with each other, so I was happy to finally relax on the plane. Coincidentally, our anniversary date fell within the trip dates so we had something to celebrate!
I was in disbelief when I got into the airport all the way up to the point when we landed. It was really quite surreal, because I haven't travelled for two years. It was a pinch-me type of feeling, like omg am I really overseas? Certainly took a while to sink in.
We did a free-and-easy drive-yourself trip around Catalonia mostly, covering Barcelona, Girona, Tarragona, Lleida, Costa Brava, the Pyrenees mountains. This is not the "smoothest" driving route because we had to do a bit of a detour as there was some mega Carnival (think Mardi Gras and massive crowds dancing in the streets in costumes) happening the weekend we were there so we had to avoid all the cities and hotels were also way more expensive then.
This is the exact trip we did – you can just take note of where we went and plot it on a smoother route with no detours. I'm just gonna list where we went and you can decide if it's worth going. I'll also put down where we lived and if it's worth staying at or not.
For my travel tips and a list of what to prepare for pandemic travel, go here.
---
BARCELONA
This is a city with many beautiful things to see, but we only spent a day here because we preferred to go out into nature. To view the city quickly in a day, you can do the hop-on-hop-off bus tour or rent a go-kart like we did with GoCar Barcelona. It was mega fun and felt like some kind of golf buddy/Mario go-kart thing as we zipped around.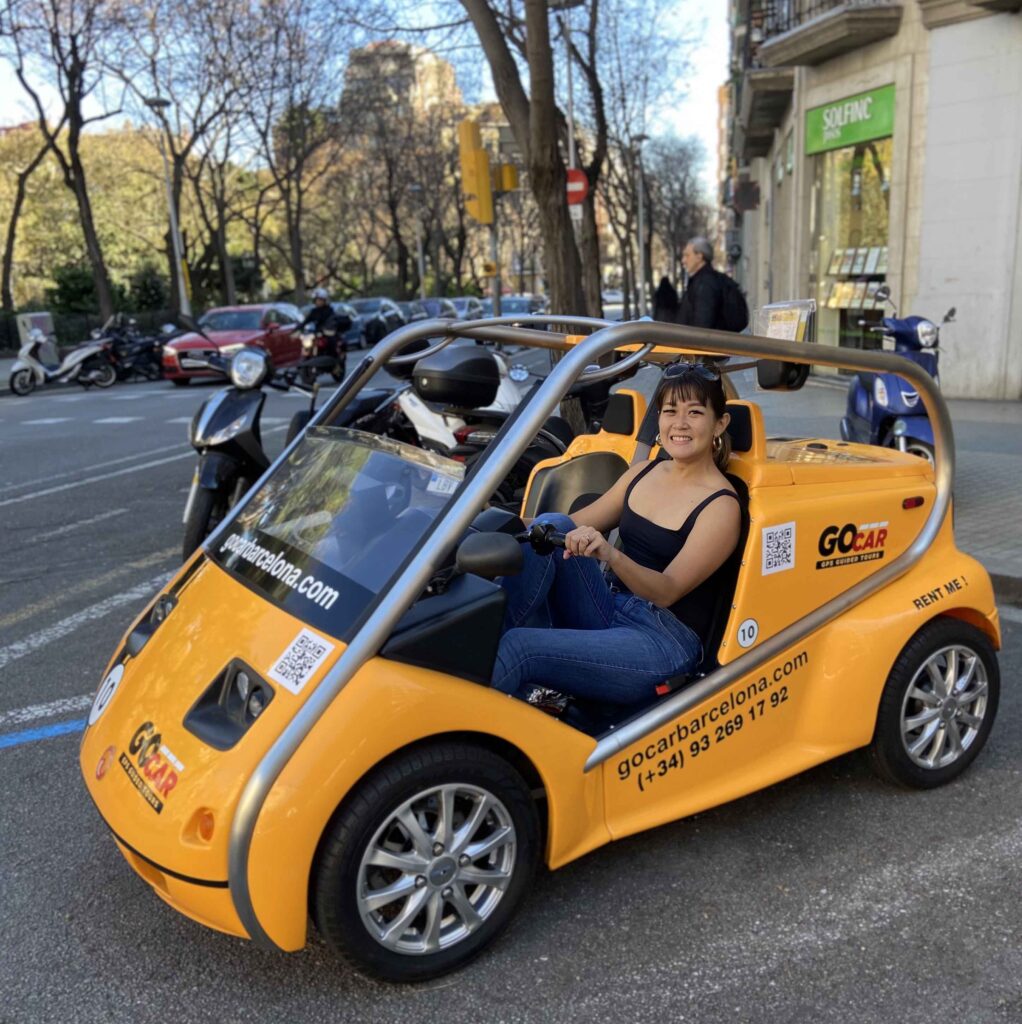 Our accommodation: Barcelona Universal
This was about 15 minutes away from La Rambla on foot. Parking was via those underground car parks at 20+ euros per day. The hotel was quite basic despite being rated 4 stars. There's a McDonald's directly opposite but only opens at 12 noon.
Here are the interesting places you might want to see in Barcelona:
La Sagrada Familia – the inside is super beautiful but please book your tickets online before going.
Catedral de Barcelona
Casa Batllo
La Rambla – really just an area of streets to walk around in
La Boqueria – only if you're interested in markets
Park Guell
Santa Maria del Mar
There are many more of course, depending on what you like to see – Architecture? Colours? History? Just prioritise if time is short.
ANDORRA
Our accommodation: Nomading Camp
We didn't exactly go into Andorra. We went glamping at a 'bubble hotel' that sat right on the fringe of Andorra. It's called Nomading Camp and it's really quite pretty. It's like the budget version of those glass domes (though still not too cheap at about S$200+ a night) based on the concept of hot air rises, so the heater inside keeps the tent inflated against the very cold air outside.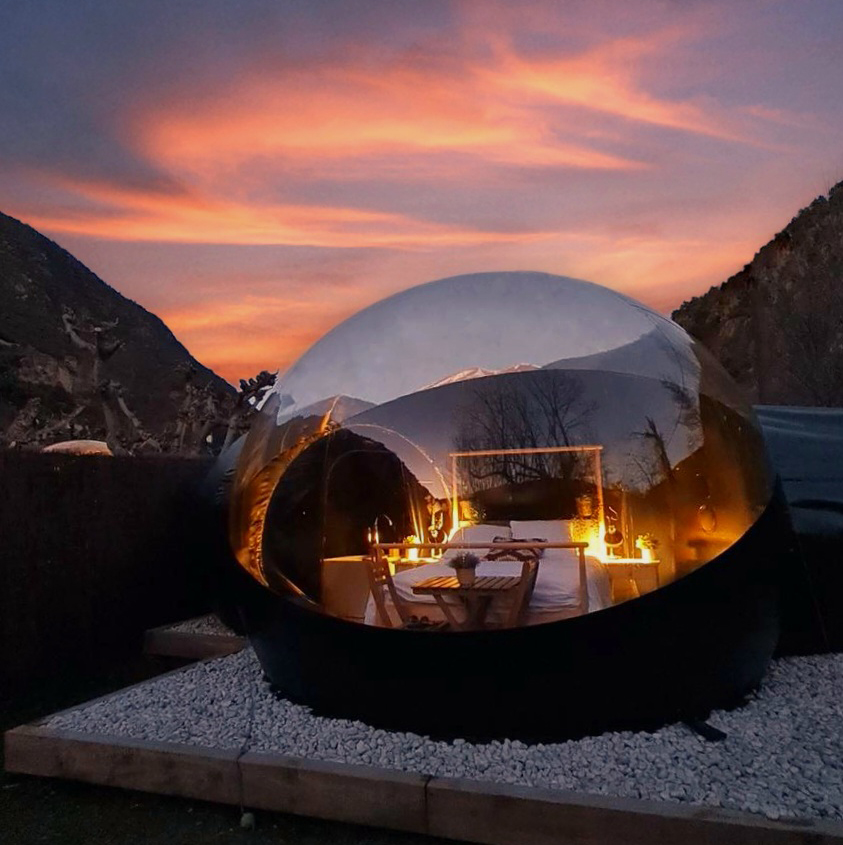 We really liked how quiet it was (each bubble is in its own private enclosed area) and you could see the beautiful stars at night – literally sleeping under the stars. Even though it's a tent, there is a fully functioning bathroom section with a toilet bowl, bathtub and hot water. The bed and pillows were also really comfortable.
The "doors" were a bit troublesome to get through though. There are 2 zipped doors and you have to unzip one at a time because if both are unzipped simultaneously, cold air gets in and the bubble starts to deflate. Not to worry, it inflates back quite quickly once both doors are zipped.
We were enjoying ourselves thoroughly, until… the bubble deflated on us! Around 6.30am, the power tripped and the heater went out so the whole thing went flat. We called the emergency number and waited in the lobby for 3 hours but they couldn't solve the issue so we checked out early and left. Would still recommend it; fingers crossed you don't experience a power trip like we did lol.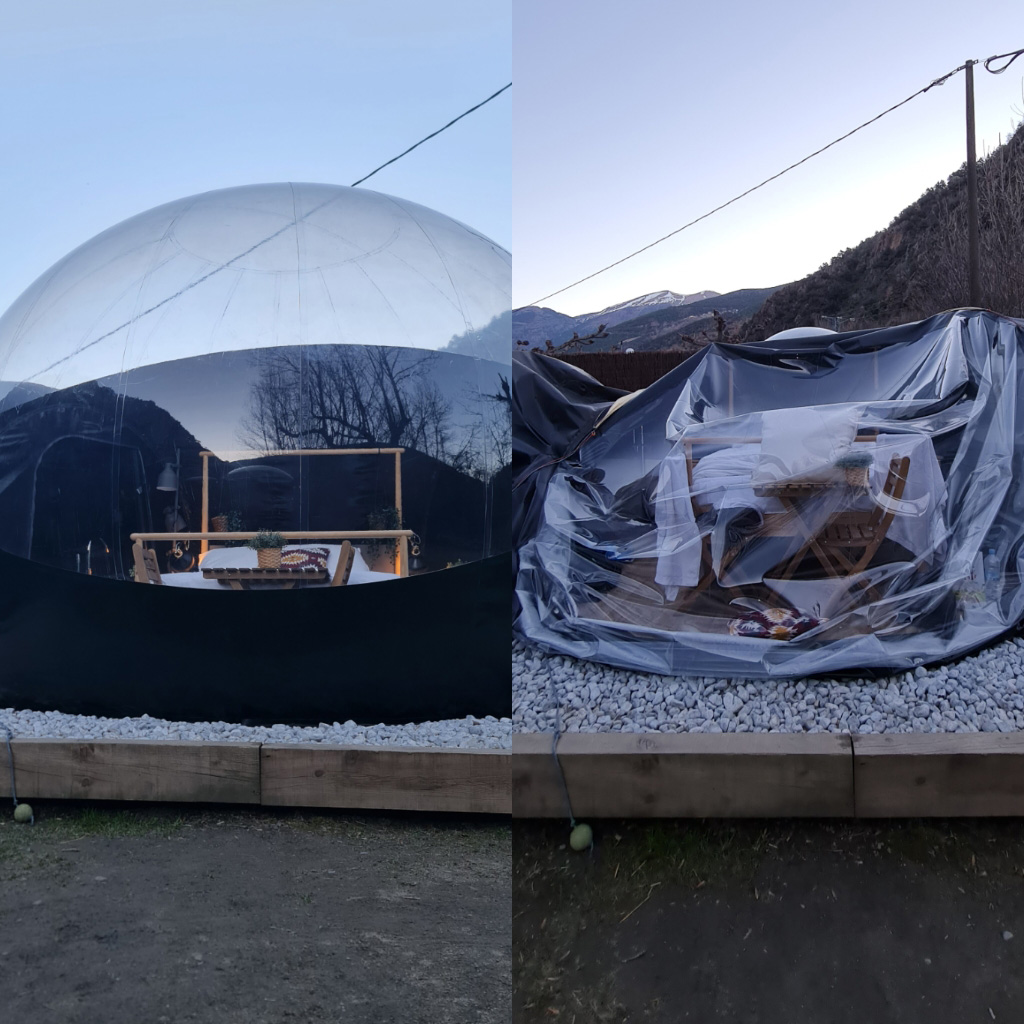 AGER
Our accommodation: Caseta de Magi
Super cosy, host could communicate in English well, not difficult to find. The heater is a bit troublesome (you need to clear the ashes and refill the box every few hours) but it keeps the place very warm.
We headed to the Pyrenees mountains next and we chose to stay in this little quiet town called Ager. As it was still winter, there is still snow at the top so we only visited one national park – Aigüestortes i Estany de Sant Maurici.
In the summer, you can drive all the way to the top but the road leading up into the mountains is covered with ice during winter so what you have to do is look for the taxi station at Espot, park your car in the open space across and take the hourly taxi shuttle service.
Otherwise, you will have to spend a long time walking all the way up just to get to the mountain and might be too tired by then to walk anymore. We tried driving up that icy windy road and got told off by the taxi shuttle driver when he spotted us oops.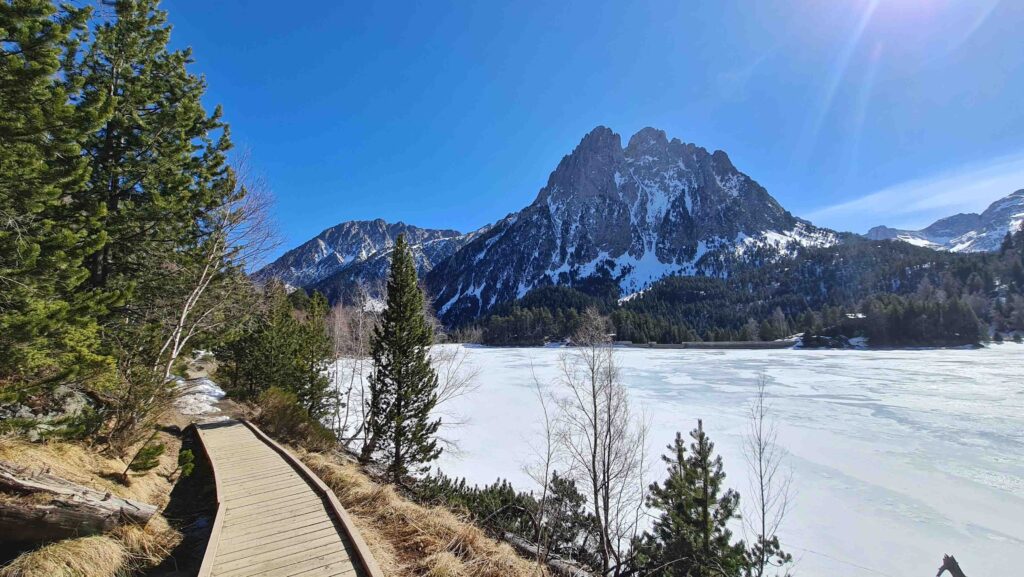 The Sant Maurici lake was frozen over so we just spent some time walking around and found our way to Cascada de Ratera. This waterfall looks better in the summer as there will be more water so you can skip this unless you don't mind just doing a walk. Just a word of caution though – it's quite slippery as it's all snow and slush and ice!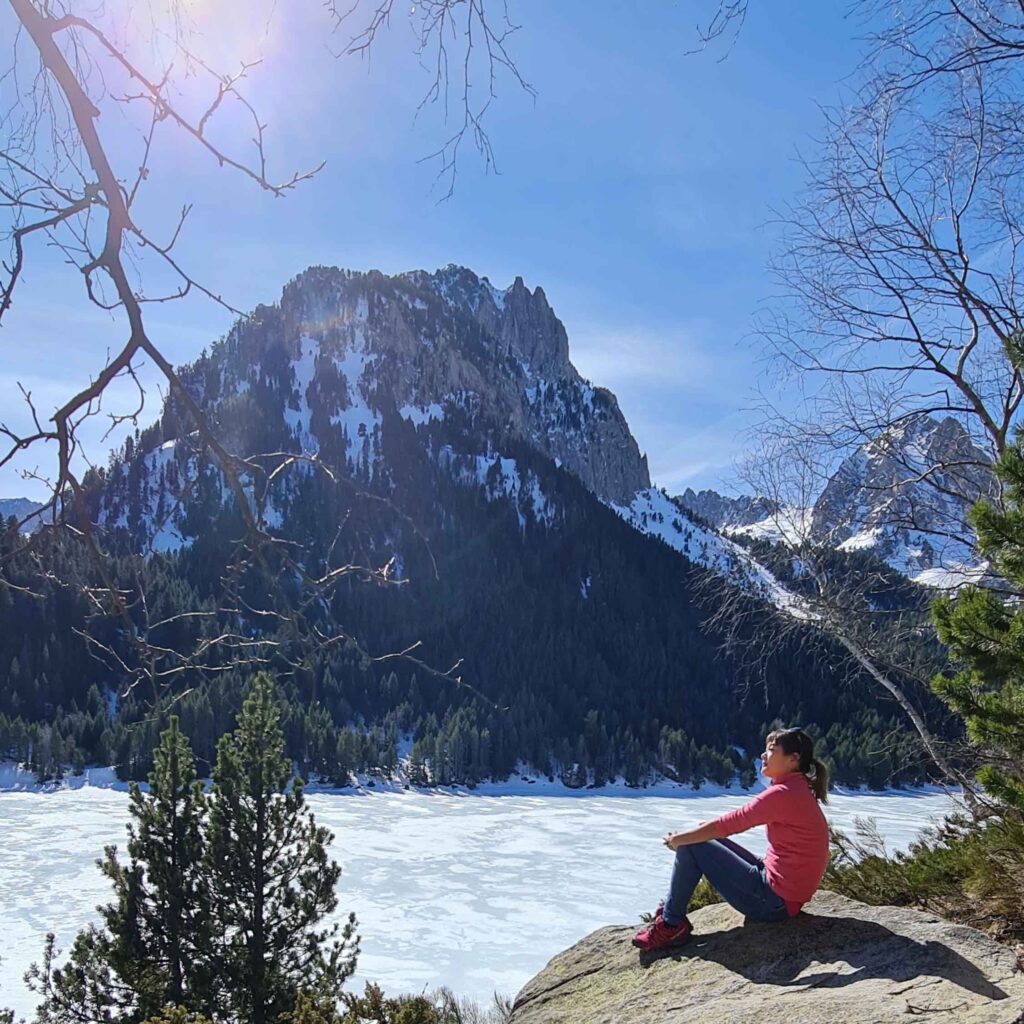 The next day, we went to Ermita de La Pertusa, a Roman chapel at the top of the cliff. The views here are to die for! MUST GO. You can drive in almost all the way (key in Congost de Mont-rebei Pàrking de la Pertusa into your GPS) with just a 600m walk along the mountain before a 300m path down the side of the mountain to get to it. The 300m path is a bit dangerous with some rocky parts where you need to climb a little.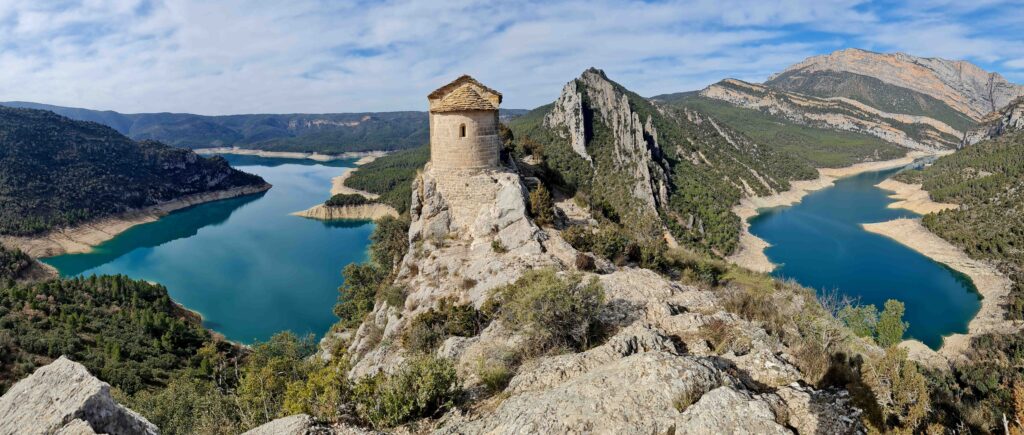 So, La Pertusa sits on one end of the Congost de Mont-Rebei gorge. It's about 17km one way and we didn't have time to walk the entire route AND BACK, so what we did was drive to the other end (key in Aparcament de la Masieta into your GPS) and walked from that end.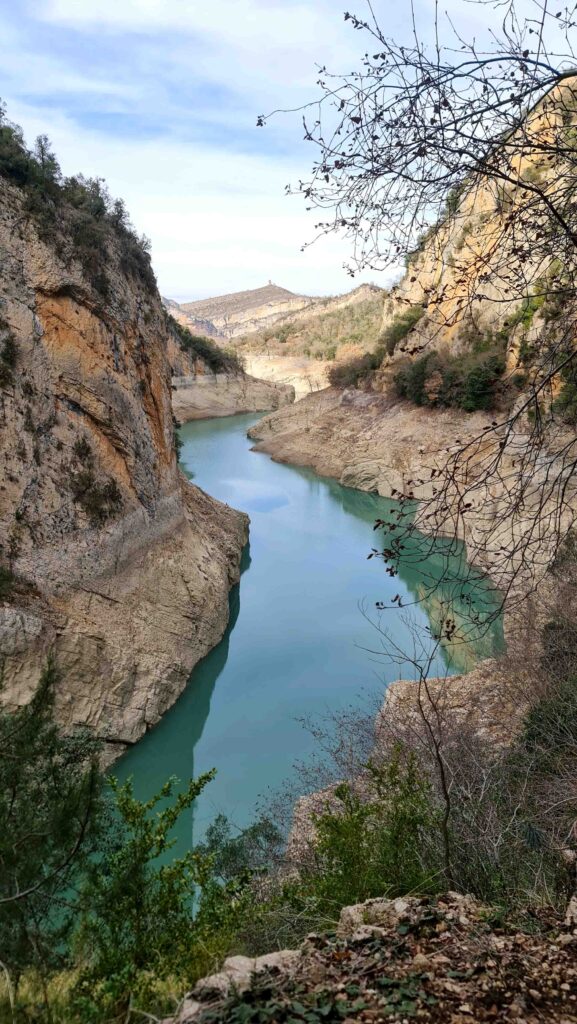 There is a suspension bridge (not the prettiest one on this gorge though) and it was really pretty to walk along the rocks! Make sure you have no loose items because there are no barriers and no railings.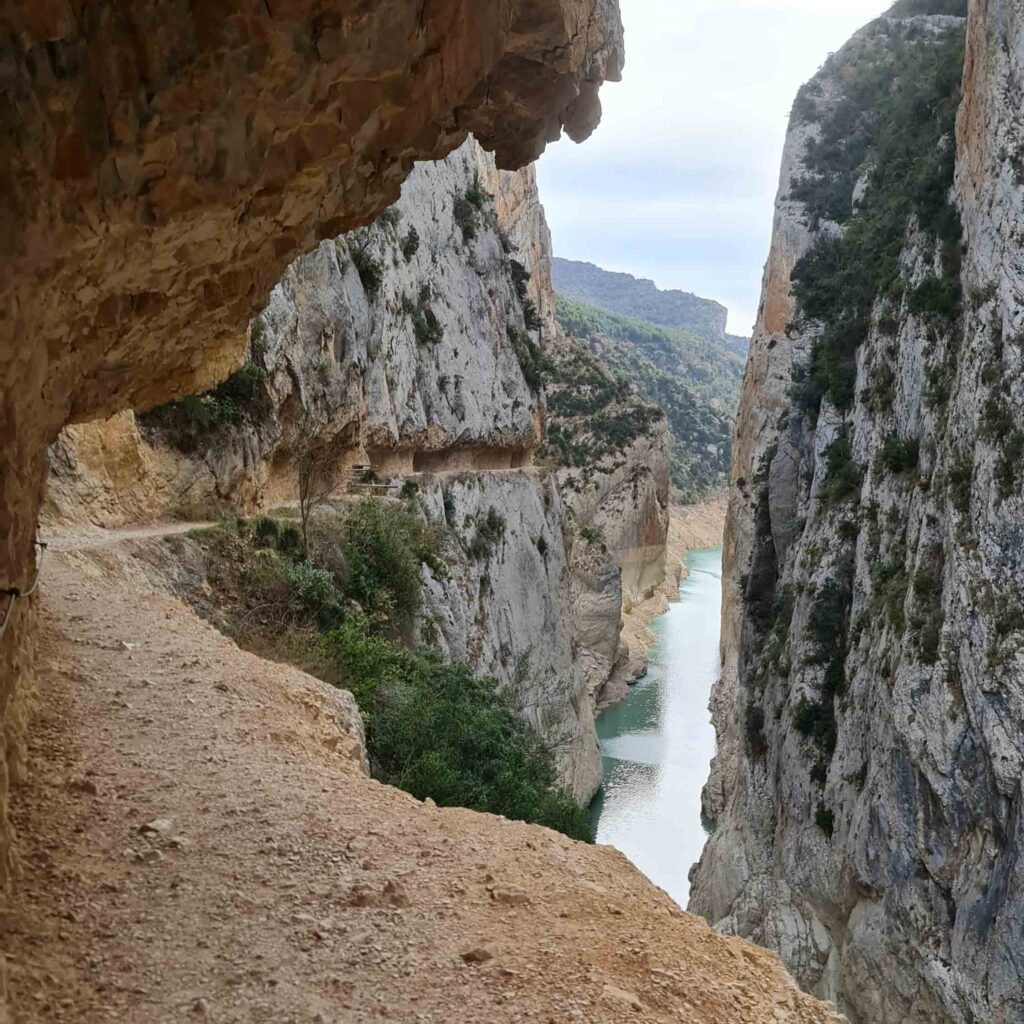 The Pasarelas de Montfalco was something I wanted to do, along with the Pont del Seguer suspension bridge, but it was in the middle and we didn't have time to walk further in, so take more photos for me if you do go ok!
Just a note – there is no reception in these higher areas so pre-save the route to go home otherwise you might end up like us where we had to manually look at the map and got lost haha.
TARRAGONA
Our accommodation: Port Plaza Apartments
We loved this apartment! It was so modern, clean and conveniently located in the heart of Tarragona. We parked at an underground garage again, for 20+ euros overnight.
Before we entered Tarragona, we stopped by the Aqueducte de Tarragona also known as the Ferreres Aqueduct / La Ferreres / Pont del Diable. It is an ancient bridge 4km north of Tarragona and what's left of the Roman aqueduct built to supply water to the ancient city of Tarraco (now Tarragona).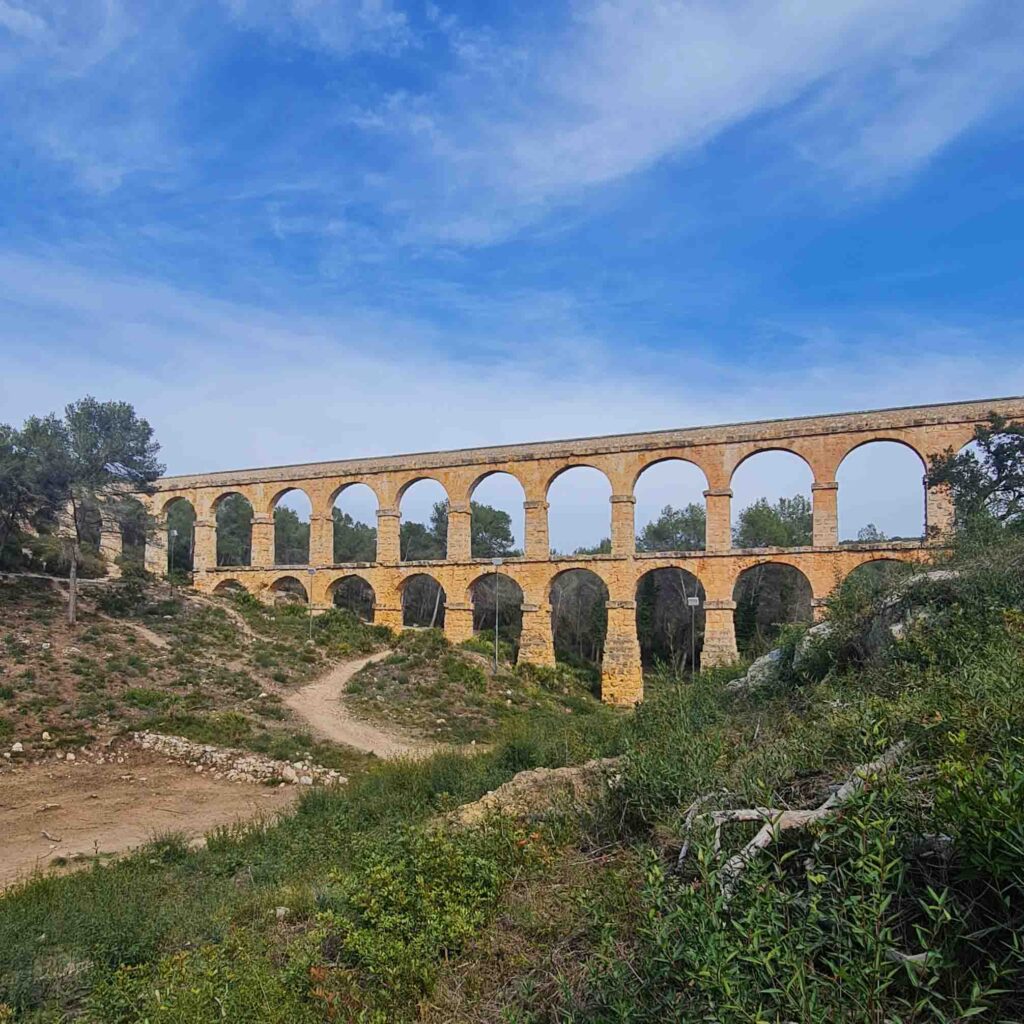 It took 500 years for the Romans to build this entire network of water supply, to transport water from outside into the public baths, homes and fountains of their cities. Water comes in from outside and will hit a network of tunnels and pipes before getting into a main water tank then a secondary tank to get into homes. Freaking amazing how they did this without the kind of machinery we have now. Mindblown.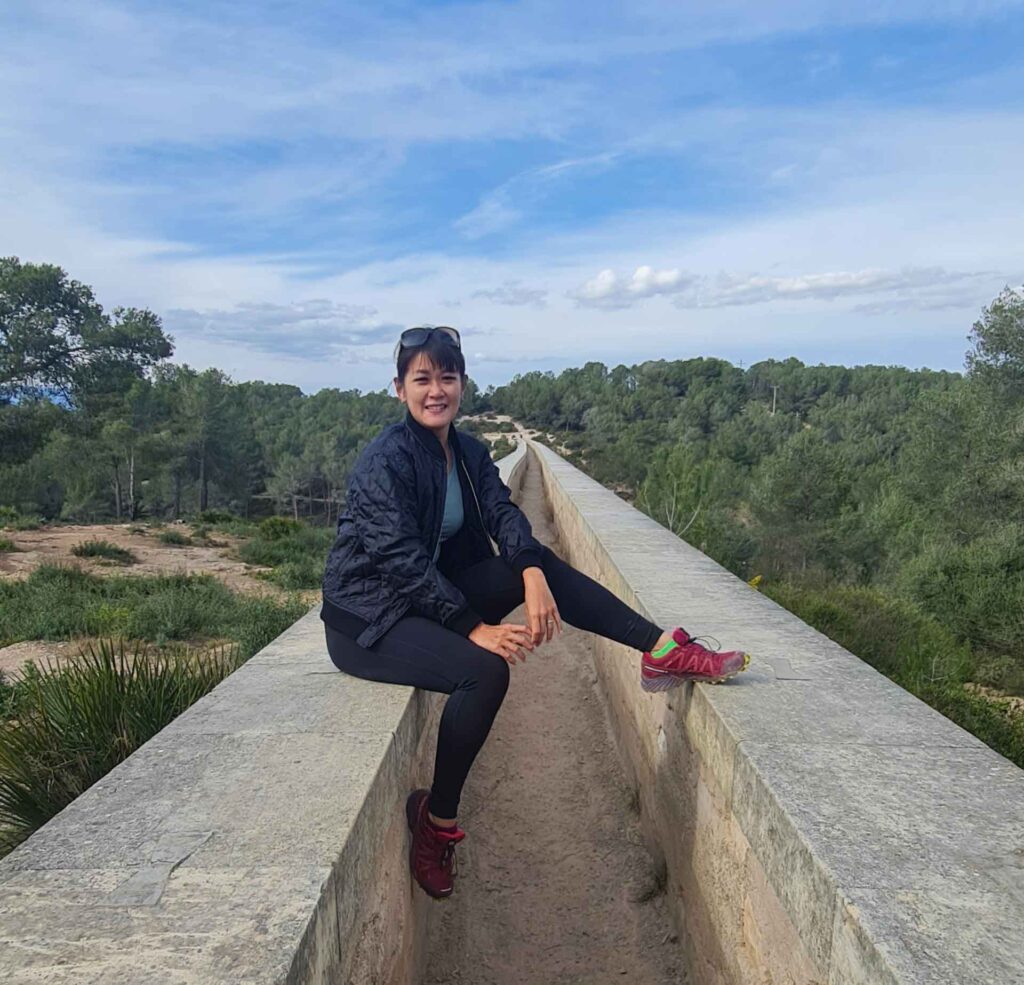 After we settled into the apartment, we spent a day walking around the whole of Tarragona to explore the different Roman ruins sites. We only visited three places (it cost 11.50 euros for 4 places) and they will give you a map that you can follow to walk to these 4 places or more if you have time.
We visited the Amfiteatre de Tarragona (where gladiator fights used to be), Circ Romà (the circus where chariot races were held) and the Catedral de Tarragona (we didn't go in though). Circ Roma also gives you access to the Praetorium, a Roman-era tower that once housed the stairs that connected the lower city to the provincial forum by way of the circus.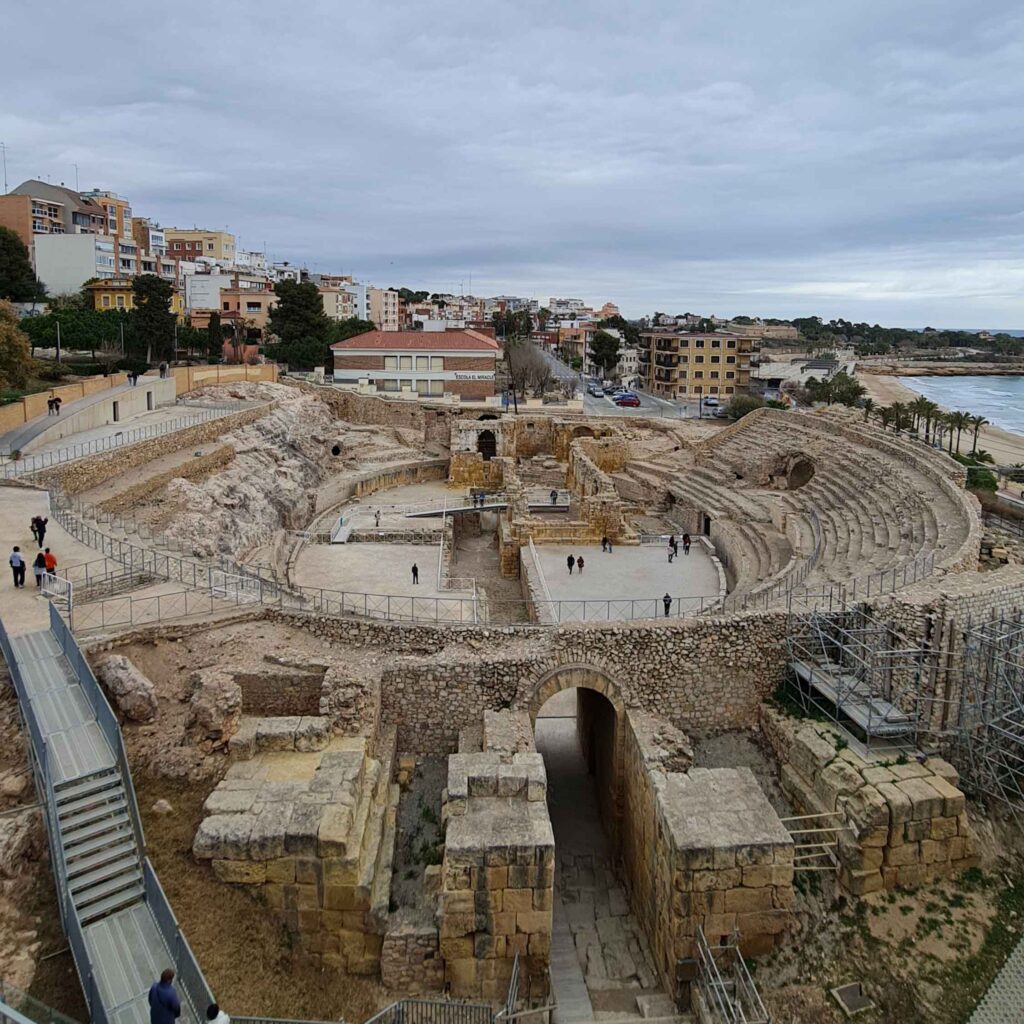 Tarragona is a small town with everything close by so it's easy to get around on foot. You can just do a day trip here instead of staying overnight.
GIRONA
Our accommodation: DoubleTree by Hilton Hotel Girona
Although it bears an international hotel brand name and is rated 4 stars, please manage your expectations. It's quite a basic hotel, similar to the one we stayed on the first night at Barcelona. There is no coffee maker, no kettle and the rain shower floods the bathroom floor.
Girona, similar to Tarragona, is also easily accessible by foot. The first thing we did was a self-guided Games of Thrones tour (Season 6 was shot here!). G is a fan so she downloaded the map and we chose which filming spots we wanted to see. The one I highly recommend is the Banys Àrabs (Arab baths).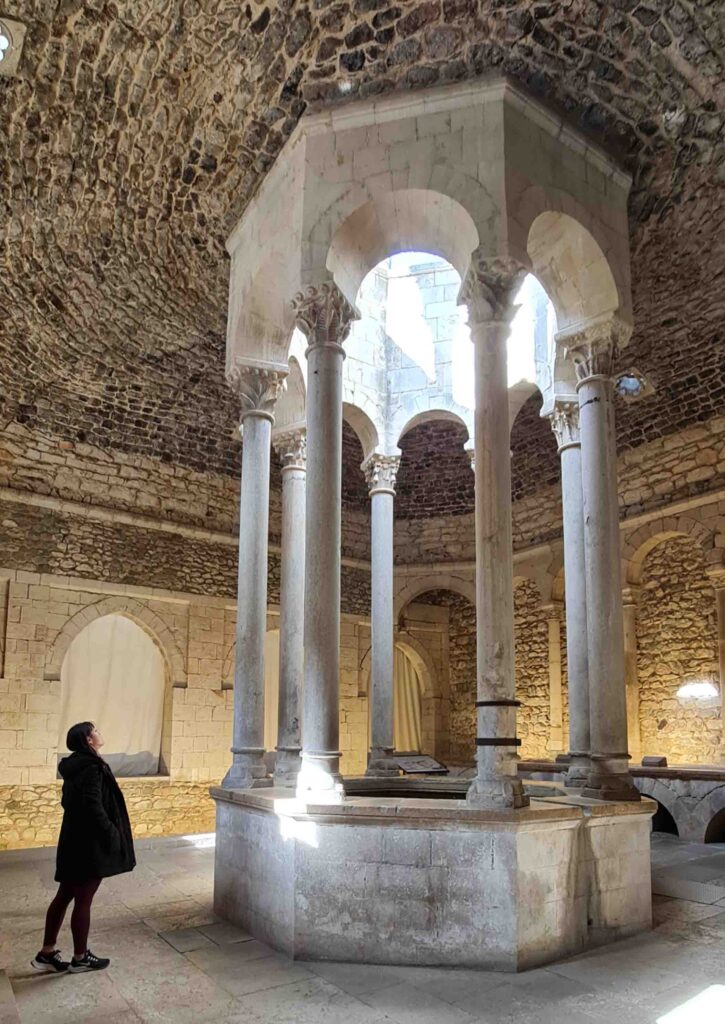 We went about 10 minutes before they close at 2pm (yes they close early so please check before you go) and the place was empty so lots of opportunities to take nice photos haha.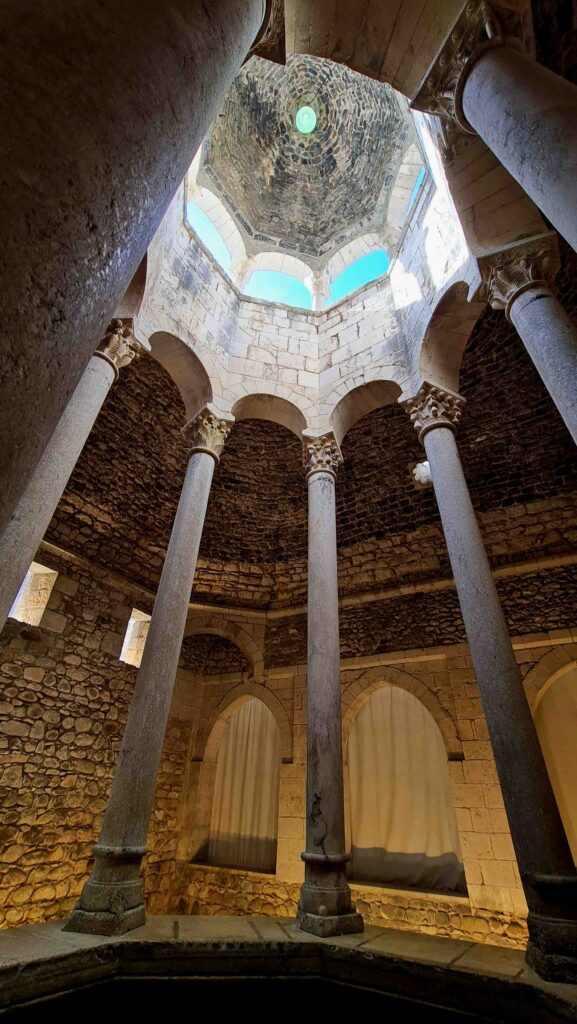 We popped by the Catedral de Santa María de Girona and Basilica de Sant Feliu too, but mainly just took photos from outside. The one we missed was Monasterio de Sant Pere de Galligants, which we reached at 1.30pm but the lady refused to let us in.
Basically, we just walked around Girona, towards anything interesting to see. We found the Pont de les Peixateries Velles, the equivalent to our Lor Halus red bridge haha. Anywhere along the River Onyar is nice too, with the colourful houses. If you like cycling, Girona is a great place for cycling!
CADAQUES
The next day, we headed to the seaside – to the easternmost part of Spain to be exact. Cadaqués is a coastal town in Costa Brava, the province of Girona. It is on a bay near the Cap de Creus cape, on the Costa Brava of the Mediterranean. We drove up to the lighthouse at Cap de Creus first and my goodness, the colours of the sky and the sea were STUNNING.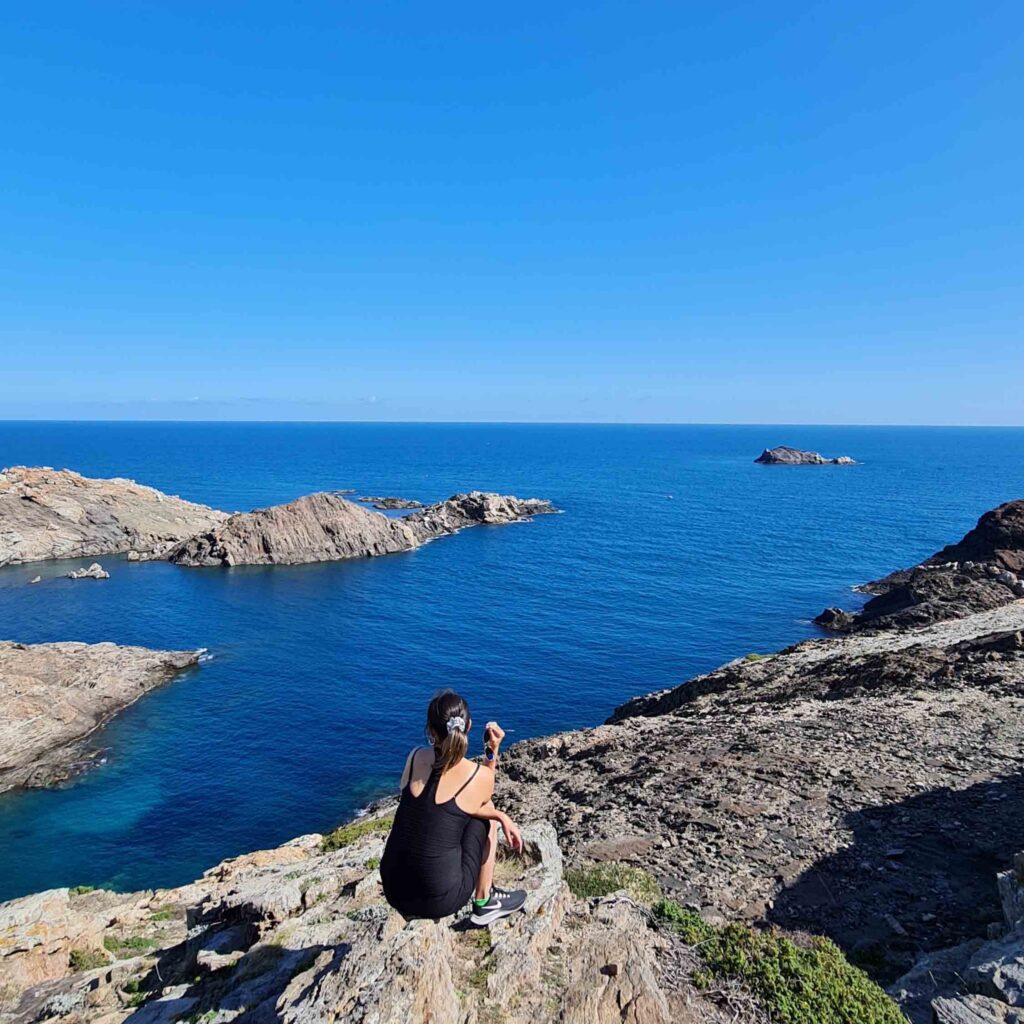 We had coffee and some churros at the cafe up there whilst soaking in the view, then took a hike around. There are so many different hiking routes you can take from the top, so allocate some time if you'd like to do them.
We drove back down to Cadaqués to have lunch at the town and the FISH WAS SO FRESH omg. Then we just walked around the town, taking in the azure-blue waters. It was very windy and I was struggling with the cold wind!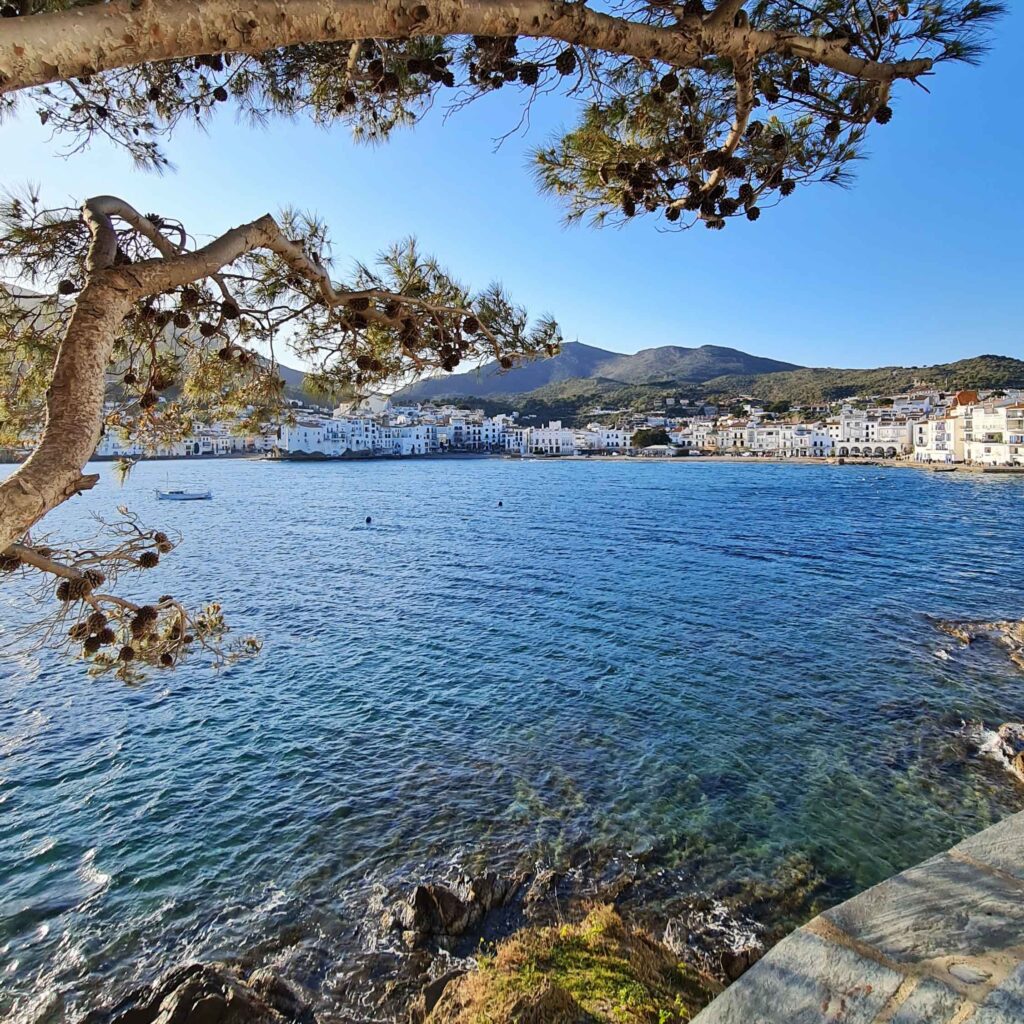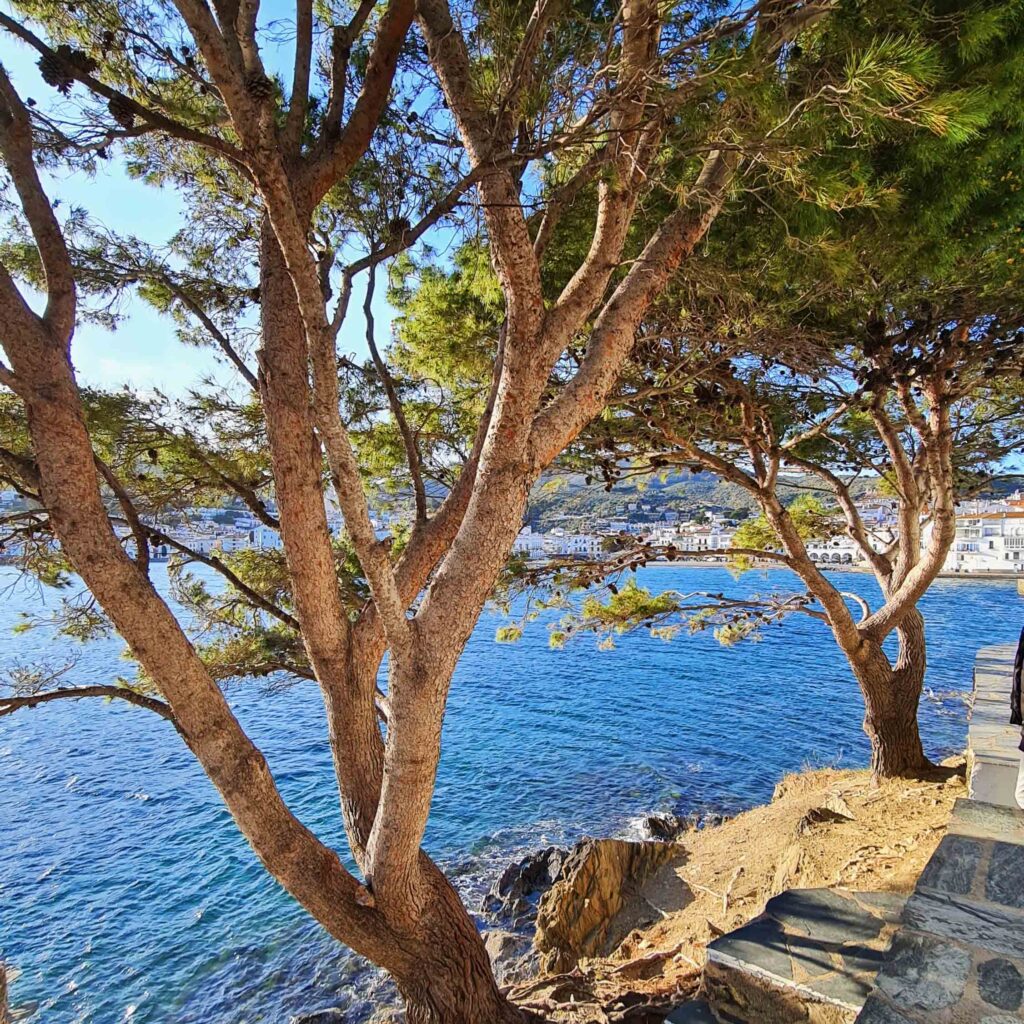 There's only one way in to Cadaques and it's via a treacherous coastal road that is windy and dips wildly, and also narrow for two-way traffic, so please drive carefully! I cannot imagine the traffic congestion during the summer just to get to this place man.
MONTSERRAT
Our final sightseeing destination before we start our journey home was Montserrat, a beautiful Benedictine monk mountain retreat that still has 70 over monks in residence. We just did a day trip to visit this monastery, like what we did with Cadaques. You can drive all the way up (via a mountain road that can get quite congested) or take a cable car or the cremallera train.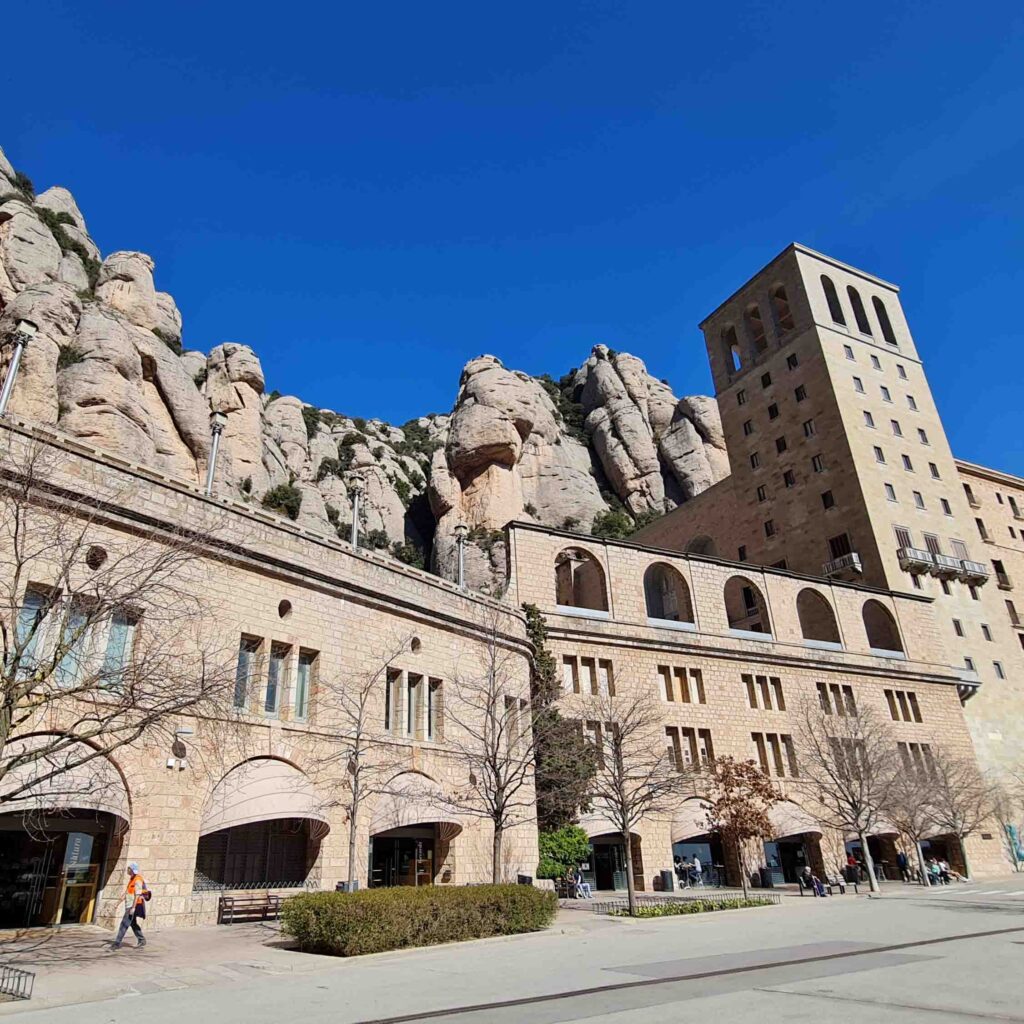 The basilica in the Benedictine abbey of Montserrat is a must-see, so beautiful! They still hold church services there so check the timings before you go, as you will not be allowed in when they are having mass. There are also specific timings to visit the chapel where the Black Virgin of Montserrat is.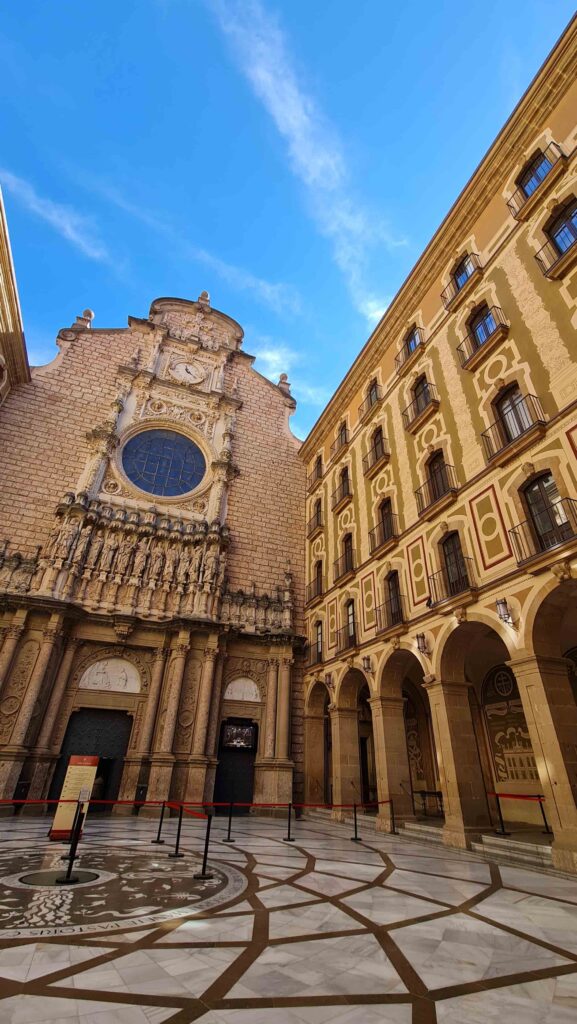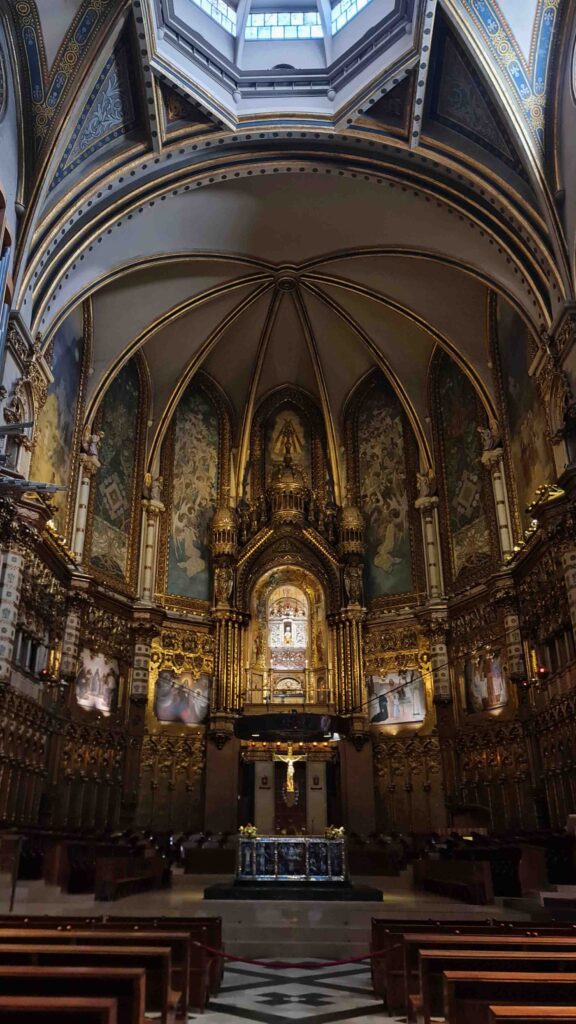 According to legend, the Black Virgin was discovered by the shepherds of the region in the 9th century when they noticed a bright shining light at Santa Cova (now the Holy Cave of Montserrat), where the statue was hidden. Previously, pre-COVID, you were allowed to touch the statue (see where there is a cutout in the glass where her right hand is? Now you aren't allowed to!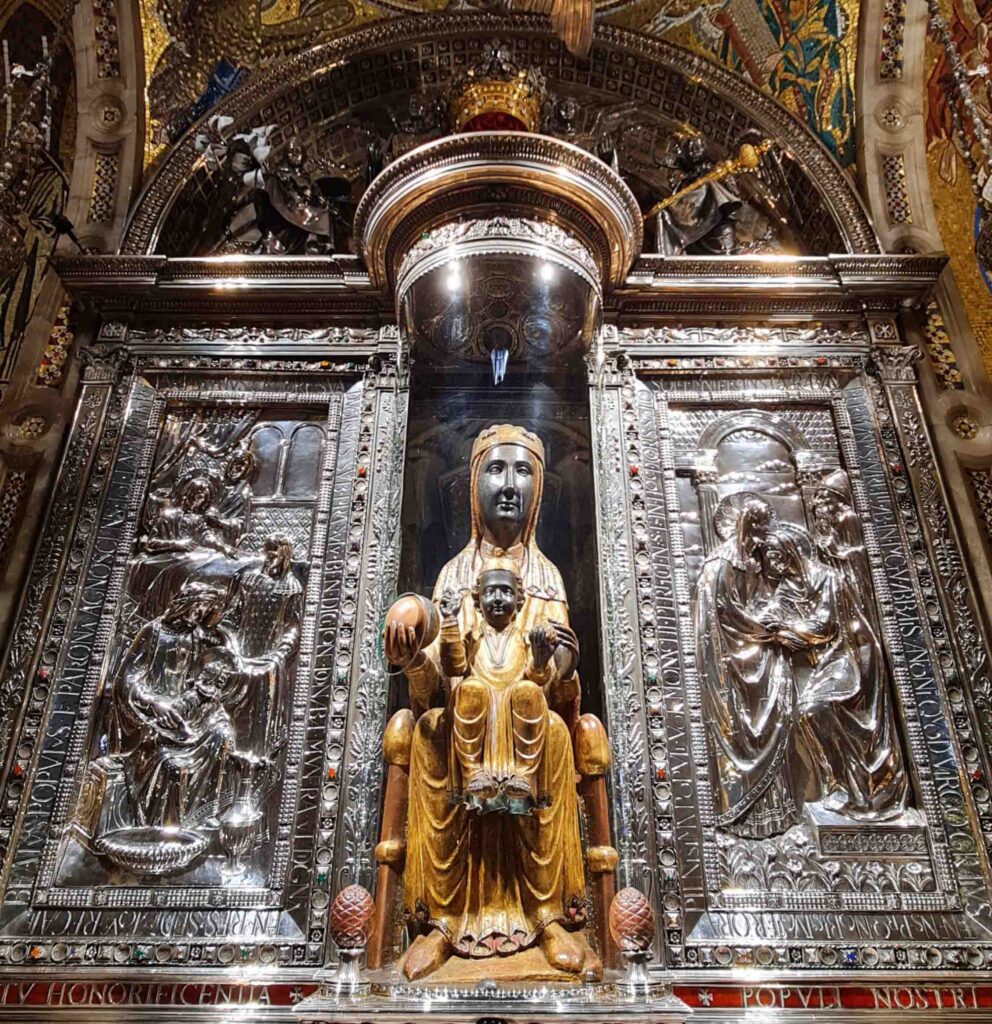 From the Benedictine abbey, you can go on to explore Santa Cova and Sant Joan. In the summer, the funicular is in operation so you can simply hop on and be brought there. In the winter however, the only option is to walk. The hike towards Santa Cova is short, just a 30-minute walk, so that's what we did. The hike to the chapel of Sant Joan is upwards and takes 2.5 hours one way, so we had to skip that due to lack of time.
It's free to visit Montserrat btw.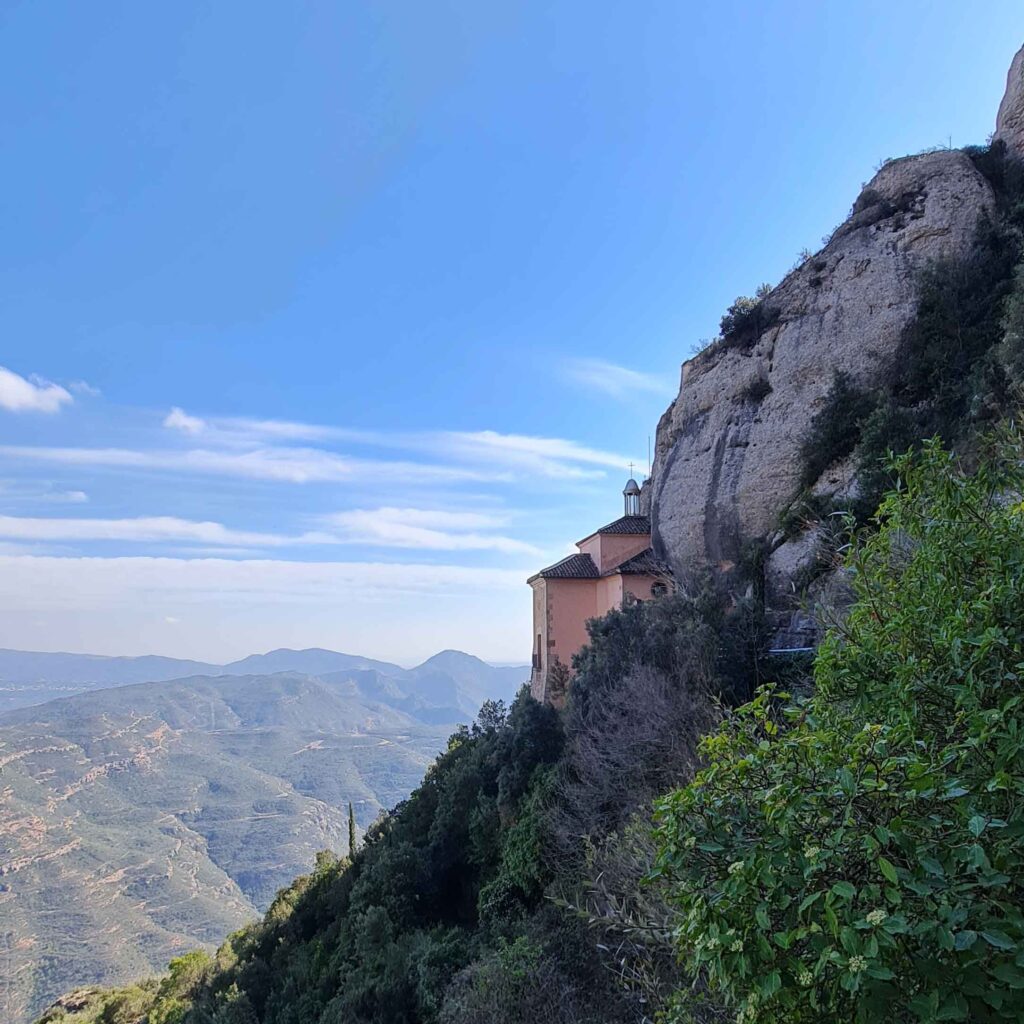 ---
That's pretty much what we did in Spain and I am still sorely missing the vacation. The weather was great, not too cold as we are towards the end of winter. I also think it's a great time to visit these sights as it's not crowded like in the summer. Let me show you some pics if you go in the summer: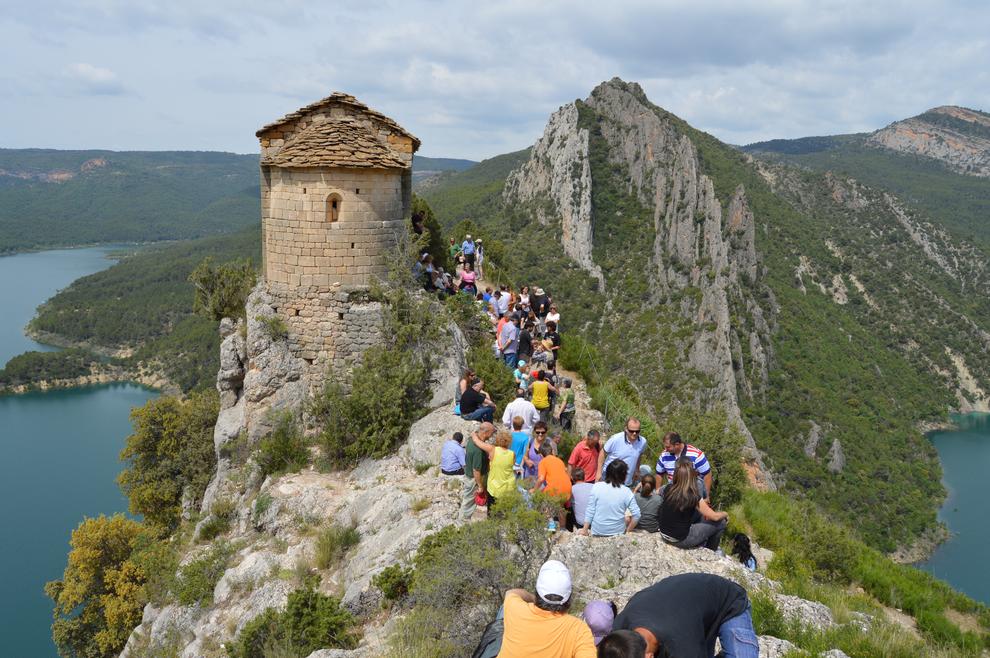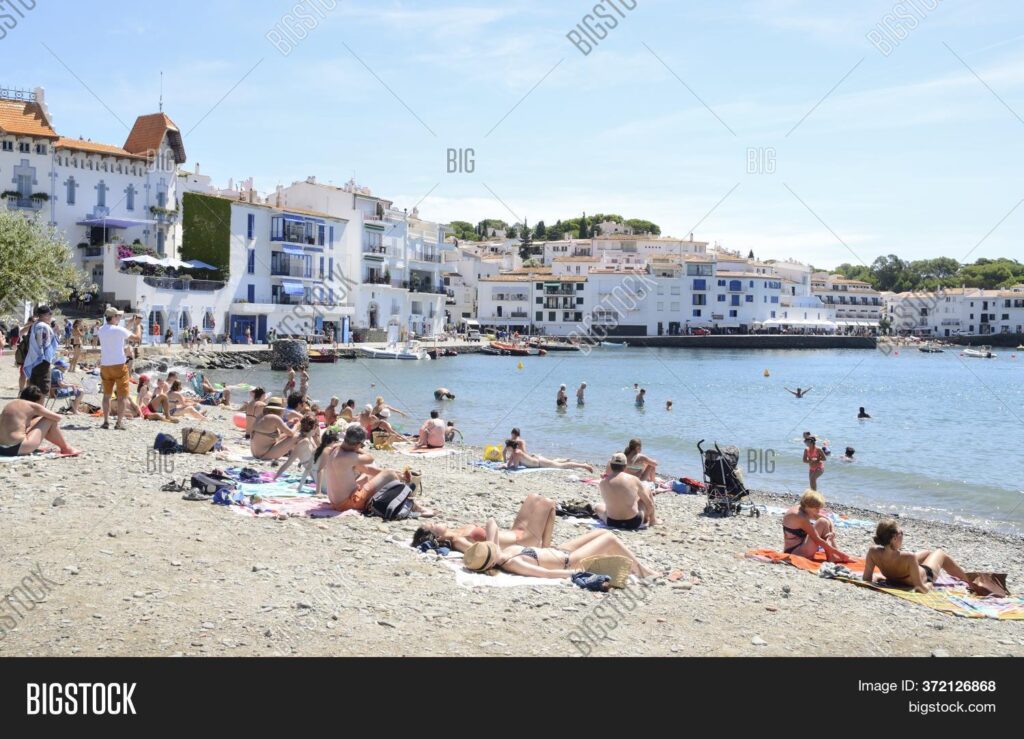 That's crazy! So many people in your photos and I also cannot imagine the traffic jams to drive in or how crowded it might get on the hiking paths.
Food wise, sorry we are not foodies and were perfectly content with fast food (we tried Five Guys, Burger King and McDonald's), supermarket snacks, cup noodles we brought from home and cooking our own meals. To be fair, we had TWO sit-down meals – one was a proper Spanish meal with paella and another was at Cadaques. Meals in Europe are just too expensive, too late (dinner is at 8.30pm!), takes too long to serve and a tad salty for me. Plus, we eat at very odd timings like dinner at 4pm LOL.
Hit me up on Instagram if you have any questions and I will be happy to help! More photos there too.