If you're looking for a new commercial vehicle, you might want to consider the award-winning Mitsubishi Canter. Creating headlines in Japan, the new Canter has undergone over three million kilometres of testing – that's equivalent to seven trips to the moon!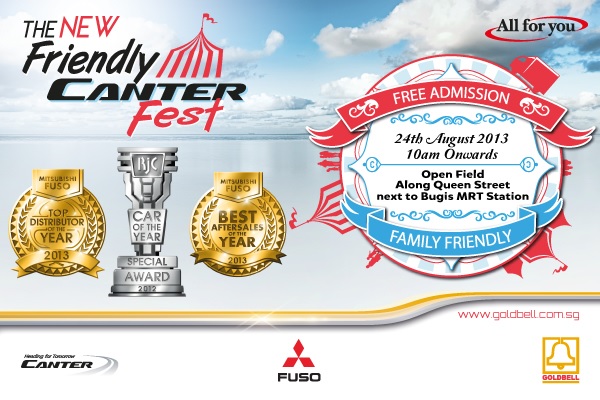 Mr Arthur Chua, director for Goldbell Engineering, exclusive distributors of Mitsubishi Fuso trucks and buses in Singapore said, "As never before, the Canter has car-like comfort, spaciousness and above all, proven reliability. Coupled with Goldbell's comprehensive customised packages and customer-oriented aftersales service, this should make the purchase decision easy."
Clinching the Automotive Researchers' & Journalists' Conference (RJC) Car of the Year 2013 Special Award – a title usually associated more with passenger vehicles – the Canter blurs the lines between a commercial vehicle and a passenger car with its car-like features.
The Canter comes with the DUONIC six-speed dual clutch automated transmission with a built-in hybrid motor – a first for a commercial Vehicle. It also has the BlueTec emission system, an environmentally-friendly exhaust gas after-treatment system.
Besides having the latest technologies, Goldbell offers value-added services for Canter owners. For example, there is the Goldbell Advanced Fleet Management System that gives real time data on the Canter's location at all times, maximising efficiency and raising fleet productivity, as well as reducing fuel wastage in idling conditions. Small and medium enterprises (SMEs) will also have customised financing schemes to choose from, such as opting for low interest rates or a longer financing tenure.
Customers can also take advantage of two schemes to enjoy funding under the PIC and Early Turnover Scheme (ETS). The PIC Grant is applicable to organisations that employ the Advanced Fleet Management System to raise productivity, while the ETS rewards the early replacement of old Category C diesel engines with models that comply with Euro V diesel standards.
To find out more about the new Canter, you can pop on down to The New Friendly Canter Fest happening at Open Field along Queen Street (next to Bugis MRT) on 24 August 2013, Saturday from 10am to 6pm. In conjunction with the Mitsubishi Fuso's Canter 50th Anniversary, the new Canter Euro V will make its official launch in the presence of senior executives from Mitsubishi Japan and Goldbell. The environmentally-friendly Hybrid Electric Vehicle model will also be on display.
"With the Canter's development targets set to benchmark low emissions, low fuel consumption, high reliability and superior drivability, we believe that these innovative features strongly fulfill and exceed those targets. Goldbell's green practices and in-depth understanding of the Singapore market, coupled with Goldbell's and Mitsubishi's commitment to reducing the environmental impact of our products, will add value to our customer service," added Mr Chua.
*This is a sponsored post.