Last Saturday, the new Mitsubishi Canter was launched with a family carnival held at the open field next to Bugis MRT station. In conjunction with the Mitsubishi Fuso's Canter 50th Anniversary, the new Canter Euro V made its official launch in the presence of senior executives from Mitsubishi Japan and Goldbell Engineering, exclusive distributors of Mitsubishi Fuso trucks and buses in Singapore.
The award-winning commercial vehicle has car-like features, making it more appealing for everyday use.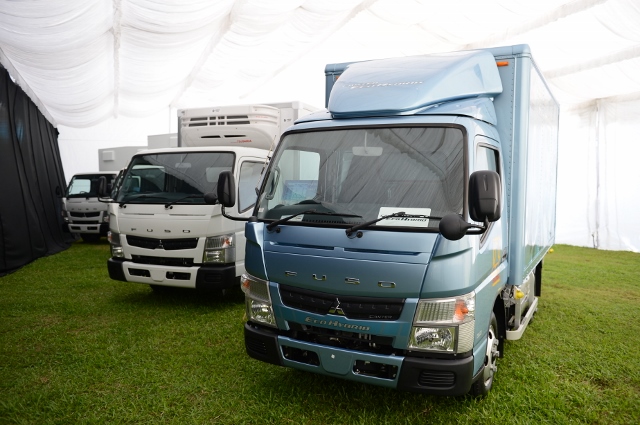 Here is some information on the Canter:
DUONIC® Technology –Car Like Smooth Drivability
The line separating a Commercial Vehicle and a Passenger Car is getting blurred after Mitsubishi started incorporating car-like features into its Commercial Vehicle, clinching the RJC Car of the Year 2013 Special Award, an honour normally reserved for passenger vehicles.
Thanks to the cutting-edge "DUONIC®" 6-speed, Dual Clutch Automated Transmission with a built-in hybrid motor – a world's first technology to be ever featured in a Commercial Vehicle, the "DUONIC®" offers smooth and seamless gear change without shock or torque interruption, fuel efficiency, clean emissions and reduced operating costs, creating new standards in all sectors.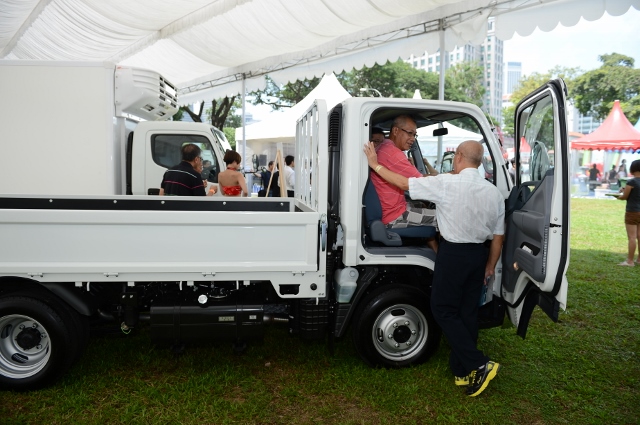 The newly introduced high output, high revolution motor generates optimum torque and recuperation forces at every gear/speed, while the high power motor offers a maximum output of 40kW (200 Nm).
In combination with its compact, high-performance laminate type lithium (Li)-ion battery, the system significantly contributes to overall vehicle performance.
The same innovative "DUONIC®" transmission is offered on diesel versions too.
A Canter Eco Hybrid driving competition was organized for a group of journalist in Japan. And the results showed minor fuel efficiency variation concluding that the Canter Eco Hybrid disregards the drivers' driving style and still generate good fuel efficiency.
New 4P10 Engine
The newly developed 4P10 engine developed in collaboration with Fiat Powertrain Technologies S.p.A. and tuned Asian users is a 3-litre Variable Geometry (VG) turbo diesel engine with in-line 4 cylinder and a DOHC 4 valve structure. Flat torque characteristics and higher revolutions significantly enhance drivability.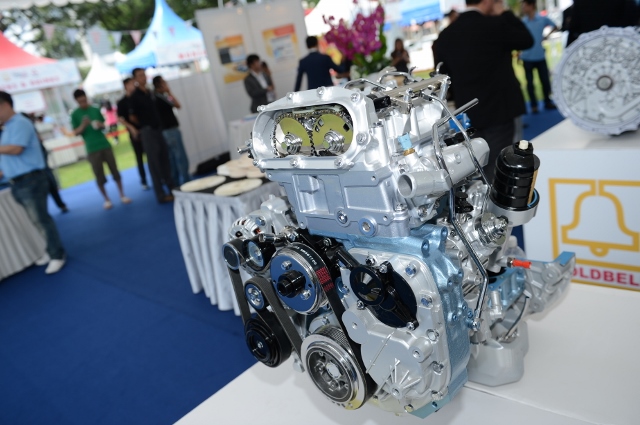 Revolutionary BlueTec® Emission System in a Commercial Vehicle
To protect the environment, Mitsubishi has adopted the BlueTec® system, recognized worldwide as an environmentally-friendly exhaust gas after treatment system on some model variants.
By delivering optimized engine combustion and the intelligent shift-change program of the "DUONIC®" equipped with ECO mode, Nitrogen Oxide (NOx), Carbon Dioxide (CO²) and Particulate Matter (PM) emissions are greatly reduced, fulfilling stringent Euro V, JP09 as well as US EPA10 regulations.
Setting New Standards
The new Canter has incorporated a number of revolutionary features compared to conventional CVs, benchmarking several technological firsts, based on factory tested results in Japan it has real-life improved fuel efficiency by as much as +12%; 4-wheel disc brakes that shorten the braking distance from –6 to –15%; innovative fail-safe brake over-ride, and improved ride comfort, with its newly designed independent front suspension.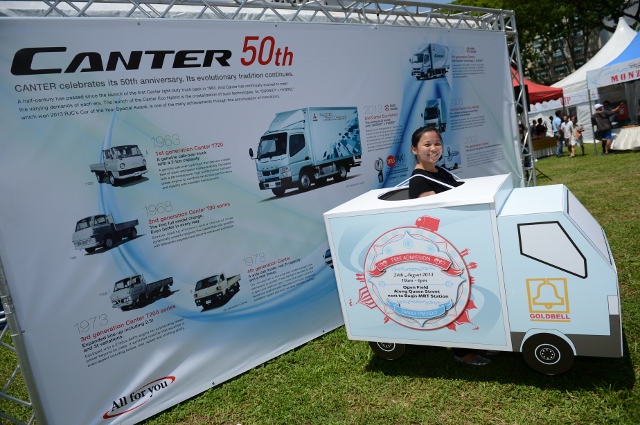 Goldbell made the launch event a family day carnival, offering various activities for visitors.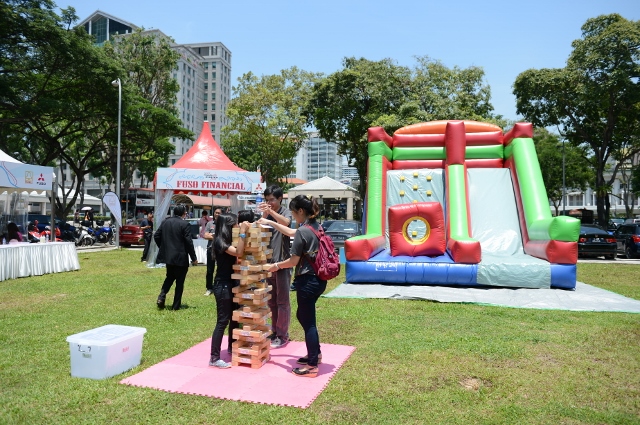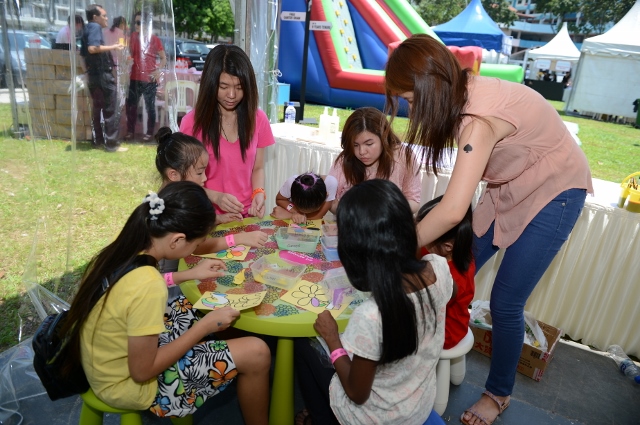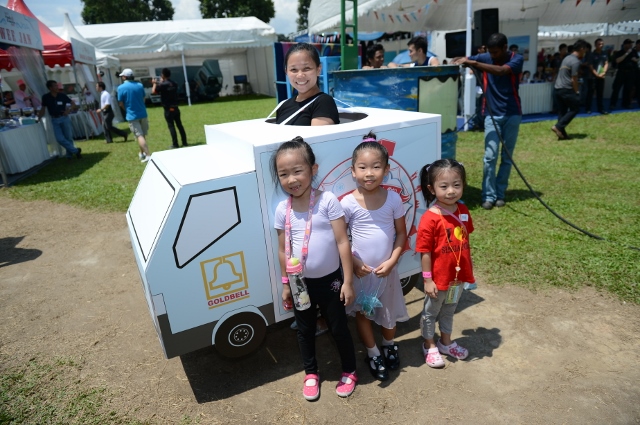 Adults had their fair share of fun too –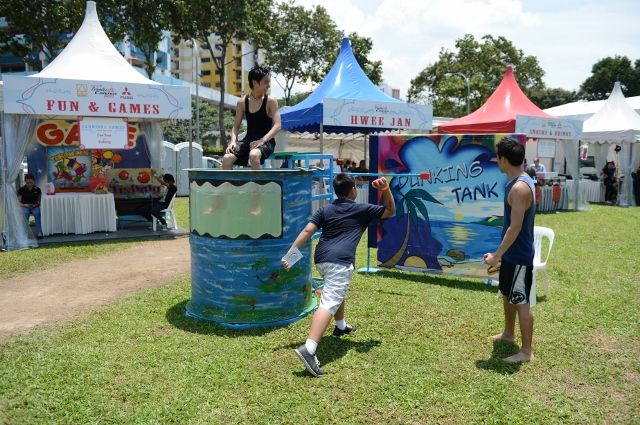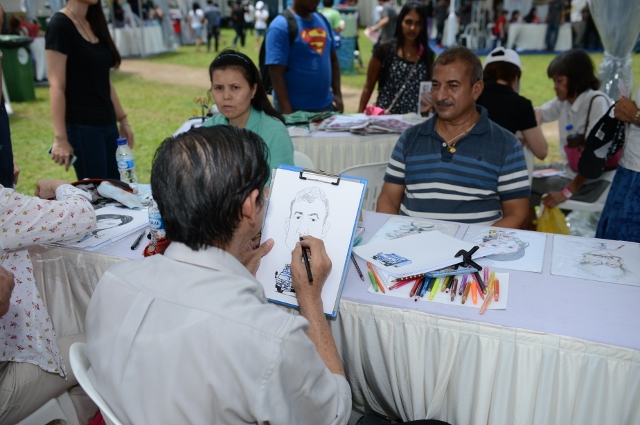 It was a fun and fulfilling event for everyone as they were introduced to the new technologies behind the new Canter and also got to spend time with loved ones.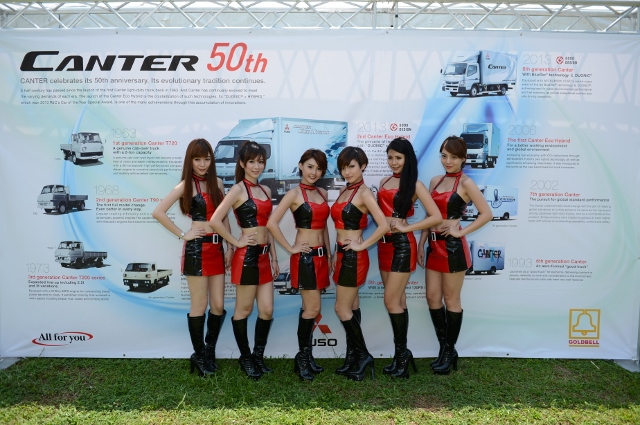 Besides having the latest technologies, Goldbell offers value-added services for Canter owners. For example, there is the Goldbell Advanced Fleet Management System that gives real time data on the Canter's location at all times, maximising efficiency and raising fleet productivity, as well as reducing fuel wastage in idling conditions. Small and medium enterprises (SMEs) will also have customised financing schemes to choose from, such as opting for low interest rates or a longer financing tenure.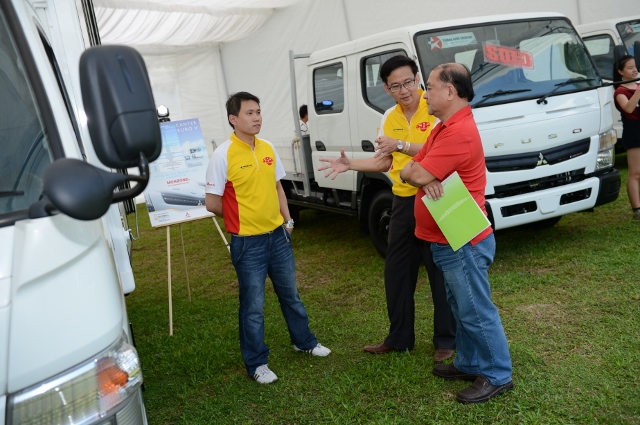 Customers can also take advantage of two schemes to enjoy funding under the PIC and Early Turnover Scheme (ETS). The PIC Grant is applicable to organisations that employ the Advanced Fleet Management System to raise productivity, while the ETS rewards the early replacement of old Category C diesel engines with models that comply with Euro V diesel standards.
 *This is a sponsored post.