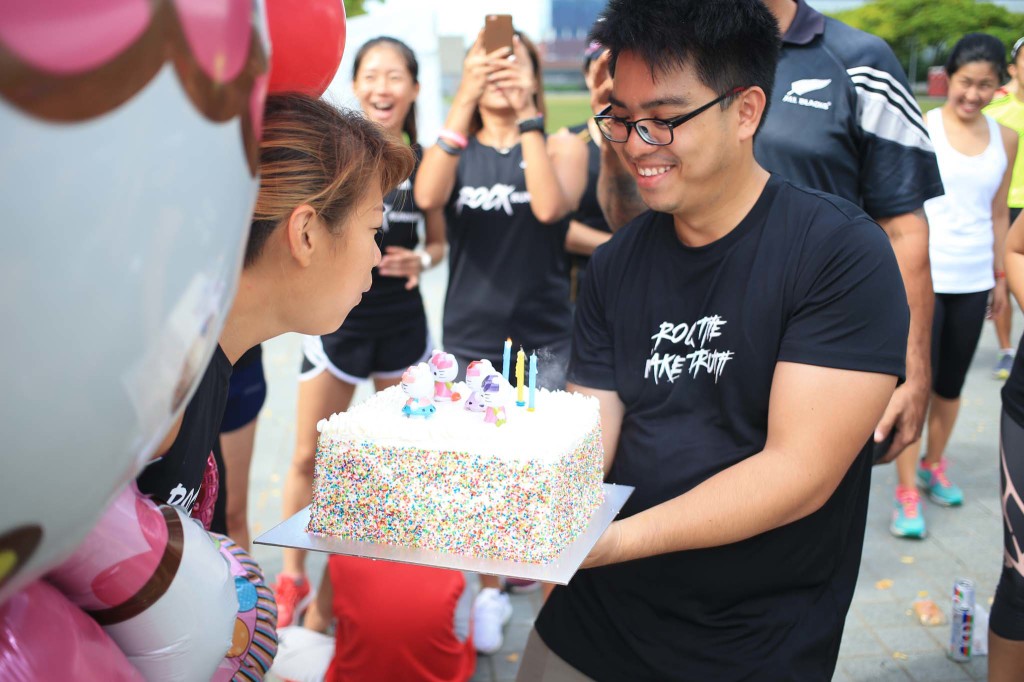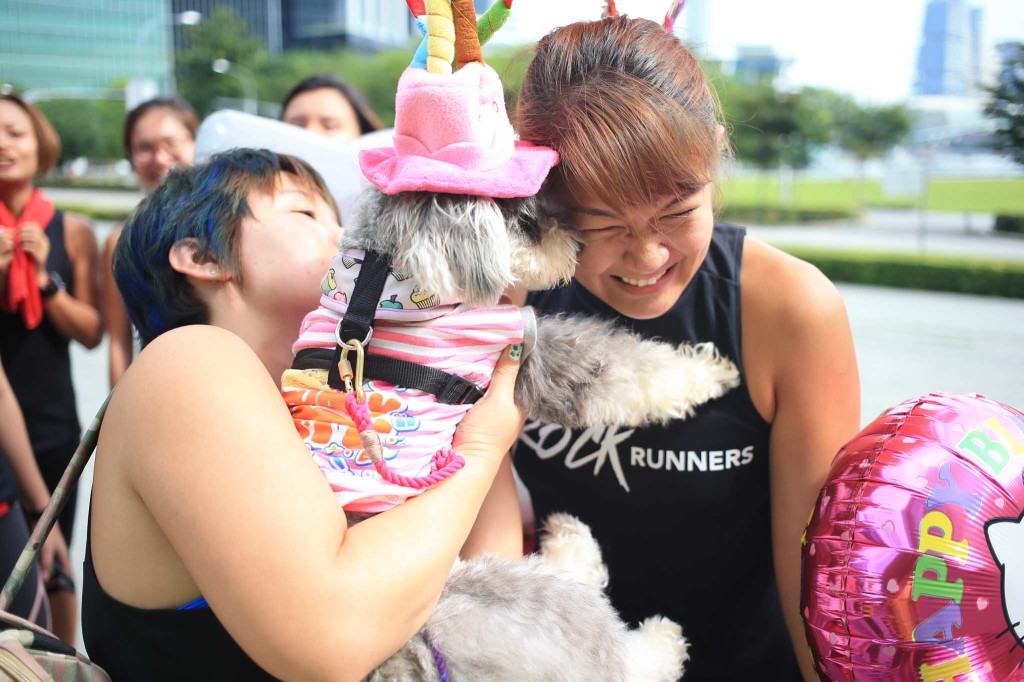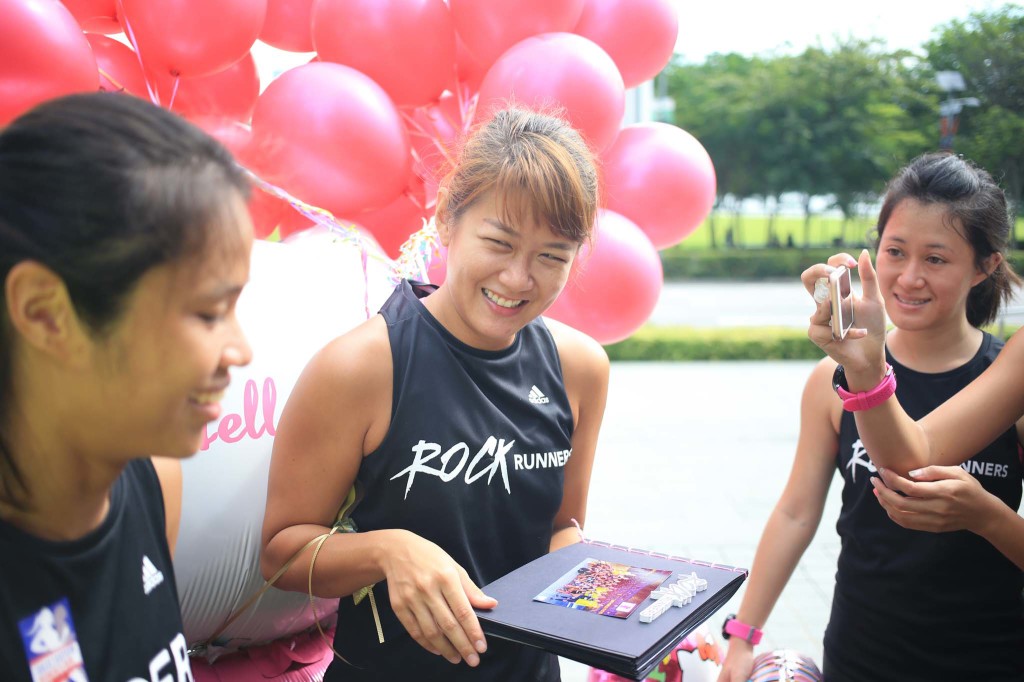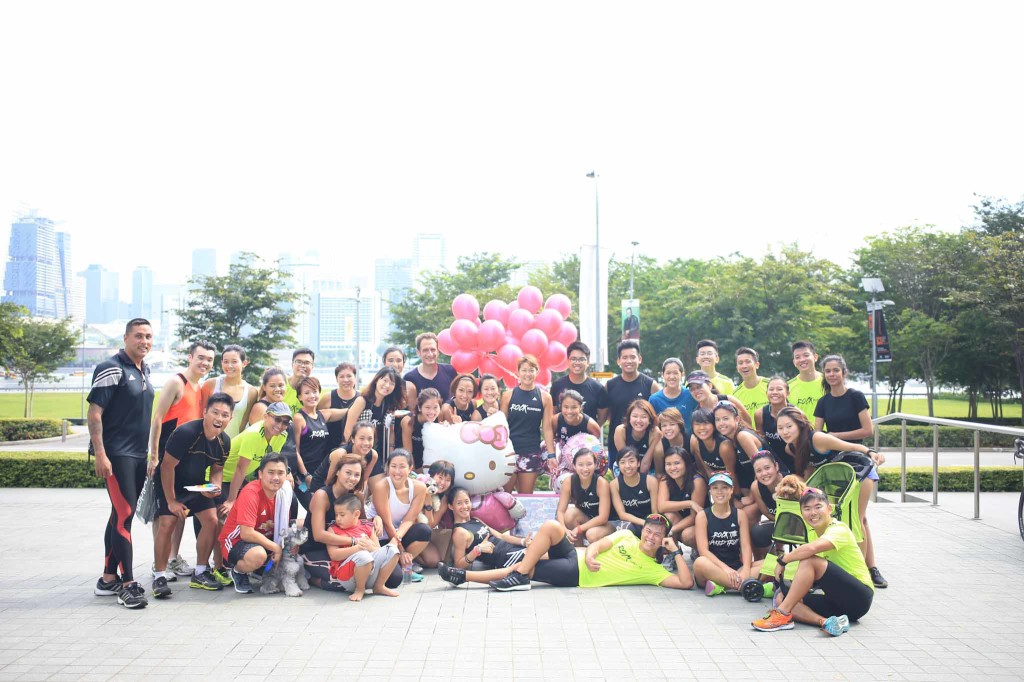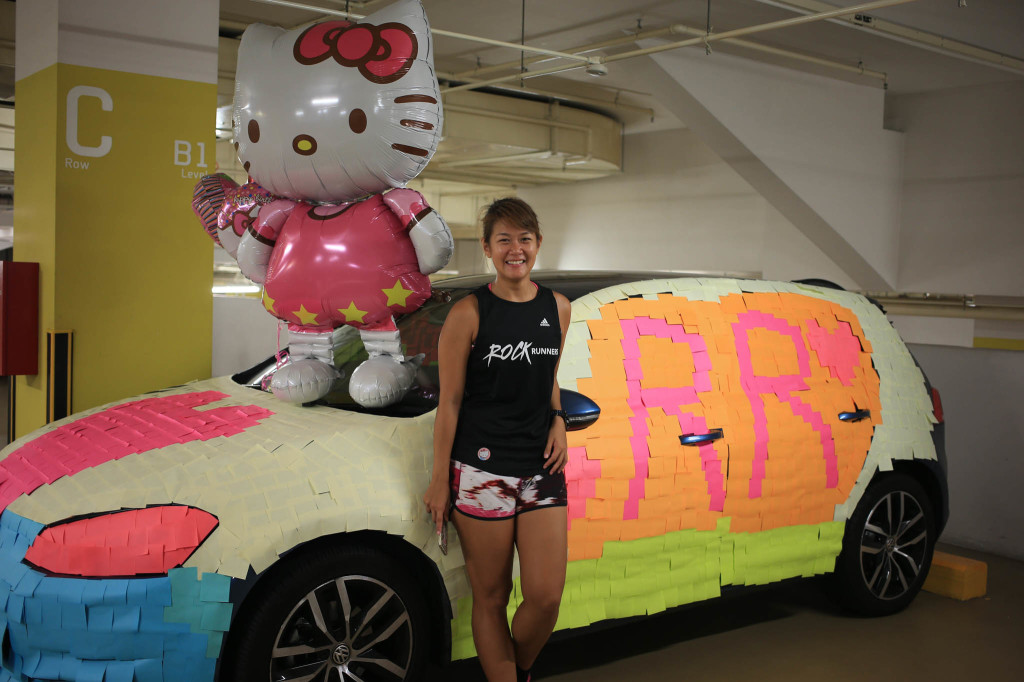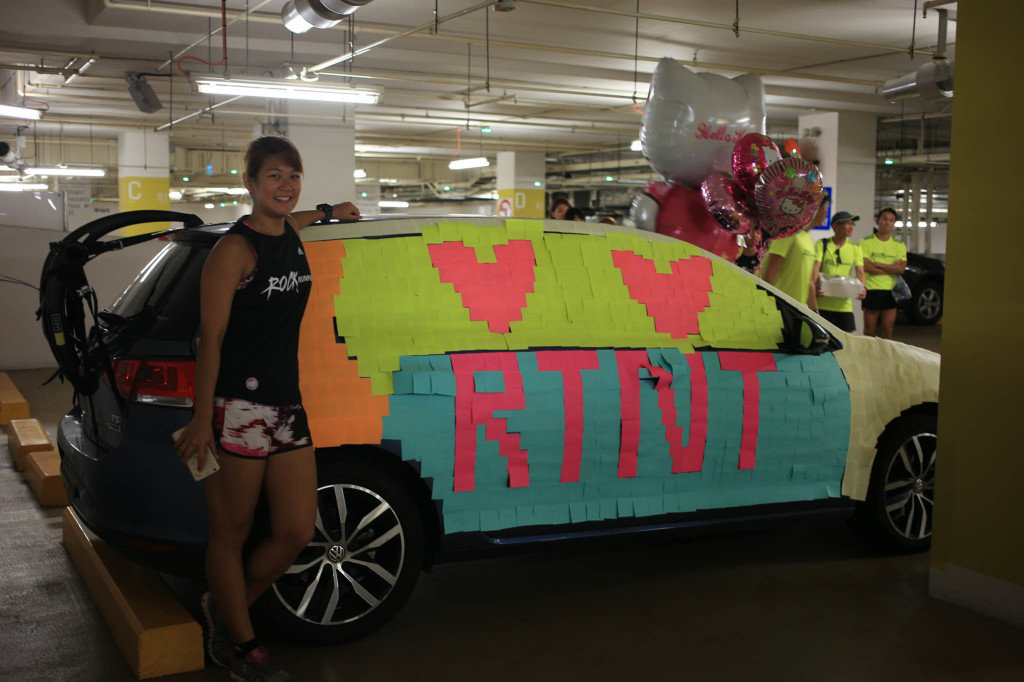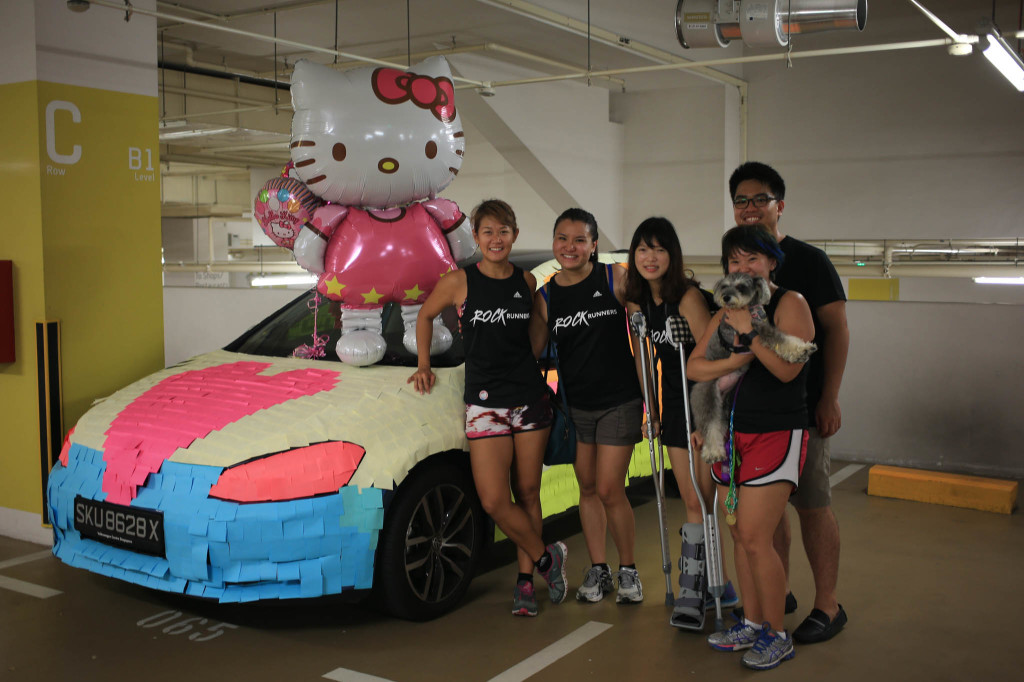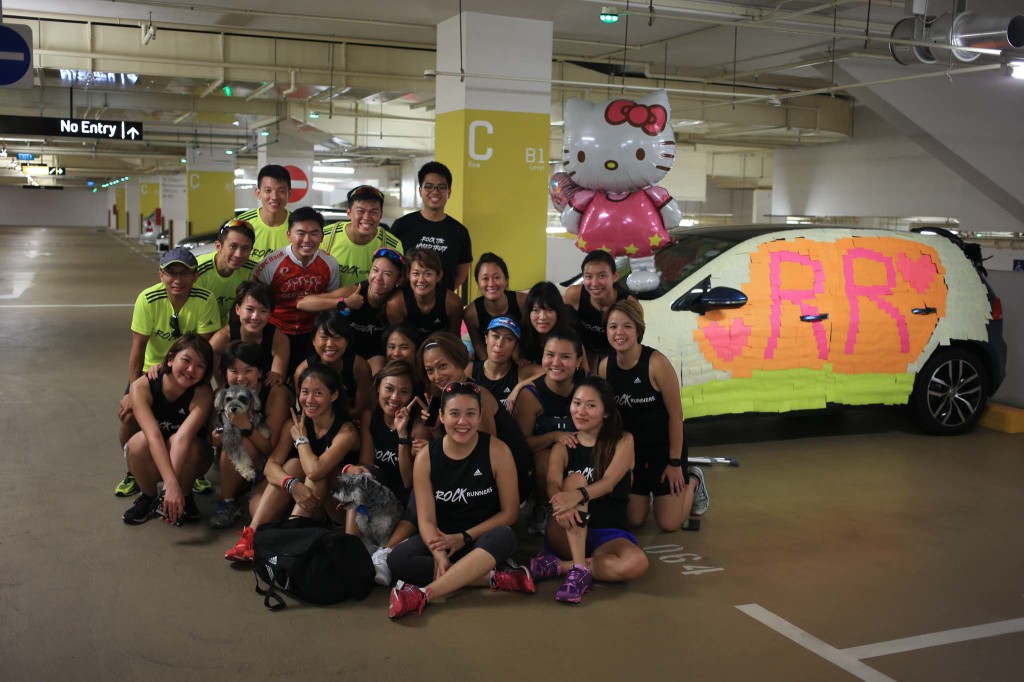 I feel like the luckiest girl in the world.
This year's birthday celebrations came early when my super sweet #ROCKrunners surprised me with an advanced birthday party at our weekly running session last Saturday. We finished the workout for the day and was sitting down to enjoy our picnic (coincidentally it was our ROCKrun Party event) when this group of people suddenly ran towards me from the bushes with all these huge balloons, and everyone started singing "Happy Birthday" really loudly.
I didn't know how to react. I honestly wasn't expecting this at all.
A lot of things were handed to me all at once – a 1.2-metre tall Hello Kitty balloon along with a bunch of smaller Hello Kitty balloons and a big cluster of pink balloons, as well as a mega photo collage and a handmade book filled with heartfelt notes.
Before I could take in any of this, a giant rainbow-sprinkled cake was presented to me and I was to blow out the candles before cutting the cake. OMG IT WAS A RAINBOW CAKE. Wow, I've always seen the rainbow cake in cafes and on TV, but I've never actually had one. This one is special because it was baked by Yanee, and a healthier version too.
I was in so much shock that I couldn't cry – I was just, overwhelmed with gratitude. Besides, everyone was stuffing their phones into my face and asking why I wasn't in tears; made it even harder to cry you know. LOL.
Cake was cut and served, photos were taken, and I wanted so badly to go home and read the book in private. Every single message was handwritten and put together into a precious scrapbook, my precious scrapbook.
But that wasn't it.
I needed help to carry stuff to my car and I did wonder why so many people wanted to follow me down to my car. OMG. Because Part 2 of the birthday surprise was in the car park! While I was conducting the workout, a group of them was secretly working on my car, cleverly decorating it with Post-It notes. WOW. So much effort!
I am touched beyond words; so, so touched.
I'm not one to cry in public, at least not in big groups, and what opened the floodgates was when a friend said, "You must have done something right to deserve all of this."
That got me.
Finally, in my own peace and quiet, I read through the individual handwritten notes in the handmade book and I bawled my eyes out. I could feel all the love and I've never felt so loved before. I mean genuine love, and not romantic love from a partner that I used to think I needed to be whole.
Thank you my #ROCKfam, from the bottom of my heart.
When I started Rock The Naked Truth, it was to build a safe zone for people, that they are not alone in their battles and that self-love can be achieved. Little did I expect that the community would end up backing me up more than ever and I am so, so grateful and blessed.
With so much love around me, I have no reason to be unhappy. Life is awesome, truly.
This is my glorious sunshine after the thunderstorm and I am basking in the warm rays baby, you bet I am.