They may be getting on in age, but that is not stopping Ng Bee Kia, 68; Ngai Hin Kwok, 65; and Ng Siu Chi, 55 from keeping fit. The three of them have never been in any competitive sport – except for Bee Kia who was a former national weightlifter – but they have a regular exercise routine that would put many people half their age to shame.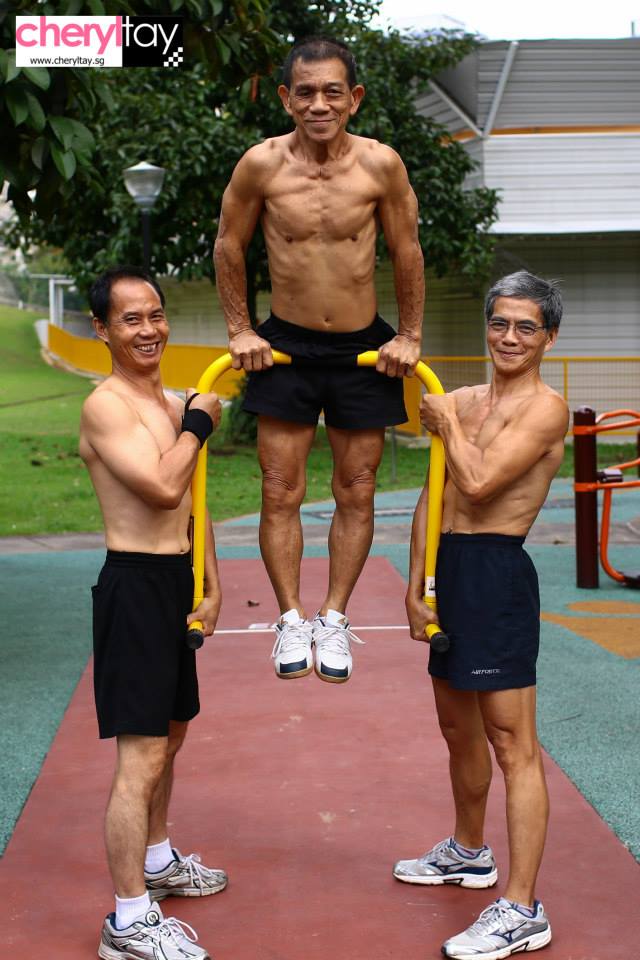 Ngai for example, exercises six days a week, of which three days are runs at MacRitchie (10km once, 22km once and 33km once). He can also do 600 squats, 100 push-ups, 33 chin-ups and 28 pull-ups at a go! He said, "I want to let other seniors see that if I can do it, they can do it too. The best is to start exercising earlier, but it is also not too late to start."
Together, the three of them are part of an initiative called Team Strong Silvers. The main objective is to encourage seniors to get active and also squash fears and stereotypes that age is a barrier to fitness. Meeting up three times a month to try new exercise routines, they also join the Singapore Callisthenics Movement to learn more and perform public callisthenics (bodyweight exercises) demonstrations.
Robert Ho, facilitator and founder of Team Strong Silvers, was the one who got these three seniors together. The plan is to develop them into "fitness role models" and conduct workouts and workshops for other seniors. "Senior citizens generally don't like to train in gyms because they feel intimidated by the younger and fitter gym users. That's why we use calisthenics, which is equipment free and can be done indoors or outdoors," he explained.
Team Strong Silvers can be contacted via their Facebook page, but Robert is aware that the seniors may not be adept with social media; hence he also hopes that this movement can help to spread the message to the younger ones so they can encourage the ones around them to get active.
You can read the interview I did with Team Strong Silvers on Yahoo!