I've been wanting to host a runcation for the longest time and I'm so glad that it finally happened. A runcation, in case you are wondering, is literally a running vacation. So yes, you go for holiday and you run there!
For the inaugural ROCKrunners runcation, aka #ROCKruncation, we headed to Pangkor Laut resort, which is on a private island only accessible via boat. To get there, we flew to Ipoh on Scoot and then took a 1.5-hour car ride to Marina Pangkor before taking a 15-minute speedboat transfer.
The 3D2N itinerary included HIIT, a road run, a trail run, yoga, a spa massage, beach/pool time, as well as a lot of eating (on the second day all of our three meals were buffets!). We flew out early on Friday morning (7am) and returned to Singapore on Sunday night (9pm).
It was only 9am when we landed in Ipoh so the van driver that I hired (randomly found on Facebook but reliable!) took us into the town for some of their famous local fare before taking us to the jetty to take the speedboat.
We finally arrived at the resort around 2pm on Friday and after a resort briefing, we checked into our rooms for a little bit of rest before HIIT. HIIT was done on a platform deck that overlooks the Emerald Bay and the views helped to ease the 'pain' of the workout. Sunset on the island is on this side, so you can chill on the beach with a coconut after, but we went back to shower because we had dinner at Uncle Lim's, a restaurant which served Hockchew Chinese-style home cooking. YUM!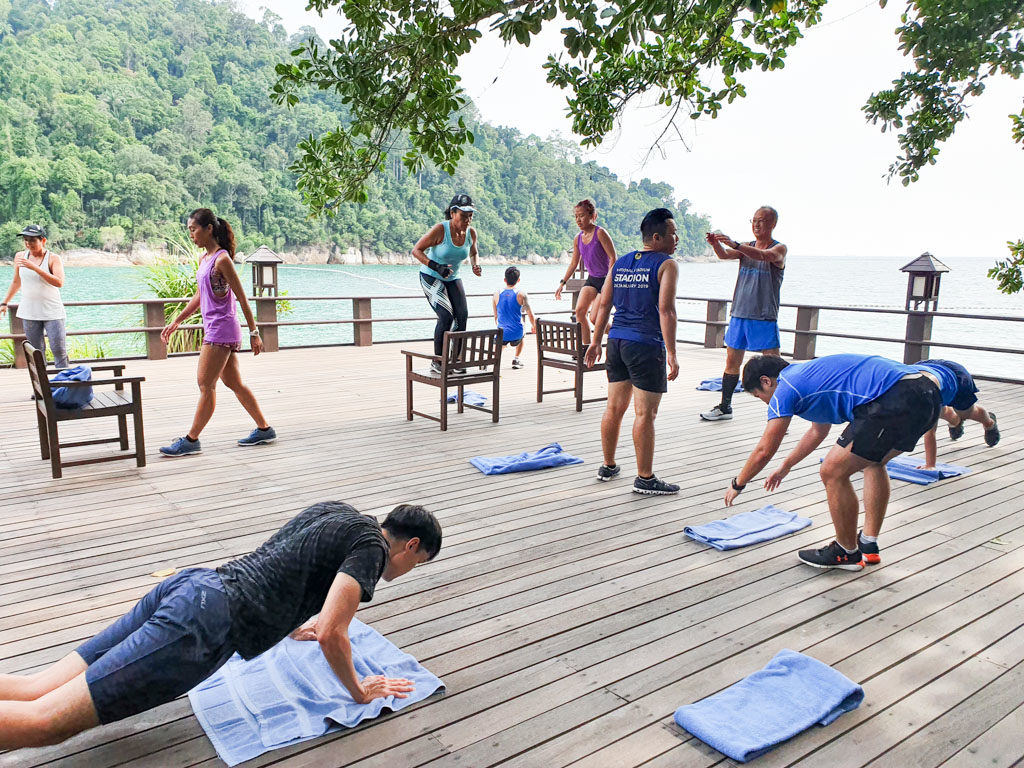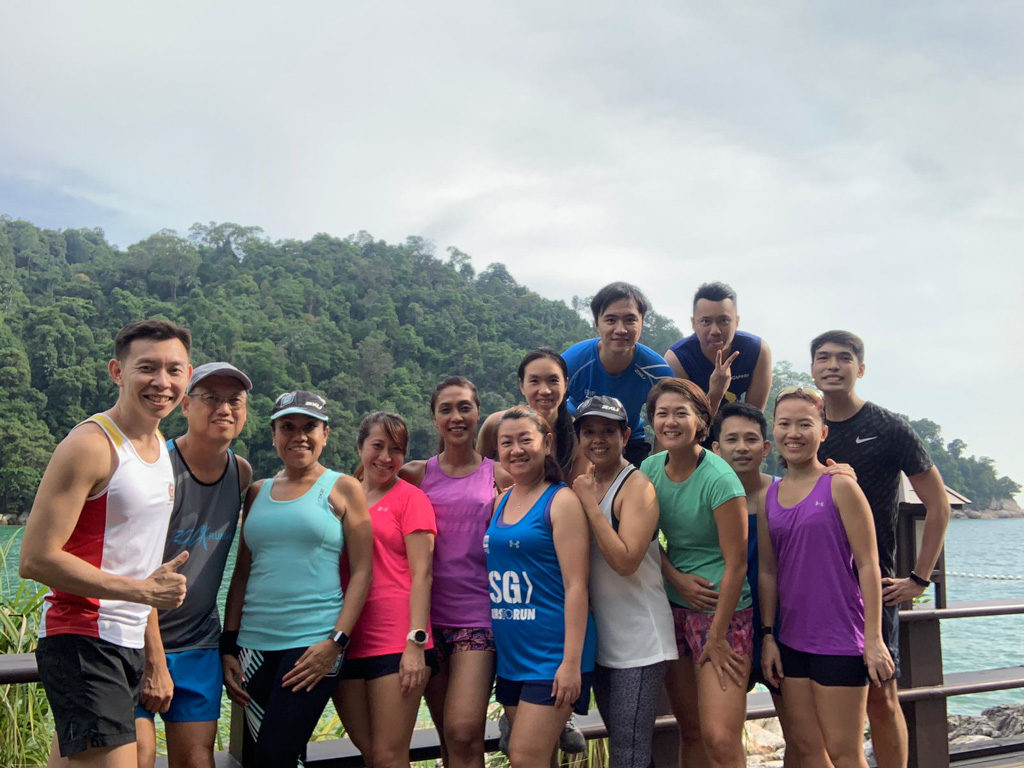 The next morning we were up by 7am for the road run which we did around the resort. Think of the route as an extended version of Rifle Range Road, with a series of ups and downs from the slopes. I actually planned a 5km loop that includes a 500m trail bit, but the tropical thunderstorm in the wee hours of the morning meant I had to remove that part and use another route. Most of us did 4km, while some did two loops. The best part was heading straight to the sumptuous breakfast buffet after!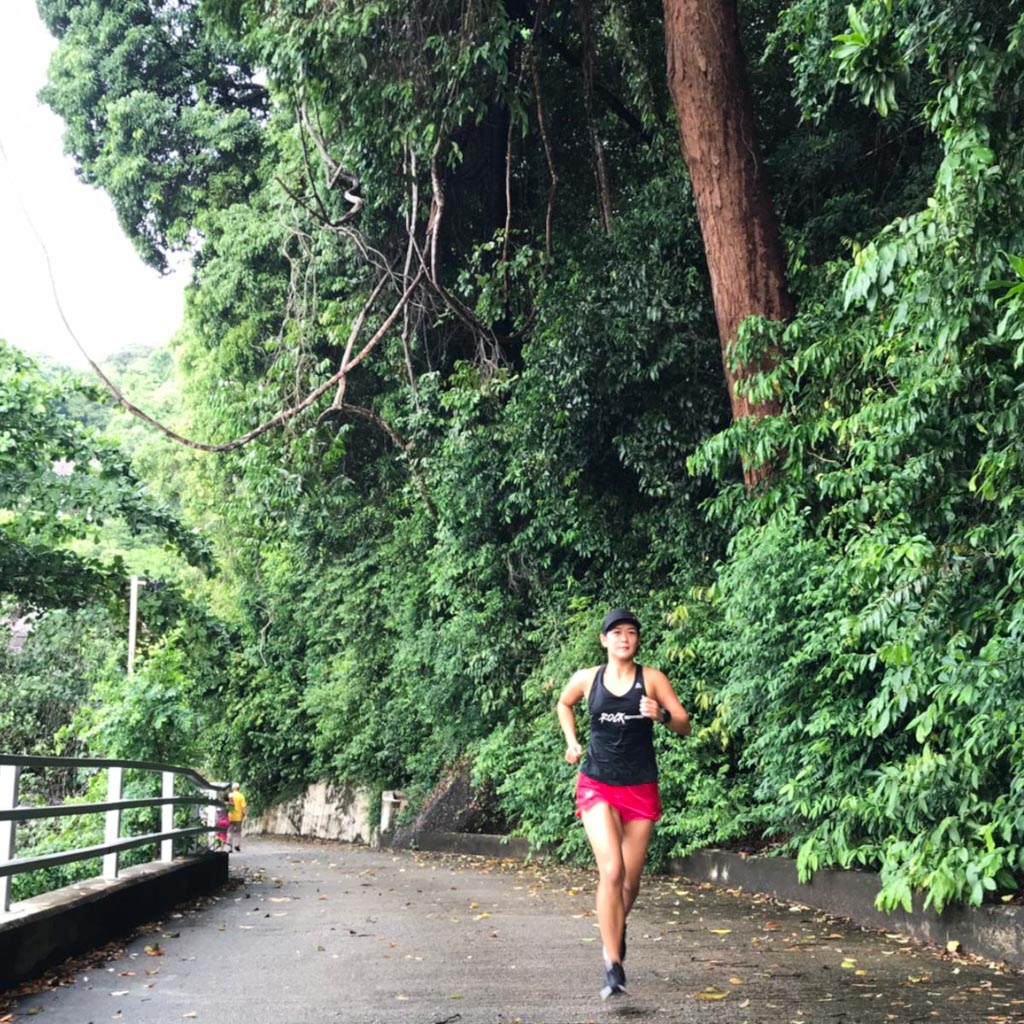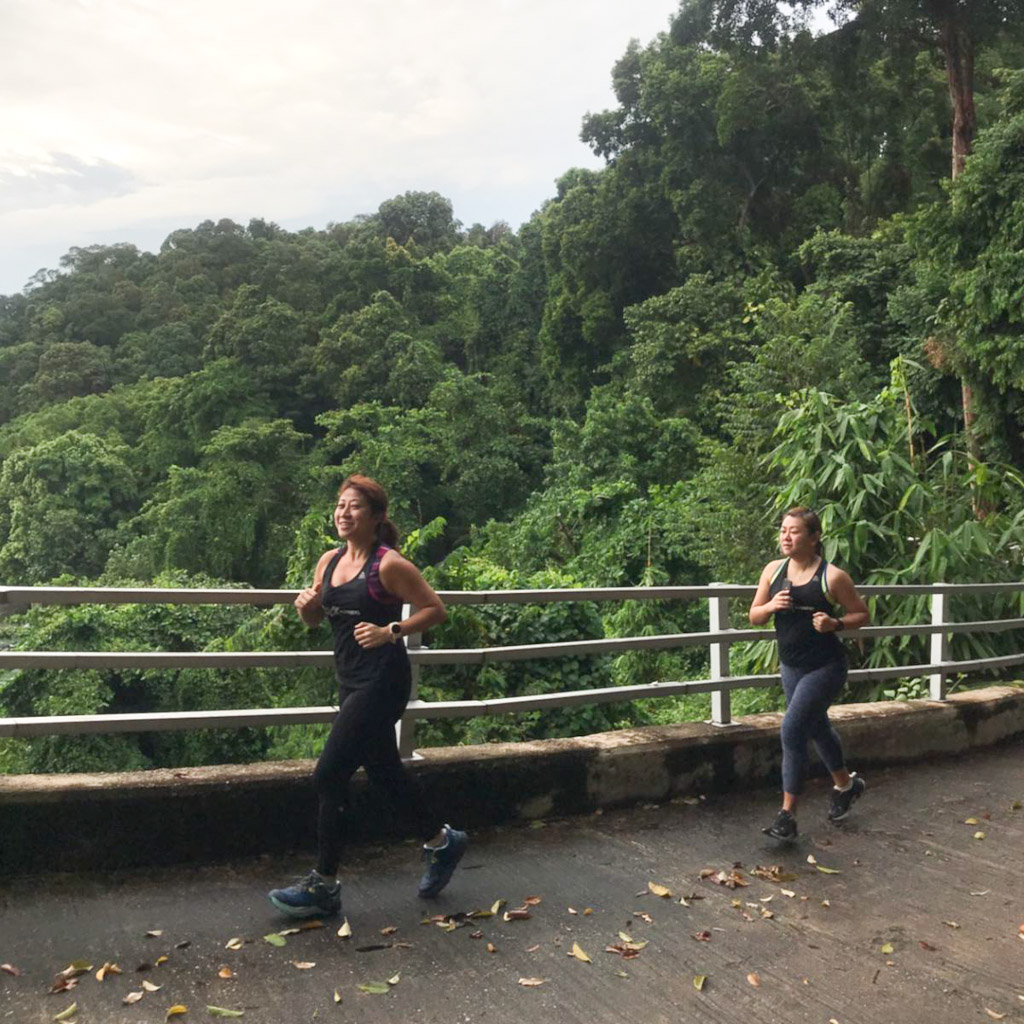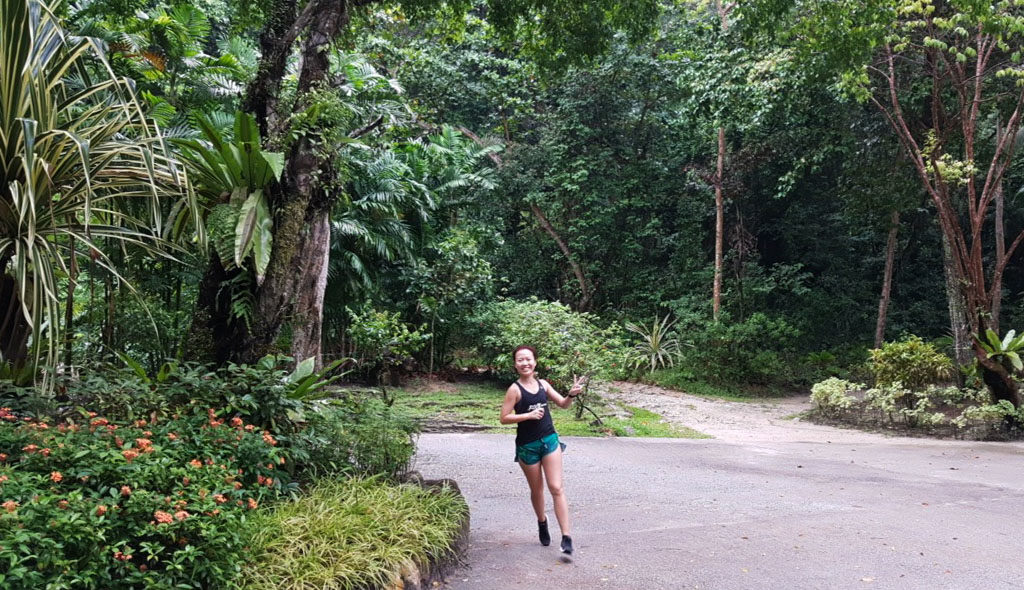 The rest of the second day was pretty relaxed. We had lunch at Chapman's Bar that was at Emerald Bay and we were still quite full from breakfast, but we somehow managed to eat again at the BBQ buffet. The chicken satay was so good! After lunch we hung out at Emerald Bay for a little bit before we headed to the Spa Village for our massages.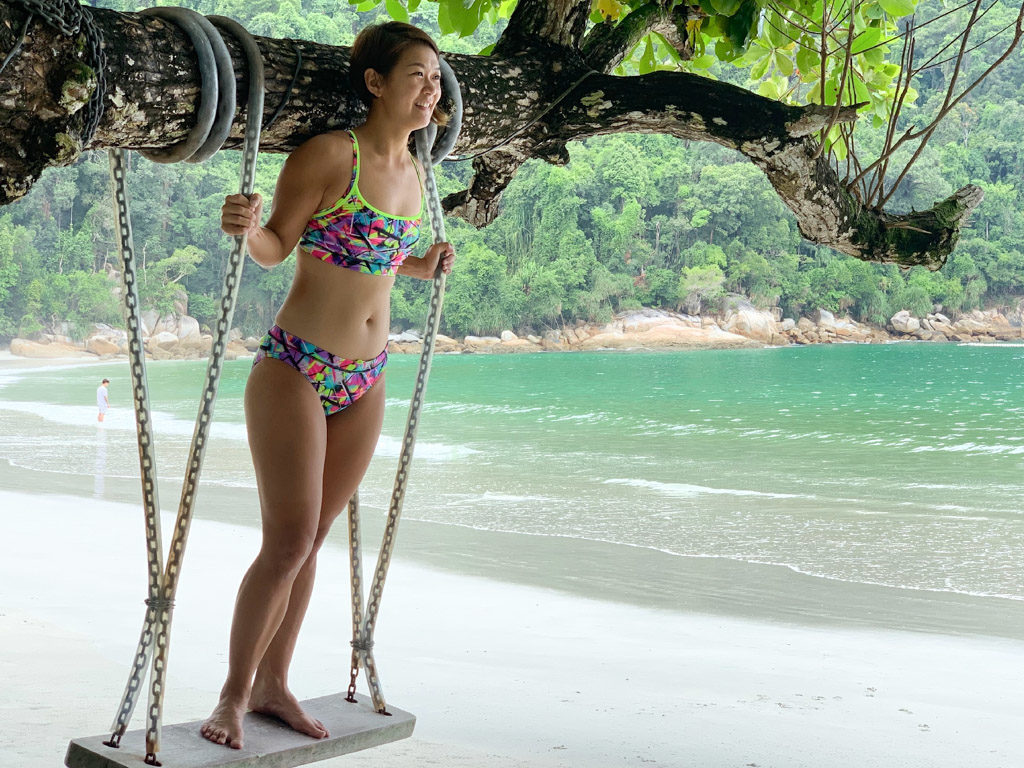 We had different timings for our massages, so while it wasn't our turn, we were just chilling out at the pool at the Spa Village, which is only available to guests of the spa. (There is another pool nearer to the lobby that is for everyone.)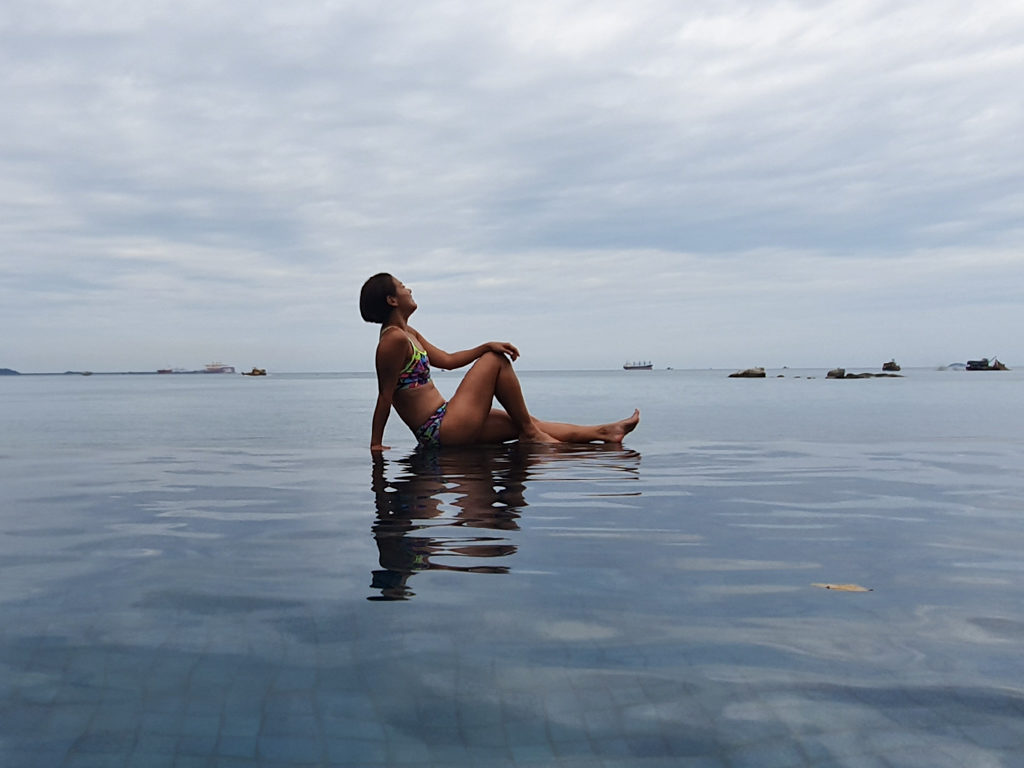 Guess what was for dinner next? Another buffet!!! We had dinner at Feast Village, the same place we had breakfast at, and I honestly don't know how we managed to fit three buffets into our tummies in a day. LOL!
For post-dinner activities, there's Royal Bay Beach Club, the bar by the main pool, and there's Chapman Bar at Emerald Bay; where you can have Happy Hour. A 'live' band plays at Royal Bay Beach Club too. Otherwise there's an air-conditioned TV room above the gym where we hung out at. The gym btw, is pretty well-equipped too.
On Sunday, I really was looking forward to hitting the trails. The resort has a 3km trail loop and the plan was to do that on the morning of our last day. BUT IT RAINED AT 5am, DAMMIT. Hence the run unfortunately had to be cancelled, but we had yoga booked for 8.30am with an instructor from the resort.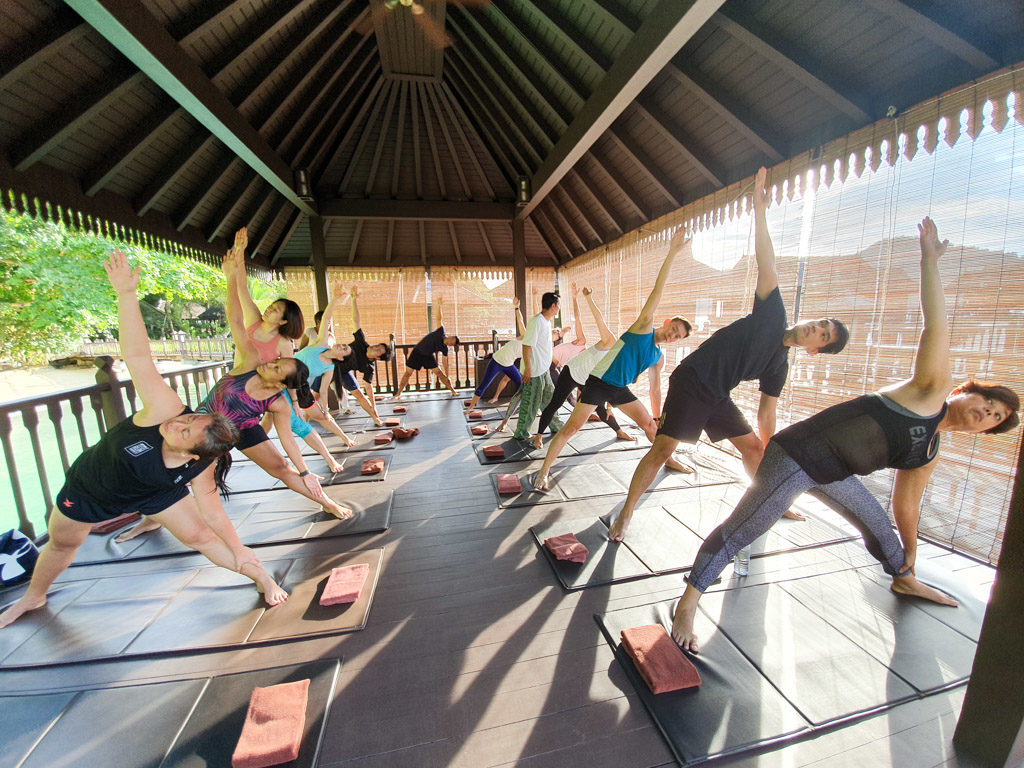 It was back to the breakfast buffet after yoga and you have to check out the roti prata station btw. Checkout was at 11am so we only had a bit of time to get showered and made sure our bags were packed. I tried to ask for late checkout but the resort was too busy! We took our bags to the TV room and rested there till it was time for our last meal at the resort – lunch at Royal Bay Beach Club. I actually like the food there a lot! There's Asian and Western and even healthy stuff like tuna poke bowl.
After lunch we got onto the speedboat at 2pm and then I got the van driver to pick us up and bring us to a shopping mall to kill time before our flight. There's nothing at the Ipoh airport except a little coffee stall and a souvenir shop.
So, in the blink of an eye, that was our ROCKruncation! Although we didn't get to do as much running as we wanted to, we still had a lot of fun. Definitely the first of more runcations to come!!