One of the things that really infuriate me is when I encounter a situation of inconsiderate people parking out of their lot and taking up two lots, depriving someone else of a lot as a result. This makes my blood boil especially when I'm in a hurry and am looking desperately for a space to park. Well, if I had the Renault Twizy there wouldn't be a problem and I would be able to just slot it into the reduced space. One parking lot can fit three Twizys – if you park them vertically into a parallel lot! Besides, its turning radius of 3.4 metres makes it easy to park it too.
In fact, ever since I tried the Renault Twizy, I realised each time I see a tight parking lot I find myself thinking, "If only I have the Twizy". This 100% electric zero-emission quadra bike is an innovative urban mobility solution that will seriously help to overcome one of the biggest problems of driving – limited parking space.
Unfortunately, we may not be able to get our hands on it anytime soon because the Land Transport Authority (LTA) is not able to classify this vehicle type yet. This is such a unique type of vehicle never seen before in Singapore that at this point (of print), the Twizy has not been approved for local road usage.
This vehicle has a steering wheel, air bag, seat belts and can seat two people – one behind the driver. It works like a car but is sized like a large motorcycle (2.34m by 1.24m). So, is it a bike or a car you wonder?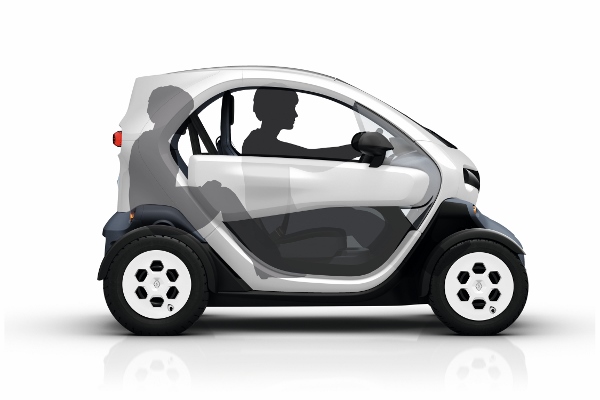 If it is classified as a car, then it would inevitably become a rich man's toy and defeat the purpose of it becoming an everyday mode of urban transport. Can you imagine having to pay S$80,000 just on COE for this? So classify it as a motorbike then. But according to definition, a motorbike is a vehicle that needs to be straddled.
If it falls under the motorbike category, it would probably fetch a price tag of S$25,000 (with COE), according to Wearnes Automotive. Now that makes more sense and it could really become a proper transport solution for the masses. Well, it will take some time for the LTA to sort things out and one alternative may be to create a new category for this quadrabike. Meantime, a short-term outlook is to have a fleet of Twizys under Phase 2 of the TIDES programme for testing.
I got to drive it at a special media event for the Twizy and it was pretty fun. Its lightweight compact size (474kg, including batteries) is supplemented by an electric motor (that provides 17bhp and 57Nm) to give sprightly acceleration. It can go up to a maximum speed of 80km/h, taking 6.1 seconds to power up from stationary to 45km/h; definitely not belonging on the first lane of expressways!
Unlike a motorcycle where you are completely exposed to the elements, there are two doors in the Twizy and a roof, thus you don't need a helmet to drive the Twizy. In addition, there is a front airbag, all-round disc brakes and both occupants are strapped in safely – four-point harness for driver, three-point seat belt for passenger.
There is storage too – 55 litres behind the passenger seat and under the flipover passenger seat cover, on top of two glove boxes (3.5 litres and 5 litres). This should fit your hand bags or gym bags but probably not your weekly supermarket shopping for a family of five.
It doesn't come standard with an in-car audio system but you can order one and have it fitted. You can use the 12V power supply in the glove box to power up your GPS too. Like motorbikes, it is open-air driving, with no air-conditioning and no windows. You can have covers for the windows in case it rains, otherwise the Twizy is perfectly fine being driven in the rain, with drainage holes in the floor.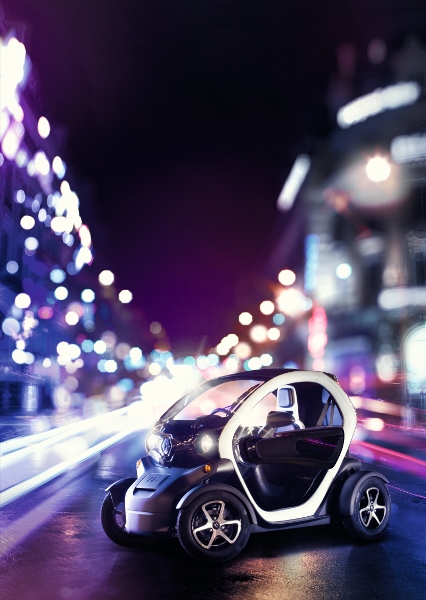 On a full charge, the Twizy is capable of a range of up 100km, which should be enough if you are just commuting from home to work plus a few errands. It only takes 3.5 hours to fully charge up the Twizy and it can be done via an ordinary three-pin wall socket. We have three-pin plugins around us at homes and in offices, BUT not in car parks. The fast charging stations you find in shopping malls for example, are the charging socket type. This is where the infrastructure in Singapore will play a very significant part.
More than 11,000 units have been homologated and sold in countries such as France, Germany, Italy and the United Kingdom. It is also in the process of being authorised in Malaysia, but I don't think we will see it on our roads so soon. At least not until LTA sorts out the categorisation of the Twizy!
*This was first published in Wheels Asia magazine.