I admit that I can be too much of a workaholic sometimes, when I get carried away with work, my whole life will revolve around it. Fortunately for me, I enjoy my work but that doesn't mean the stress levels don't soar. At times like these, I have to start finding more motivation to stick to my training programme because I feel fatigued and just want to sleep.
Currently, I have a training programme given to me by my coach in preparation for the next race so the challenge comes in balancing work and training hours. Before I started training for triathlons, I kept a simple fitness regime to at least four times a week. Sometimes, work can get busy and I find myself skipping workouts, as much as I didn't want to.
For this final month of 2016, my challenge to all of you is to squeeze in simple workout into your hectic lifestyle. Here are 3 ways that I have found really useful in helping me to keep up with my fitness regime especially when work gets busy:
There's something special just for you too – so do read on!
1) Get a HIIT in anywhere, anytime
I personally like doing HIIT (high intensity interval training) because you can get a solid workout in without requiring too much time, space or equipment. You can do it anywhere, anytime, even in the confined space of a hotel room, and all you need is 15 to 30 minutes to get a good heart-pumping sweat session.
Another benefit of HIIT that I like is how it increases your metabolic rate for the next 48 hours – due to the Exercise Post Oxygen Consumption (EPOC) effect – which means you get to continue burning fat even after the workout ends.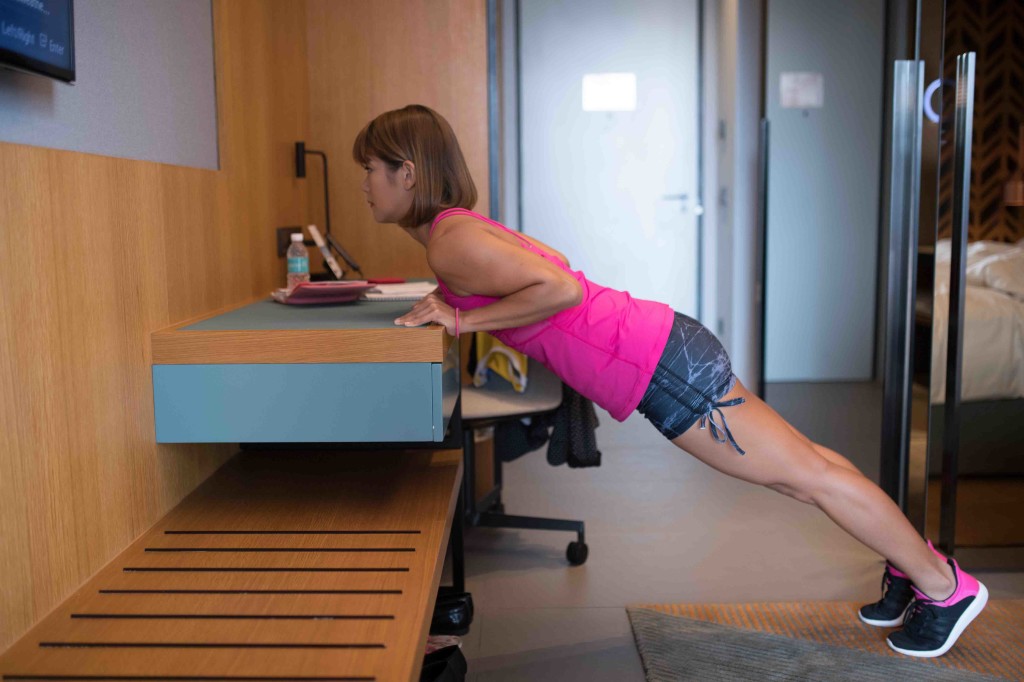 There are a lot of HIIT workouts you can pull off the internet or from free apps, but you can also design your own. Here is a list of my favourite bodyweight exercises which you can use:
1) Squats
2) Lunges
3) Pushups
4) Jumping jacks
5) Mountain climbers
6) Sit-ups / crunches
7) Planks
8) Dips
9) Hip raises
10) Burpees
If you want to make things more challenging, there are different variations to these exercises – like how you can do a jumping squat or a jumping lunge – that you can make.
To create your workout, simply choose 4-5 exercises from this list, decide the interval timings and the number of rounds you want to do.
For example:
5 rounds of 30s work / 30s rest
Squats
Jumping jacks
Lunges
Burpees
Pushups
*Take 30s rest between each round
CHALLENGE:
When work gets busy, it gets difficult to work out, but you can squeeze a simple HIIT into your hectic lifestyle. In conjunction with #TheOasiaChallenge, I'm challenging you to snap a picture of you doing your favourite bodyweight workout (it can be any of those listed above!), and you may just be one of the lucky winners to win a 3D2N! T&Cs apply.
Psst, there are more challenges that you can participate in – check out Oasia's Facebook or Instagram @StayOasia for more.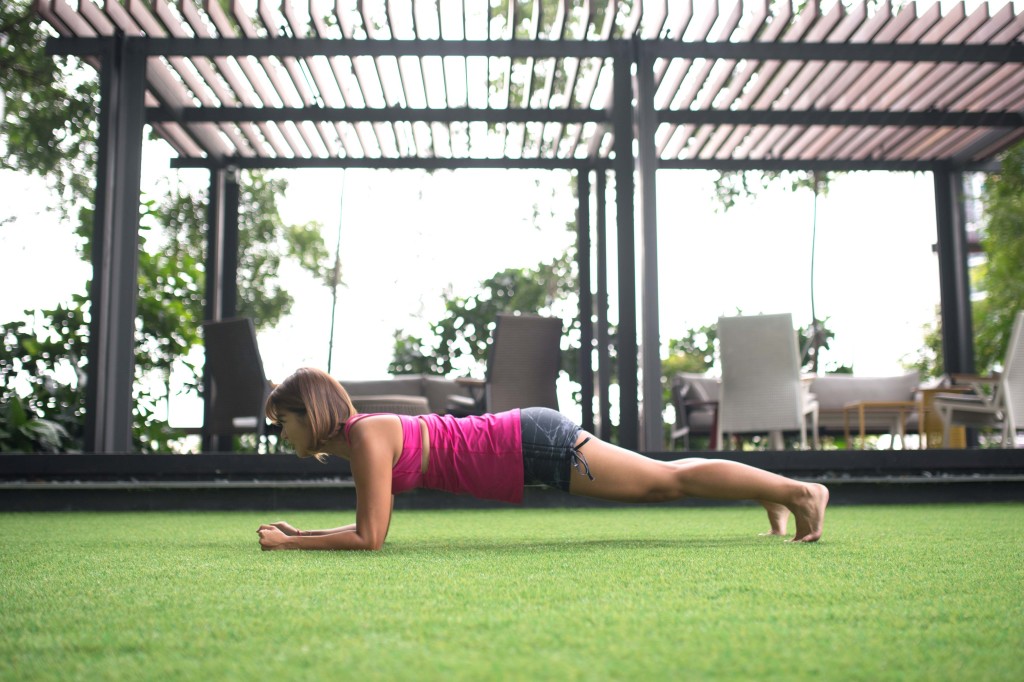 2) Bring your running gear everywhere you go
Besides doing HIIT, the other most convenient exercise is running. You can essentially run anywhere as long as you have your shoes with you. Sometimes, you might find pockets of time between appointments and you can hit the gym or just go for a run!
I keep a set of workout attire and a pair of running shoes with me everywhere I go, like in my car all the time. You can also leave a set in the office, so when things get too stressed, just lace up and get out there once it's time to knock off!
3) Make exercise social
Instead of meeting clients for a meal or a drink, I meet some of them for a run, a gym session or a spin class. In short – I made exercise part of my work! It helps me to get a workout in and at the same time, you get to bond with your clients. When the endorphins are high after a sweat, people naturally feel good and that's an opportune time to discuss what you want – over a post-exercise healthy juice no less!
Jean (@xjljean) has been an integral part of my journey, not only as a solid confidant, but also as my workout buddy. We often run together (and melt in the heat sometimes) as well as try funky stuff like what we are doing in this picture, LOL. I am very lucky to have her because she's such a huge encouragement.
It really helps to have someone to share the sweat with you – double the joy and divide the pain!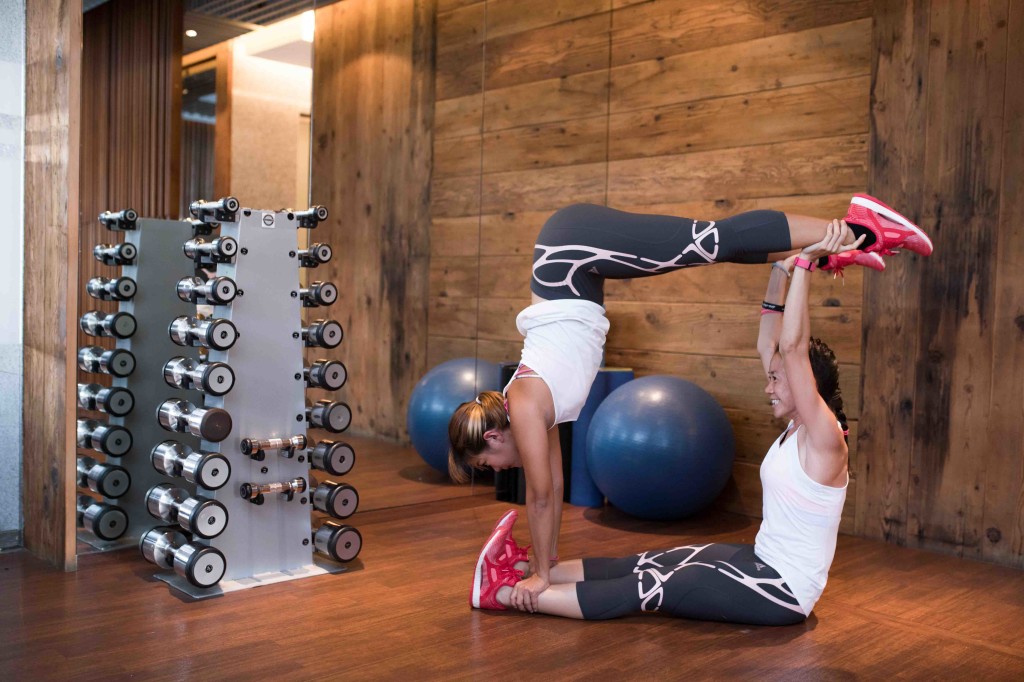 It does get challenging to keep up a regular fitness regime amid your hectic work schedule, but it is not difficult to, so long as you want it. I hope these tips will come in handy for you!
For more information, visit Oasia's website or follow them on Facebook and Instagram.
*This is a sponsored post.