You see them when you browse local online catalogues for the latest fashion, you see these same faces across different local online stores; even if you don't know them by name, if you often shop from these 'blogshops'*, I'm sure you will find their faces familiar! There are so many local online fashion stores now and I'm sure you have your favourite shops, as well as your favourite models. LOL!
Here are the top 10 prettiest local online fashion shop models (note that I didn't say top 10 most popular):
(*We used to call these online fashion stores 'blogshops' because they started out on blogging platforms like livejournal and blogspot, and actually many still refer to them as 'blogshops' for simplicity.) 
1) Drea Chong
Blog: www.dreachong.com
Instagram: @dreachong
Facebook: fb.com/andrea.chong
Twitter: @dreachong
More than just a blogshop model, Drea (her real name is Andrea) is one of the most prominent fashion bloggers in Singapore. It all started with ClickNetwork's That F Word which she co-hosts with her good friend Jemimah Wei. They went to audition for it, successfully made it and the funny thing was, Drea only started her blog and Instagram after the show became popular. Having worked with Drea before, she's a natural at posing and she has super high standards when it comes to choosing that one perfect shot. This hardworking multi-talented 22-year-old is featured on online boutiques like The Tinsel Rack, Threadtheory, Dressabelle, MDS Collections and many, many more, and was also the emcee for the Victoria Beckham showcase in Singapore. She recently completed an advertising campaign for Sensodyne.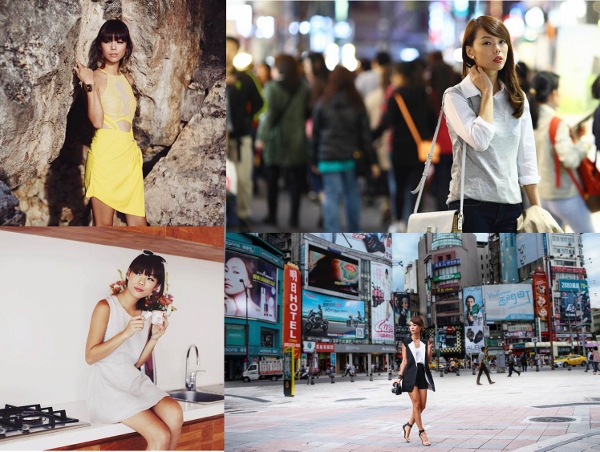 Photos: Drea's Instagram, Cheryl Tay
2) Wong Su Ann
Blog: www.sweethotjustice.blogspot.sg
Facebook: fb.com/wong.s.ann.7
She was first approached by The Tinsel Rack but got fired after two shoots because she just didn't know how to pose. Then Threadtheory gave her a second chance and groomed her, and she went on to model for a variety of blog shops including Chaceylove, In House Fashion, Her Velvet Vase, Earl Grey Party, My Spring Fling and Ad.El. Looking at the way she confidently strikes poses today, who would have guessed Su Ann was the awkward girl who got fired from blogshop modelling before? By the way, the 22-year-old is on the National University of Singapore (NUS) Law School Dean's List and she was NUS Law Queen 2010. How's that for both brains and brawn?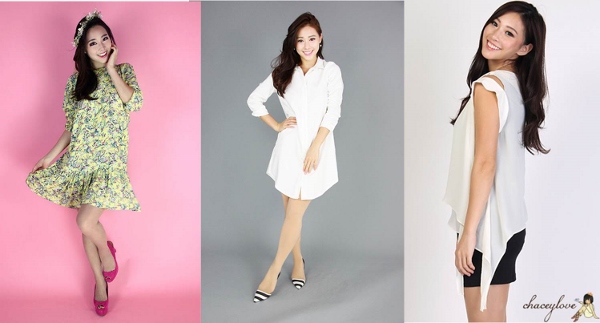 Photos: My Spring Fling, Chaceylove
3) Che Shijia
Instagram: @cheshijia
Facebook: fb.com/UnicornChe
I see her all over Le Chic, Ohvola, OhSoFickle – as well as on many other blog shops like Carrislabelle and Sassy Dream – so it's hard not to miss the sweet-faced Che Shijia. She doesn't have a blog (or I just can't find it) so I don't know much about her. She seems to be of mixed heritage though.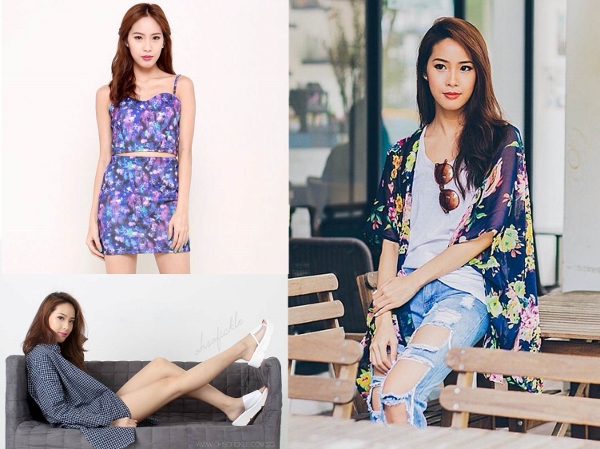 Photos: Ohsofickle, Carrislabelle
4) Eunice Annabel Lim
Blog: www.euniceannabel.blogspot.sg
Instagram: @euniceannabel
Facebook: fb.com/EuniceAnnabelLim
Twitter: @euniceannabel
Vogue Avenue, Sassy Dream, Texas Red, Ellysage, Carrislabelle – these are some of the online fashion stores that you will see Eunice on. The 20-year-old first started modelling for local fashion online stores as a part-time job when she was 16, but it all led to "a very exciting career" as she described. The New Paper New Face 2012 finalist of mixed Chinese and Peranakan looks earned opportunities to become brand ambassadors for Maybelline and Sunsilk, even flying to New York in 2013 and 2014 as a social media influencer for the latter. She also starred in Jack Neo's movie 'The Lion Men' as one of the five hip hop dancers.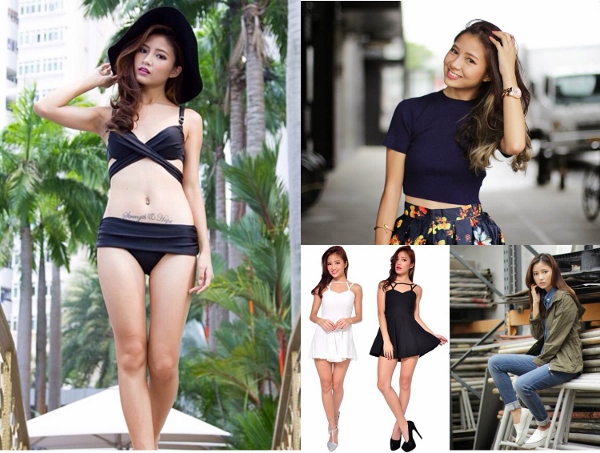 Photos: Eunice's blog, Carrislabelle
5) Melissa C. Koh
Blog: www.melissackoh.com
Instagram: @melissackoh
Facebook: fb.com/melissacelestinekoh
Twitter: @melissackoh
NUS Business and Finance graduate Melissa was working in the financial industry for a reputable bank when she decided to pursue her passion in fashion. She has represented L'oreal Professionel as an ambassador for Spring/Summer 2014 and walked the runway for Maybelline and LadyGaga x Femmex. Melissa has appeared in print ads and also hosted shows such as the iWeekly Beauty Event for 8 Days Magazine. Of course, it makes sense that she is the face for her online fashion store Ladymojo.
Photos: Melissa's Facebook
6) Christabel Chua
Blog: www.christabelchua.blogspot.sg
Instagram: @bellywellyjelly
Twitter: @bellywellyjelly
I see Christabel on so many different online shops that I cannot remember all of them. I know she's on Lollyrogue, Kissjane, The Nine Dame, My Spring Fling, Hollyhoque and goodness knows how many more! The BFF of Drea, Christabel is fairly new in this but has done a super good job to get herself out there!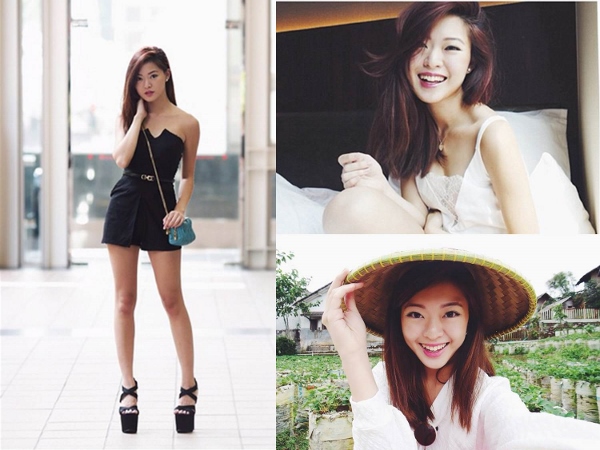 7) Mongchin Yeoh
Blog: www.mongabong.blogspot.sg
Instagram: @mongabong
Facebook: fb.com/mongchin
Twitter: @mongabong
I first saw Mongchin Yeoh on Ruby Rouge and there's something about the pretty smile flanked by the dimples. The 20-year-old full-time student is a self-confessed foodie and was also part of the SMU Business School Pageant when she was a freshman. I wonder what Mong Chin in Chinese is?
Photos: Mongchin's Instagram
8) Gwendolyn Ashley Toh
Instagram: @omfgwen
Facebook: fb.com/omfgwen
Twitter: @omfgwen
Carrislabelle, Anticlockwise.sg; these are some of the places I've seen her on. Young and fresh-faced!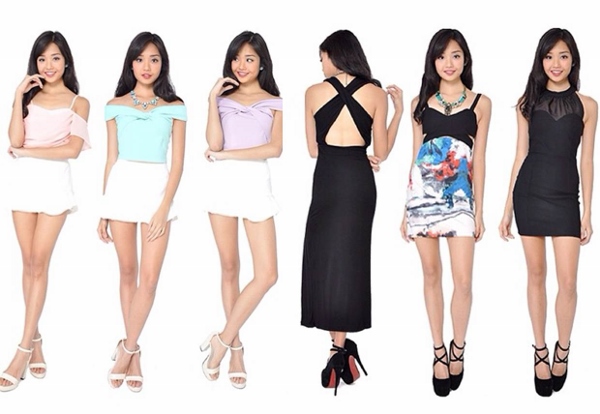 Photo: Carrislabelle
9) Constance Lau
Blog: www.constance-lau.blogspot.sg
Instagram: @ConstanceLauJM
Facebook: fb.com/ConstanceLauJM
Twitter: @ConstanceLau
Previously a radio personality, Constance Lau is now a financial services consultant with AIA and she also does some modelling, like for The Closet Lover. She was also a former SingTel Grid Girl for the Formula One Singapore Grand Prix.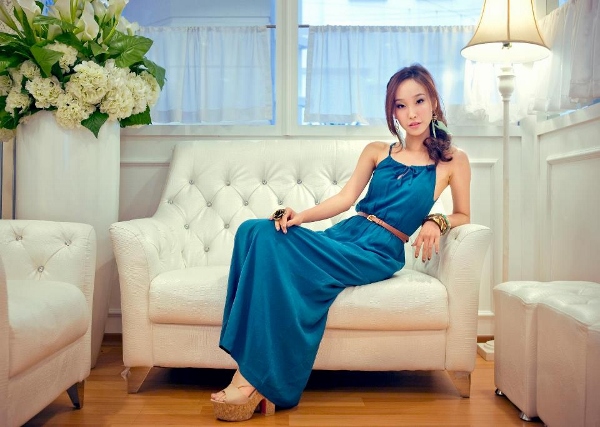 10) Elizabeth Lee
Instagram: @elizabeth_eel
I've only seen her on Hollyhoque and I couldn't really find much info about her either, but I thought she has quite a sweet face.

Photos: Hollyhoque, Elizabeth's Instagram