It's been a while since I attended a Driving Experience at the Sepang International Circuit, so you can imagine how thrilled I was when I had this opportunity to drive the Porsche Type 991 911 Carrera 4, Carrera S and the all-new Turbo S. The most exciting drive was obviously the Turbo S, which had more power than I could handle, but at least I got a taste of its potential.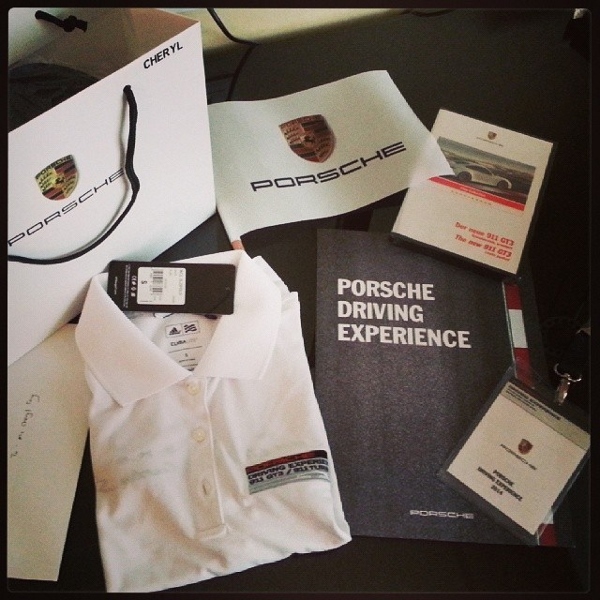 Along with 11 other journalists from Singapore, we flew up to Kuala Lumpur and had a welcome dinner hosted by Dr. Henrik Dreier, general manager of Porsche Asia Pacific (Singapore) first, before heading to the track the next morning. We were split into groups and I was given a product briefing of the new Turbo S first, before getting to drive. When it came to the driving, I chose to drive the Turbo S last, wanting to refresh myself with the racing lines first.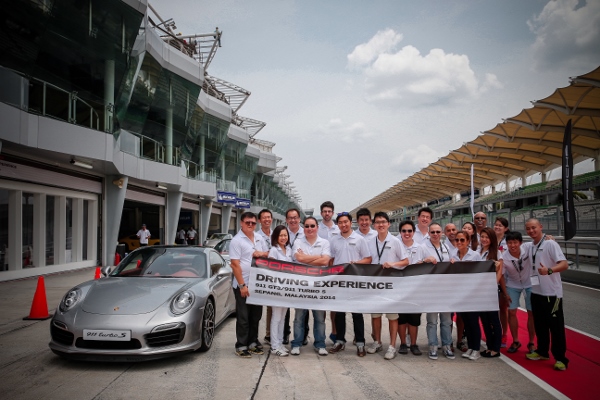 We were only given three laps per car, so time on the track was limited. I got into the Carrera 4S first, alongside Rodolfo Avila, one of the three instructors for the day. It was the least powerful of the three, but because of its four-wheel-drive, its zero-to-hundred sprint time is similar to the Carrera S. The Porsche Traction Management (PTM) was a great help; this active all-wheel-drive system with electronically variable map-controlled multi-plate clutch goes hand in hand with the automatic brake differential and anti-slip regulation systems to effectively control the power distribution to the front and rear wheels. As a result, it holds you in place well so you don't end up losing control.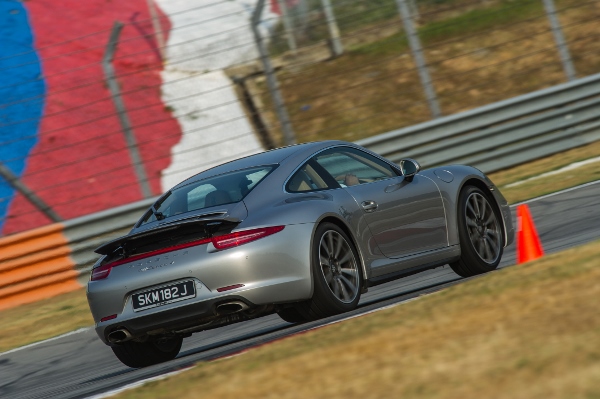 Moving on to the Carrera S, my confidence was greater after 'warming up' with the 4S. It was truly an engaging drive; without the four-wheel-drive system to weigh the car down, it handles well especially with increased steering weight in the front. It is also full of electronics, like the Porsche Torque Vectoring Plus (PTV Plus), Porsche Dynamic Chassis Control (PDCC), Porsche Active Suspension Management (PASM) and Porsche Stability Management (PSM); all of which contribute to its sharp handling abilities. This Carrera S we drove also had the Porsche Sports Exhaust system, which produced such a rev-happy exhaust note that kept me smiling.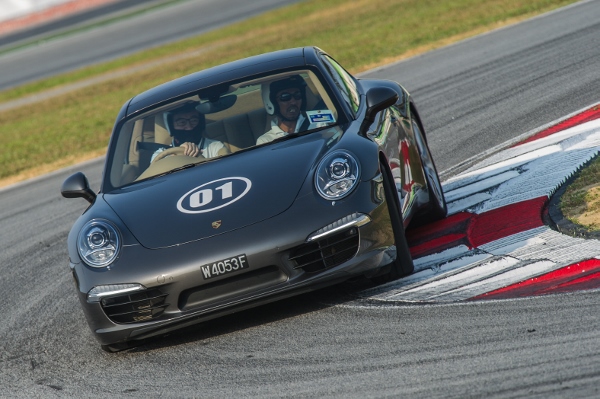 My final drive for the session was the star of the show – the new Turbo S. As Top Gear UK described it, the Turbo S is "blindingly fast". I could feel the power come on easily on tap, so I took the first lap easy to get used to the car (that happened to be left hand drive as well). Its bi-turbo 3.8-litre flat-six delivers 550bhp and 560Nm (up to 750Nm in overboost mode) to its four 20-inch tyres, and it has a zero-to-hundred sprint time of 3.1 seconds.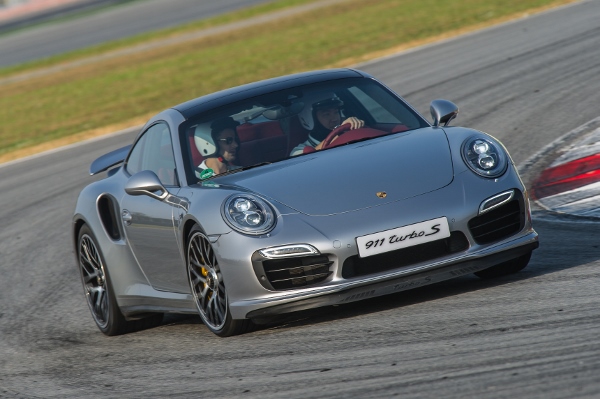 Housing clever aerodynamics, the Turbo S has this Porsche Active Aerodynamics (PAA) where the front and rear spoilers are deployed in three stages according to your speed or mode. In performance mode, the front spoiler and the rear wing are fully extended to give the greatest angle of attack, generating more downforce as a result. It has all the electronics, like the PTM, PSM, PTV Plus, PDCC as well as the Porsche Active Suspension Management (PASM), an advanced electronically-controlled active damping system – all these make the car really manageable even in extreme conditions.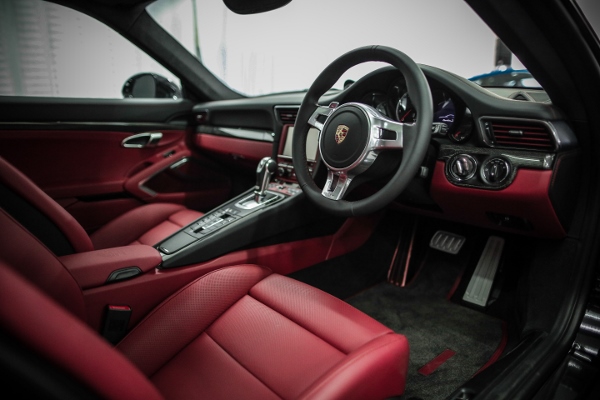 I found myself being able to brake later, thanks to the incredible Porsche Ceramic Composite Brake (PCCB) system, which is standard. With the brake system being lighter than before, it's a big improvement from previously and such awesome stopping power is absolutely necessary for this beast.
One of the sweetest things about the Turbo S is its rear-axle steering – where it consists of two electro-mechanical actuators on the left and right of the rear axle instead of conventional control arms. Steering angle of the rear wheels can be varied: at low speeds (up to 50km/h), the rear wheels turn in the opposite direction of the front, hence reducing turning radius. At travelling speeds (80km/h upwards), the rear wheels will turn parallel to those in front, increasing stability and driveability of the car.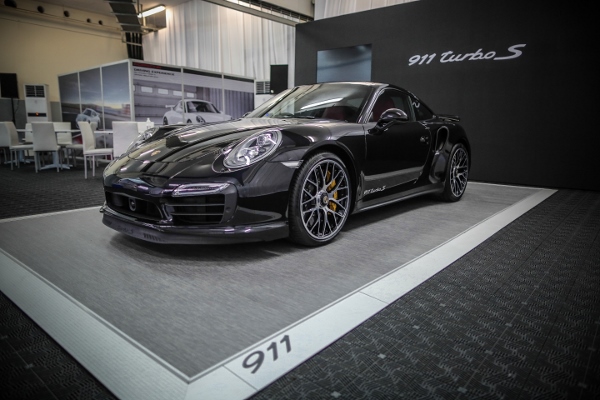 Just as I was getting used to the car, my precious three laps were over. Immediately after I was done, Benjamin Rouget – the instructor with me in the Turbo S – took me for hot laps so I could experience what the Turbo S was capable of. Man, I felt really, really slow after seeing Rouget push the Turbo S hard. Well, that's why he's a racing driver and I'm the motoring journalist.
We can never get enough of the cars, but three laps each and it was time to head home. I'm still thinking of the experience as I write this – speed and adrenalin are just so addictive!
COMMON MISTAKES
Rodolfo Avila, Porsche Carrera Cup Asia driver and one of the instructors for this Porsche Driving Experience, has been coaching drivers for nearly a decade now. He loves driving Porsche cars because of "the feeling you get driving it". He said, "I've raced in other cars but the drive compared to Porsche is not the same. Porsches are special. Though it is a hard car to drive, especially where the engine is, it is so rewarding once you learn how to drive it. It makes you feel alive and I never found that feeling in any other cars."
Coaching clients in formula cars, GT cars and road cars, Avila has seen the best and worst of new drivers. Here are some of the common mistakes that participants often make at such driving experiences and he hopes these will help you if you are headed to an event like that in future.
Common mistakes:
1) Not using enough of race track
A lot of people don't realise that when they don't use enough of the track, they are actually putting themselves in danger. For example, if they come out of a corner too tight, that increases the chance of spinning. Get the racing line right, flow with it and the speed will come naturally.
2) Incorrect braking method
In daily driving on the roads, we usually feed the brakes in gently instead of slamming on them. But in racing, we brake hard and sudden, braking the hardest initially, then we do trail braking (gradually released up to point of apex) according to how fast you want to go.
3) Incorrect acceleration
Newcomers often treat the accelerator as a light switch. You cannot just step on and off the accelerator like that; you have to feed it gradually.
4) Losing concentration mid-drive
Believe it or not, some drivers just switch off suddenly when driving and forget to apply the brakes when approaching a corner, which is dangerous especially at the end of a long straight.
*This was first published in Wheels Asia.