It's the seventh Singapore Grand Prix and one thing that has not changed is the Porsche Carrera Cup Asia which has been a support race to the Grand Prix throughout these years.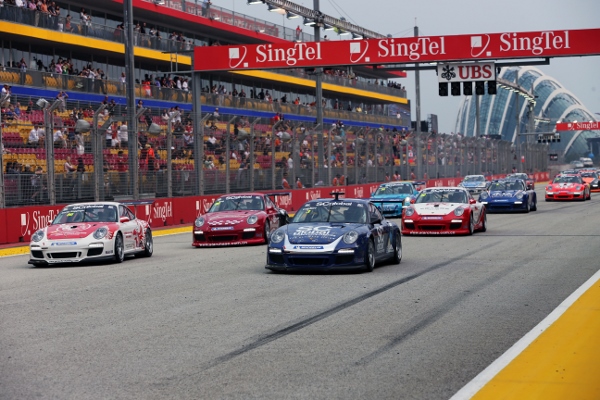 This year is no exception and the Porsche Carrera Cup Asia will be part of the motorsport party this weekend right here on the streets of our Lion City. Established in 2003, the Porsche Carrera Cup Asia is Asia's premier international one-make racing series featuring an international field of both professional and gentlemen drivers.
The racing action this week will kick off with Round 10 of the 2014 Porsche Carrera Cup Asia as its 28 Porsche 911 GT3 Cup (Type 991) cars bring the 5.073-kilometre Marina Bay Circuit to life.
With three more rounds to go including Singapore, LKM Racing's Earl Bamber (#1) is currently topping the overall driver standings with 137 points.
[Watch a recap of Rounds 8 and 9 at Sepang International Circuit here.]
The 24-year-old Porsche Carrera Cup Asia defending champion has an 18-point lead over his closest rival Martin Ragginger (#86) of Team Porsche Holding, but the championship title is still within the reach of five drivers, including Ho-Pin Tung (#58) of Budweiser Team Absolute Racing.
In Class B, Nexus Racing's Alif Hamdan (#72) of Malaysia is 10 points ahead of Francis Tjia (#21) of OpenRoad Racing, after taking six victories of eight. Just four points behind Tjia is our very own Singaporean racer Yuey Tan (#5) of Dorr Havelock Racing, who will be hungry to win on home ground. Local veteran racer Ringo Chong (#11) is also on the roster.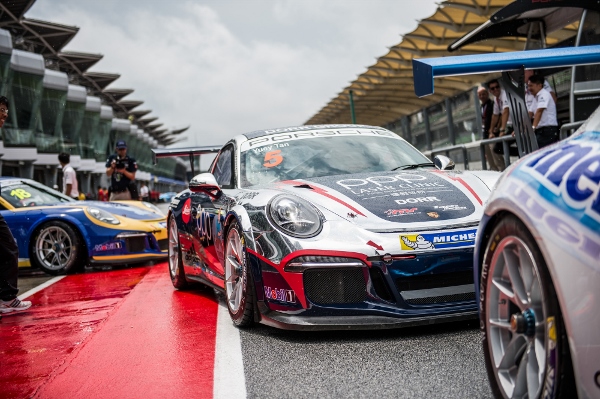 Tan has been racing in the Porsche Carrera Cup Asia for as long as the Grand Prix has been in Singapore. He took part in his first race in 2008, before completing full seasons of the Porsche Carrera Cup Asia since 2009. The 32-year-old finished second in Class B last season and is gunning for nothing less than the title of course.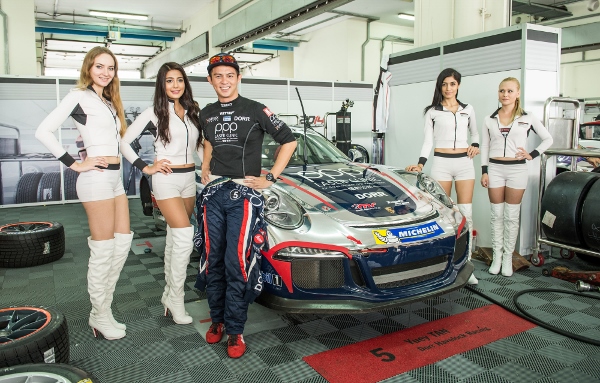 Although the Singapore Grand Prix action only begins after the sun sets, motorsports fans and spectators are encouraged to head down to the track in the late afternoon around 4pm to ease into the mood as the Porsche Carrera Cup Asia and other support races get going!
So, if you are headed to the Marina Bay circuit this weekend, come on down earlier! Otherwise, follow @CarreraCupAsia on Twitter as I will be doing 'live' updates on the Porsche Carrera Cup Asia as their guest commentator. Here are the timings:
PORSCHE CARRERA CUP ASIA 2014 ROUND 10
Practice         Friday, 19 September         1645 – 1715
Qualifying      Saturday, 20 September      1545 – 1615
Race             Sunday, 21 September        1700 – 1735
It's a date!