I'm sure you would have heard of pole dancing and some of you may even immediately associate it with strip clubs and dirty dancing. Halt that thought – pole dancing today is no longer what it used to be. It is now a recognised sport with world championships and people are beginning to realise the strong fitness concept behind pole.
You need a lot of core strength and technique to be able to perform tricks on the pole. Don't underestimate the pole! You can actually train multiple muscle groups with just a few simple exercises with it. Also, having sheer brute strength (say, you are able to deadlift 100kg) may not necessarily mean you are able to do well on the pole initially!
With this emphasis on pole fitness, PoleLAB was set up by four pole friends Leron, Xin Yi, Dionne and Ileane, to spread the benefits of pole fitness and reach out beyond the existing pole community.
"Pole fitness is not pole dancing. What we aim to do at PoleLAB is to introduce non-pole dancers an alternative way of getting fit – through pole exercises (not pole dance moves)!" said Leron, who is also a pole dance instructor.
Pole fitness is for anyone – yes, even for you who lifts weights, or you who only runs. Don't mix pole fitness up with pole dancing – instead, think of pole fitness as a form of workout (like doing a HIIT session or a CrossFit WOD or a Pilates class) where you build up your strength and improve your flexibility.
PoleLAB is the first pole gym in Singapore which combines both pole dance and gym settings into one studio. Rather than having to go to two places to work out, you can save time and just plan a joint workout. The gym section has treadmills, a set of dumbbells and other machines.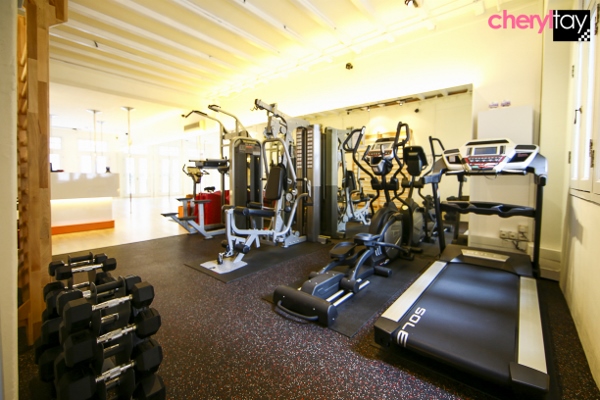 I had to try pole fitness at PoleLAB for myself and it is very much like circuit training. It's not a pole dancing class where you learn tricks on the pole and you don't have to be fit to take it up. There are four parts to the circuit – floor, gym, wall bar and pole.
Each segment has an instructor in charge so you will not be left alone. The floor segment was mostly stretching and bodyweight exercises such as planks; while the gym segment I had consisted of assisted pull ups and leg strengthening exercises like this one below: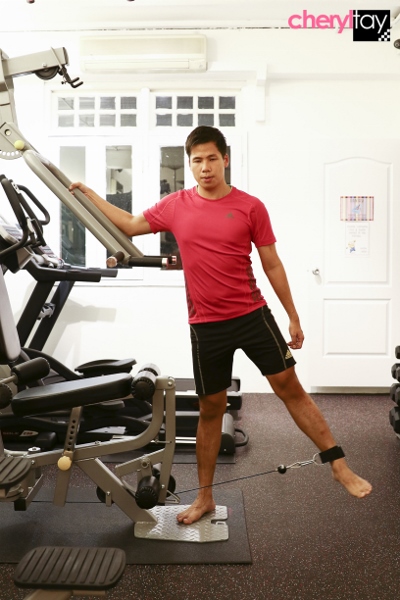 On to the wall bar, this is where your core is put to the test with a series of exercises like these: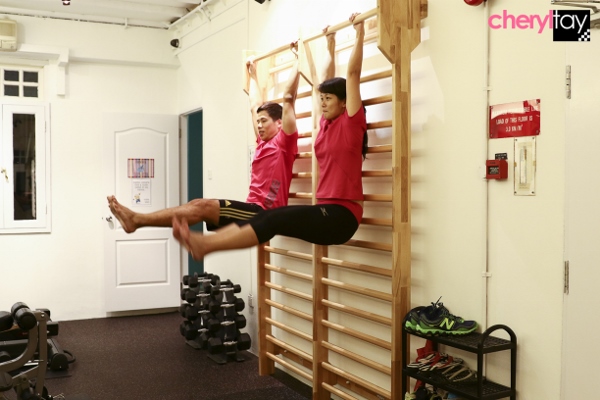 The previous three segments help to strengthen the muscles needed for pole and the one-hour session will end on the pole with some conditioning, which will help to train usage of the right muscles. (Pardon my facial expression!)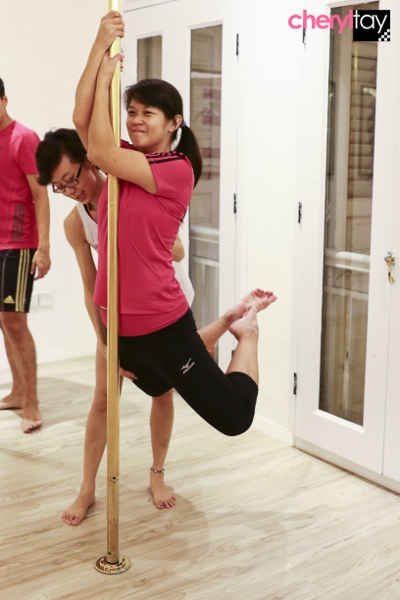 I was tired by the end of the session (who says pole is easy!) and my muscles were aching the next day, in places I rarely or never had aches in. Don't underestimate pole! Even if you're not interested in taking up pole dancing, this pole fitness session will be good for toning, strength and core work I tell you!
Group classes for pole fitness are held at PoleLAB four to six times a month and there are no fixed regular classes. You can however, request to conduct a workshop for your company or group of friends.
PoleLAB is not a school, but they provide workshops for strength and flexibility training (with the usage of pole and gym equipment), as well as dance workshops if you are keen to pick up some fancy moves to apply the new-found strength you gained through pole fitness.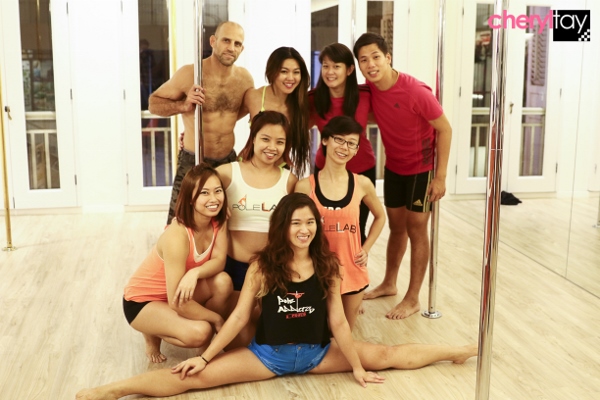 While PoleLAB aims to reach out to non-pole dancers by promoting fitness through pole exercises, pole dancers are more than welcome to use their facility to practise. There are no membership packages; simply walk in and rent a pole for your own practice! It doesn't matter which pole studio you are from, this is a good place to bond and share tips.
For example, you may have colleagues doing pole too but you are unable to go to each other's studio unless you are members of both. This is where PoleLAB offers that neutral platform.
From this pole fitness session, I learnt that pole requires a lot A LOT of strength and core work. I may be able to back squat 80kg, but I was unable to support my own body weight on the pole.
In addition, I used to see the pole as something for pole dancers only, but now I realise that while a pole may just be a vertical cylindrical piece of metal that resembles what you see on the train every day, it can actually be a fitness apparatus to train your strength and flexibility!
PoleLAB
31A Kreta Ayer Road, Singapore 088998
W: www.polelab.com.sg
E: [email protected]
FB: facebook.com/PolelabSingapore
Operating Hours: Monday to Sunday, 11am-10pm (weekdays), 11am – 6pm (weekends)
*This is a sponsored post.