It's ironic how I was once on the organising committee of the National Vertical Marathon by the NTU Sports Club and I worked at Swissotel Hotels & Resorts Asia Pacific office (which oversees Swissotel The Stamford that runs the Swissotel Vertical Marathon), but I've never attempted a vertical marathon.
I'll be frank – I don't like taking the stairs. But for some reason, I found myself signing up for the Pinnacle@Duxton Vertical Challenge 2014 presented by Brooks@World of Sports. Organised by the Tanjong Pagar-Tiong Bahru Community Sports Club and The Pinnacle@Duxton Residents' Committee, I was one of the 1,011 participants (across three categories: Men's, Women's and Team) who woke up early on a Sunday morning just to climb stairs.
I recall doing stair training during my cross country days in junior college, but since then I seldom use the stairs unless I really have to (like when the lift breaks down). So, I bravely went straight into this Vertical Challenge and managed to complete 47 levels (792 steps) under 9 minutes.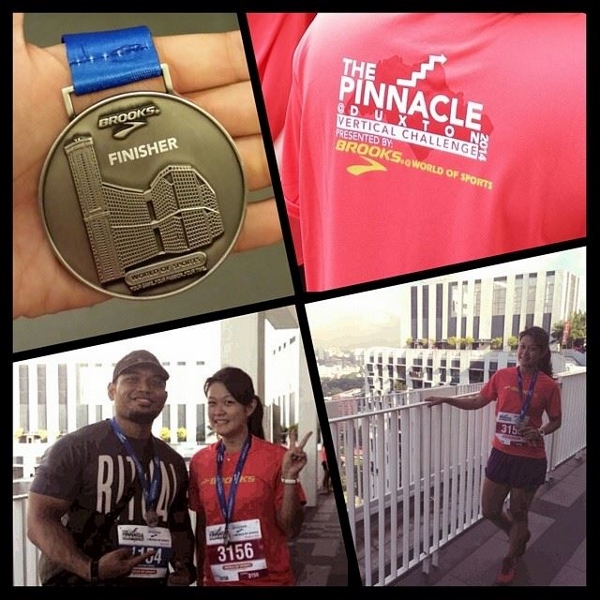 We started on the third floor and in the beginning, I took two steps at a time. Somewhere between the 10th to 15th storey, my breathing started getting heavy and I eventually took one step at a time. The stairwell of The Pinnacle@Duxton is pretty narrow so overtaking was a bit tough. I got stuck behind a plump senior lady for about four levels and only managed to get past after saying "Can I pass please?" for like five times.
My heart felt like it was going to burst out of my chest, with my heart rate going at 165-176bpm constantly. It's insane! I didn't stop at all and just kept going because I wanted to finish it, hence no rest intervals! Once you stop, the pain would rush to your legs and then you'll find it hard to restart.
Although I did not train specifically for stair running (walking/climbing would be a more accurate description), I guess all the back squats and prowler work I've been doing at Iron Fitness Singapore helped. The official results are out and my time was 8:29 minutes. I thought that's pretty decent for someone who does not like stairs and has not trained for it.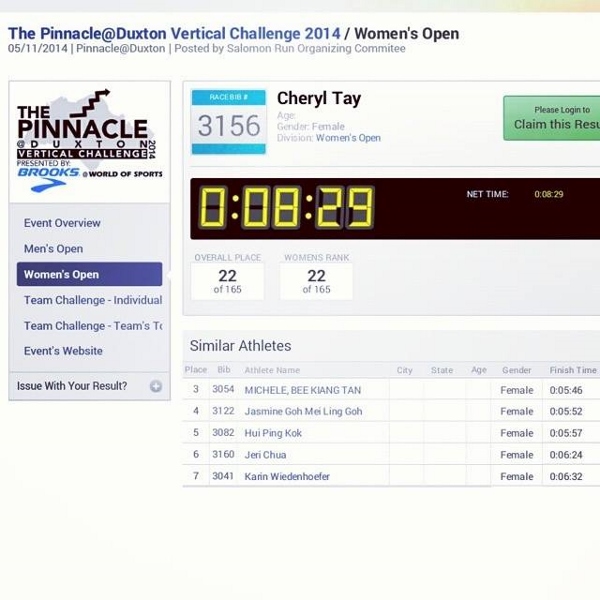 Then I saw the winning times – podium regulars Olivier De Man and Bridget Robertson did it in 4:21 minutes and 5:12 minutes respectively. WHAT?!?!!  Tilka Magar, Suresh Tilija, Jasman Gurung and Suresh Gurung of the PSA Team won the Team Challenge with a combined time of 19:31 minutes.
Champions from the Men's Open and Women's Open walked away with prizes worth more than $350 which includes World of Sports product vouchers, Eastpak Padded Pak'r, Salomon Waist Belt and a one year subscription of RUN Magazine. The Team Challenge champions won themselves an $800 product voucher, Salomon waist pouches and a one year subscription of RUN magazine, worth a total of $1,000.
I still am not a huge fan of stairs, but I might just attempt the 72-storey Swissotel Vertical Marathon next. Crazy? Maybe!
*Thank you World of Sports for the invite!