Running is good for you, but don't over-run.
Most people turn to running as the first step to lose weight or keep fit. After all, you can simply slap on a pair of running shoes and head out the door for a convenient run around the neighbourhood. Like them, I started my relationship with running for vain reasons of weight loss too.
In school, it was just the usual compulsory runs for the NAPFA tests in school and at badminton school team training. Then at Secondary Two, I somehow managed to run below 11 minutes for my 2.4km, earning a spot on the school's cross-country team. My main focus was still on badminton so it was only during my Victoria Junior College days when I tried for the cross-country team.
I finally made it to the team in Year 2, running every day with the boys until I was the third fastest girl in school. Living opposite East Coast Park made it even easier to go running and I remember I hit a personal best of 9:30 minutes for my 2.4km NAPFA run. Those were the days when running was the only thing I wanted to do – I would run before school and after school, driven by the motivation of wanting to better my time.
Once the season was over though, I couldn't let go of running. I was obsessed – this time for different reasons. I was on the heavy side for an endurance athlete and my coach would often tell me that I would be faster if I could shed about 5kg. I never took him seriously because I was satisfied with my performance.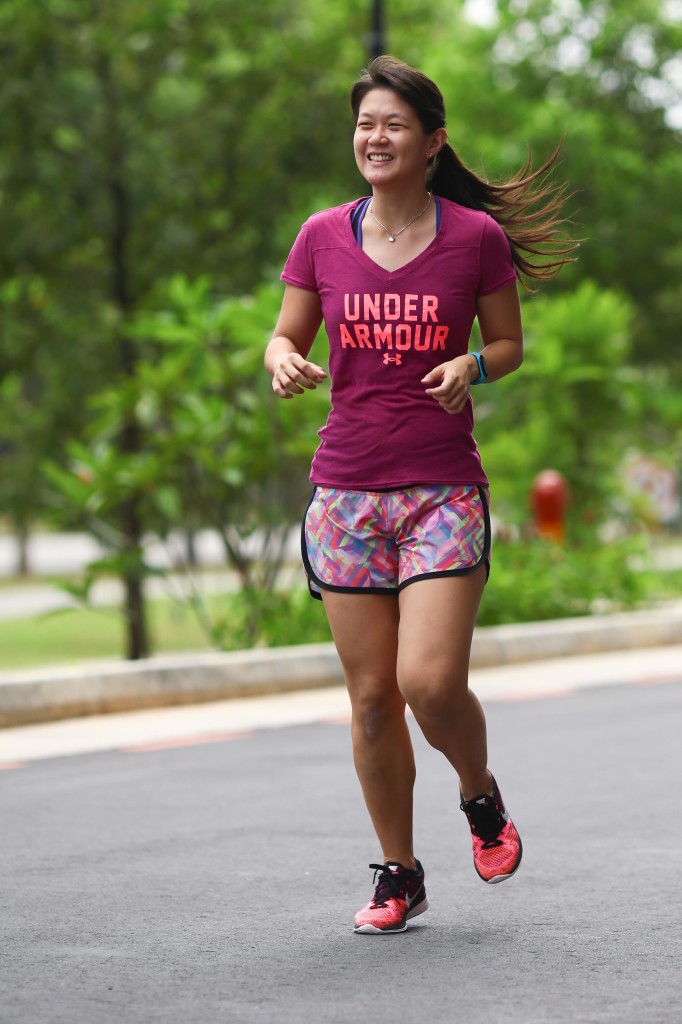 But after the competitive mindset was put away, I found a different motivation to running – I wanted to get in shape for prom night. Running was the only thing I knew – I was clueless about gyms or other fitness classes – and that was all I did for two months. I ran 20km every morning, followed by a workout on the stationary bike, before another 6km jog in the evening. I only ate two apples a day and I suffered from binge eating disorder.
Of course I would lose weight – the more I ran, the thinner I got. I eventually hit 47kg. But I hit a mental wall at the end of these two exhausting months. I recall padding myself up in extra layers so I could perspire more and refusing to drink any water. Even though I had reached my goal, I still felt I was fat but I just could not run anymore.
I was burnt out. Flat. Deflated.
I couldn't bring myself to run anymore. That's the problem when one takes unsustainable methods to lose weight. Long distance running is steady state cardio and the heart rate is constant, hence fat loss is limited. The only way to continue losing weight is to run more but how much more can you run really?
For the next five years throughout university, I would shudder at the thought of running. Worse, all the weight I lost piled back within a month.
Eventually, over the years to come, my relationship with running improved and I no longer dread running. I even did my first half-marathon in 2013 in two hours!
Today, running is a form of release to me. Headphones on, music in, ready to rock – it's carefree, stress-free and there is no pressure to achieve anything out of running. I'm not expecting to clock a certain time and I'm not looking to lose any weight from it.
Running is a natural movement of the human body and it's the easiest sport to pick up because all of us can run – it's whether we like it or not.
*This was first published in RUN magazine where you can find my column dedicated to running.