Deep down inside of us, we may not look forward to ageing, but it is a natural process after all, so let's embrace it and instead, choose to age well. I mean, we don't have to live our age right?
Hoping to motivate Singaporeans over the age of 50 to do more, feel better and live longer, leading healthcare company GSK held an event at Wheeler's Yard to share the results of a new study they did – called The Inner Age Index.
Everyday active Singaporeans over 50 such as the Happy Table Tennis players and Ageless Theatre group members were also present to give performances, demonstrating how age is really just a number.
Loh Men Kuan (pictured below), 65, is the founder of Happy Table Tennis. A former businessman, he wanted provide Singaporeans over 50 the opportunity to develop their passions in an active environment for a positive ageing experience.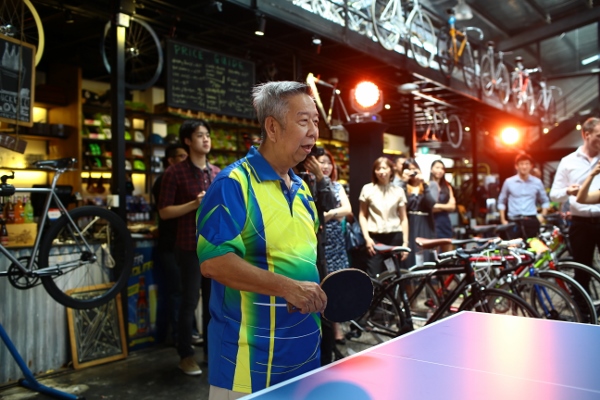 Started 10 years ago, this table tennis club is for all ages and has a regular group of members such as the elders who picked up and played the sport at Singapore Action Group of Elders. The goal is to nurture the next generation of table tennis players, including a three-year full-time training stint in China.
Seniors like Loh are what GSK hope to inspire more Singaporeans to be – to keep pursuing your passions and not let age be a barrier, as well as surround yourself with positive, like-minded people and the younger generation so that you keep feeling happy and young at heart!
This study was conducted by global market research and strategic consulting firm Edelman Berland and it revealed that 70 per cent of Singaporeans over the age of 50 feel five years younger than their actual age! This reflects a positive trend of Singaporeans and their attitudes towards getting older, as we face a problem of an ageing population.
What is inner age? It is defined as how old someone perceives themselves to be, compared to how old they actually are.
[Take the Inner Age test online here: www.actyourinnerage.com.sg and share it on Instagram with the hashtag #InnerAgeSG and #CherylTaygiveaway. 2 lucky winners will walk away with S$50 worth of CapitaMall vouchers each. Closing date: 10 Oct 2014, 2359hrs]
The survey was conducted with 150 Singaporean citizens aged 50 years and over, to understand their perceptions and attitudes towards ageing, as this age group makes up nearly one quarter of the Singapore population.
As we age, it is our attitude that precedes the physical passing of time. The survey revealed very heartening results: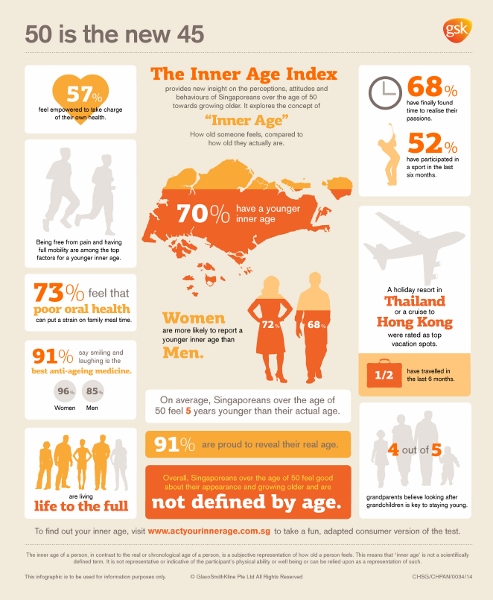 I firmly believe that age is nothing more than a digit and we should always remain young at heart, with an optimistic attitude towards growing older. Don't be ashamed of your age ever and continue to do the things that make you happy, such as travelling, spending time with your family or playing a sport! Laugh more, smile more and just be happy!!
*This is a GSK-sponsored post.