The one important thing that greatly impacts our car insurance premiums is the NCD (No Claim Discount), which is a discount offered by insurers for car owners who have not made any claims within a year or more. The more accident claims you make, the more your NCD gets reduced and the greater your premium is affected.
However, FWD Insurance has something unique to offer.
Under their motor insurance policies, those who have a 50% NCD will have this discount protected FOR LIFE, even if you have multiple accidents (touch wood) in the same year.
In short, once you earn your 50% NCD (or if you already have it), FWD will lock it in for the rest of your lifetime.
Whoa!
There are three types of car insurance plans – Classic, Executive, Prestige – which vary in terms of the coverage you want. However, common benefits across all three plans include repairs at FWD's premium workshops that comes with extended workmanship guarantee until your car turns 10, coverage in West Malaysia and parts of Thailand, 24-hour roadside assistance in case of a breakdown and legal liability cover if you accidentally hurt someone or damage their property.
Also, (touch wood again), if either parents die or are permanently disabled in an accident, FWD will provide up to $500,000 for surviving children.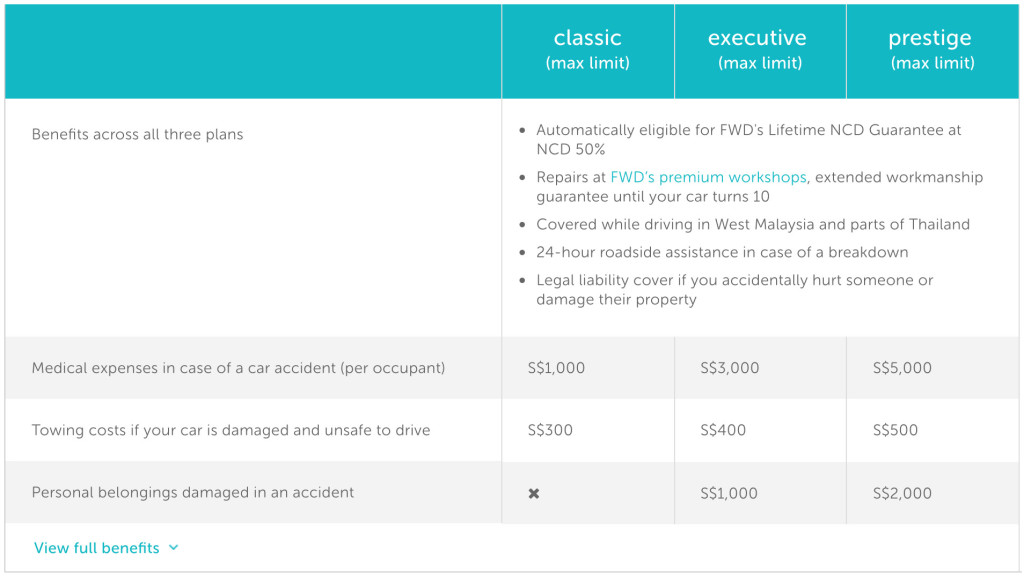 You can check out the full benefits of all three plans here.
When it comes to insurance, we often go for the cheapest and most convenient option. Most of the time, we just blindly renew our policy from the previous year because we are too lazy to go around and search for quotes.
FWD Insurance understands this, thus they have made the process much quicker.
All you need to do is fill out these key information details and you get a quote in under 60 seconds.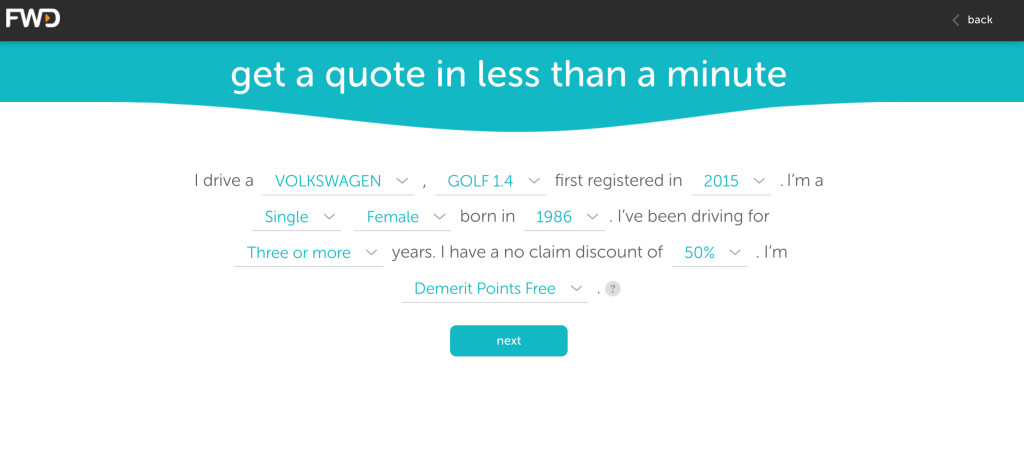 You don't need to wait for an agent to call back with a quote and there are no more lengthy forms with lots and lots of words that you usually just chuck aside.
FWD Insurance is new to Singapore, starting its direct-to-consumer business in September. It offers motor, travel, personal accident and direct-term life policies. One interesting thing about their travel insurance is how policyholders can submit claims via WhatsApp. How cool is that!
So for example, if your flight is delayed, you can just use your phone to take a photo of your boarding pass and send it to FWD through WhatsApp for them to process your claim. It's as simple as that; instead of having to come back to Singapore and fill out forms before submitting and waiting for approval.
Essentially, FWD is trying to change the way insurance has been traditionally, to make processes easier and more convenient for customers.
FWD Insurance Singapore is part of FWD Group, the insurance arm of investment group Pacific Century Group chaired by Hong Kong businessman Richard Li.
PROMOTION
You can now enjoy a 10% discount on all FWD insurance products with this promo code – FWDHi10. Valid till 31 January 2017.
*This post is sponsored by FWD.