3x Middleweight World Champion and MMA superstar Rich Franklin talks about juicing or blending your foods to accomplish your nutritional needs
Text by Rich Franklin, photos by Cheryl Tay
I eat for fuel, not taste.
How did I arrive at such a nutritional philosophy? I took a nutritional class as a high school elective credit, where I tracked my nutrition for three days and evaluated my eating habits. When I realised just how bad my eating habits were, I decided to make a change.
For lunch the following day and from that point onwards, I skipped the dessert I always bought and switched my chocolate milk to white milk. It was a small change, but a conscious one nonetheless.
Fast forward many years later, I weigh my food, track all my macronutrients, have sampled nearly every supplement on the market and have attempted every nutritional trick you can think of.
Initially my concern was gaining muscle, which translated to athletic performance as I began to compete. After I turned 30, my nutritional focus was recovery. I needed a way to maximise the vitamins and minerals I consumed in a day as the body needs to heal from the inside out on a cellular level.
Thus, juicing or blending was the easiest way to accomplish such nutritional needs. Every morning I have a blended 'juice' with my breakfast. (Note that I drink it with my breakfast and not as my breakfast.)
In its most simplistic form, my morning drink contains as many greens as possible with a pinch of ginger root and some fruit. I love grapefruit – something my mom introduced me to in my childhood – so that is what I usually add. However, grapefruit is bitter and does not have much sugar, so it may not work for everyone.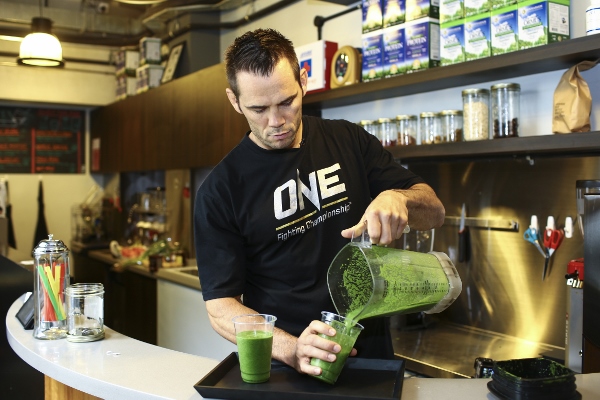 I recommend those new to juicing or blending to follow my basic recipe for a morning drink with greens for breakfast.
1. Put 1-2 cups of cold water or adjust according to how thick you want your juice to be.
2. Use a variety of greens, such as kale, mint, parsley or spinach.
a. I usually start with 1-2 handfuls of spinach.
b. Parsley is good for detoxification but no more than a handful, otherwise it might change the taste profile of the juice.
c. Mint has great detox properties too and it has a sweet flavour so it fools your palate into thinking you are eating something sweeter than you are.
3. Add a bit of ginger – it's an antioxidant and good for anti-inflammation. Be careful with the amount of ginger you use here (knuckle-sized would be good).
4. Final ingredient that goes into this morning greens drink is a fruit and you can put in whatever fruit you like. As mentioned, I use grapefruit but you can go for something sweeter like pineapple, bananas or both.
Put as much fruit in as necessary to make it palatable. It is better to get your vegetables with some excess fruit sugar, than no vegetables at all. As time passes, slowly reduce the amount of fruit you add to your drink.
5. Blend and drink.
You don't have to use the same ingredients every day as long as you follow the general guidelines I gave. Although my recipe is not for the faint-hearted, you have the ability to manipulate it to accommodate your taste buds.
The beauty of juicing is how it will still maintain the vitamin and mineral content of the juice without the pulp. I prefer blending as opposed to juicing because it retains all the pulp of the fruit and vegetable, plus the machine is easier to clean. Yes, there is some laziness to this method, but it allows me to consume all my fruits and vegetables needed in one day without having to chew it.
My advice is simple – never sacrifice taste for nutrition. Any successful nutritional plan satisfies two criteria: convenience and taste. Blending your fruits and vegetables offers those exact benefits.
Once you have developed a system, you will realise how quick it is to make a blended juice in the morning and drink it. Save the chewing for another meal! Very few juice companies, like ZeLin (the one I co-own), put painstaking effort into all the variables that can taint the nutritional profile of a juice. Therefore I prefer to make my own to keep it as fresh as possible.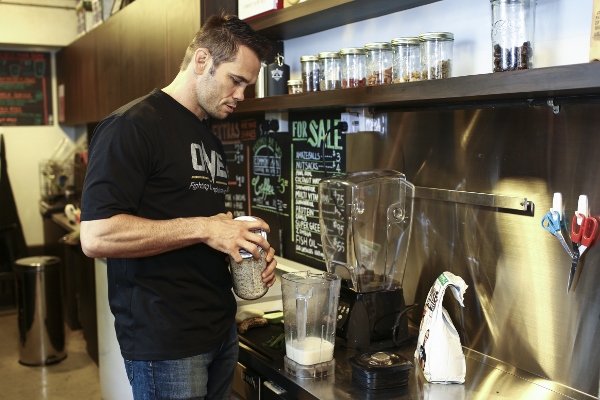 SPECIAL SMOOTHIE RECIPE!
If the greens drink is too much for you, Rich has a special smoothie recipe from his ZeLin brand that you can follow for a healthy sweet treat!
MINT CHIP
• 300ml coconut milk/almond milk
• 1.5 bananas
• 1 tbsp cacao powder
• 1 date, pitted
• 10 mint leaves
• 1 tsp cacao nibs/almonds
*This was first published in FHM Singapore and reproduced with permission.