Sometimes, sometimes I do daydream of fighting; like getting into a mixed martial arts (MMA) cage and displaying an arsenal of multi-faceted fighting skills. HA, sadly I possess none of that except maybe a few jabs and crosses with a few kicks or knees.
So, you can imagine how envious I am of these five hottest female fighters in Asian MMA. They don't care about breaking their nails, aren't afraid of their face getting scarred and will not hesitate to break your arm or leg if you go up against them in the cage.
Now, who's with me? That's my kind of girl! 😉 GOOD NEWS – they are mostly single!!!
[Get the full story in the November issue of FHM Singapore on shelves NOW.]
1) KIRSTIE GANNAWAY 
Not surprising that she tops this list – after all, Kirstie topped my list of hottest fitness babes in Singapore.
Let's be frank here. If I didn't tell you she's an MMA fighter, would you have guessed so? No no, I'm not downplaying or discounting her skills, but rather, I am full of admiration at how the 23-year-old Australasian manages to retain her femininity while dishing out a mean game in the cage.
But even in a bikini, there is no mistaking Kirstie with any of the Ring Girls because she is made to fight and when she dons those ONE Fighting Championship (ONE FC) gloves, I'm pretty sure she will leave a lasting impression on her pro MMA debut in Singapore on 7 November at ONE FC: BATTLE OF LIONS – in more ways than one.
Hailing from the prestigious Evolve Fight Team, she is the only rose among the thorns as they bash through their rigorous daily world-class training. Revealing she was a tomboy when she was younger (no way, I'm not buying that), Kirstie got interested in boxing when her elder brother competed at the amateur level and that's how she started.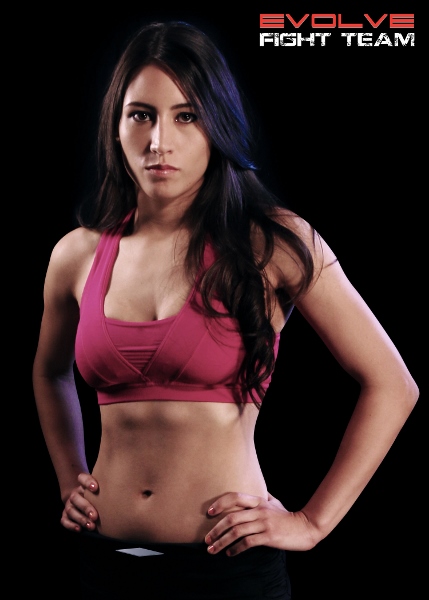 STATS
Age: 23
DOB: 28 December 1990
Nationality: Singaporean
Height: 165cm
Fighting out of: Evolve MMA
Status: Attached
TALK TO HER!
Facebook: fb.com/kirstie.gannaway
Instagram: @KirstieGannaway
Twitter: @KirstieGannaway
2) ANN OSMAN
Easily the most high-profile female fighter in Asia at the moment, don't be fooled by Ann Osman's sweet demeanour. Underneath that saccharine smile and girly cover is a ferocious combatant who will take you down faster than you can catch your breath, as witnessed in her fight against Filipino-American world boxing champion Ana Julaton in Dubai.
Always remembered as the first female professional MMA fighter from Malaysia, Sabah born-and-bred Ann, 28, is also an extreme adventure lover but retains a very girly side. A pair of heels is never far from her and she takes pride in getting dolled up.
The good news for guys out there: Ann is SINGLE. But first, you have to captivate her with a winning smile. Here's a tip for you too – Ann's idea of a fun date is to take her to watch a 'live' fight and then discuss it over dinner.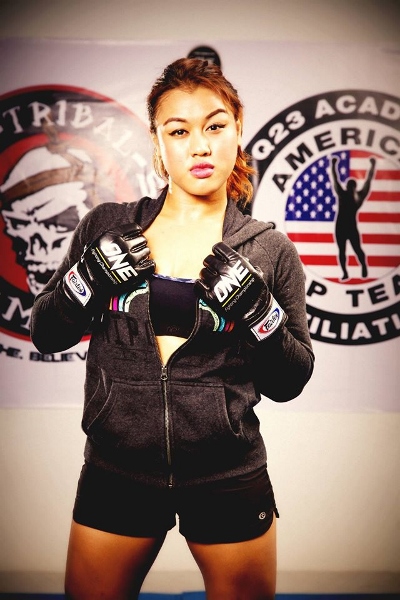 Photo: Rip Curl Malaysia
STATS
Age: 28
Nickname: Athena
DOB: 19 June 1986
Nationality: Malaysian
Height: 160cm
Fighting out of: Borneo Tribal Squad
Professional MMA record: 1-1
Status: Single
TALK TO HER!
Facebook: fb.com/AnnAthenaOsman
Instagram: @AnnOsman
3) SONG GA-YEON 
If this baby-faced apple pie does not melt your heart, then you shouldn't even be reading this article. Song Ga-Yeon is all of 19 years old and has a story worth telling a million times. She was first known in the MMA scene as South Korean MMA promotion Road FC's ring girl, where she paraded round the cage with little cloth on to the cat calls and wolf whistles of the crowd.
Fast forward a few months and she is on the inside of the same cage, making her MMA debut in August in the Road FC cage. A legit fighter she is, Song smashed her opponent Emi Yamamoto in 2:23 minutes of the first round with a barrage of punches.
What?! Yes, this is the story of ring girl-turned-MMA fighter Song.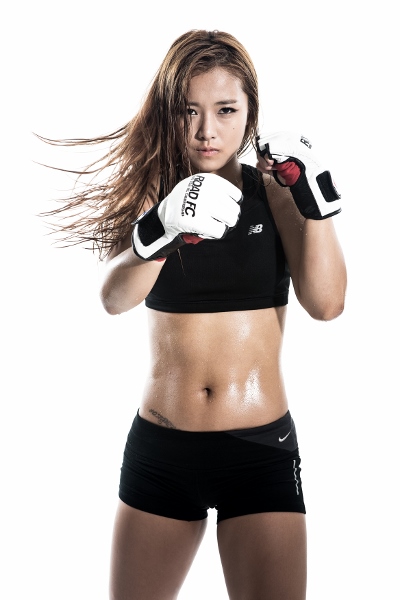 Photo: Road FC
STATS
Age: 19
DOB: 28 December 1994
Nationality: South Korean
Height: 157cm
Fighting out of: Team One
Professional MMA record: 1-0
Status: Unknown
TALK TO HER!
Facebook: fb.com/SongGaYeon
Instagram: @SongKaYeoun
4) IRINA MAZEPA
This Russian beauty almost made it to Cirque du Soleil (yes that awesome circus) when an opportunity came for her to compete in kickboxing came about. Uh huh, so the 31-year-old went on to train in that discipline and became the K-1 Super Featherweight World Champion in 2012. Hang on, Irina is also a five-time Wushu world champion where she won three gold medals at the 2008 WTKA World Championship & Martial Marathon.
Also skilled in boxing and Muay Thai, Irina was to make her professional MMA debut at ONE FC: REIGN OF CHAMPIONS in Dubai against Ana, but unforeseen circumstances saw Ann step in instead. Well, I'm sure we will see her in the cage very soon.
I love how Irina thinks that a woman has to be ready to protect the important things in her life (such as a baby) and to her, a good way to learn to protect yourself is in the gym, but the best way to do it is in the ring. Legit.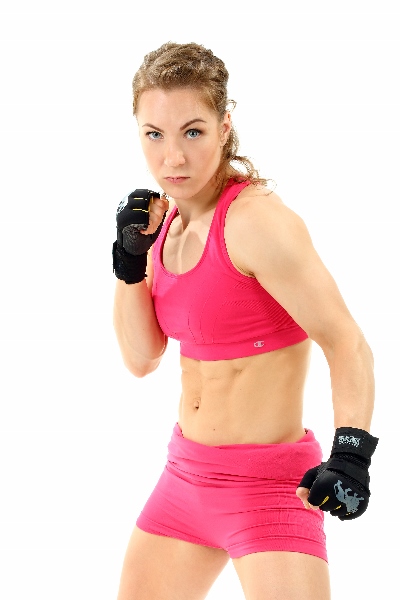 Photo: Irina Mazepa
STATS
Age: 31
DOB: 13 May 1983
Nationality: Russian
Height: 169cm
Fighting out of: Brizon Gym
Status: Unknown
5) ANA JULATON
Please, before you even think of approaching her, get her last name right. It's not JOO-LA-TON; it's pronounced HU-LA-TON. That's right – take a cue from her nickname 'The Hurricane'. Hurricane, Hulaton, get it?
American-born Filipino Ana Julaton, 34, is awesome. She is currently the only female athlete to be competing at the highest levels in both professional boxing and MMA, and her name belongs to the list of top pound-for-pound female boxers of this era – after all, she was the first woman to win the Super Bantamweight belts of the World Boxing Organisation (WBO) and International Boxing Association in 2009.
With a boxing record of 13-4-1, Ana won her MMA debut against Egyptian Aya Saeid Saber in May, but lost her second fight to Ann unfortunately. She will not let that defeat get to her I'm sure and her global Filipino community will always be there to back her up, especially if and when she gets that ONE FC Flyweight World Championship belt around her waist one day to become ONE FC's first female champion.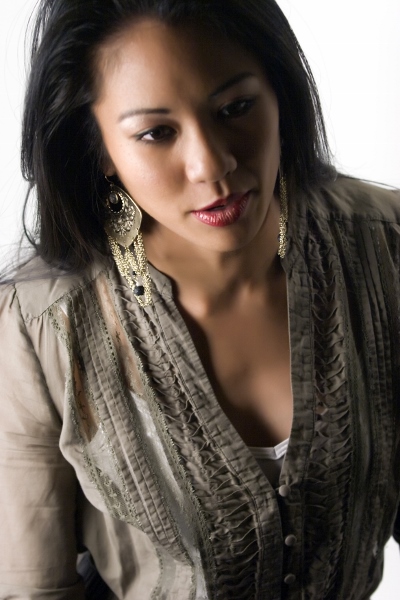 Photo: www.AnaJulaton.com
STATS
Age: 34
Nickname: The Hurricane
DOB: 5 July 1980
Nationality: Filipino-American
Height: 165cm
Fighting out of: Team Julaton
Professional MMA record: 1-1
Status: Single (but married to fighting)
TALK TO HER!
Website: www.AnaJulaton.com
Facebook: fb.com/AnaJulatonOfficial
Instagram: @AnaJulaton
Twitter: @AnaJulaton
Cheryl Tay (@cheryltay11)
A journalist, photographer, blogger, social media addict and fitness freak, Cheryl started writing about cars and motorsports, before moving into fitness and most recently is building her passion in the rapidly-growing sport of MMA. You often see her work on Yahoo! Sports, FHM, Insing, Fitness Sutra, The Straits Times and more, otherwise she is probably somewhere doing deadlifts or squats, swinging some kettlebells, or trying not to trip over her bright pink shoelaces when she runs.