I know of friends who have multiple gym memberships; for example, one for yoga, one for martial arts and one for a general gym. This is not only costly, but there's a lot of commitment involved too. There's a solution to that now though, with the emerging of a new trend where you just need one membership and you can have access to a myriad of gyms and studios.
Passport Asia is a fitness app provides the ability to build your unique fitness regime through access to 200 (and counting) gyms and studios, offering 40,000 classes across Singapore with just one membership (now at a promo price of only S$99 a month).
The app has a GPS feature so you can search for the type of classes you want to do at the time you prefer at a location convenient with you. Also, it is easier to get your friends to work out with you now instead of having to get them to sign up at the same gym as you.
Even for the hardcore gym-goers like me who are loyal to a particular gym (I train at Solitude of Strength mainly), Passport Asia comes in very handy for me as I can just plan my fitness regime around my fixed training routine. I can go for yoga when I need to stretch out my muscles or try out a new activity every month, such as Stand-up Paddle or Parkour! There are activities such as Paintball or Light Sabre Fighting which you can organise for gatherings with friends.
Here are 8 reasons why you should use Passport Asia to build your ideal fitness regime:
1) Fitness at your fingertips
Passport Asia is the only one of its kind in Singapore that comes in the form of an app. This makes it very convenient because you can whip your smartphone out anytime and book a class.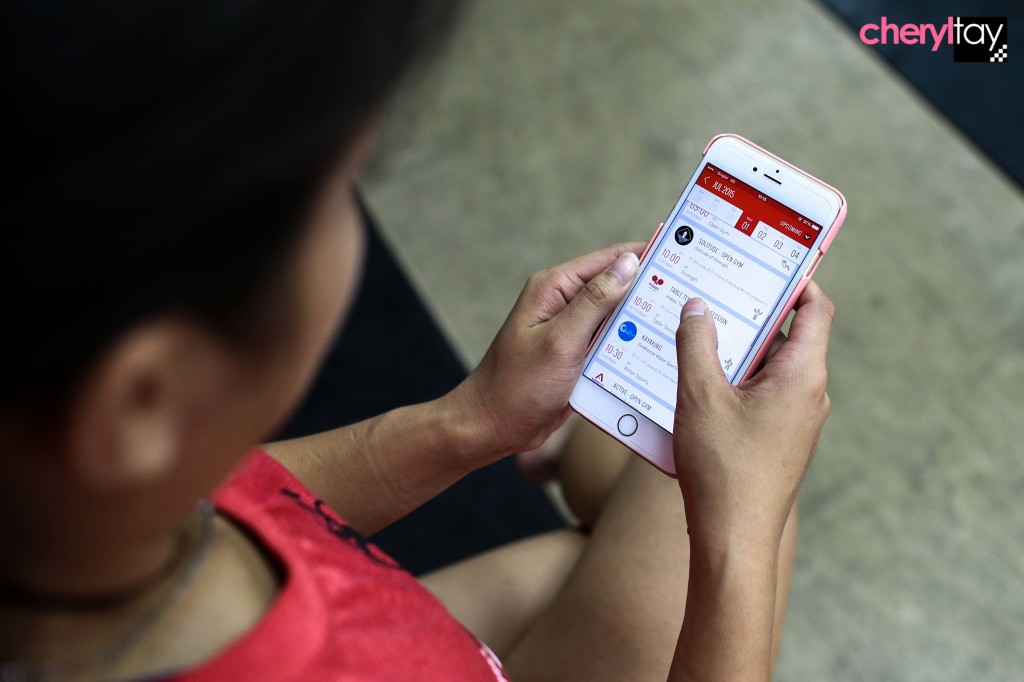 2) Easy usage of app
The app is very straightforward to use. You can browse the various categories from its landing page, or you can customise your search and sort by date (classes available for the day), by specific type of activities (eg. water sports, strength, skating, spin, boot camp, golf, baseball, CrossFit, dance etc.) or by location.
3) Affordable membership rates
The monthly membership rate is at a promo price of S$99 and it is renewable on a monthly basis via the app. This is just one price that gives you access to 200 gyms and studios.
4) Wide range of classes 
There is a huge range of classes and activities that you can explore, from common ones like yoga, Pilates, CrossFit, bootcamps to interesting ones like Light Saber Fighting, Paintball, SurfsetX, Bossaball and even pre-natal classes.
5) Work out anywhere at your convenience
Using the GPS-based feature, you can search for gyms and studios near your home or office. Or if you have a string of appointments in a certain area for the day (say, in Jurong) and you want to squeeze a workout in, just use Passport Asia and find a class there.
6) Working out with friends made easy
Working out with friends is fun but it's hard when everyone holds different gym memberships. With Passport Asia though, you can just choose a class together and not worry about needing to sign up at each other's gyms.
7) Opportunity to try something new every day
Take your time to explore the app and browse through the different activities you can book. You might find something new which interests you!
8) Suits your fitness needs at any point
When we sign up for memberships, we are usually tied down to a couple of months, or even years, because it's cheaper. If you are sure that this is something you want to do for a long time then that's fine. However, sometimes we lose interest or we just want to do something new, but we are tied down by our multi-year memberships. With Passport Asia, you have the flexibility of choosing what you feel like doing for that period.
Check out the Passport Asia Facebook page for the latest updates and promotions!
*This post is brought to you by Passport Asia.