The engine of your car is like the heart of a human body – it's the driving force (pun intended) behind your vehicle and if it fails, your car is immediately useless. The gearbox in the car is also essential; it transfers the power from the engine to the wheels so your vehicle can move.
Hence, I cannot rightfully emphasise how important it is to take care of these two extremely vital components of the car. Bringing your car for regular servicing is the first step, but now that we are keeping our cars longer on the roads due to the high prices, we should start paying more attention to them. especially the engine and gearbox. Nothing in your car costs more than these two parts.
General vehicle workshops will know how to handle your engine and gearbox, but only one company provides warranty for engine and gearbox. Exclusive Automobile Club (EAC) is a one-stop shop which offers vehicle servicing and repair, engine and gearbox warranty, roadside assistance and car rental.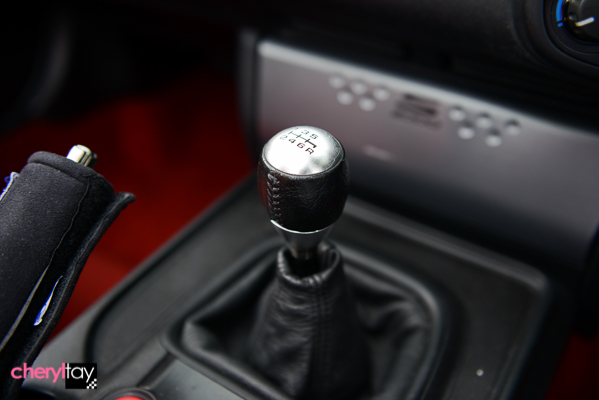 Why is this warranty crucial?
In the unfortunate situation that your engine and gearbox malfunction beyond repair, EAC will repair or replace them based on their expert consultants' advice at no charge under their warranty.
Who should be buying this engine and gearbox warranty?
If you have just bought a secondhand car
If your authorised dealer warranty just expired
If you are not changing your car anytime soon
If you are worried about high repair costs as your car ages
How do you go about purchasing this warranty?
Contact EAC friendly sales person.
Send your car for a free-of-charge inspection at their authorised workshop.
Once your vehicle is deemed to be in satisfactory condition, you will be issued warranty coverage with immediate effect.
From as low as $50 per month, you can choose to protect your engine and gearbox for a year with an option to extend for the next year. Upon purchasing this warranty, you will also be given free EAC membership, which includes services such as emergency car towing and tyre recovery with no additional surcharges, as well as discounts on car rental and car servicing.
CONTEST
EAC is giving two lucky winners a free one-year Engine & Gearbox warranty, as well as two basic car servicing packages each (change of engine oil, oil filter and top up of aircon gas)!
To participate in the contest, LIKE the EAC Facebook page, LIKE and SHARE this flyer (see below) from their page, then post a comment with your car model and date of registration of vehicle.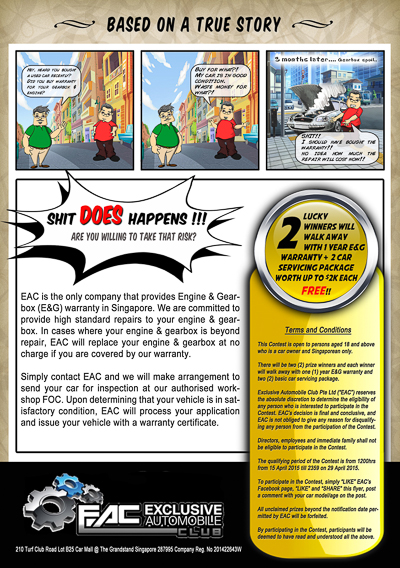 EAC is located at 210 Turf Club Road, Carmart @ The Grandstand, Lot B25. For direct enquiries, you can speak to Mr Frankie Lee at 97575401.
Meanwhile, quote "CHERYL TAY" to enjoy a 10% cashback when you purchase the Engine & Gearbox warranty.
More of EAC at: Website | Facebook | Instagram
*This is a sponsored post.