I enjoyed interviewing Scuderia Toro Rosso's Daniel Ricciardo last year, amused by how excited he was about getting a drive in Formula One after having climbed the ranks of the Red Bull Junior team. Within the span of one year, things have changed rather drastically. The 24-year-old Australian has been promoted to championship-winning sister team Red Bull Racing next year, as Mark Webber's replacement.
Ricciardo has not finished on the podium yet, but he has shown enough potential to take the seat alongside three-time world champion Sebastian Vettel. Ricciardo was signed on for the Red Bull Junior Team in 2008, where he raced with the Formula Renault 2.0. A year later, he won the British Formula 3 championship and was chosen by Red Bull Racing to participate in the end-of-season rookie test at Jerez, Spain.
He was then selected as test and reserve driver for Red Bull Racing and Toro Rosso in 2010, while simultaneously racing the World Series by Renault 3.5 Championship for the next two years. Ricciardo was driving Friday practice sessions for Toro Rosso when mid-way through the season, he was promoted to main driver with the HRT team. In December 2011, he was named as a full-time Toro Rosso driver for 2012.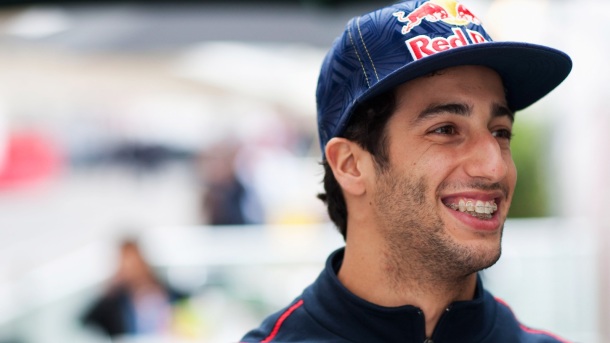 He was still as excited and smiley when I spoke to him this year, but there was a slight difference. I felt there was an added maturity to him. Here's what he said:Q: Is it too soon to get into a top team?
A: For me it was just the sooner the better; I don't want to race F1 when I have grey hair! Now is the perfect time and I don't think it's too soon – I am ready for Red Bull Racing. I have been hoping of course and it's hard to know or predict what would happen. I just knew that if I did really well, the opportunity would eventually come, so I was hoping.
Q: Is there any pressure being paired up with a multiple world champion?
A: There is no more pressure than I have had before. People try and tell me there's more pressure but I'm still driving a Formula One car. The faster the car, hopefully the easier it is, but we'll see, hopefully it will be ok.
Q: Where were you and what were you doing when you got the official confirmation?
A: I was practising on the simulator at Milton Keynes when I got called to Christian Horner's (Red Bull Racing's team principal) office. When I was told that Christian wanted to see me, I thought maybe this is what I wanted to hear and yeah, it was!
Q: Who were the first people you called?
A: My parents – they were speechless but really excited.
Q: Any celebration:
A: Obviously, I'm very happy but there's nothing much to celebrate. It's a great opportunity and I need to make the most of it. Until next year, hopefully when the good results come, I'll save the celebration.
Q: As a product of the Red Bull Junior programme, how has it worked for you?
A: The Red Bull Junior programme worked perfectly for me. They kept putting me through the categories and they kept pushing me with top teams in very competitive series, to make sure I was fighting for victories. Hence, I learnt to win from a young age, to deal with the pressures, and it has now worked well and paid off. The support has been very good; though I've had to repay them with the results.
Without the support of Red Bull, I may not have been here now. This sport is a little bit cruel… you need someone to help you get started, unlike tennis where you can just pick up a racket and play. When I was signed on by Red Bull, I knew then that Formula One was possible if I kept winning everything they put me in. Each year I just try to win or try to do the best I can. Hopefully it is good enough for them and they'll keep pushing me and pushing me to see how far I can go.
Q: How do you deal with the expectations?
A: I believe in always keeping calm. There have been occasions where after bad races, I would get a call from Red Bull asking what happened and how they expected better from me. Everyone has bad days and you just have to try and bounce back from that and try to remember your good days. Tell yourself that if you won a race one month ago, you haven't forgotten how to drive and maybe the circumstances weren't right on that day; next time everything will be better.
Q: Are you itching to get into the Red Bull Racing cockpit?
A: No, I don't wish time will go faster. Now is a really good time to make sure I really learn as much as I can at Toro Rosso, to prepare me as best as possible for next year. I'm just trying to take each day as they come and trying to learn each time I'm at the track. I'll be a bit sad to leave the team, but I'm only moving next door, so it's OK! With major changes to the technical regulations next year, there will be many more unknowns but I hope for a good car so that I can be pushing Seb and have us both on the podium.
Good luck Daniel!