There's nothing like hydrating yourself with a bottle of cold, refreshing coconut water after a hard workout.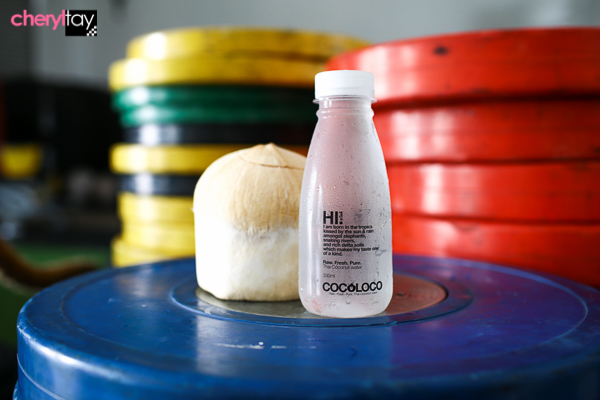 The benefits of coconut water are far-reaching – you probably already read somewhere that coconut water boosts:
Weight loss
Good skin
Digestion
Hydration
It is not difficult to be convinced of how good coconut water is for us, but to ensure that you are getting the best out of it, you need to be taking raw, unadulterated, unpasteurised coconut water. Yes, drinking straight from the coconut is ideal, but you don't get that everywhere. Plus you have to crack the coconut open by yourself.
There are many brands of coconut water out there in the market, packaged in different ways, but one homegrown brand that I recommend is Cocoloco. They use the sweet Thai coconuts which are only cracked upon receiving your order online – nothing canned, nothing in a packet – and repackaged into these cute bottles for delivery to you.
Cocoloco co-owner Kelvin Ang has been in the coconut trade for the last 15 years, where his family business Siam Coconut distributes fresh Thai coconuts locally to all the Thai restaurants and hotels. It was only natural that he would pick up the coconut water trend and Cocoloco is managed between his partner Jun and him.
"We saw a gap in the market when coconut water started getting all this attention from the US markets with lots of articles talking about the health benefits. We tried and studied all the brands out there and we realised the quality and taste doesn't come quite close to the real coconut," said Jun.
"Thus, we decided to start Cocoloco and we aspire to be the best, highest quality bottled coconut water out there in the market – essentially the next best thing to an actual coconut."
3 things that Cocoloco prides itself on:
RAW – This means unpasteurised so the coconut water is cold processed and not heat treated, which helps to preserve nutrients and taste.
FRESH – Nothing made in advance and shipped over from some factory, but coconut water that is individually hand bottled in Singapore with the freshest coconuts trucked in daily from Thailand.
PURE –  100% pure with no added sugar, no added preservatives or flavouring.
I've tried different brands of coconut water and there's genuinely something special about the taste of Cocoloco. It seems sweeter than others because of the Thai coconut, but it's all natural with no added sugar. Do note though, because it is pure and so fresh, the shelf life of Cocoloco is short – just two days when kept refrigerated!
You can order Cocoloco online from their website.
*Cocoloco is a supporting partner of ELITE 2015.