TomTom, provider of in-car navigation products, recently released the results of its second study on travelling times of 15 Singapore suburbs during peak-hour traffic. Results showed that Bukit Timah was the overall worst suburb for peak-hour commute. Two years ago in TomTom's first similar study, it was Clementi and Tampines that had the worst peak-hour commute.
Travel times from the suburbs were measured to and from a central point – Raffles Place, Singapore, and travel times in the two busiest periods between 7-9am and 5-7pm were compared with the quietest period from 1-5am.
In a comparison of peak and off-peak travel times, Bukit Timah recorded a 111 per cent increase in travel times in the mornings and a 97 per cent increase in evening travel times. This is based on the percentage difference in travel time of 7-9am compared with 1-5am.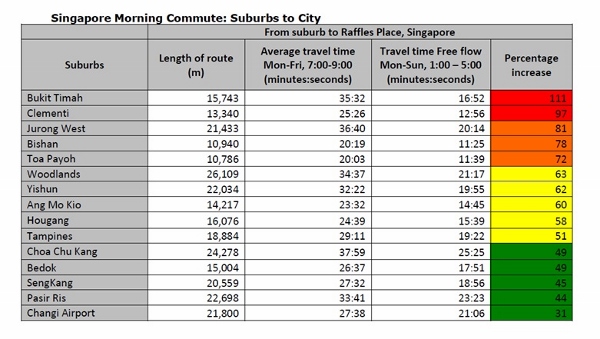 Clementi ranked in as the second worst suburb for morning commute, with a 97 per cent increase in travel time during peak-hours compared to free flow traffic. It then ranked the third worst suburb for evening commute with a 93 per cent increase in travel time.
Previously, Tampines ranked the worst for morning commute, but that has improved and it is now the 10th worst for morning commute. However, while it was ranked the best for evening commute, it has now been relegated to 6th worst for evening commute. The drop in ranking for evening commute could be due road developments in the area.
The top three areas least affected by morning peak-hour congestion are Changi Airport, Pasir Ris and Sengkang, where travel times to the city increased 31, 44 and 45 per cent respectively during rush hours compared to times when traffic was free-flowing. These same three places are also least affected by evening commute, although the percentage increase is higher than that in the morning.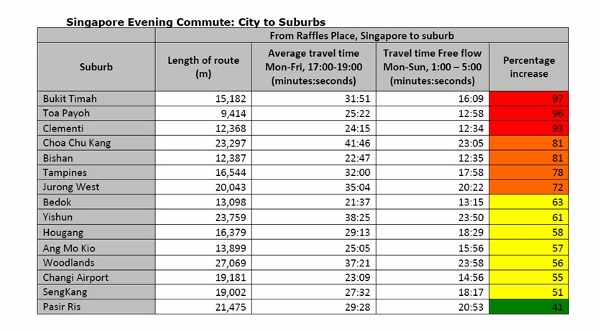 "TomTom has the world's biggest database of real travel times. Our unique IQ Routes™ technology analyses this data and calculate the optimal route to provide TomTom drivers the fastest routes and the most accurate travel times. With the roads in Singapore becoming increasing congested, TomTom's world-class GPS products can help drivers get to their destinations faster. Significantly, when used on a large scale, it has the potential to ease traffic congestion by routing drivers away from traffic hot spots" said said Chris Kearney, Vice President, TomTom Asia Pacific.