Each time we test drive a vehicle with off-road capabilities, we find ourselves saying there is hardly any chance in Singapore to test these capabilities properly. It's true – Singapore is such an urbanised city; unless you take your Sports Utility Vehicle (SUV) or 4X4 across the Causeway for some serious jungle adventure.
The people at BMW Asia heard us well and noticed how we never get to test drive such vehicles properly, so they arranged for a trip to Mount Bromo in Indonesia where members of the media got to experience the new BMW X5 xDrive35i in its element – in the mountains.
The X5 xDrive35i is powered by a three-litre inline-six engine that is capable of 306bhp and 400Nm at its max, giving it a top speed of 235km/h and a century sprint time of 6.5 seconds. Mount Bromo is a four-drive from Surabaya so we had plenty of time to get to know the car well. We drove in pairs, taking turns at the wheel after two hours of driving each.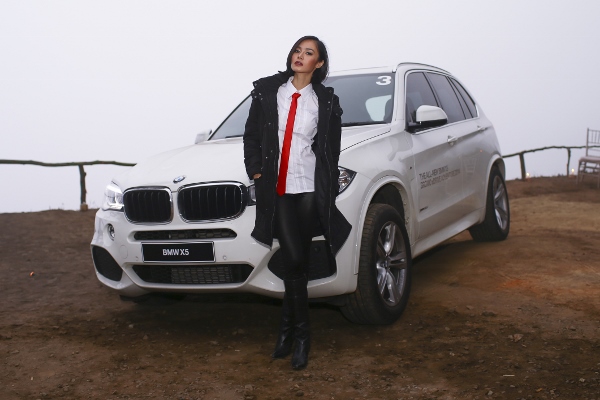 The traffic in Surabaya was pretty bad but being high up in the X5 helped, so we could see far ahead. Also, at times when we needed to, the X5 was able to pull away easily with its peak torque kicking in from 1,200 all the way to 5,000rpm. As both a driver and a passenger, I appreciated the comfort of the X5 cabin. Beneath its muscular frame, it offers a lush interior that can comfortably sit five.
Having proven its superiority in urban conditions and gained our fullest confidence in its abilities, the next part of the journey was an adventure at Mount Bromo with the X5.
An active volcano standing at 2,329 metres tall, Mount Bromo is part of the Bromo Tengger Semeru National Park spanning 800 square kilometres. Mount Bromo is easily distinguishable – it's the one with the top blown off and has white sulphurous smoke coming out of it. Sitting inside the huge Tengger caldera, Mount Bromo is surrounded by the Laut Pasir (Sea of Sand) of fine volcanic sand of a diameter of approximately 10km. Tourists flock there for its scenic landscapes and breathtaking views, and I was really excited!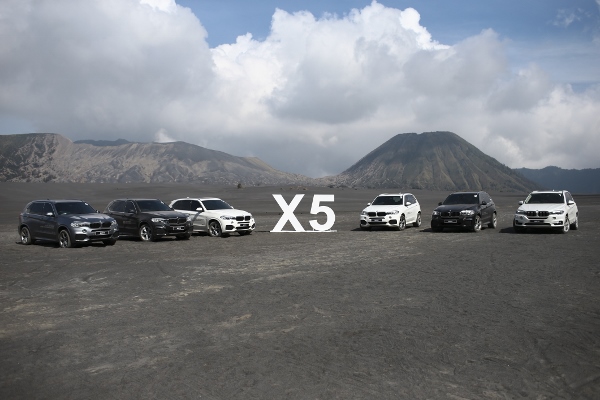 When we arrived in the vicinity of Mount Bromo, we drove to Java Banana Hotel, which is 2,000 metres above sea level at Wonotoro, Sukapura in Probolinggo. There are other guesthouses and hotels around Mount Bromo which you can put up at too. It is best to stay nearby like how we did, so that you don't have to wake up too early.
For us, we got up at 3am and left the hotel at 4am to make our way to Seruni, one of the popular spots that tourists go to catch the sunrise over Mount Bromo. Unfortunately for us, it was a foggy morning and we couldn't even catch a glimpse of Mount Bromo at sunrise. I was really looking forward to a mesmerising sunrise, but that just means I need to return to Mount Bromo another time.
We then spent the next couple of hours driving the X5 in the volcanic sand, getting to understand the car a lot more under different conditions. The soft ground did not compromise the abilities of the X5 and it powered on with ease in the fine sand.
The drive up and down the mountain was a breeze with the X5, thanks to its intelligent xDrive all-wheel drive system.
During normal driving, 60 per cent of power is sent to the rear axles, giving it a rear-wheel drive nature. But when we ran into extreme conditions, such as steep up- or downslopes, or slippery surfaces, the xDrive automatically directs up to 100 per cent of its drive forces to either the front or rear axle, so that we have the grip to handle the slippery surfaces or steep slopes.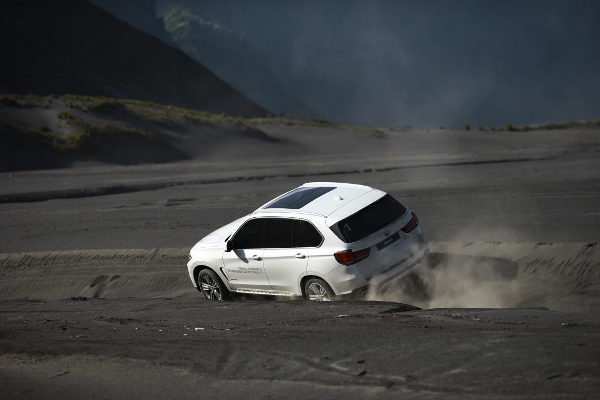 This was very important as the winding roads round the mountain can get quite tricky at certain points. The xDrive system also knows how to 'think ahead' for the driver. As you drive, it will study data such as speed, steering angle and torque output via the on-board electronics systems and help the driver prevent any oversteer or understeer.
For example, if the car senses any understeering, it will reduce power to the front axle and conversely, send more power to the front axle in an event of oversteering. This active redistribution of power helps to keep the vehicle stable and also gave me greater confidence in the car when taking on the mountainous terrain.
Not every car will be able to handle the pothole-filled roads and steep slopes, or the fine volcanic sand at Mount Bromo. The X5 showed its versatility and I enjoyed the drive both in the city, as well as out in the rough. Its xDrive system is constantly working to ensure that the driver gets optimum traction and stability at all times, including the least ideal driving conditions.
This trip allowed us to explore the X5's capabilities and I was certainly not disappointed. Such opportunities to take the car off road are few and I really appreciate this Mount Bromo adventure by BMW!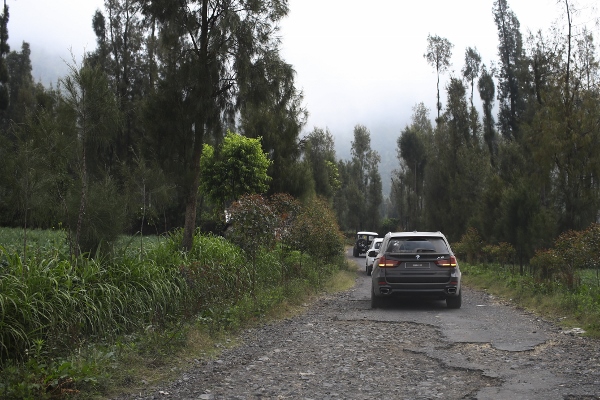 Travel tips
If you are thinking of visiting Mount Bromo, here are some tips to help you.
Best time to go: June to August where there is less rain. You might want to stay for a few nights at Mount Bromo, in case you don't get a spectacular sunrise the first day.
Getting there: From Singapore, take a direct flight to Juanda international airport in Surabaya. You can choose from Singapore Airlines, Silkair, Valuair, AirAsia, Tiger Air, Garuda Indonesia and Jetstar. Flight time is about two hours and 20 minutes.
Distance from the Surabaya airport to Mount Bromo national park is about 70km and it takes about four hours to drive this distance due to heavy traffic.
You can choose to stay at nearby towns like Probolinggo where backpackers usually share a transport to go up to Bromo Tengger Semeru National Park, or you can stay overnight at one of the hotels at Prigen, Tretes, so you can get to the crater rim in time for the sunrise.
Jeeps can be rented with a tour guide to bring you around. Ponies can also take you across the sea of sand to the bottom of the steep stairs that you can climb to get to the crater of Mount Bromo.
Clothing: It will be cold, around 14–18°C during the day and 6–10°C at night, so bring your jackets and long pants.