Our passenger cars need to be sent for inspections once every two years from the third year of ownership onwards. A convenient place I send my car in for inspection is at STA Inspection (STA) at Sin Ming, which happens to be near the workshop I send my car for servicing to.
It is important that we send our cars to reliable and trustworthy inspection centres. Why STA? Here are five reasons:
1)    Most trusted vehicle inspection service provider in Singapore
A leading provider of vehicle inspection related services for more than two decades, STA currently has two main inspection centres – one at Sin Ming Road and the other at Jalan Boon Lay. STA is licensed by the Singapore Land Transport Authority to conduct roadworthiness inspection for all types of motorised vehicles. 
2)    Comprehensive range of services
STA has established partnerships with professional service providers to offer a comprehensive range of services such as road tax renewal, motor insurance, accident reporting, in-car camera installation and more at one location for your convenience.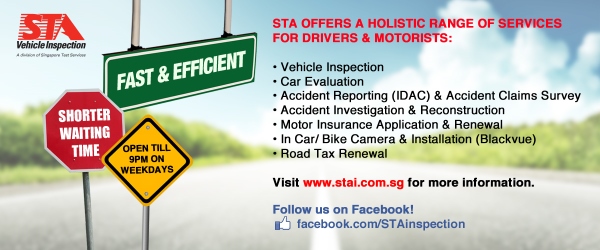 3)    Extended inspection hours at no extra cost
We all work too hard. Thus, STA has extended its operating hours to 9pm on weekdays. This applies to both their inspection centres at Jalan Boon Lay and Sin Ming Road.
4)    Shorter waiting times
STA ensures it uses the latest computerised inspection systems so that customers can enjoy a hassle-free, fast and efficient vehicle inspection process. STA has recently upgraded their centres with additional inspection lanes and equipment, so you can enjoy shorter waiting times.
5)    Be rewarded with prizes
From now till 13 December, STA is running an 'INSPECT & WIN' campaign. Send your car to STA for inspection and you can get sure-win prizes such as Bang & Olufsen, car wash or car servicing vouchers.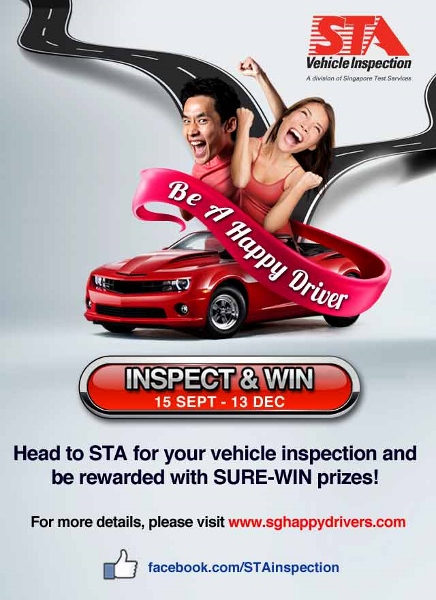 Drivers who send their cars in during the extended hours (6pm – 9pm) on weekdays are also eligible for the Grand Lucky Draw which includes prizes like the Bang & Olufsen Beolit12 Portable Sound System (worth $1,200). Visit www.sghappydrivers.com for more information.
You can also log onto the STA Inspection Facebook page and take part in their HAPPY-GO-LUCKY contest. All you have to do is guess the missing two numbers of the featured car plate and one lucky winner will win $20 petrol vouchers daily. If there is no winner, the prize will be snowballed to the next day. There is also a weekly mystery prize in store.
*This post is sponsored by STA.