By Deborah Rowe
They have crazy acting or hosting schedules, yet they make time to work out to keep in shape. How do they do it? Here are 12 fittest celebrities in Singapore to follow on Instagram:
1) Paul Foster  (@paulfosterrr)
If you question whether Paul Foster is one of the fittest celebrities in Singapore, you might want to think back to the time he was on the popular local drama Polo Boys. The 34-year-old actor and host played out his role perfectly, acting and looking the part impeccably.
Furthermore, Foster was the brand ambassador of True Fitness for a couple of years. A look at his Instagram page and you'll see several photos of him punching his weight at the gym. On top of his time at the gym, the former national rugby player also plays social mixed netball for the Singapore Cricket Club.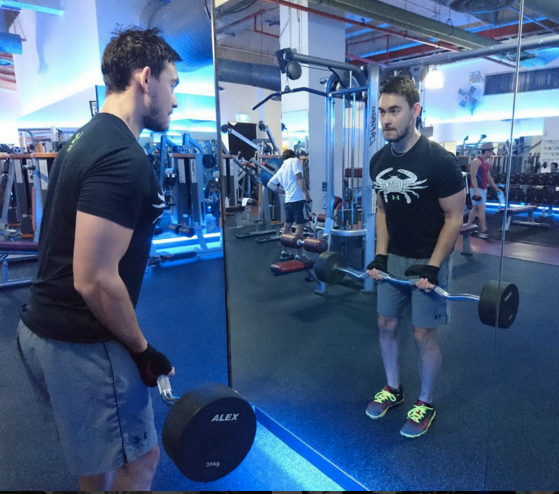 2) Allan Wu (@wulander)
Allan Wu is probably as fit as they come. The host of the Amazing Race: China is in his 40s, yet he'd probably put men half his age to shame with his impeccable physique.
Beyond just taking really good care of his own body, he also makes a conscientious effort to get his children to maintain an active lifestyle. The US-born TV host and actor is constantly posting pictures of him working out with his two children – Sage, 10, and son Jonas, nine, who are both involved with competitive sports in school.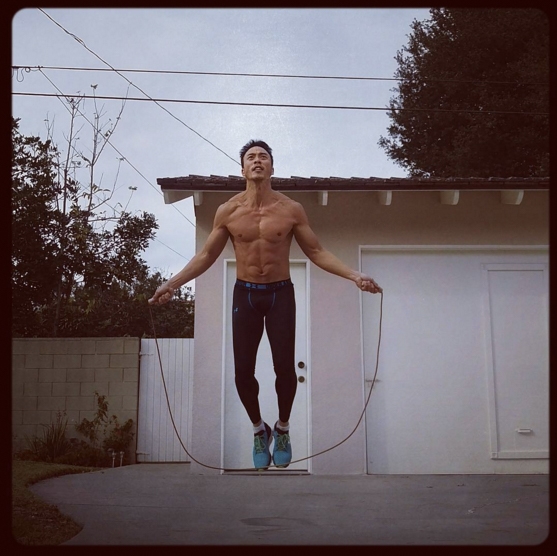 3) Romeo Tan (@romeotan)
Romeo Tan's claim to fame came about when he finished fourth in Mediacorp's "Star Search 2010". Beyond his good looks, the 30-year-old also has a great body, thanks to the time spent in the gym. You've definitely seen him and his washboard abs all over Singapore, as he was once the face of AbsTrim by Bioskin.
While you were probably stuffing your face during the festive period, Tan was busy hitting the weights at the gym, recently posting a photo of him performing bicep curls. It's no excuses to not work out for the amiable actor, who trains at 24-hour gym Anytime Fitness so he can fit in a workout at any time of the day.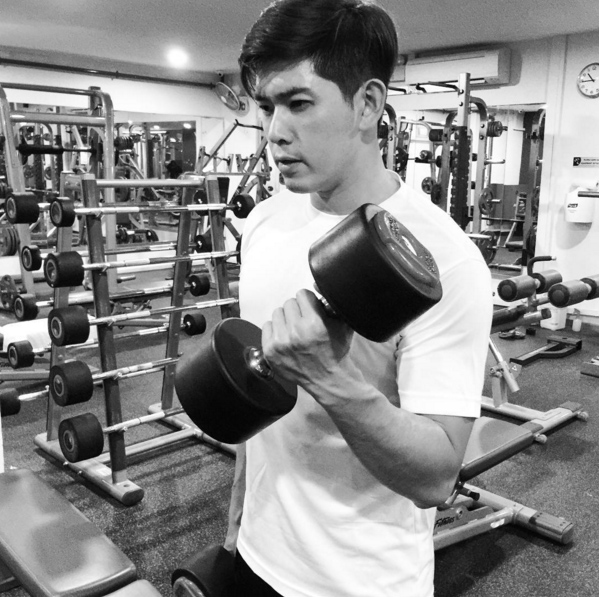 4) Allen Chen (@allen0613) 
Although the Taiwanese model-turned-actor is no longer based in Singapore, he unquestionably made a name for himself during his two-year acting stint here. His fans were able to enjoy the sight of his perfect abs when he starred as a mixed martial arts (MMA) fighter in local drama "Against the Tide".
It's no surprise that the actor has such a chiseled body, as he's a personal trainer, bodycombat instructor and a professional tap dancer. One look at his social media feed and you'll see several images and videos of Chen's extremely active lifestyle.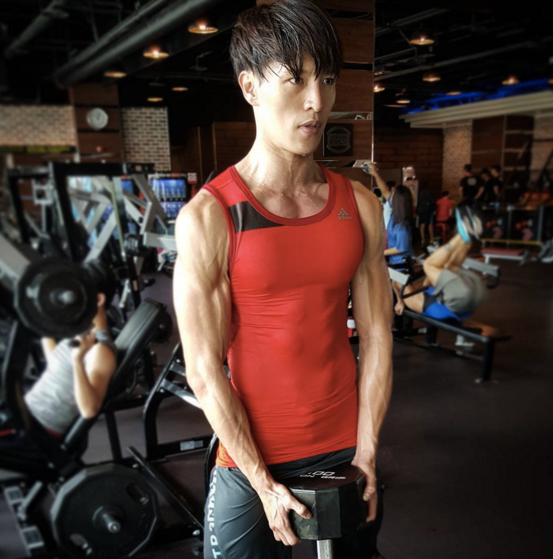 5) Darryl Yong (@darryl_yong)
With such a baby face, you'd find it hard to believe that Darryl Yong is actually 30. With his bulging biceps, you know the Channel 5 Tanglin actor definitely packs a punch. In order to maintain his lean physique, Yong put in hours at the gym and runs long distances. On top of that, he's involved in several sports from basketball to futsal.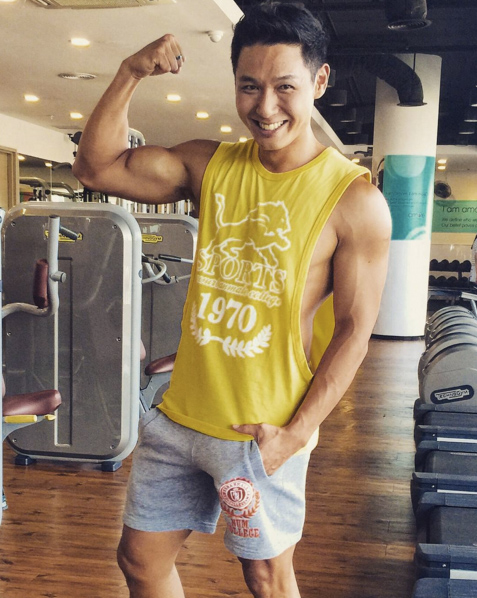 6) Daren Tan (@daren_tan)
One look at Daren Tan, and you'll immediately take notice of his huge guns and his dimples of course! The Mata Mata actor had to be in tip-top shape to take on the various stunt scenes, which involved a lot of running, jumping and kicking, during the second season of the local drama series.
The 32-year-old singer-actor admits that he's actually able to eat whatever he wants because of his raging metabolism. It's no wonder Tan manages to maintain his hot bod, having been listed amongst CLEO's 50 Most Eligible Bachelors before.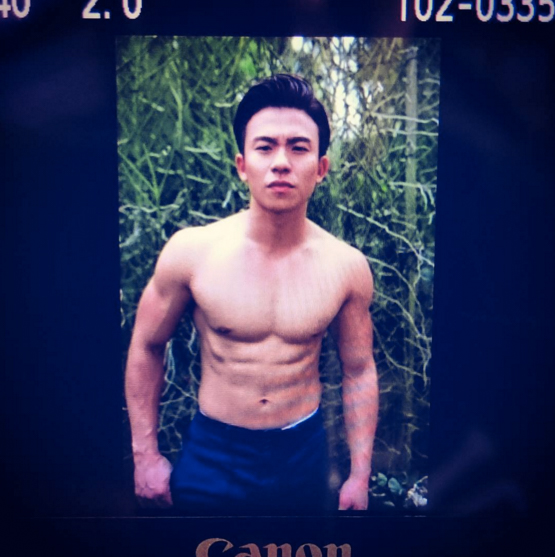 7) Zheng Ge Ping (@zhenggeping)
Looking at Zheng Ge Ping's incredible physique, you'd find it hard to believe he's a day past 30. Turns out, this 'hunk-cle' is actually 51! After being constantly asked as to how he keeps in such good shape despite his age, the former Taekwondo instructor decided to launch his very own book titled "Star Fitness", which tells of all his training and diet regimes that has helped him to date.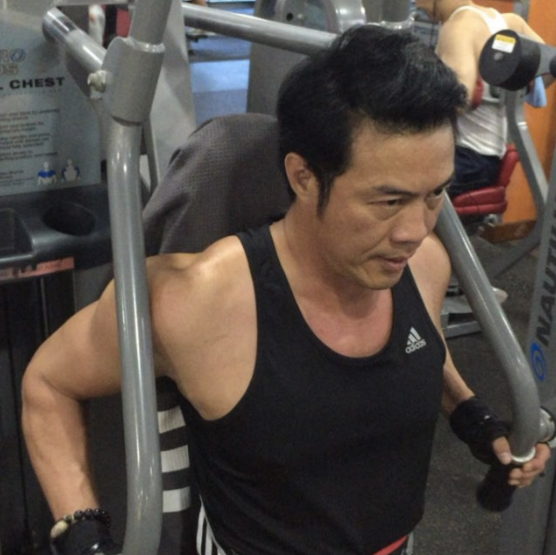 8) Wong Li Lin (@lilinwong) 
Best remembered for her role as Elaine Tay on local drama "Triple Nine", these days Wong spends her time as a host and speaker, and more importantly, being present for her two kids.
With her various responsibilities, Wong understands how hard it is to fit in a workout in one's busy schedule. That's why she created Loopz Fitness band in 2009 so that many will be able to enjoy easy and functional workouts with the help of the band.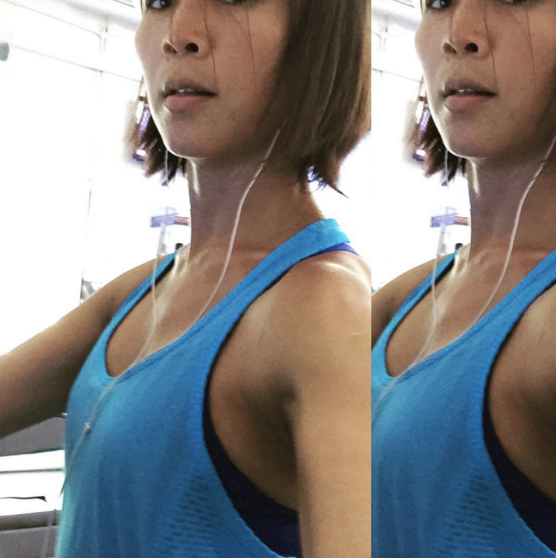 9) Jaymee Ong (@jaymeeong) 
Did you know that Jaymee Ong played a cameo role in the popular American romance action war film "Pearl Habour"? Also just last year, the Australian-Chinese model-actress was part of local filmmaker Kelvin Tong's film "The Faith of Anna Walters", starring alongside Matthew Settle and Elizabeth Rice.
Along with Paul Foster, you've most likely seen the 36-year-old actress-model's face plastered all around Singapore on the hundreds of True Fitness advertisements. This mother-of-two is a self-declared fitness freak that even made the effort to work out during her pregnancy. If that's not dedication, I don't know what is!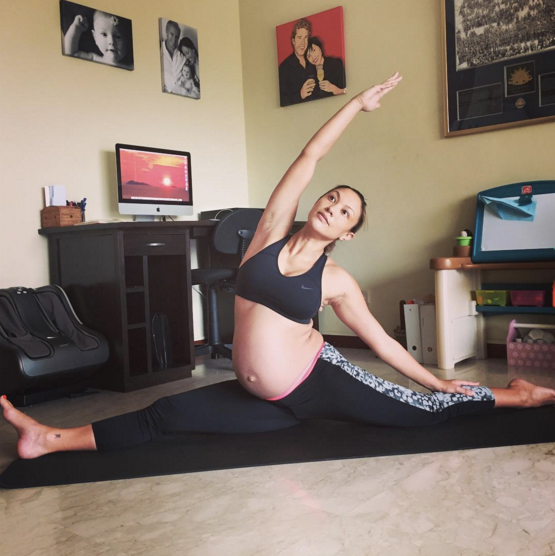 10) Jaime Teo  (@jmeteo)
Well, you probably wouldn't expect anything less of a former Miss Singapore Universe contestant right? Despite being the co-founder of popular cupcake chain Twelve Cupcakes and having a child, Teo still finds the time to put in a workout and maintain her svelte figure.
She constantly posts up images and videos of her home workouts where she dons just a sports bra and tights, revealing her toned abdominals.  From skipping, to dance workouts, to practicing yoga poses with her husband Daniel Ong and daughter Renee Ong, it's fair to say Teo is probably one of the fitter local female celebrities out there.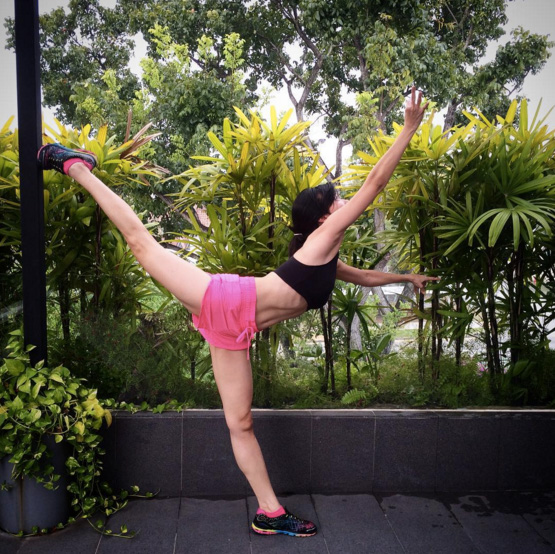 Photos are from their respective Instagram accounts.