He lost the World Championship in a manner he absolutely didn't want – Mercedes' Nico Rosberg started the Abu Dhabi Grand Prix (last race of the 2014 Formula 1 World Championships) in high hopes on pole, but lost the lead from the start and then unfortunately suffered from power failure, taking him out of contention completely.
However, he held on to the end and in spite of all the adversities. Although his team-mate Lewis Hamilton won, I think Rosberg is the bigger winner for the class act he delivered.
Here are the reasons why Rosberg is a class act:
1) He never gave up.
The German driver then had the option to retire from the race when his car was in lacklustre condition, but he never once wanted to give up and worked on bringing the car home even though he knew his title chances were long gone.
2) He has great sportsmanship and professionalism.
It is a huge bitter pill to swallow for Rosberg, but despite the devastating disappointment and punishing luck, he demonstrated class and sportsmanship. He went up to the winners' room (where the winners wait before going out to the podium) to congratulate his team-mate: "I said 'you deserved it'. It was a hearty situation."  [Ref: Nico Rosberg Q&A: Lewis did a better job than me]
Newly-crowned World Champion Hamilton added, "Rosberg came into the room and he was very professional. He said 'Fantastic, you drove really well.'"
3) He showed no outward bitterness or resentment.
It will take some time for everything to sink in for Rosberg, but he proved he was the bigger man: "I'm very disappointed. All in all, Lewis deserved to win the championship," Rosberg was quoted in reports. "What happened to me had no impact, it did not change anything so there is no point focusing on that."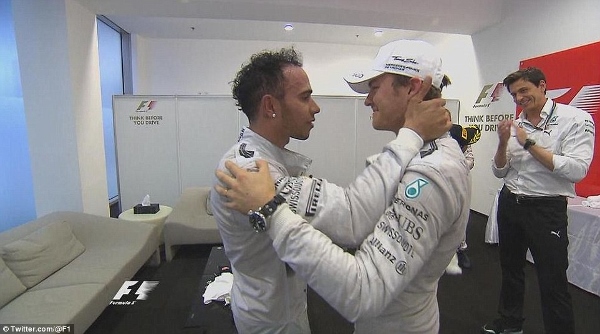 4) He never blamed anyone.
In the aftermath, Mercedes boss Toto Wolff felt the team had let Nico Rosberg down when reliability issues plagued the German's car again (remember Singapore?) and affected his abilities to fight for the title. However, not once did Rosberg blame the team in any way.
"I came very close and it is a pity it did not work out," Rosberg said. "I'm proud to have been here with the team. It's been very intense, a very special weekend for me with so much support."
Wolff was reported saying in hindsight, it was already tough for Rosberg to win the title after he lost the lead at the start, and thankfully it was not Hamilton's car that failed (and cost him the race and the championship). While that is not without rationality, I don't think it was fair to Rosberg still; the team is responsible for providing two reliable cars after all and in racing, you never know what may happen.
5) He accepts defeat.
He admits Hamilton is the better driver: "He (Lewis) did a little bit a better job than me in the races. Tiny bits that I need to find! He was the best driver on the grid this year – and it was a great battle between us. And that is what I am racing for: for such battles."
Rosberg was the first ever Formula 1 driver I interviewed – back in 2008 when I first started writing about the sport – thus he holds some sort of special significance to me as a driver. In all the times I have spoken to him, he has always been friendly and talking to me without airs. For example, he curiously questioned me about the plastic sticks in my ear piercings and the tiny pancake lens I used on my huge Canon 1DX body. I can't help but feel for him and I hope he gets a fair shot at the title next year.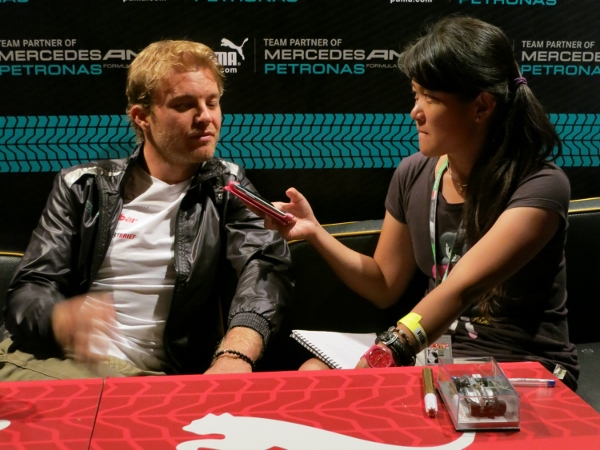 Total domination
No question about it, Mercedes dominated all season with no other team coming close. While the team soared to victory after victory, the intensity of rivalry between their drivers Rosberg and Hamilton increased dramatically.
Childhood friends since their karting days, the friendship was put to the test and it soured like milk left out of the fridge for months. This tension heats up so bad with more and more incidents occurring between them until it got to a point where Hamilton said, "We are not friends. We are colleagues." after the Monaco Grand Prix.
Ultimately though, they were gracious to each other at the end of it all. "It's been so intense between us all year long. Good moments and bad," Hamilton said. "He's going to be quick for a long time. It could have been either one of us today, we both wanted it."
"Nico put up an incredible fight throughout the year," Hamilton continued, "We said way back in 1997 that it would be amazing if we were fighting for the title one day." Overall, Hamilton won 11 races and scored 384 points this year, while Rosberg won five and got 317.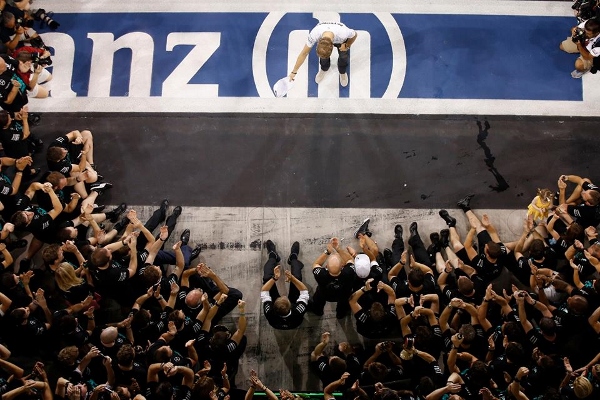 The final drive to disaster
Rosberg out-qualified Hamilton for pole by nearly four-tenths of a second and with double points for the finale, Rosberg could have taken the drivers' title by winning the race and Hamilton finishes third or lower.
A sign of what was to come perhaps, Hamilton launched a perfect start to grab the lead from Rosberg and pulled ahead from the rest quickly. After which, Rosberg was fighting hard to chase his team-mate when problems surfaced.
First his ERS (energy recovery system) failed, leaving him with a loss of power as he will not be able to generate any electrical power under braking. Then with 13 laps to go (out of 55), his brakes started failing and he calls over the radio for advice because his engine has switched off.
No matter how Rosberg tried his best to work his car, he could only painfully drop down the order as his car failed to deliver.Eventually Rosberg tumbled out of the points and with two laps to go, he was told to retire to the pits. To which he replied: "I would like to go to the end."
Hamilton takes the chequered flag in victorious fashion, securing the race win and the coveted 2014 drivers' championship title. Rosberg managed to bring the car home in 14th, his third worst performance this season, and quietly walked away from the limelight his team-mate was enjoying, later admitting that it was "a little bit" painful to watch the team celebrating for Hamilton.