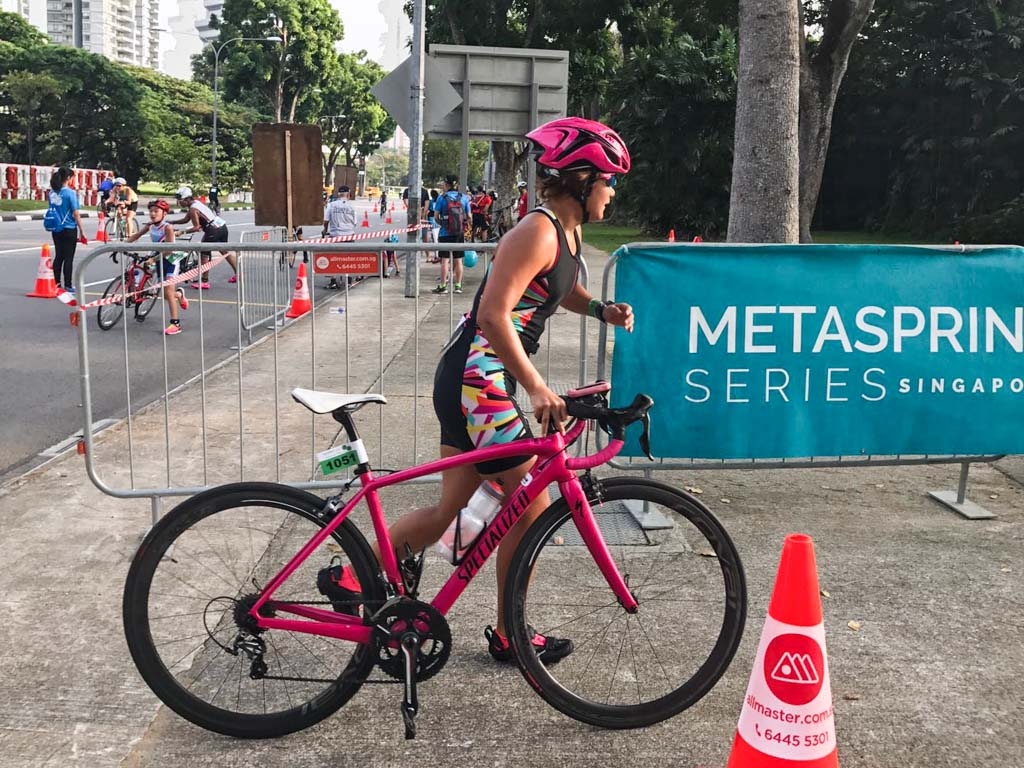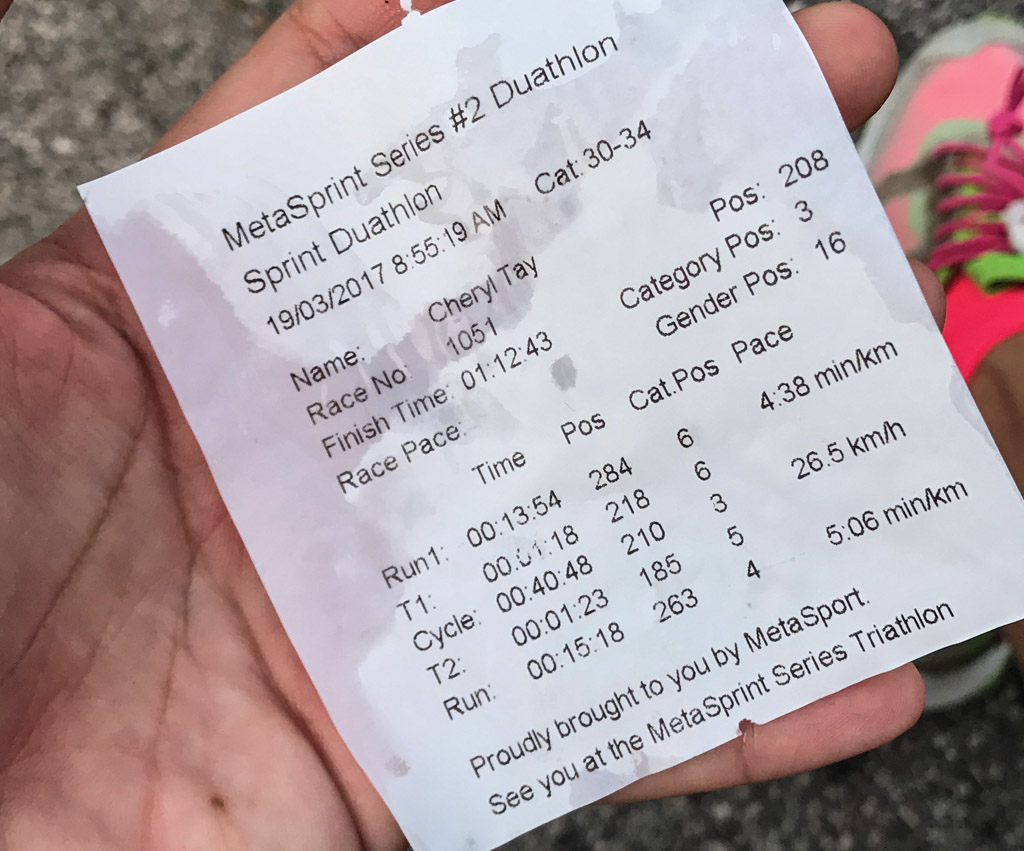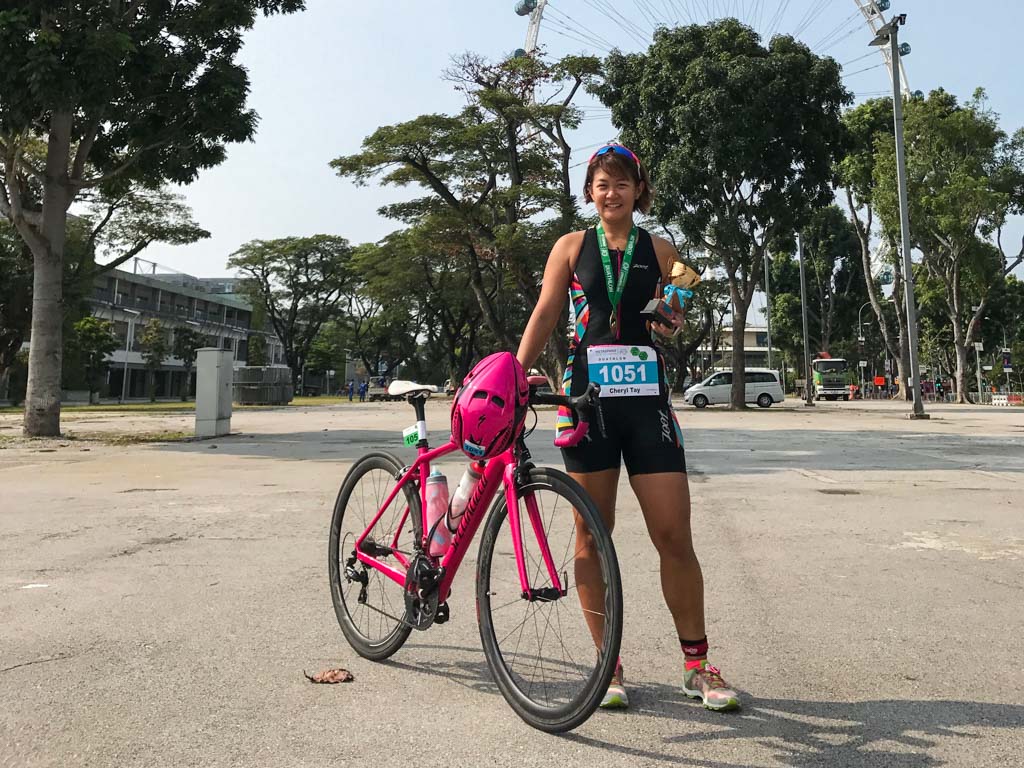 I ran-biked-ran my heart out today at the MetaSprint Duathlon and managed to clinch the last spot on the podium for the 30-34 age group. Yay yay yay!!!
The race format is a 3km run, followed by an 18km cycle and then another 3km run. I've always enjoyed duathlons because swimming is my weakness (which I will keep working on!), so I was looking forward to this race.
There was a race delay of about 15 minutes and the first wave (the Elite Women category) only flagged off at 6.35am. I was in Wave 9, along with the age groupers (my wave had three age groups), which flagged off at 740am (5 minutes later than scheduled). Thankfully, the weather was warm by then, but it wasn't blazing hot.
I felt good in the first 3km run and I didn't want to push too hard, because I still had to reserve energy for the bike leg and the second run leg. I was excited for the bike leg – I chose to use my roadie Tough Princess because there are a lot of U-turns on the course and it's easier to navigate with the roadie. The GPS on my Garmin Edge didn't connect in time, so I was cycling without any idea of speed, distance or cadence. Also, bike course conditions were quite windy, so it was tougher than I hoped for, but I did what I could.
As expected (and as always), the run off the bike was painful. I was hurting, so I practically grunted and cursed away, wanting to just quickly get the race over and done with. I just put one foot in front of another and kept going, thinking of my Rock The Naked Truth family and my coach Jurgen Zack shouting "This is no honeymoon!"… till I got to the finish line.
After I crossed the line, I was so breathless I couldn't talk for a while. My heart rate monitor strap snapped in the morning when I was putting it on, so I don't know how high my heart rate was. I only know that I felt like my heart was gonna pop out my mouth at any moment. I bent over longer than I usually do and I had to walk around for a bit before I got my breath back. I haven't pushed this hard in a while, but it was so worth it when I realised I had come in third for my age group! OMG!! My first podium finish in Singapore!!
The two ladies who finished ahead of me, as well as the one after me, were all in the Elite Women category (Wave 1), so I didn't see them on the course at all as the age groupers were flagged off later. Hence I had no idea what position I was in during the race, but that didn't matter because I just wanted to do one thing – keep running towards the finish line. It was getting seriously painful!
Ultimately my finishing time narrowly slotted in at 3rd place in my age group, as there is no separate prize for the Elites. My lucky day! From here I re-emphasised the point to myself (and to you as well) that we mustn't give up at any moment and we should just keep pushing regardless of the situation. Every second counts! You never know what's ahead.
Thank you Connie + Milo for waking up early on a Sunday just to support me and to everyone else for your love. This is for you guys!
39 days to Ironman 70.3 Danang!
(P. S. In other news, my custom pink helmet made its debut today. It's in the exact same shade as both my bikes. Matchy matchy!)