In the harsh world of motor racing with cut-throat competition and inevitable politics, there is still humanity to be found. A young boy named Nick Cook found his passion in karting but was forced to give it up when he lost his father in a tragic accident. Heartbroken, he had to deal with the loss of his dad, manage the changing of school environments and drop his newfound racing passion. It was a lot for the 13-year-old to swallow. However, with the kindness and generosity of the community, Nick was able to resume karting. Read the full story here:
He nearly had to give up karting when he lost his father in a tragic accident. Nicholas John Cook (or Nick as everyone fondly calls him), 13, never thought of stopping but his mother Sally was unable to support his racing interest due to lack of financial resources.
"As a mother, it breaks my heart to see him unhappy and not being able to do much to help. I support him and his interest with all my heart, but I had to tell him to give up and find something else he will enjoy that doesn't cost so much. We all know that karting is expensive. We had no income coming into the household after my husband passed away and I have three young children to feed," Sally said.
After the unfortunate incident, Sally seldom took Nick to Kartright Speedway, in hope that he would gradually lose interest in karting, but that didn't happened. So, while helping the family through the difficult time, her good friends Malcolm Rodrigues and Sands Mehra took him to Kartright Speedway for a while. After a few months though, Sally realised how expensive it was getting and she reluctantly made a decision to put a stop to his karting.
Nick was not ready to leave karting and he was greatly disappointed, desperately wanting to continue driving. It was a tough time for him – grieving the sudden loss of his dad, changing schools (international to government) and then he had to give up something he really, really likes.
Just when Nick thought he would never get to race anytime soon, members of the community stepped forward to help. Allan Teo, director of Kartright Speedway, gave Nick the privilege of karting at no charge. He also took care of the kart storage, gave him some parts for the kart and coached his driving. Next, David Bondi volunteered to be Nick's mechanic, and Carlos De Luzuriaga and Kenneth Smith donated chassis and engines. Others donated racing gear like a helmet, racing suits and shoes.
That was enough to put Nick back in the driving seat of a race kart, putting a big smile on his face. "Karting is a way to help me forget all the bad things that happened," said the Tanjong Katong Primary schoolboy. "When I kart, I focus on driving and forget all my troubles."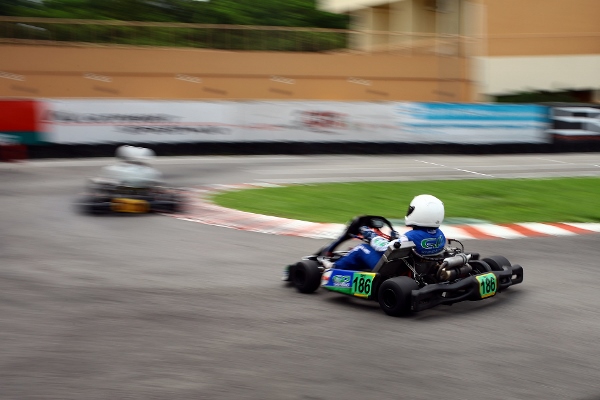 However, funds were needed to compete in races. That was when Duncan Nursey – a fellow kart racer who wanted to help Nick get back on the racing track – created a fund raising page called "Get Nick back to Karting". The main objective was to raise money so Nick could race the 2014 season. The campaign was a success.
People from Singapore and all over the world generously donated money, allowing Nick to buy a new engine and take part in the Singapore Karting Championship (SKC) 2014. Duncan is also helping to manage Nick's karting. "We are blessed to be surrounded by good friends and family. I was overwhelmed when lots of people, even those whom I've not met before, came forward to help us," Sally added.
Funded by the community to go racing, Nick did everyone proud when he won the Junior class at Round 1 of the SKC and came in third in the combined class (of Junior, Master and Master Plus). "This win is dedicated to my dad. He was the one who introduced me to karting and helped me get started. Dad always encouraged me and believed that I would get there one day and win," said Nick. "I wish Dad would be able to see me drive, especially how I drove in the race at 34 seconds per lap for 30 laps non-stop. I think of him every single day, especially during the race. Before I leave home for the race, I would ask Dad to come along and watch me."
It was in February 2012 – when Sally just gave birth to her third child and her family from the Philippines were here to help – when Nick discovered karting. Peter, Nick's father, showed them around Malaysia and they passed by the karting track at Plentong. Nick went for a few rounds on the rental kart and liked it so much that he refused to leave, until his father promised to find him a karting track in Singapore.
On the same day, they found Kartright Speedway in Jurong and Nick continued to go on the rental kart for the next two months. Seeing how much he loves karting, his father bought him a second-hand kart eventually and Nick took part in two rounds of last year's SKC. He came in fourth in one of the rounds and was very pleased with himself, especially being on a second-hand engine.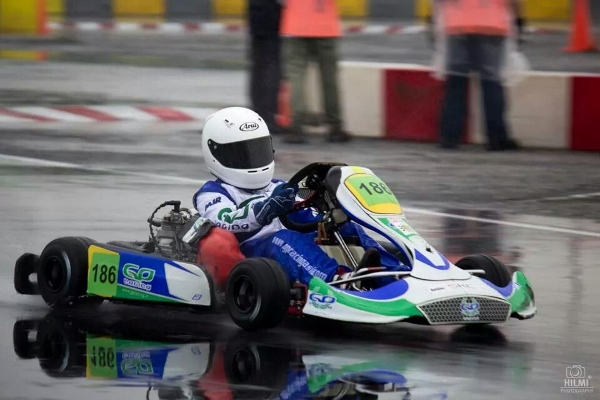 "Nick is a risk taker, competitive and likes challenges. He loves the adrenaline rush he gets from karting. He loves the speed, the noise and he finds happiness when he's driving. I feel proud of Nick for getting this far despite all the hardships he has been through and I really admire his determination – he's a very strong and brave young boy," Sally concluded. "All these would not have been possible without the help of the community. I am very grateful and blessed to be surrounded by kind people. Hopefully he will receive sponsorship and be able to kart for a longer time."
*Sally Cook would like to take this opportunity to thank her families in the Philippines and UK, Allan Teo from Kartright Speedway, Duncan Nursey, Karen & Justice, Mr & Mrs Bondi, Kapila, Kenneth Smith, Mr & Mrs De Luzuriaga, Mr & Mrs Merha, Malcolm, Nasir, Tom & Mili, Mr & Mrs Storrie, Mr & Mrs Duggan, Mr & Mrs West, Mr & Mrs Walsh, Mr & Mrs HJ Han, Cathy & Iain, Mr & Mrs Anzalone, Mr & Mrs Dave Skinner and Nick's teacher Ms Tam for all the generosity and support. There are far too many names and she may have missed some but you know who you are. On behalf of Nick as well, thank you.