Ego-crushing.
This is the best word to sum up my virgin CrossFit competition. And I will tell you why.
Ask me one year ago and I wouldn't have thought I would be in CrossFit, let alone be competing in it. But never say never and I was at the X45 Challenge on 22 and 23 August in Kota Kinabalu, Sabah, representing Solitude of Strength/CrossFit Statera.
I first tried CrossFit in 2013 but I didn't like it back then because I felt it was all about the ego and people trying to push the weights without focus on form. I continued the usual powerlifting and metcon training, then a series of eventful events unfolded this year faster than you can count to five.
A falling out with my previous coach of 1.5 years saw me back to a blank sheet of paper with no training goals and no direction. But I put my personal goals aside then because I wanted to focus on building ELITE, the inaugural fitness competition to find the fittest in Singapore. This multi-round event means a lot to me and I wanted to make sure I work with the right people. It led me to Lewis Chua, Commonwealth Games athlete and owner of Solitude of Strength.
We worked together on ELITE and I felt a huge sense of pride at Round 1 on 19 April 2015, when I saw the crowds gather at Bugis Junction to watch the athletes push their hardest. I was training under someone else then, but I still didn't have a strong goal or direction… until I followed the Statera crew to Chiang Mai to watch the Asia Championships West Sectionals.
As I watched them compete and photographed them, I felt something click inside me. I felt the beginning of this fire growing inside of me – I wanted to compete too. So I told Lewis there and then, I want to take training seriously and I want to compete too. Lewis said he would coach me, but I have to be prepared to work hard because I have so many things I need to learn from scratch. I never did Olympic weightlifting and there were so many other movements I was unfamiliar with.
After we came back from Chiang Mai (early May), I embarked on the first #10wksl8r programme by Lewis and I put in the hours and effort. But along with it came sweat, blood and tears. Over the next three months, I had to juggle with the fatigue from training, the steep learning curve and the stress from work – It made me grow in so many ways and I don't regret it one bit. From a PVC pipe I went to a 60kg clean and 40kg snatch in the first two months.
I was nervous for the X45 Challenge, but I was feeling prepared… then I fell on my face even before getting to the comp.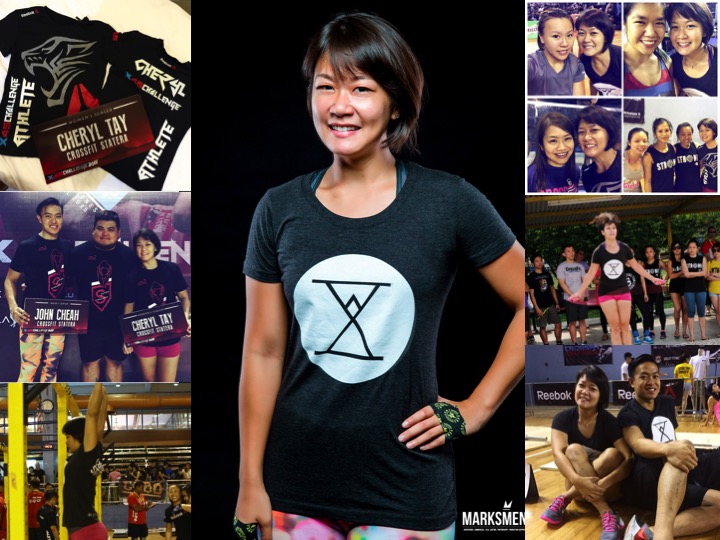 Always prepare for the unknown
My first mistake came way before the comp when I assumed that it would be jumping pull ups for the Scaled category like last year, so I took it way too easy and didn't bother to master a pull up during these three months of preparation. Therefore I went into the comp handicapped by my own limitations, not being able to do a single pull up, and had to endure two events (out of six) just standing there helpless. It was really embarrassing, especially in Event 5 where I was the first to get to the pull up bar but had to DNF in the end.
I finished 2nd, 3rd, DNF, 4th, DNF, 2nd respectively for the six events and it put me at 7th out of 22 eventually.
Some people think I'm crazy, signing up for my first CrossFit comp and then only getting into the sport after. Well, nothing is impossible so long as you set your mind to it.  The biggest takeaway for me is the crushing of the ego, where I had to manage my expectations after staring helplessly at the pull up bar, and hence not being able to fight for the win. I really, really hate that feeling.
No excuses for my performance that weekend and I learnt this the hard way, but this isn't the last you see of me competing. I'll be back, better than before. 
This is only the beginning of my CrossFit journey and there's so much more to go, but I just wanted to say – You only have one shot in life; find what you love doing and follow your heart. You will run into the most frustrating people and you will get cornered by self doubt, but that's when you emerge stronger. Be your own inspiration! 
Meanwhile, congrats to the amazing ladies who competed alongside me and thank you to the organisers+crew+volunteers for all the hard work. Not forgetting my coach Lewis who had to train me from scratch and put up with my incessant whining, as well as all the awesome people at Solitude of Strength and CrossFit Statera, plus my friends – you guys are the best.