It wasn't so long ago when Mark Webber and Sebastian Vettel were having a playful time on the helipad of the 73-storey Swissotel The Stamford. I remember a cheeky Vettel suddenly ran up to Webber and pretended to push him over. How all that has changed.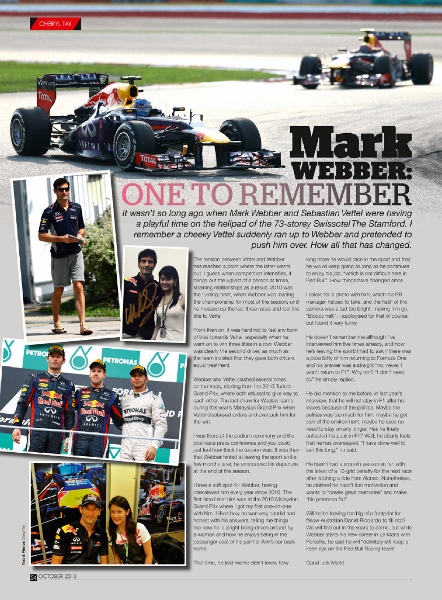 The tension between Vettel and Webber has reached a point where the latter wants out. I guess when competition intensifies, it brings out the ugliest of a person at times, straining relationships as a result. 2010 was the turning point, when Webber was leading the championship for most of the season, until he messed up the last three races and lost the title to Vettel.
From then on, it was hard not to feel any form of bias towards Vettel, especially when he went on to win three titles in a row. Webber was clearly the second driver, as much as the team insisted that they gave both drivers equal treatment.
Webber and Vettel clashed several times on the track, starting from the 2010 Turkish Grand Prix, where both refused to give way to each other. The last straw for Webber came during this year's Malaysian Grand Prix when Vettel disobeyed orders and overtook him for the win.
I was there at the podium ceremony and the post-race press conference and you could just feel how thick the tension was. It was then that Webber hinted at leaving the sport and a few months later, he announced his departure at the end of the season.
I have a soft spot for Webber, having interviewed him every year since 2010. The first time I met him was at the 2010 Malaysian Grand Prix where I got my first one-on-one with him. I liked how he was very candid and honest with his answers, telling me things like how he is alright being driven around by a woman and how he enjoys being in the passenger seat of his partner Ann's car back home.
That time, he told me he didn't know how long more he would race in the sport and that he would keep going as long as he continues to enjoy my job, "which is not difficult here in Red Bull". How things have changed since.
I asked for a photo with him, which his PR manager helped to take, and the flash of the camera was a tad too bright, making him go, "Bloody hell!". I apologised for that of course, but found it very funny.
He doesn't remember me although I've interviewed him five times already, and now he's leaving the sport! I had to ask if there was a possibility of him returning to Formula One and his answer was a straight "no, never, I won't return to F1". Why not? "I don't need to," he replied simply.
He did mention to me before, in last year's interview, that he will not stay in F1 after he leaves because of the politics. Maybe the politics was too much for him, maybe he got sick of the environment, maybe he sees no need to stay on anymore. Has he surpassed his peak in F1? Well, he clearly feels that he has overstayed. "I have done well to last this long," he said.
He hasn't had a smooth season so far, with the latest of a 10-grid penalty for the next race after hitching a ride from Alonso. Nonetheless, he claimed he hasn't lost motivation and "wants to create great memories and make my presence felt".
Will he be leaving too big of a footprint for fellow Australian Daniel Ricciardo to fill? We will find out in the years to come, but while Webber starts anew in Le Mans with Porsche, he said he will "definitely still keep a close eye on the Red Bull Racing team".
Good luck Mark!
*This was published in REV.