"CHERYL TAY, YOU'RE AN IRONMAN!"
Wow, these words felt like a million bucks when I crossed the finish line after a long day of having my physical and mental limits tested. Hence I couldn't hold back the tears when I finished :'(
At the start of this year, I decided that 2018 will be the year I attempt my first full Ironman. Honestly I find the distance intimidating and I wanted to do more 70.3 races till I was ready. But you know, you will never be ready so I took the plunge and signed up for Ironman Malaysia when they first opened up their slots for early bird prices in March.
It seemed so far away at that time with eight months to go, but here I am now, wincing from the muscle aches and soreness after completing over 12 hours of endurance racing.
YASSSSS I DID IT!!!
Langkawi is infamous for being a tough course with its triple H recipe (heat, hills, humidity) and it sounds like a suicide mission to sign up for a first full Ironman here right? Well, the deal was, I initially wanted to go Ironman West Australia (Busselton) but my cousin is getting married the same weekend so I jumped right into the deep end and chose Langkawi instead. Surely it hurt like fuck, but it feels incredible to complete it!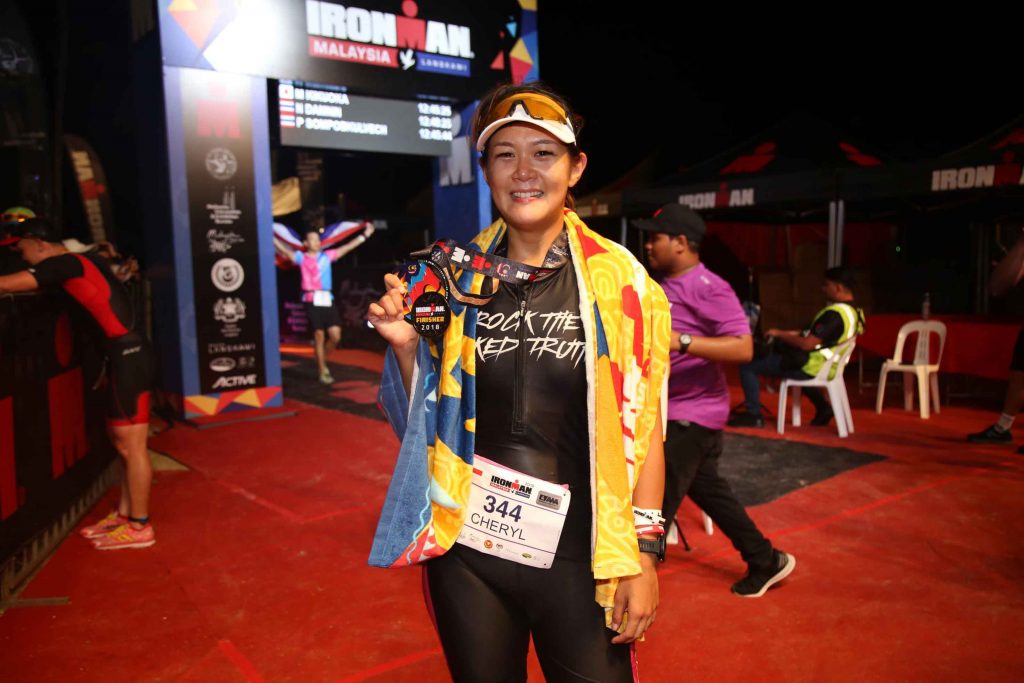 Race Prep
Leading up to the race, the prep had its challenges – the training hours were long, I was struggling with the fatigue levels and I was buckling under stress (from everything in life, not just training). There were definitely blood, sweat and tears through the process… plus lots of moaning and cursing and swearing.
But the real bummer was when I got struck by plantar fasciitis in BOTH heels. I was in the middle of the training block (after returning from the Ironman 70.3 World Championship in South Africa) and I was tolerating the pain, hoping it would go away. When it didn't, I realised I had to take a step back as I didn't want to end up with an injury that would take me out for months. This threw a spanner into the works as I had to stop running for three weeks, during the most crucial training period!! I was frustrated of course, but I could only focus on healing the heels as quickly as I can, and hope for the best.
At one point I did consider changing to the 70.3 distance because I was really getting worried. I've never ran a full marathon in my life, I don't know how it feels like, and I hadn't ran anything more than 18-20km coming into this race.
But my heel conditions improved after the three-week hiatus and I started to run again (slow and short distances so I don't go worsening the recovering injuries), so I decided to just do it. And I'm glad I did.
Pre-Race
I flew up on Wednesday (race was on Saturday) and checked into Meritus Pelangi, the hotel where the finish line was. For Ironman Malaysia, the start line (with T1), T2 and the finish line are all in different places. I chose to stay at Meritus so that I could just return straight to my room after the race (on the assumption that I was gonna be totally knackered after – which I did).
Then I collected my race pack at MIEC (aka the expo hall), shopped at the Ironman merchandise store (that had so many things to buy!) and watched the athlete briefing video before heading back to my room. It was almost 5pm by then and I went to lie in bed for a while just to chill. Then I decided I should start building my bike and stop procrastinating. I've done this a few times before and nothing happened, but this time, while I was fixing my rear derailleur back, it suddenly sprung apart and all these little rings and springs came out. OMG WTF DID I JUST DO KNN. I didn't know how to fix it back and the expo closed at 6pm so I was starting to panic. Thankfully my friend Aaron from 2ESCAPE came to the rescue and I passed my bike to him.
The next morning I was told that the RD was fixed but my Di2 battery had a problem, so they needed more time to work on it. Queen Bitch II was finally ready around 2.30pm on Thursday and I was sooooo relieved! I took her out for a quick test ride but it started to rain so I went back to the hotel to chill for the rest of the day.
On Friday morning I went over to the swim start (about 16km away from Meritus) to do a test swim. The water was great and I really enjoyed the swim! I went back and wanted to test my bike more so I went out to ride… and felt that the gears were not shifting smoothly. Hence I took QBII to the expo again, to the official bike mechanics to have a look, and the queue was so long! I ended up leaving the bike with them then going back to pack my bike and run bags to deposit at the respective transition areas. We had until 4/5pm to deposit the bags, so there was still time.
It was almost 2pm by the time QBII was ready and I just did a quick ride around the expo car park to test the gears. It seemed better so I proceeded to T1 (where the swim start was) to check in my bike and bike bag. (The run bag was deposited at T2 at the expo.)
And that was it! Time to catch my breath and just relax till the race the next morning! My sister, as well as Charmaine and Grace, flew in on Friday afternoon so I hung out with them for a while before going back to the room to do the last prep for the race. See below – Grace specially designed LANGKIWI tees for us – because one day I accidentally said "Langkiwi" instead of "Langkawi". LOL!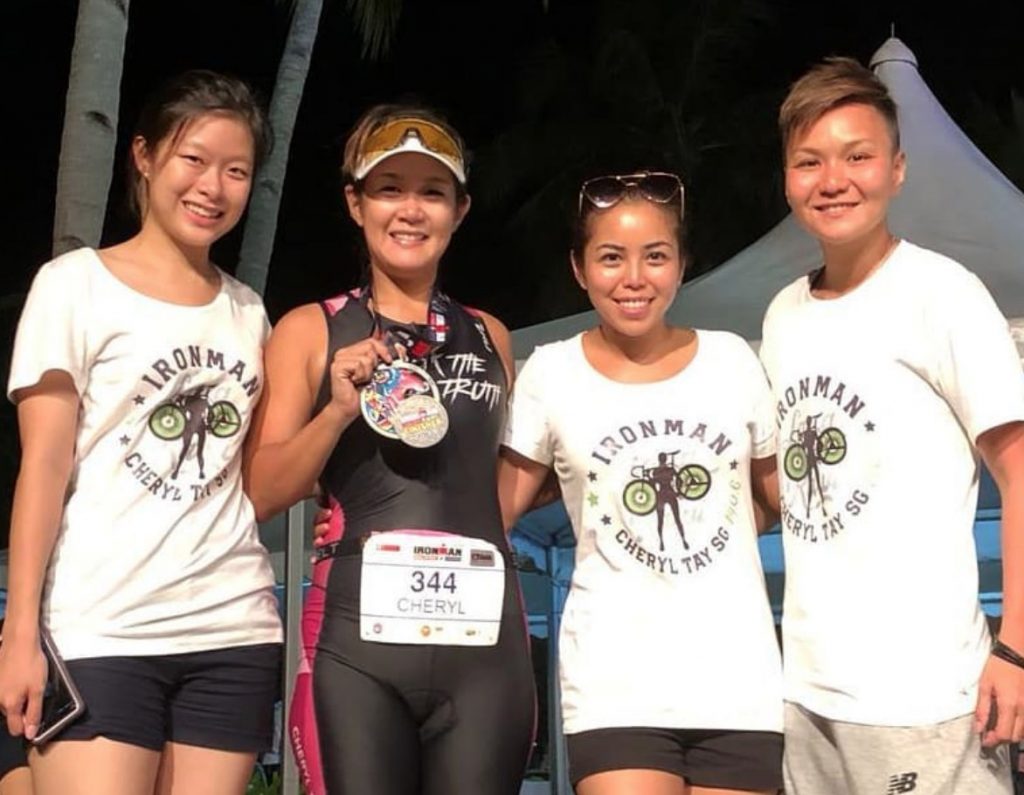 Race Morning
Nervous! I was starting to feel nervous as the race drew closer, but I tried to keep myself calm and just TRUST THE TRAINING. When the alarm went off, I snoozed a little and then got about getting ready. I had my breakfast, checked that I had my stuff one more time, then took a lift from Nigel to the race start.
We don't have access to our bike and run bags – only to our bikes – so I went to get my bike ready, deposited my Special Needs bags at the trucks and took a last wefie with my awesome 'Langkiwi cheer squad' before I headed over to the swim start area. I watched the 70.3 peeps go off and started to feel more butterflies in my stomach, WOOOOO. I walked around, bumped into some friends and entered the water for a little warmup before going over to the start pen.
I was standing alone in the start pen and I just wanted these moments to collect my thoughts. Like whew, I can't believe I am actually gonna do a full Ironman. It's gonna be a long day!!
Swim
BAAMMM the pros went off and after a couple of minutes, the age groupers' rolling start got going. HERE WE GO!
The murky water (much like that of Sentosa) was pretty calm on the first loop and I found my rhythm. As usual, you get a few kicks and elbows here and there. I finished the first loop feeling good and took a quick glance at my watch as I ran out, and whoa PB for my 1.9km swim! YAY!!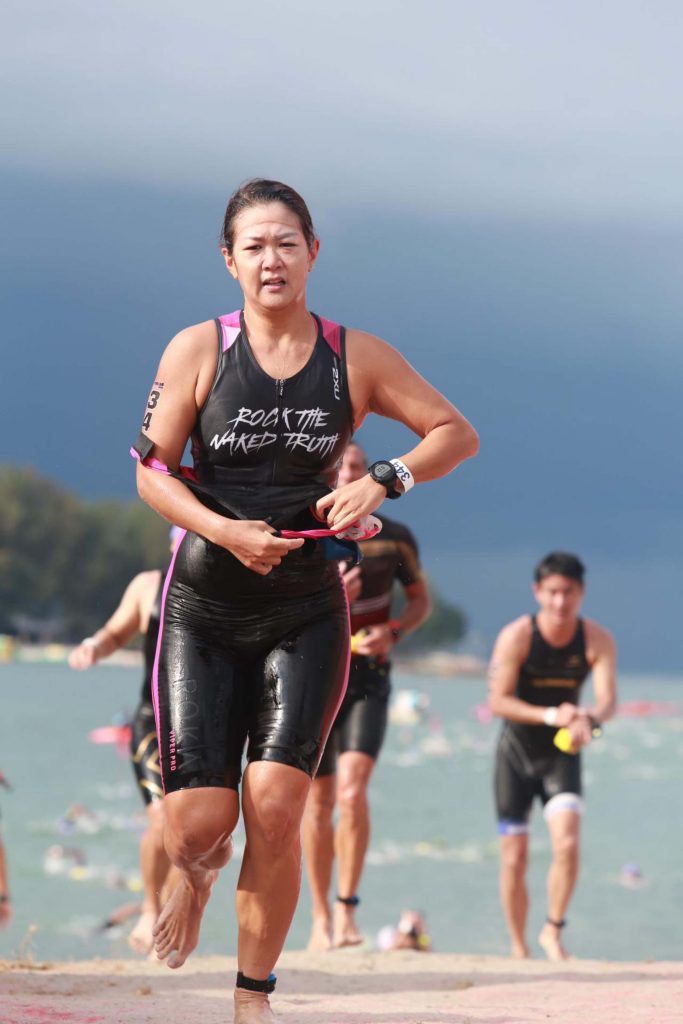 The second loop however, I started to tire and in the last 800m (the last third of the triangle route) I felt a current sweep me to the right. That caused me to swim into the buoys (on the right) a few times and I even hit my finger on one, LOL. Boy was I glad to see the shore!!
Swim time (3.8km): 1:17:49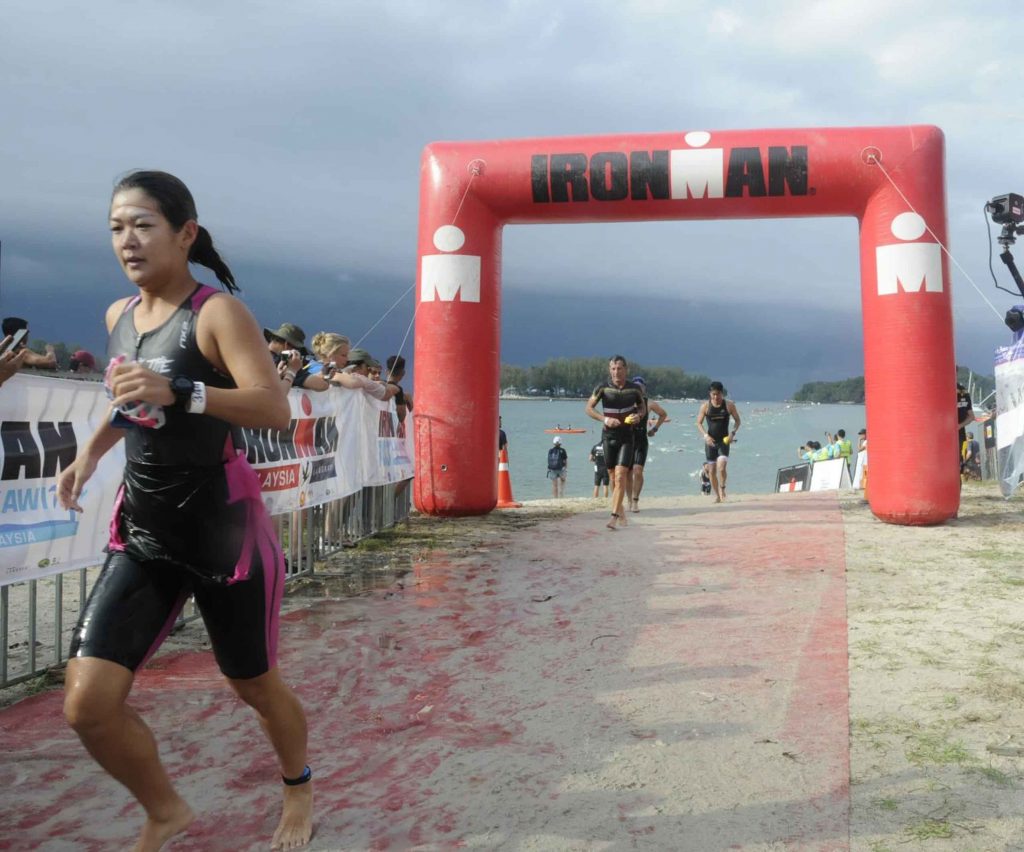 T1
As I ran out of the water, I saw my supporters and I stuck my tongue out at them, while unzipping my swim skin. I grabbed my bike bag, ran into the change tent and remembered to take off my swim skin first (don't make the same mistake as Cebu!!). I got the rest of my cycling stuff on, including a pair of cycling shorts over my trisuit (for more comfort), then exited the change tent to grab my bike. As I was pushing my bike to the mount line, I saw my supporters again and I waved before I went off.
Bike
I could feel tiny raindrops on me as I started the bike leg and by the time I entered the Datai stretch, the rain was getting heavier. Throughout the 20km (10km in and out) of Datai, the rain came down harder and I saw a few crashes. Omg, please please race safe, I said to myself.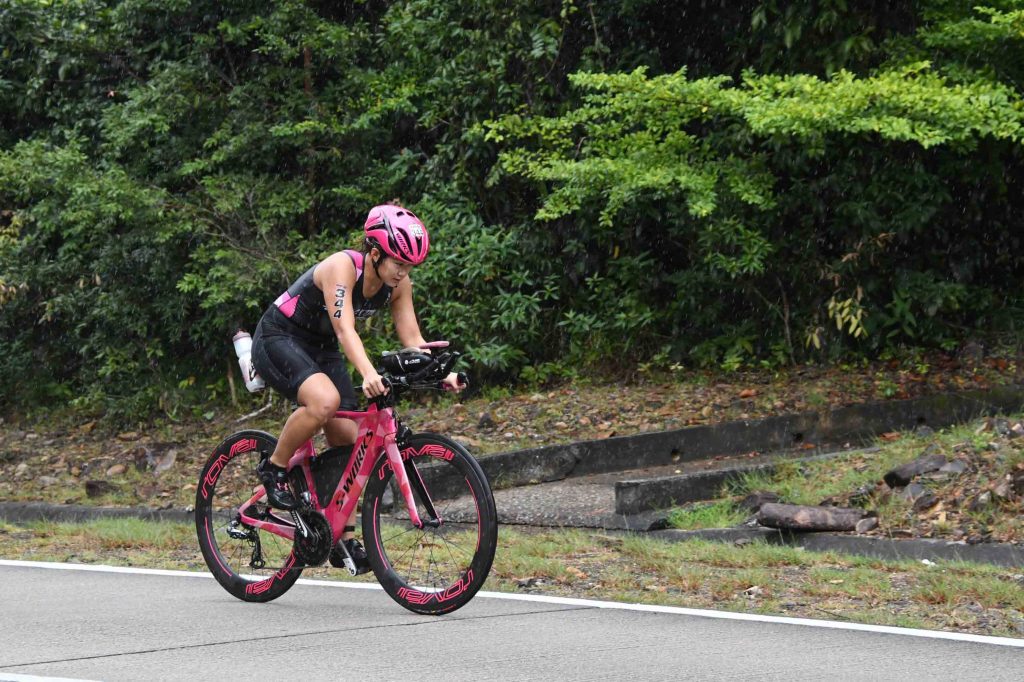 After I got out of Datai, it was mostly rolling hills with some flats before you hit the notorious Highway (I think that's what it's called but it's not an actual highway) that had three big slopes. These were around the 55km mark and it was tough, cranking cranking to the top before freaking out on the downslopes (I hit 70kph!!) on the post-rain wet roads. WALAOEH my heart rate shot up there! Please don't crash please don't crash, I kept repeating to myself.
After getting out of there, we were riding alongside some traffic and it was pretty scary because the vehicles would sometimes slow down drastically or brake suddenly and if we were coming down a slope, we may not be able to stop in time. I witnessed a few near misses and once, I had to go off to the sand on the side of the road because the car in front of me slammed on the brakes. It's hard to share a lane with vehicles!
And just as you think there are no more big inclines, I was suddenly greeted with this steep 20% gradient hill called Bukit Hantu or Tom Yum Hill (if I'm not wrong) at around 60+km. OMGWTF. This hurt!
After clearing that, it was another 30+km to the Datai stretch again and here we go again, Round 2!
The sun came out hot and strong on the second loop and I made sure I kept hydrating, because it's still a long way more ahead. Going on the hills a second time was horrible, HAHAHAHAHA. At some points of the course, I was riding alone as well, with no other participants I could see ahead and hardly any supporters along the route. Sia la, I hope I was riding on the right path!
My right lower back was hurting, my left knee had this strange pain, my butt was aching… FINALLY… I was so glad to see the MIEC building where T2 was.
People were not joking when they said that the Langkawi bike course is not for the faint hearted! Total elevation on my bike comp showed 1,100m of elevation (inserts shocked emoji).
Bike time (180km): 6:13:28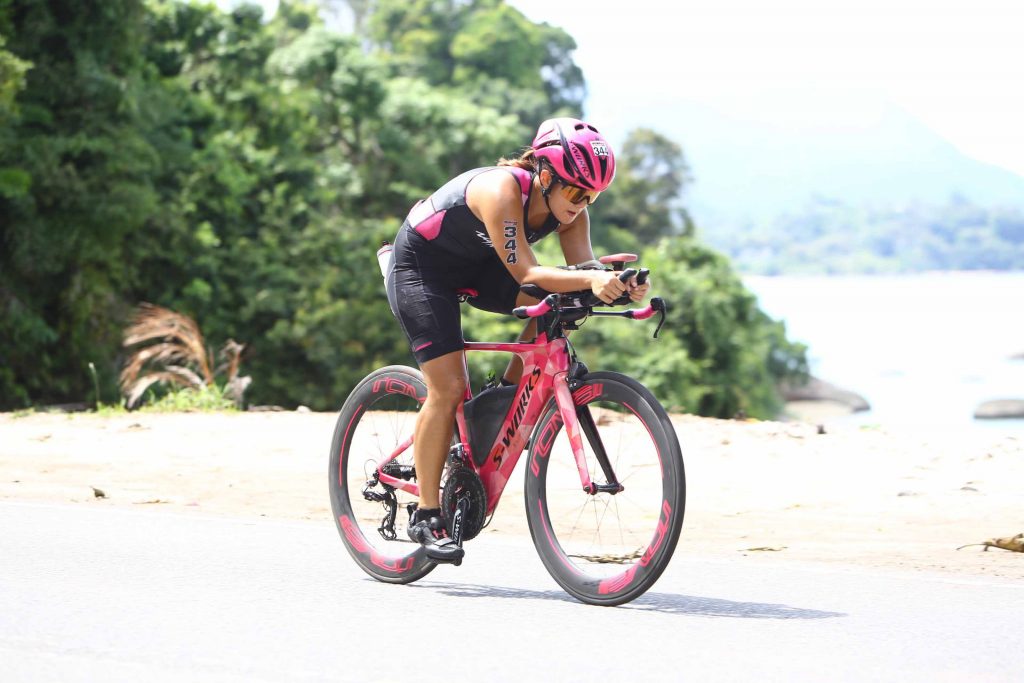 T2
After I dismounted from the bike, I nearly fell over when my legs touched the ground. (As the Hokkiens say, kar neng already!) I giggled to myself and then half-walked half-hobbled to pass my bike to the bike catchers. Goodness, my bike was so sticky and dirty that I felt bad for them!
I went to take my run bag off the hook and then went into the change tent to get run-ready. I tried to re-apply sunblock but my face was so grimy and oily I think I made it worse. I also had this abrasion patch near my armpit that was really stinging so I tried to put some petroleum jelly on it to make it sting less.
Run
The entire T2 area is within the expo hall which was air-conditioned, so we got to literally chill some before getting out into the sun again. After coming out of the change tent, I stopped at the aid station to get some isotonic drink before starting the run. We had to run the length of the expo hall, make a u-turn then get out into the scorching afternoon heat.
It was already 3+pm in the afternoon when I started running and the run route had no shelter, so it was quite a microwave oven situation. The route was 5 laps of 8+km and about half of this lap was along this green fence that went around the airport runway – so freaking boring ah!!
My legs were feeling so jelly after that back-breaking ride and after the first few kms, I found myself settling into a comfortable pace between 7:00 – 7:30/km. Being my first full marathon, I didn't know where it would hurt – though many have said that there is a tendency to hit the wall at around 30km. I didn't want to risk blowing up so I decided to just "find a pace I can run at forever" and stay there. What I did was break the run down by aid stations and simply ran from one aid station to another, where I would stop briefly at/walk through each one to grab water or sponges.
The first lap was alright, because we ran from the expo to Meritus and I knew my supporters would be there. This is where we ran past the finish line for the first time. I could barely muster a smile for my sister when she saw me and I shouted "I hate my life!" to Charmaine and Grace when I saw them. HAHAHAHAHA!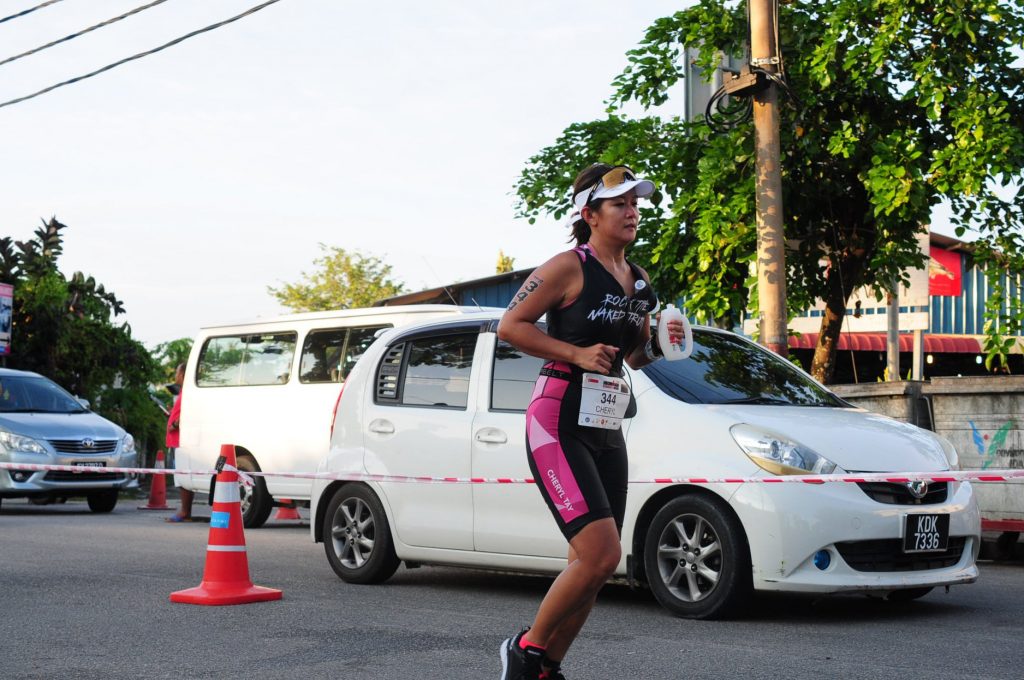 Out I went back towards the expo and I knew I had to take some calories in, even though I was feeling very bloated and didn't have any appetite for anything. So I opened a packet of energy gel, washed it down with water and after a few minutes, I felt my stomach stir. OH OH I WAS HAVING THE RUNS. Thankfully there was a portaloo and I ran inside (please don't ask me to describe what I saw inside) JUST IN TIME. However, there was no toilet paper left and no water for the flush and the tap – CRAP I WAS SCREWED. Luckily I had some wet sponges with me to clean up!
I felt better after "unloading" but for the rest of the run I didn't dare to take anymore energy gels, because I still had the 'diarrhoea feels'. (Sorry if I'm grossing you out!)
As the day wore on, the mental and physical struggle became harder. The good thing is, the weather was getting cooler as the sun was setting. I saw familiar faces on the course and it helped. When I got to MIEC, I stopped to stretch my back at the aid station inside because it was getting really tight. There were many supporters in here so it was nice to have people cheer you on. Once I got back out there, the heat and humidity hit me and it was back to reality.
When I was approaching Meritus, I saw my sister again and then as I ran into the streets of Cenang I saw Charmaine and Grace who had just finished a massage. Yes, in the time they last saw me at Meritus after my first lap, to this point where I was finishing two more laps, they had a lovely time in the spa. LOL. And then I had to run past the finish line one more time and I could hear the emcee telling people they are an Ironman. I legit wanted to cry here because I still had two more laps to go (about 16+km more). As I ran through Meritus, there were strangers shouting and cheering for me, and it felt nice.. but I couldn't resist telling them, "Please don't ever sign up for something like this!" HAHAHAHAHA.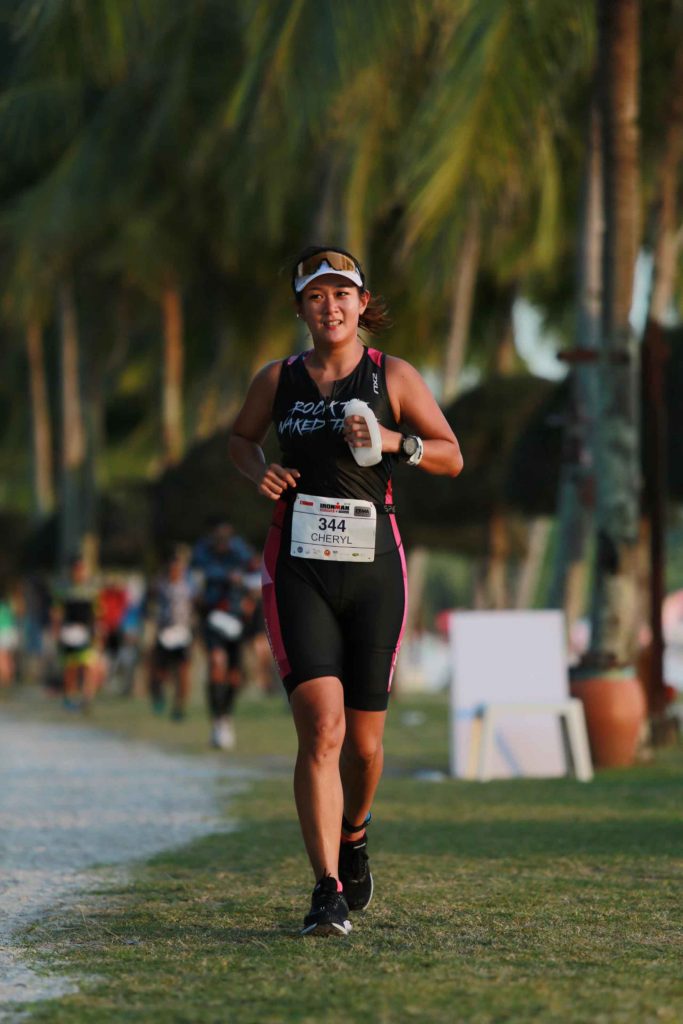 I just kept telling myself, one more time to MIEC and then I can come home. Come on Cheryl, come on come on come on. It was getting dark and the volunteers were handing out these glow sticks so we could see each other. Halfway through the fourth lap, before I could reach MIEC, darkness fell. There were no street lamps and the only lights we got were from car headlights parked along the roads (intentionally placed for this purpose), as well as standing strobe lights.
Visibility was limited and I was willing my eyes to adjust in the dark so that I wouldn't fall or trip… you know la, I'm like such a klutz sometimes. I saw this guy who was zoning out and accidentally kicked a cone, oh dear. This last time I ran into the MIEC, the aircon felt too cold but I could only trudge along, hearing my shoes squeak as I dragged my feet.
After I got out of the expo hall, I told myself this is the last lap Cheryl, come on come on come on. I was already in the 30+km of the race, just a bit more ok! And I kept praying I wouldn't hit the wall!! My legs felt so heavy, the darkness felt so lonely (because I can't see faces anymore) and there were less supporters outside now. As I ran round the fence, I found myself saying I don't wanna see this fence anymore HAHAHA.
When I cleared the fence, I kept muttering under my breath, "I am an Ironman, I am an Ironman, I am an Ironman" all the way for the last 4km. I tried to speed up but my legs had no more gears left to shift up to, so I just carried them home. I saw my sister with Charmaine and Grace just before I ran into the bustling streets of Cenang and they told me, "Cheryl, the next time we see you it will be at the finish line!"
That gave me a boost of motivation that lasted all of five seconds maybe and then I just focused on putting one foot in front of another. As I turned into Meritus, down the last stretch of sand, the finish line was in sight and I could hear the music, the cheers… YASSSSS!!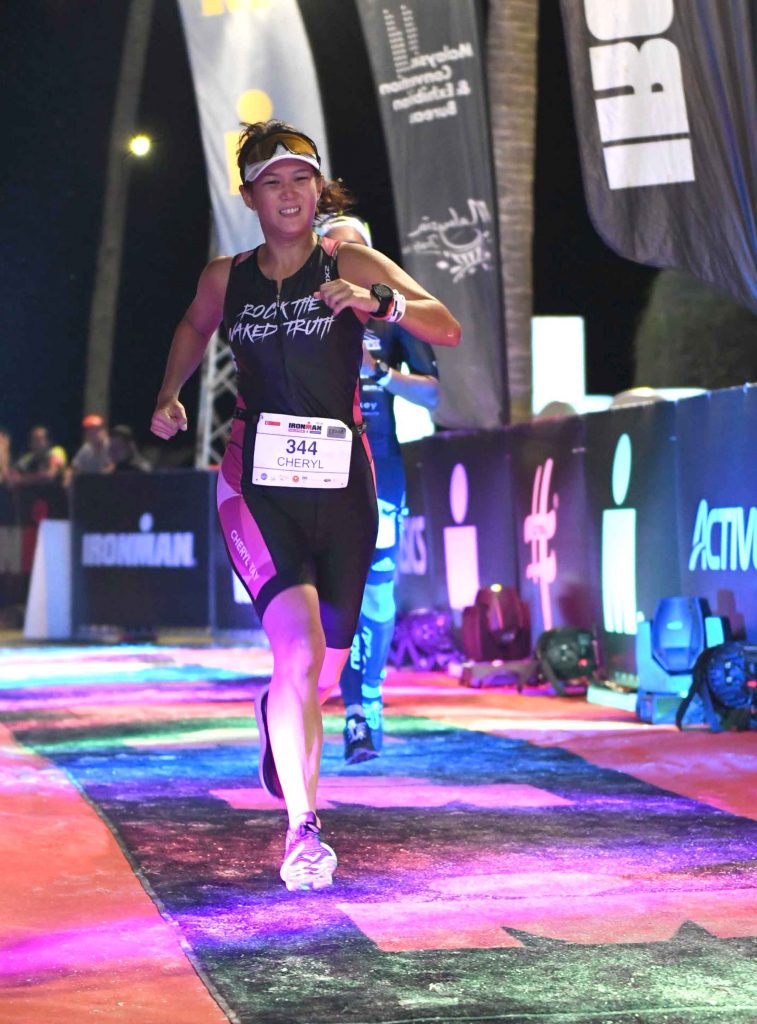 Picked up my legs and gave it a last sprint to the end… and I DID IT! YES YES YES YES YES! I AM AN IRONMAN!
Run time (42.195km): 5:04:58
The tears came flowing after they gave me the finisher medal and towel – it's been quite a journey to get here and this has taken a lot out of me. You know, it's so true that you've got what it takes, but it's gonna take everything that you've got.
Total time: 12:46:08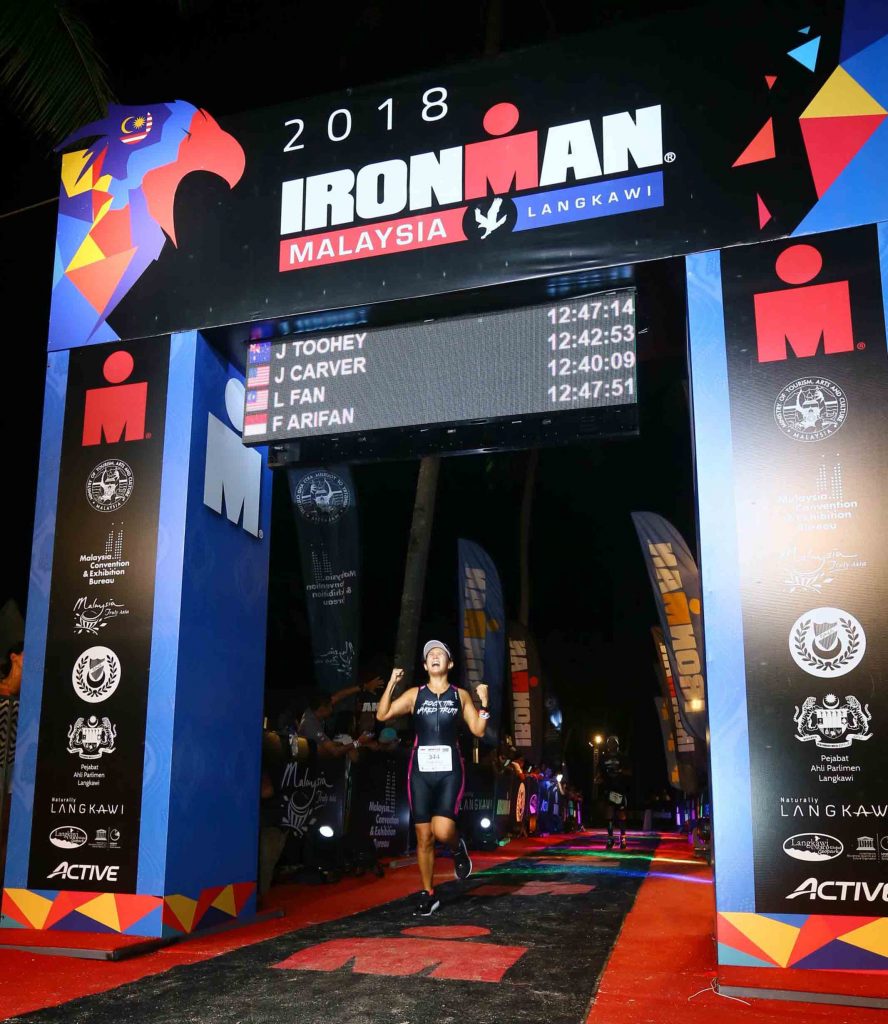 Thank you to my coach Colin, Merle, Ah Bao, Kevin, Forte Physio for getting me to the start line. Thank you Claudia, Charmaine and Grace for being witness to this crazy milestone in my life. Thank you to all at home for the best wishes, to the Instagram community for the belief and to everyone else who has been following my journey. Congratulations to all participants and also thank you to the organisers and volunteers for making this happen, and thank you to all who cheered for me during the race!
Now my whole body is aching and I feel like an old lady! LOL. This will definitely not be my last full Ironman, but for now I just need a break.
Next up: Ironman 70.3 Bangsaen in February!